iOS 16 Released: Here's How To Upgrade Your iPhone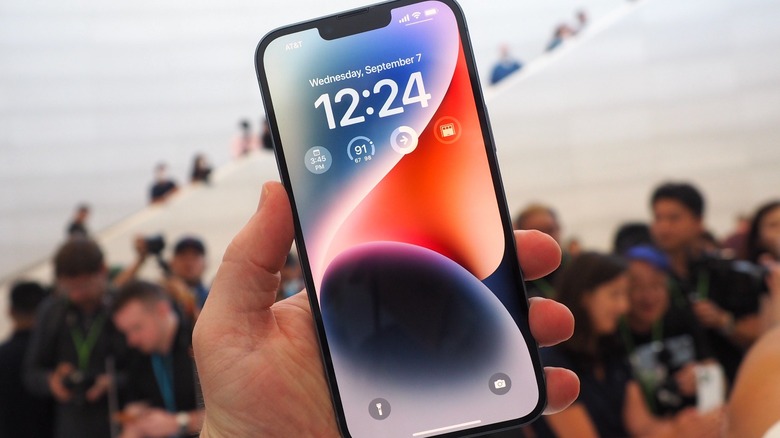 Chris Davies/SlashGear
Apple has just released its latest version of iOS, which includes some significant lock screen changes, an update to the company's messaging system, and an attempt to do away with passwords. That's just a few of the standout features on offer, iOS 16 promises significant changes throughout the entire phone and provides a solid platform for the company's latest generation to build on. If all of this scares you, there is an option to just grab the security updates on offer and keep your device on iOS 15.
You don't need to own the latest iPhone if you want to make the leap to iOS 16. The operating system will run just fine on a relatively old device. Although the iPhone 14 is about to come out, Apple's latest OS will work on iPhones going all the way back to the iPhone 8 and iPhone 8 Plus, which hit the market back in 2017. All iPhone SE users will need a second-generation device at the minimum — that's the one that was released in 2020. The older iPhone SE, which came out alongside the iPhone 6S in 2016, is not capable of running Apple's latest operating system.
What does iOS 16 bring to the table
The most notable change appears on the phone's lock screen, which is now highly customizable. Users can now set widgets so they can view things like sports results, schedules, and messages without having to unlock their devices. Backgrounds are also more customizable on the latest version of iOS. Subjects in the photo can now appear in front of the lock screen's clock, and the photos that form your phone's background can be shuffled throughout the day.
Apple's iMessage system has also undergone some major changes. Messages can now be edited or deleted after someone has sent them, and can also be marked as something you will come back to if you spot one while you're too busy to respond. SharePlay is also available in iMessage, so you can share shows and videos with friends or groups, and chat as you watch.
This is just a small selection of the many updates iOS 16 brings to the table, other features include better photo editing, smarter dictation, updated navigation software, more sharing options, a reimagined home app, new fitness features, a CarPlay update, and updates to Apple Pay.
It's a security game changer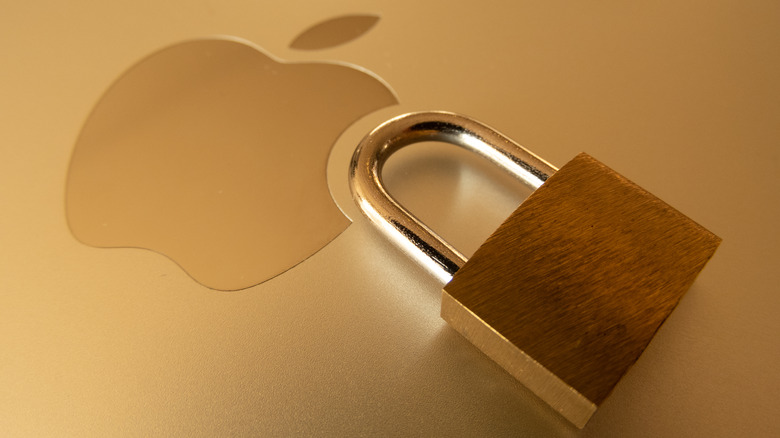 robert coolen/Shutterstock
Amongst the usual security updates is a potential game changer in the form of "Passkeys." Everyone knows they should have a different password for each account they use, and those passwords should ideally be a long string of random numbers and letters. However, keeping track of that can be a nightmare, and signing in to an account with a complex password can be inconvenient — so plenty of folks just don't bother. 
With Passkeys, Apple hopes to "introduce a more secure and easier way to sign in." The new method is end-to-end encrypted and according to its creators, is "stronger than all common two-factor authentication types." Apple says that the keys generated "also work on non-Apple devices," so it could be the all-encompassing security solution many have been waiting for. The company has also integrated a "rapid security response" feature that is capable of quickly applying small security tweaks in between the larger security updates.
A Safety Check feature has also been introduced to help people in domestic abuse situations. The option allows users to review the access they've granted to others, resets various app permissions, and restrict their Messages and FaceTime communications to "the device on hand."
How to update to iOS 16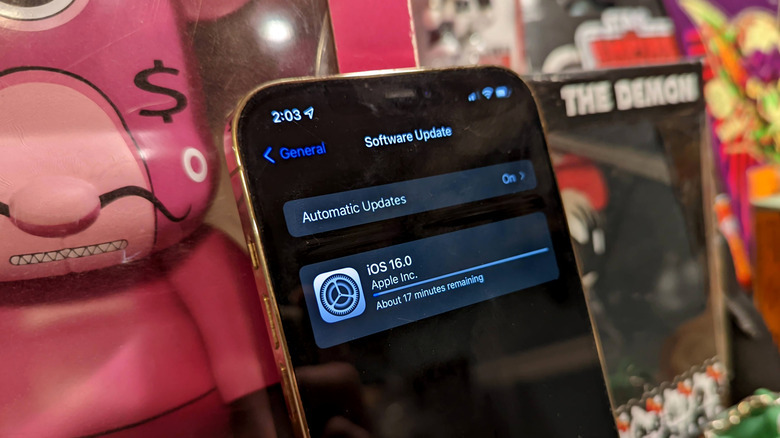 Chris Burns/SlashGear
Installing the latest version of iOS on your iPhone is incredibly simple, and nothing has really changed from the iOS 15 update process. If you have automatic updates enabled, everything should just be done for you. If you want to skip manual updates in the future, you can enable automatic updates by going to Settings, General, and Software Update, then toggle the automatic updates option (so it's switched to the on position).
If you want to make the leap manually, things are still pretty straightforward. Apple recommends that you first create a backup. Software updates can go wrong, and having your vital data, photos and apps backed up to the cloud means all is not lost if iOS 16 causes an issue. 
To create a backup, simply plug your device into a charger, connect to WiFi, navigate to the iCloud part of the settings menu, log into iCloud, tap iCloud Backup, and then "Backup Now."  If you're worried about storing data in the Cloud for whatever reason, you can also back your phone up by plugging it into a Mac or a PC.
Once your data is backed up, keep your device plugged in and connected to a WiFi network. Then go back to Settings, select General, and then select Software Update. You will be given the option of staying on iOS 15 and only downloading important security updates or making the full leap to iOS 16. Click the update to iOS 16 option. Hit install now, and your phone should do the rest.