MacBook Pro M1 Max Review: Apple's Best Computer In A Decade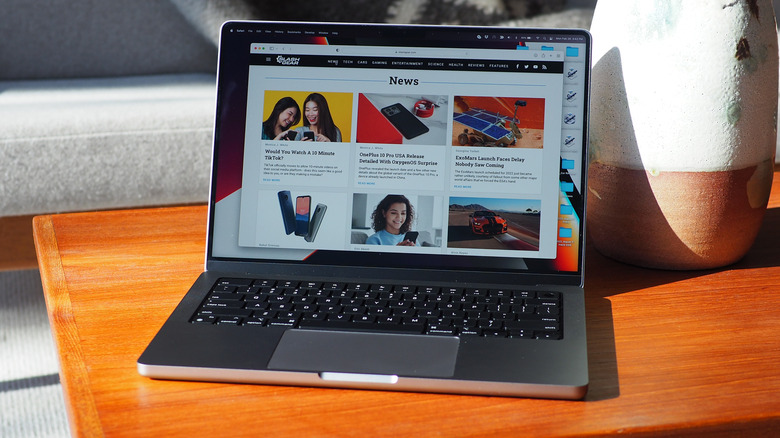 Chris Davies/SlashGear
Apple stopped telling us what we needed from a new MacBook Pro, and instead it started listening. The Cupertino company isn't exactly known for being swayed by popular opinion, but it's hard not to see the return of beloved ports, an emphasis on performance rather than slimness, and a solid slug of battery life as being anything other than direct responses to the demands of the MacBook Pro's most vocal users. The result is as expensive as it is aspirational, even if it also requires some reflection on the part of those considering buying one.
Some things just take time to make their presence fully known. That's particularly the case for laptops, where their roles are increasingly pulled in all directions. With travel back on the cards for many — myself included — as well as expectations around working from home, that one notebook may now have to play the part of mobile workstation, home office hub, and personal computer.
So, it's been months since I first slotted the new MacBook Pro M1 Max 14-inch into my backpack, used it as my daily-driver on my home office desk (hooked up to an Apple ProDisplay XDR), and perched it on my thighs or a hotel room table while on the road. Like so many people, I rely on my computer more than I do most other devices in my life. It needs to be something you can depend upon, and I needed to be able to tell you conclusively whether Apple's changes to this generation actually add up to a better machine overall.
The ports are back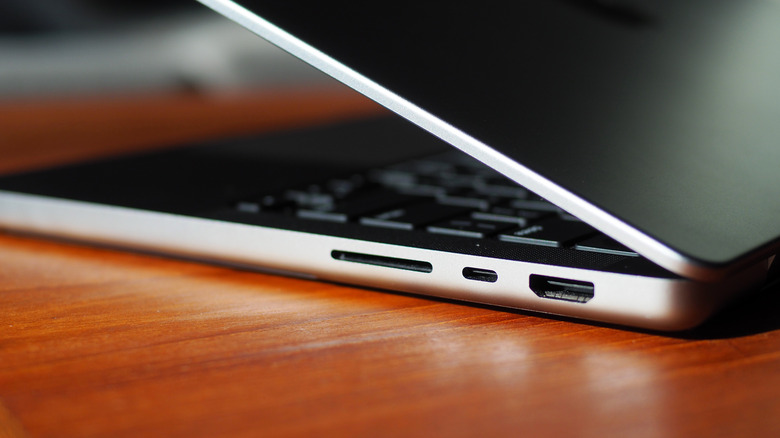 Chris Davies/SlashGear
You can't call Apple a less-than-enthusiastic supporter of USB-C. The decision to move away from any other connector seemed ambitious in the fourth-generation MacBook Pro; problem was, everyone else proved less aggressive. I'd resigned myself, like most macOS users, to carrying a couple of dongles in my bag (and was suitably annoyed that Apple expected you to buy them separately, rather than including things like basic USB-C to USB-A adapters in the box) along with an SD card reader, but it was clear that the single-cable and wireless vision that had shaped the design simply wasn't coming true.
Now, it's a relative free-for-all of ports. You get one less USB-C on the 14-inch MacBook Pro, though all three that remain support speedy Thunderbolt 4. However, there's also a full-size HDMI output, a full-size SDXC card slot, a headphone jack, and a MagSafe 3 connector for power. Faced with all these connections, it's hard not to whoop with the sort of rapturous glee that audiences in Marvel movies produce when a beloved superhero arrives on-screen to save the day, even if the HDMI is 2.0 not 2.1, and the SD is UHS-II not UHS-III.
If you want USB Type-A, you're still going to need an adapter. In 2022, though, I can't really fault Apple for third-parties' laggardly embrace of what's not exactly a new port at this point. MagSafe 3 will be welcomed by anybody who has stumbled over their charger in an unfamiliar and dimly-lit hotel room, and uttered a fast and desperate prayer that the PSU pops free of the outlet rather than your whole laptop going skittering onto the floor. It also, equally usefully, is very fast: the 96W adapter which comes with higher-spec MacBook Pro versions can get you halfway charged in 30 minutes.
Farewell, Touch Bar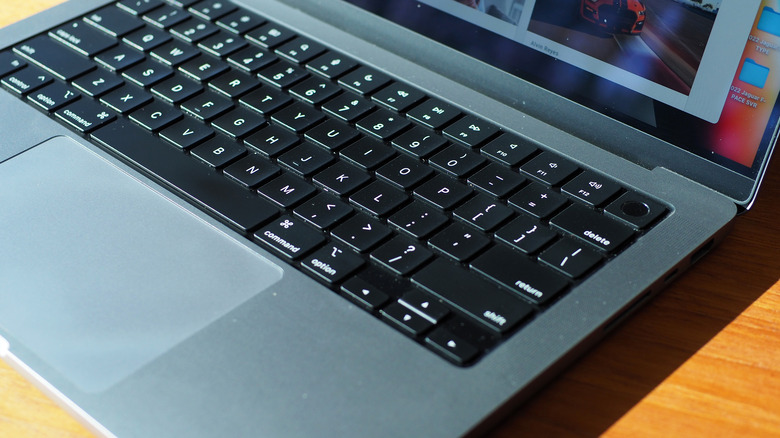 Chris Davies/SlashGear
Lift the lid — which has, like the rest of the chassis, a somewhat retro feel to it with the squared-off edges — and you find the new keyboard. Black keys set in a recessed ocean of matching black deck, atop a sizable Force Touch keyboard. There's an inverted-T arrow key cluster, a Touch ID fingerprint sensor in the full-sized power button, a large Escape key, and of course an actual function key row running between them.
I'm one of the seemingly few people who actually liked the Touch Bar. Apple's touchscreen strip, perched above the MacBook Pro keyboard where the physical function keys had once lived, promised plenty when it debuted in late 2016. It was, the company promised, more ergonomic than making the display a full touchscreen, and more flexible than physical buttons would be.
The former argument just wasn't true; the latter, once you took matters into your own hands, could be more realistic. The best use for the Touch Bar, I found, was for pinning Automator shortcuts. That way, I could run my file converters, image macros, and similar with just a tap. It proved useful and habit-forming enough that, with this redesigned MacBook Pro on my desk or lap, I had to relearn some muscle memory. Still, I can't make an argument that Apple ever really embraced the possibilities which it always claimed the touch-strip would permit.
More broadly, I'm loving the MacBook Pro's keyboard. It took Apple a few iterations, but this latest generation of key mechanisms feels just swell to my fingers. The right amount of travel and pop. As for the trackpad, there Apple's reputation for being leagues ahead of rivals with its big, glass surface and responsive action continues to be well-earned.
A class-leading display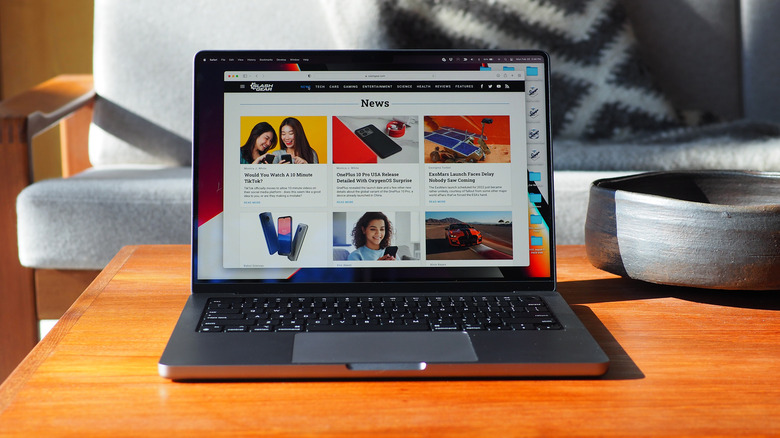 Chris Davies/SlashGear
The 14-inch display now uses a miniLED panel, and has proved to be controversial. Honestly, one of the reasons I could've forgiven you for setting macOS aside and switching to an iPad Pro as your everyday machine would've been Liquid Retina XDR. Apple's screen tech – combining a high-resolution IPS LCD panel with a huge array of tiny LEDs split into thousands of individually-addressable local dimming zones – made the Retina display tech of previous MacBook Pro models look, well, bland.
Now, that system has made the leap to the MacBook Pro, and it's a most welcome addition. Yes, it's bright and colorful, and it does a particularly epic job showing off HDR content, unsurprisingly. However I've been just as gratified by how dim you can take the backlighting and still have ample visibility: a key factor if you've ever tried working on a redeye when everyone else around you is sensibly trying to sleep.
Normally, the 14.2-inch screen runs at 1512 x 982 effective resolution, though it's actually a 3024 x 1964 panel that combines clusters of pixel for more smoothness. I switched up to the "More Space" option, which gets you 1800 x 1169 effective. The screen supports True Tone, automatically adjusting color temperature according to ambient lighting conditions; while creative pros wanting to do accurate color work should probably turn that off, I've come to appreciate how easy it is on the eyes.
A weird notch and a much better webcam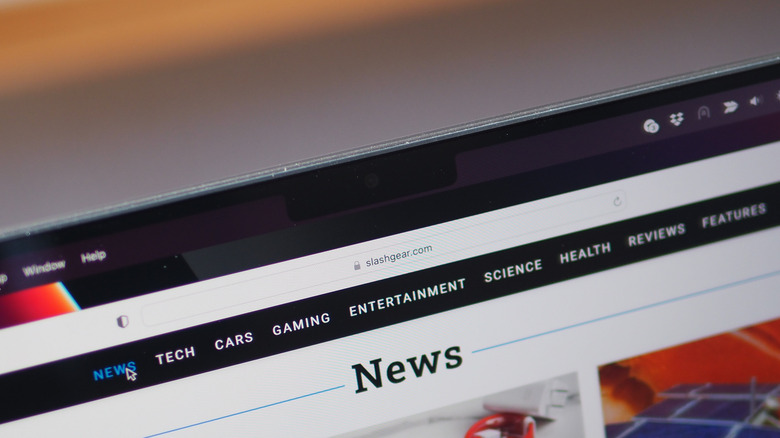 Chris Davies/SlashGear
As for the controversial part, that's found up at the top. Apple's new FaceTime HD webcam gets a welcome step up to 1080p resolution, but it also occupies a notch — much in the same way that an iPhone's TrueDepth camera leaves the smartphone with a notch. Honestly, most of the time I forget it's there (I find the same with the iPhone), and the uptick in picture quality has been worth it.
Previously, I went to the effort of plugging in an external webcam for work calls, simply because Apple's old FaceTime camera was so lackluster. The improved resolution and AI finessing this time around make that less of a requirement. In fact, the only lingering complaint I have is that the absence of Face ID rankles, though I suspect we'll have to wait a while longer before there's a TrueDepth camera array that can be squeezed into a laptop's slender lid.
Blistering performance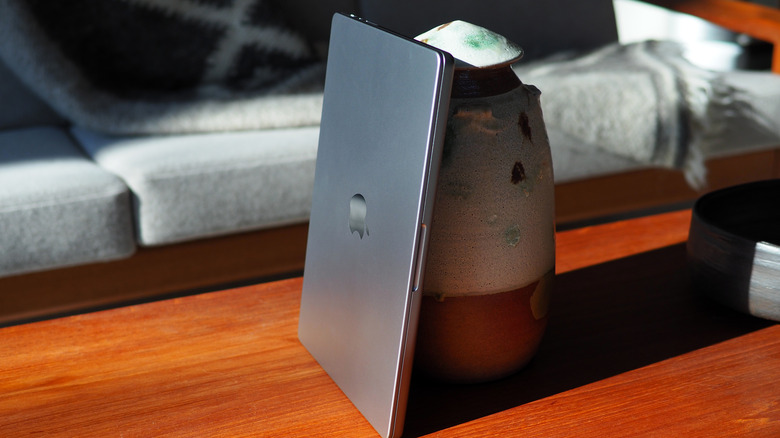 Chris Davies/SlashGear
There are several Apple Silicon flavors of MacBook Pro now. From $1,999, the entry-level 14- and 16-inch machines come with the Apple M1 Pro, with between 8 and 10 CPU cores, and between 14 and 16 GPU cores. From $2,899 you get the M1 Max, with at least 10 CPU cores and 24 GPU cores.
My review machine, though, packed the top-tier M1 Max with 10-core CPU, 32-core GPU, 16-core Neural Engine, 64GB of unified memory, and 4TB of SSD storage. That lands you at $4,699, with the only missing upgrade being the 8TB SSD option which would push things to a wild $5,899. The 16-inch version is, of course, even more expensive.
This is not, then, a budget laptop, but then again neither is it pitched as such. One of the criticisms Apple has faced in recent years was that the delta between its consumer MacBook lines and its professionally-minded MacBook Pro models had narrowed confusingly. It was hard to imagine, having been surprised at how potent the M1-powered MacBook Air proved to be, that Apple could broaden that divide, but the new MacBook Pro demonstrates such skepticisms unfounded.
Make no mistake, Apple is reaping the benefits of its switch to in-house chip design and the abandoning of x86 processors. If you enjoy big numbers in synthetic benchmark apps, you're going to be giddy here, but it's day-to-day performance which is the true joy. Final Cut Pro becomes a beast, with none of the rendering lag even hefty Intel-based Macs could still exhibit at times. Image editing in Affinity Photo dramatically trims the processing time for things like Tone Mapping. If you're a tag-hog you can have so many open, even in Chrome, without running into a problem. 
MagSafe and epic battery life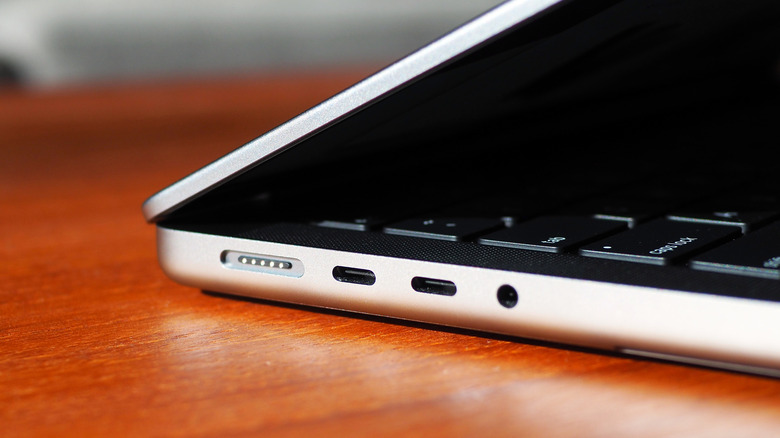 Chris Davies/SlashGear
What stands out equally, though, is how that performance lives alongside battery life. There's no shortage of very fast Windows laptops, after all, with near-desktop-class levels of grunt on tap. That's dandy if you're actually at a desktop, or at least somewhere you can plug in the invariably huge power brick. It's when you're away from an outlet that things start to go south.
Apple quotes up to 11 hours of wireless browsing from a full charge, a figure that proved to be accurate in my experience. It's worth noting that this is basically Apple's most power-hungry configuration: with the M1 Pro inside, the MacBook Pro 14 would probably last longer still.
There are still some foibles and frustrations. Software support for Apple Silicon remains an evolving situation, though things are steadily improving. Considering the difference in performance and power-consumption between native apps and those using Rosetta 2 emulation, it's still worth checking if there's something mission-critical you'll be relying on. And frankly, there may well be more here than many people truly need, if they're being honest with themselves. I'll not judge anybody for buying based on aspiration instead of actuality, but you do get a lot of bang for your buck with an M1 MacBook Pro.
Truly built for pros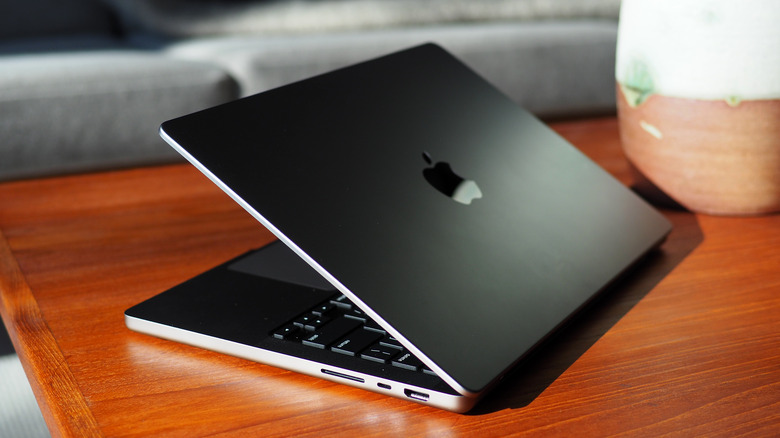 Chris Davies/SlashGear
What I'm finding particularly appealing is that all this power fits into the 14-inch chassis. Previously, I was carrying a 16-inch MacBook Pro, with a high-end Intel processor. The big screen was nice, but it was heavy and battery life would drop precipitously if challenged with anything more serious than casual browsing and typing up documents.
This time around, Apple is offering parity between both the 14-inch and 16-inch versions. You can, if your pockets are deep enough and your ambitions sufficiently grand, have either screen size with the top-tier M1 Max chip. Both can be outfitted with up to 64GB of memory, too: it's the same unified memory approach that we saw with the MacBook Air M1 and Mac mini M1, where CPU and GPU flexibly share the same pool of RAM.
What lingers after several months on the road and at home is how reliable this new MacBook Pro is. Yes, there's a whole architectural change inside, but most of the time the user-experience is "it just works." The fact that the battery life is not only long but reliably so has left me confident enough to leave the charger at my desk when I've been out at events, something I'd never have dared do with the last-gen machine. Meanwhile the little usability improvements – a broader array of ports, speakers that punch above their weight, a surprisingly capable triple microphone array with beamforming, and the rarity with which the fans make themselves known – are niceties that simply elevate the overall experience.
Look, I liked my old MacBook Pro. It felt fast, and capable, and overall I judged the advantages to be worth the compromises. This new MacBook Pro M1 Max, though, is just plain easier to live with. It feels less like Apple is defining how you should use, and interact with, your laptop, and more like it was designed with the breadth of professionals out there in mind. Yes, it's expensive, and yes, there are still some growing pains with the Apple Silicon transition, but none of that changes the fact that – if you truly need what it can do – this is Apple's best computer in a decade.