The Polestar Electric Roadster Has No Right Looking This Good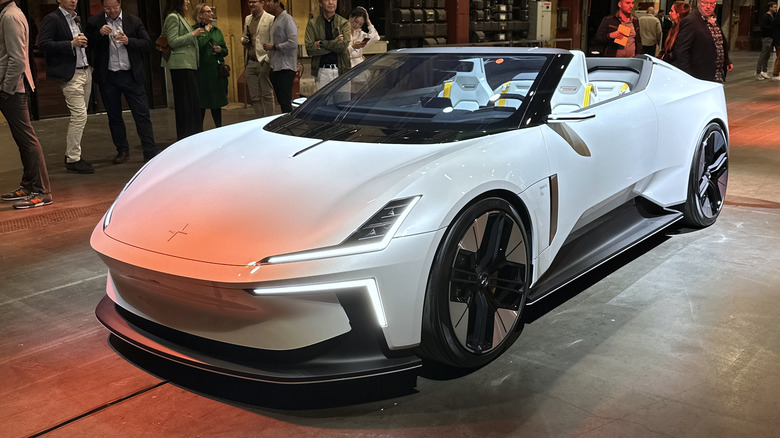 Chris Davies/SlashGear
The Polestar O2 Concept really wasn't meant to overshadow the new 2024 Polestar 3. In fact, you could well argue that a 2+2 electric convertible really has no right existing in today's EV market at all, given the trends of shoppers and the relentless practicality of pragmatic automakers. Weirdly, though, even when Polestar was showing off just how mainstream it can be, it still couldn't quite resist highlighting its playful side, too.
Nobody can accuse Polestar of being halfhearted with the debut of its first all-electric SUV. It invited SlashGear along with nearly 1,000 media, dealers, and customers to a huge event in Copenhagen, Denmark to pull the wraps off the third car in the Polestar family, a striking five-seater premium SUV aiming to take on rivals like Tesla's Model Y and the upcoming Porsche Macan EV.
The enthusiasm isn't misplaced. While the Polestar 2, the relatively affordable all-electric fastback four-door that has been on sale for a couple of years now, has been a success for the brand, there's no escaping the reality that crossovers and SUVs are where the market is swinging. What's interesting is that Polestar isn't entirely willing to go all-in on where those winds of change are blowing.
The Polestar 3 is a head-turning electric SUV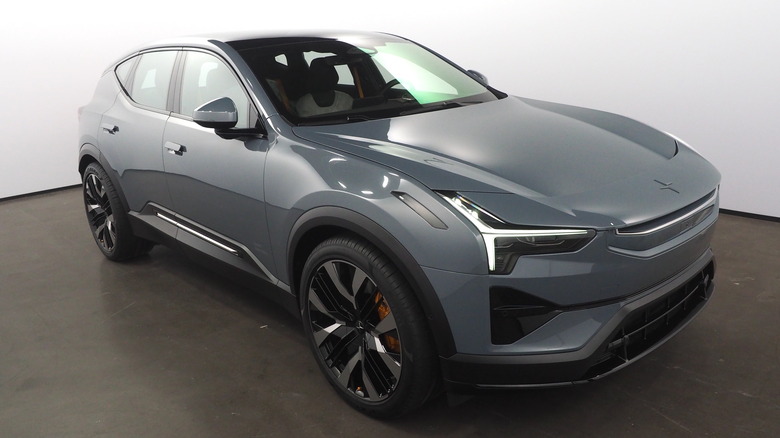 Chris Davies/SlashGear
When it arrives in late 2024, the Polestar 3 should be a distinctive and — if the on-paper specs and the automaker's promises are anything to go by — rewarding electric experience. Clocking in at around $84k for a "fully loaded" example, it'll be all-wheel drive with true torque vectoring at the rear and an anticipated 300 miles or so of EPA-rated range from its hefty 111 kWh battery.
Unlike designed-by-wind-tunnel rival electric SUVs, Polestar hasn't compromised on style just to hit a lower coefficient of drag. At 0.29 cd, the Polestar 3 isn't exactly class-leading there, but its aero credentials are bolstered by some unusually visible flourishes. The aero spoiler at the leading edge of the hood, for example, is both interesting and functional.
There's a matching one built into the rear upper spoiler, too, and even the lower aero blades on the extremes of the rear bumper are styled to stand out. Could Polestar have achieved much the same with crisper lines to said bumper, or other sculpting? Sure, Polestar head of design Maximilian Missoni conceded to SlashGear during the event, but the team opted for far more visually-engaging blade-like pods instead.
Polestar managed to overshadow its own big reveal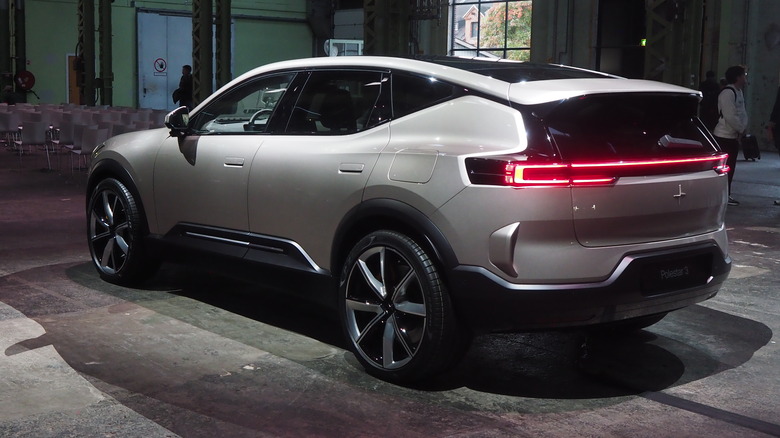 Chris Davies/SlashGear
Combine that with the promise of semi-autonomous driving potentially as early as 2024, an unexpectedly spacious cabin despite a fairly low — for an SUV — roofline, and lashings of cutting-edge tech courtesy of a sizable central touchscreen running Android Automotive OS, and there's no doubt that the Polestar 3 is likely to turn heads when it arrives in dealerships next year.
Problem is, though Polestar COO Dennis Nobelius predicts the SUV will be "a substantial part of the business" when it arrives — as close as the automaker will get to predicting sales figures right now — it still managed to find itself in the chunky shadow of the Polestar O2 concept. That was an unexpected attendee at the Copenhagen event, lurking in a side room but with an outsized presence nonetheless.
It's not the first time we've seen the diminutive electric 2+2 roadster. First unveiled in March 2022, the two-door EV was billed as a way to give Polestar's designers a "flight of fancy" opportunity to create a hero car for the brand. The result has a removable hard-top roof, vanishingly small overhangs, and the sort of proportions that are more common in science fiction movies than car dealerships.
Small car, big presence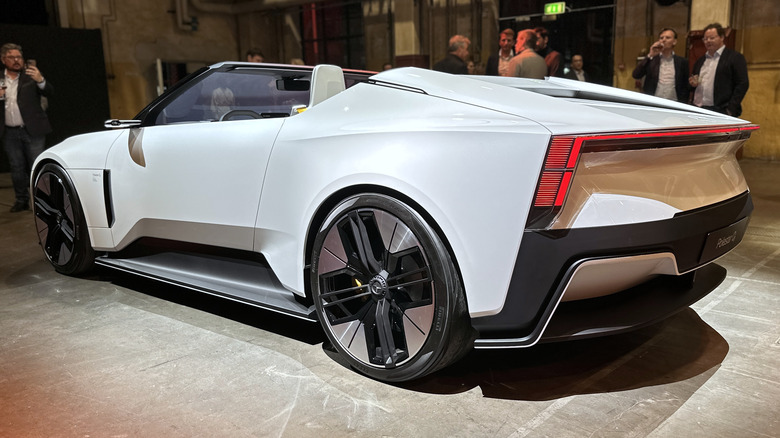 Chris Davies/SlashGear
Imagine our surprise — and satisfaction — then, when Polestar confirmed it would be putting the O2 Concept into production. The Polestar 6 won't land until 2026 at the earliest, with a $200,000 "LA Concept" first edition initially rolling off the line. Neither price tag nor wait has proved off-putting, mind: all 500 of those special editions have been reserved, each with a $25k deposit.
Just how Polestar will translate the O2 Concept into the Polestar 6 remains to be seen, but the concept car itself has plenty of wow factor. Although previewed at a few events so far this year, it's the first time I've been up close with the convertible, and it's fair to say the images and video simply don't do it justice.
In fact, it's hard to think of a current roadster that has quite the same presence. The Polestar is compact, unexpectedly so, that truncated aesthetic is only emphasized by the way the 21-inch wheels are pushed out to the very corners of the car. As you'd expect, the rear seats are only really scaled for occasional use — or to serve double-duty for storage — but the front is airy and spacious, a feeling aided by the floating center console.
Interestingly, having seen them at the same time now, some of the Polestar 3 details were clearly hiding in plain sight. The SUV shares much of the same switchgear as the O2 Concept, such as the new column stalk designs, steering wheel, and central touchscreen. The latter gets a big step up in size, 14.5-inches in the Polestar 3, compared to the already-large screen in the Polestar 2.
Polestar finds itself at odds with the rest of the industry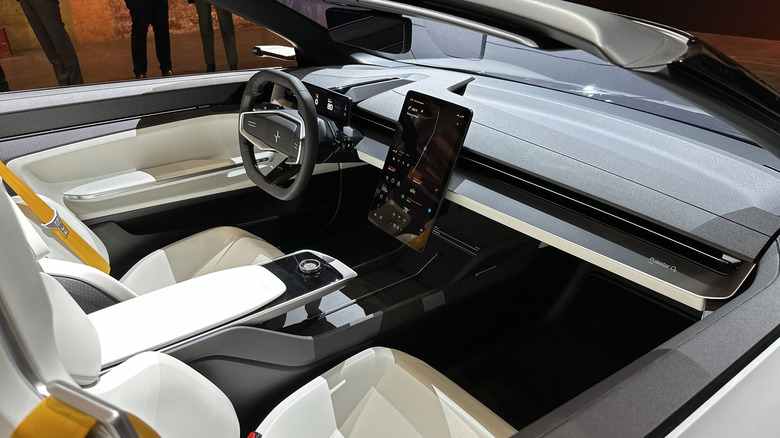 Chris Davies/SlashGear
It's likely some of the concept two-door's melodrama may have to be toned down for its production variant. Nonetheless, the fact that Polestar is even considering building a car like this is unusual to the extreme. Flights of automotive fancy have run up against supply chain challenges, shaky market demand, and the general sensible nature of profit-focused product roadmaps in recent years, and for a car company to step outside of the SUV and crossover status quo is increasingly strange.
Polestar, mind, does have a track record here. While the Polestar 3 will be followed by a second SUV — or, more accurately, an SUV coupe that's slightly smaller but likely more premium still — the Polestar 4, the automaker isn't only thinking rationally. The Polestar 5 was a prior example of a concept car getting a surprise graduation to the showroom, after the reception to the original Precept concept proved to be so positive.
This isn't the first time Polestar has bucked trends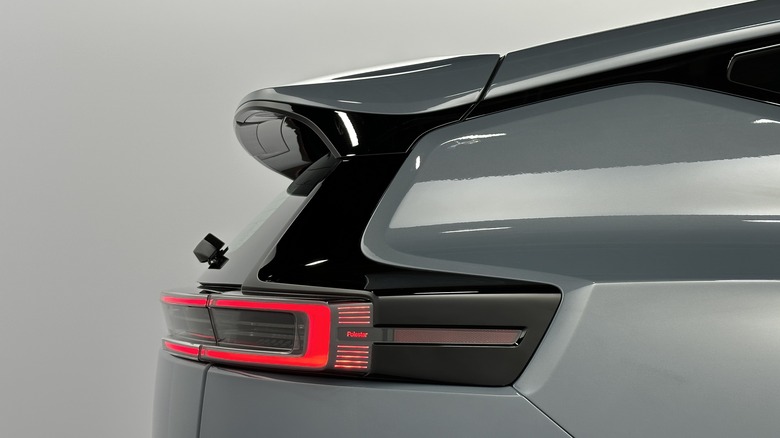 Chris Davies/SlashGear
Though not quite as outlandish as the Polestar 6, it's still fair to say that the Polestar 5 is somewhat at odds with what's selling most significantly in today's market. A long, low, sleek electric grand tourer, it's a new four-door fastback sedan at a time when many automakers are shifting intentionally away from that body style.
Certainly, part of Polestar's liberty comes from its corporate parents. Volvo and the behemoth Geely group not only help soak up some of the development expense — the new Polestar 3 platform will also be used by Volvo, with the upcoming EX90 SUV that we're expecting to see before the end of this year based on the same SPA2 architecture — but also give the performance electric automaker greater flexibility in terms of what it does, and does not, need to offer.
An example of that is in the Polestar 3's interior. That'll only be offered as a five-seat configuration, unlike the seven-seat Model Y that Tesla will happily sell you.
While Polestar plays, Volvo opts for the safe route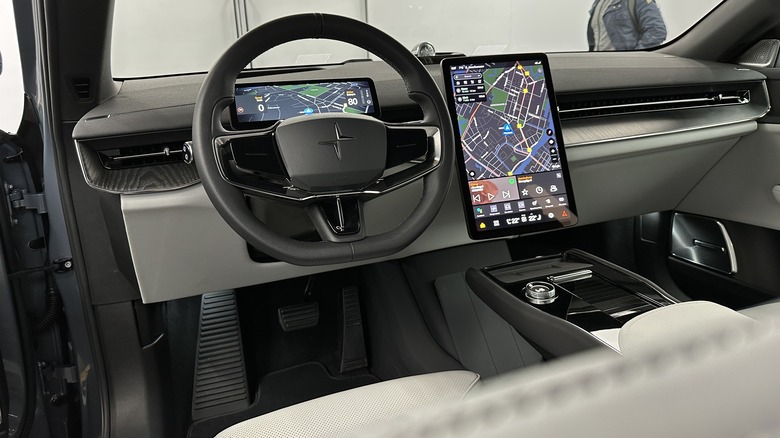 Chris Davies/SlashGear
Polestar's argument is that seating for just five means a far more spacious-feeling cabin, and that if there are people who want more then they'll be able to look across the road (or even across the aisle) to the EX90 in the nearest Volvo dealership. "It's a deliberate decision that we made a car for two seating rows, meaning a five-seater," Thomas Ingenlath, Polestar CEO, explains. "That, in a way, it stands for what we do at Polestar. We don't try to do everything. We have to pick what we believe is the right decision for our brand, and then take all the advantage that you have with that decision and make an astonishing product."
In fact, you'd be forgiven for seeing Volvo as Polestar's more sensible, mass-market-minded sibling: a role that leaves the newer, all-electric brand free to chase some more whimsical vehicles. Models that, while they may not set the world alight in terms of pure sales numbers, certainly stand out of the crowd and help build the brand's reputation more aggressively.
The automotive realists are watching closely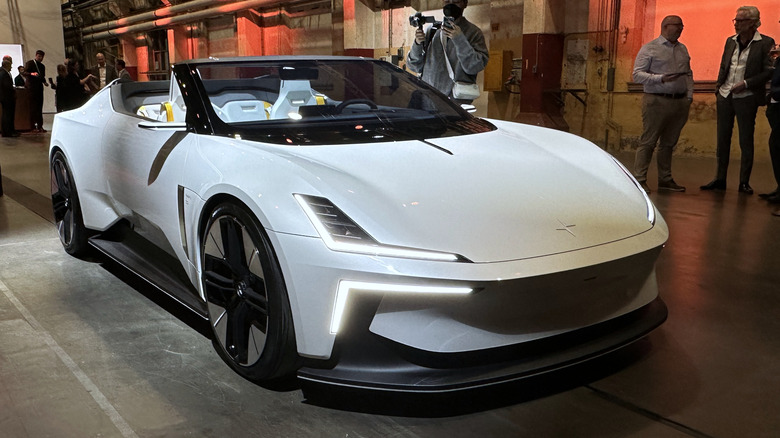 Chris Davies/SlashGear
Perhaps we should expect that from the automaker which brought us — and then promptly took from us — a car like the Polestar 1. The 2+2 grand tourer coupe may have started its life as a Volvo concept, all the way back in 2013, but it took Polestar's boutique production capabilities and willingness to offer something ostensibly at odds with the rest of the industry's direction to actually bring it to the road.
A realist might ask whether, at $155,000 and with only around 1,500 built, the resulting hybrid coupe really moved the needle. In much the same way, an EV enthusiast might look at the Polestar 3's range, capabilities, and price, and question where this fits, more generally, with the electric crossovers and SUVs already out there. After all, a Model Y already bests it on how far it can drive and how many passengers (and their luggage) it can accommodate inside. Even more niche models like the Polestar 5 and Polestar 6 are hardly going to be storming up the sales charts.
Time will tell whether the Polestar 3's driving character lives up to its billing, and indeed whether the Polestar 5 and Polestar 6 are more than just electric curios. When the Polestar 4 is revealed, it'll be the final piece in the automaker's envisaged line-up: "doing much more than that, doing anything more than that, would be a distraction," Ingenlath argues. What remains to be seen is whether the mass-market-friendly SUVs are successful enough to allow Polestar's flights of fancy to continue.