10 iPad Pro Apps To Help You Ditch The Laptop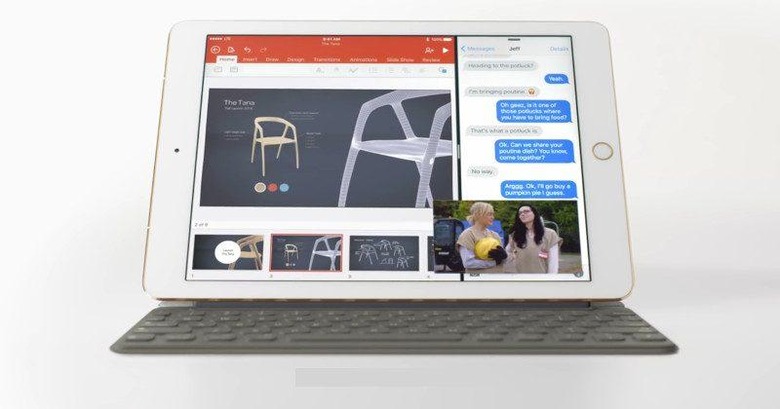 Apple has been harping on and on about how the iPad Pro is not a PC and more than a PC but it hasn't exactly said much about how. Aside from, of course, having a keyboard accessory and running Microsoft Office's mobile suite. There is a grain of truth in that, of course. Thanks to the iPad Pro's beefy specs and the almighty Pencil, it definitely comes close to replacing your PC. Here are 10 classes of apps that can help you leave the bulky laptop at home while you go about your merry way.
Channeling da Vincie: Procreate and Medibang
Since the dawn of the iPad, people have desperately tried to create works of art on the slate with their stubby fingers or equally stubby rubber styluses. It wasn't until the arrival of the Apple Pencil that things took a more serious turn. You aren't going to find any complete Photoshop replacement, and for good reason, but there are a few apps that come close to replacing it in your workflow. Heck, some have even created (not to mention sold) professional artwork on iPad Pros alone.

At the top of the list is Procreate, which rivals Photoshop and many of its iOS counterparts in its brush engine and fluidity of performance, paired with the precision and tilt recognition of the Apple Pencil. But for those whose work goes beyond digital painting, especially comics artists, Procreate isn't enough. That's where Medibang Paint comes in, with its tools that make creating panels and typing in text a breeze. One benefit of Medibang Paint is that it is also available on desktops. Together with cloud syncing, this makes switching back and forth mobile and desktop near seamless.
Inspiration anywhere: Adobe app
While Adobe is mostly hailed in the desktop world as the king of digital content creation, on mobile it takes on a secondary yet interesting role. Its mediocre Photoshop and Illustrator equivalents hold no candle the likes of Procreate, but it offers a number of tools for iOS that still help tremendously in the creation process.
To be less vague, Adobe has a set of tools that help kickstart inspiration and creativity, allowing users to capture ideas or photos and turn them into references or moodboards. Most of these apps you won't find in Adobe's desktop software but, since they're connected to Adobe's Cloud, you can easily share content easily between them.
Mixing up music: GarageBand
While we're mostly steering away from Apple's and Microsoft's software in this list, because the're pretty much a given, we'll throw Apple a bone on this one. When you need to whip up professional-sounding music, especially in a pinch, you need not look further than GarageBand. Indies and even some pros swear by it, despite the connotation that comes with vendor-made apps.
If, on the other hand, you need something with a bit of a DJ spirit, edjing Pro is your digital turntable and deck on the go.
Creating videos: Pinnacle Studio Pro/Vizzywig 4K
Creating and editing videos, in contrast, usually require a bit more bells and whistles. Some will, of course, be satisfied with what Apple's iMovie iOS app has to offer, but the pros have something more worth their while.
Pinnacle Studio Pro is billed as Adobe Premiere or Final Cut for iOS. And if you will judge that by its interface, it definitely fits the image. Despite the seemingly cluttered workspace, everything is still touch friendly, though you can always use your Pencil for more precise controls.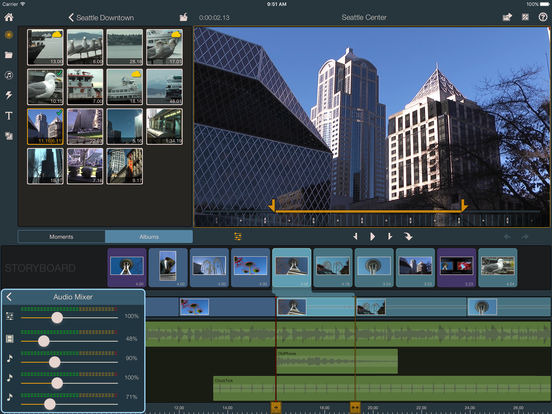 If, for some reason, you need to create or edit 4K videos right on your iPad, then Vizzywig 4K is the way to go. It is as much a testament to the power of the iPad Pro as it is to the crazy apps you can think up for it. However, be warned that Vizzywig 4K is easily the most expensive app on the App Store, at $99.99 down from its previous $999.99.
Watching videos: VLC
The iPad Pro's huge and advanced screens make it a natural for watching videos. And while many consume their videos from online sources, there will always be times when you need or want to watch something offline.
Despite being late to iOS, VLC is still considered the universal video player, both in terms of the platforms its supports as well as the media codecs it can play. It has a few special features that make it stand out on iOS, aside from being able to play almost anything, especially those that have subtitles. For one, it supports Picture-in-Picture mode, letting you "be productive" while watching a video. Another is that you don't need iTunes to transfer videos for it to play. In addition to streaming from a network or discovering networked computers, you can also directly send files to VLC from your web browser, provided the two are on the same local network.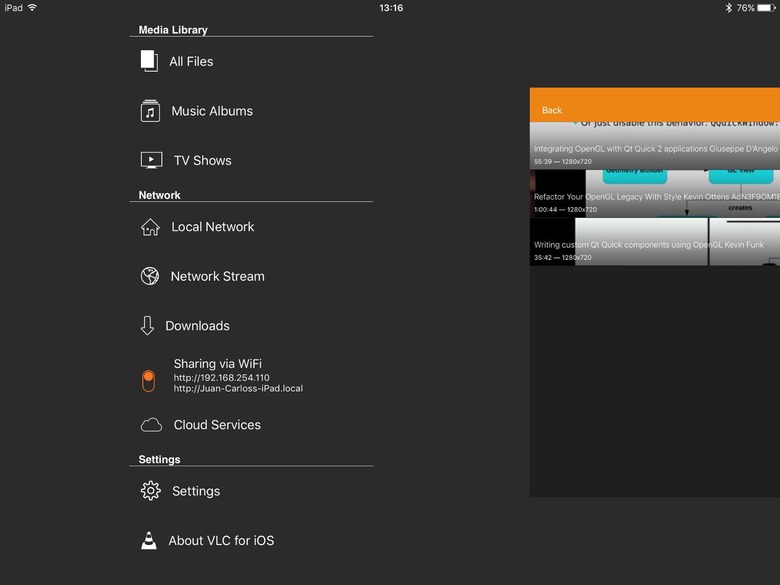 Office productivity: Readdle apps
No, we aren't going to give in and name Office or iWorks. Productivity, whether it be in work or in life in general, is so much more than just creating or editing word documents, spreadsheets, and slides. A lot of it revolves around organization of documents, files, and digital content, some of the low points of iOS as an operating system.
Readdle suite of apps goes beyond mere creation and editing. Readlle is the creator of one of the more popular third-party calendar apps on iOS, Calendars 5, as well as an e-mail client named Spark. Perhaps one of its most popular apps is Documents, which is a misleading name for what is basically a file manager. One of the interesting to happen lately is that Readdle implemented something iPad users have been dying to have: dragging and dropping files between apps. Of course, it's limited to Readdle's own apps, but it could get the trend started.
Productive laziness: Workflow
One of the tenets of productivity is to automate rote, repetitive, and menial tasks. And just because your on an iPad Pro doesn't meant you escape from the drudgery of such tasks. Thankfully, there is Workflow for iOS. Though not as fully featured and flexible as Automator for macOS, Workflow is amazing for what it is able to accomplish given the limitations of iOS. Want to immediately prep a social post for a photo you just took, with fields immediately filled up? You can automate that with Workflow? How about crop and watermark screenshots with minimum fuss? You can do that too.
Workflow's limitations are mostly due to the restrictions that iOS imposes. Now that Apple has acquired Workflow, however, we might see a bit less limitations there. Or Apple might completely integrate it into iOS even. Now wouldn't that be grand!
Crafting apps: Codea/Pythonista/Mobile C/etc
Given those same limitations, you might be surprised that you can actually write programs directly on your iPad Pro. No, not just toy or quiz programs, but nontrivial ones. You can even make games, within limits of course.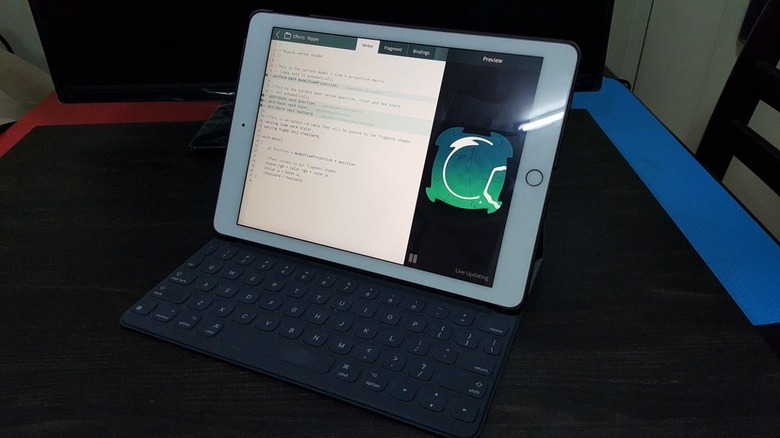 There are a couple of programming environments available on iOS that can tickle your development bones. Codea, for example, leverages the easy-to-learn and lightweight Lua language to create rather involved games directly on the iPad. Pythonista, on the other hand, harnesses almost all the "batteries included" of Python for more complex scripts and programs, which can also neatly tie in with Workflow for an even grander application. If you're bent is more on the close to the metal C and C++, there's Mobile C, which even lets you use OpenGL ES and SDL 2 libraries for graphics. Of course, don't expect to publish your apps the the Store. You'll still need a Mac (or a Hackintosh) for that.
Going the distance: Screens/Splashtop/TeamViewer
It is inevitable that you will eventually need to access a PC or Mac, perhaps for work. Maybe you're out in the field and you need to access of home or office computer. Or maybe you just want to not have to bring your laptop or MacBook with you wherever you go, but still have the option to use it wherever you are.
All those scenarios are possible with the magic of remote desktops. Some initial setup might be required, by your work's system administrator or by yourself, or some cloud sign up, but once that's done, you really won't be tethered by your work or home computer anymore. There are quite a number of options out there and the competition is rather tight. Splashtop and TeamViewer are some of the biggest names in this market, but each one has their own subscription scheme that may or may not appeal to you. Almost all of them, however, are free to try, and it definitely won't hurt if you do.
Double vision: Duet Display Pro and AstroPad
Admittedly, this is less of an "iPad Pro replaces your PC/Mac". This is instead an "iPad Pro makes your PC/Mac awesome". Both Duet Display, specifically Duet Display Pro, and Astropad share a few features in common, but each attacks the problem for a different vantage point.
Astropad is designed and optimized for turning your iPad Pro into a Wacom Cintiq, allowing you to use the Pencil to draw on the iPad Pro's screen and have that carried over to the PC or Mac, as if you were drawing on them directly. Of course, it also carries over pressure sensitivity and tilt, giving you a more portable and multi-purpose art tablet. Astropad, however, is limited to only mirroring what's on the computer's screen.
Duet Display, in contrast, started out as a way to extend your PC or Mac screen like you would a second monitor. You can also use it as simply a mirror or even a the primary screen (with some caveats). In the Pro subscription-version, however, it gained the ability to also use the Apple Pencil for pressure-sensitive drawing. It even gained the ability to display the Touchbar for Mac apps that support it. Its limitation over Astropad is that it only works via a cable, while Astropad supports both wired and wireless connections.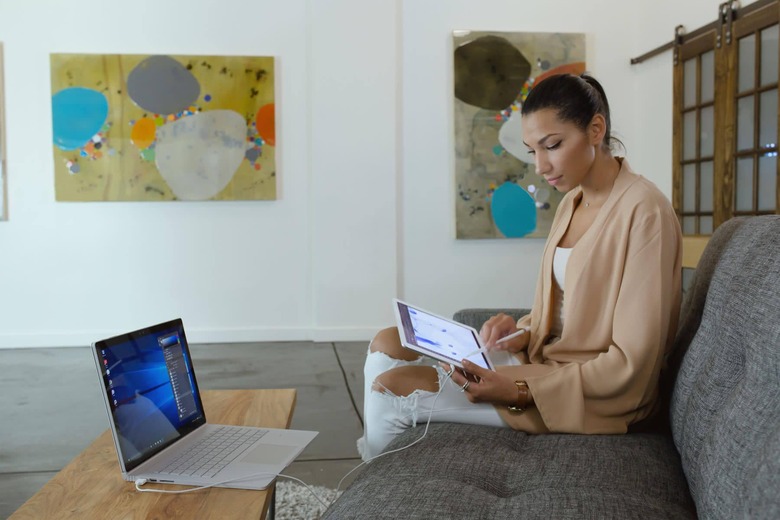 Wrap-up
As much as fans and Apple itself might want it to, the iPad Pro still won't be able to replace laptops. Much of that as to do with the sometimes arbitrary limitations imposed by iOS. Limitations that app developers, creative bunch as they are, have been able to work around, producing apps like Workflow, Codea, and Pythonista. But it's getting there, and it might even be the destination Apple is eying. For now though, yes, you can just bring you iPad Pro with you and leave your laptop or MacBook at home. Just don't get rid of it yet.