Apple Stage Manager's iPadOS 16 Surprise Could Save You From Buying A New One
When Apple released the iPadOS 16 earlier this year, one of the biggest updates it received was the addition of a feature called Stage Manager. While its name could be slightly misleading, this feature essentially gave users a new way to interact with apps. Aside from creating an entirely new way of multitasking, Stage Manager also gave iPad users the ability to run up to eight live apps on the screen at once. Features enabled by Stage Manager include the ability to resize app windows, overlap one window over another, and increase support for multi-display setup — hitherto impossible on Apple's tablets.
While iPad users across the globe welcomed these features, the big caveat with Stage Manager was that it would only work on the latest iPad models powered by Apple's M1 chips. Unfortunately, this meant that Stage Manager was out of bounds for the vast majority of iPad users still holding on to their older tablets: ones powered by Apple's A-Series chipsets.
With Stage Manager gaining in popularity, there was sizable demand from a subset of older iPad users who wanted Apple to bring Stage Manager to their devices. However, with most of the demand for Stage Manager coming from people owning the 3rd and 4th generation iPad models, Apple seems to have finally given in to the pressure. In the latest developer beta version of iPadOS 16, Apple has enabled the rumored Stage Manager Feature for a handful of older iPad models.
Not the full-fledged Stage Manager experience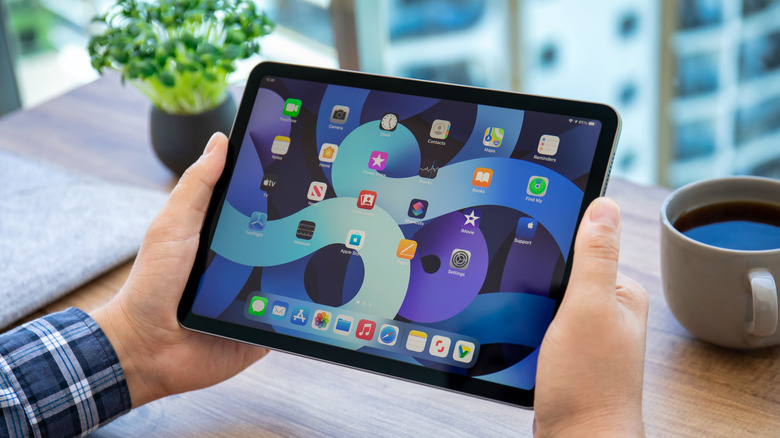 DenPhotos/Shutterstock
Among the older Apple iPad models that have officially received the nod (via Engadget) for Stage Manager on iPadOS 16 include the 11-inch iPad Pro (first generation and above) and the 12.9-inch iPad Pro (third generation and above). These relatively new iPad models come powered by Apple's A12X Bionic and A12Z Bionic chipsets. Since Stage Manager was initially designed for M1-powered iPads running iOS 16 or beyond, enabling it on older hardware comes with a few trade-offs. 
While the M1-powered iPad can simultaneously open up to eight live apps on the screen, the maximum number of live apps on older models is limited to just four. In addition, older iPads running iPadOS 16 and beyond would also not be able to invoke Stage Manager while using the devices with external displays. Interestingly, Apple is yet to enable external display support for Stage Manager on even the M1 iPads. However, the company did confirm that Stage Manager for the M1 iPads will be enabled on the M1 iPads via a software update before the end of 2022. 
Apart from enabling Stage Manager on older iPads, the next version of iPadOS 16 (likely to be called iPadOS 16.1) could incorporate a lot of bug fixes. Per Apple's current plan, the public beta version of iPadOS 16 should reach customers by October. Apple has also confirmed that Stage Manager will also make it to macOSVentura, which is also set for release in October 2022.