Apple Might Give Your Old iPad New Life Again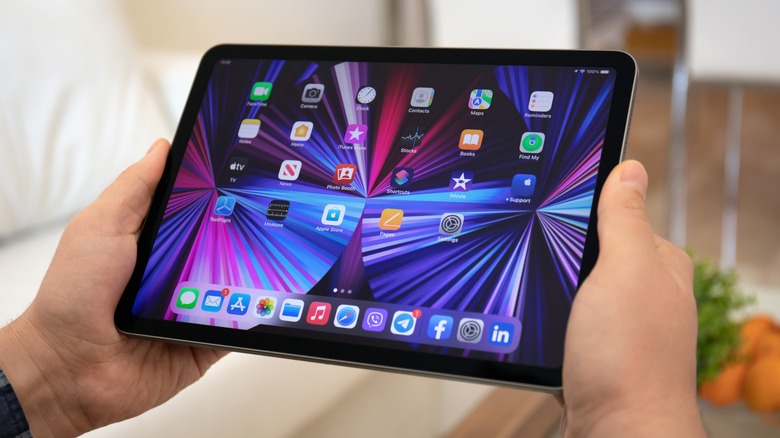 DenPhotos/Shutterstock
One of the best features introduced by iPadOS 16 is Stage Manager, adding a Mac-level computing trick to Apple's tablets. However, the feature is currently exclusive to iPads with the M1 silicon inside, as Apple has stressed that only the M1 delivers enough juice for the feature to work smoothly on iPads. But it appears that there is still some hope for non-M1 iPads.
The folks over at 9to5Mac did some digging in the code of iPadOS 16 and found a hidden setting that can enable Stage Manager on older iPads with Apple's A-series processors. Apple refers to these older iPads as "Legacy Devices" in reference to "Chamois," which is the internal codename for Stage Manager. Once enabled, Stage Manager will potentially be functional on older iPads without M1 silicon. There is no official word from Apple on the matter, and therefore no guarantee that it'll ever see the light of day. There is, however, some precedent for a situation like this, which does allow us to continue to hope.
The Live Text feature, which scans images and identifies text, was initially limited to M1 Macs when macOS Monterey was released. After a relatively short period of time, Apple quietly updated the support document to include Live Text support for all Macs that are capable of running macOS Monterey, both Intel and M1 flavors.
Why is Stage Manager M1-exclusive?
Stage Manager marks the first major breaking point between M-series and A-series iPads in iPadOS 16, but the explanations given by Apple haven't really been satisfactory. Apple initially noted that Stage Manager requires a certain level of computing and graphics power to achieve the desired level of responsiveness on its products. In the case of Stage Manager, the M1 chip proved to be that performance threshold capable of delivering the requisite level of fluidity.
"It's only the M1 iPads that combined the high DRAM capacity with very high capacity, high performance NAND that allows our virtual memory swap to be super fast," Apple's SVP of Software Engineering Craig Federighi told TechCrunch. It was initially thought the memory swap system is critical for Stage Manager to work on M1 iPads. However, the memory swap system is not available on the 64GB storage variant of the iPad Air 5, which has the M1 silicon ticking under its metallic shell.
Apple continues to market Stage Manager as an M1 exclusive, but there's another caveat that the company hasn't really said out loud. The official iPadOS 16 Preview page notes that virtual memory swap requires at least 256GB of onboard storage, which should technically rule out the 64GB variant of the M1 iPad Air as well as the 128GB trim of the iPad Pro with the M1 silicon inside.