iPadOS 16: Apple's iPad Is Getting Even More Mac-Like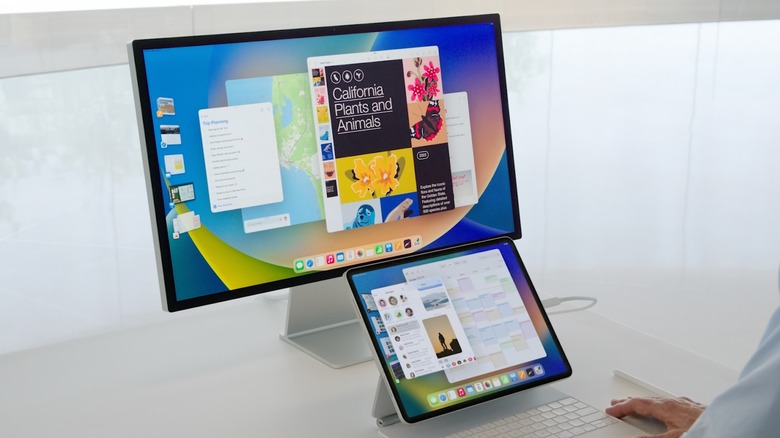 Apple
Apple has heard its users' pleas and added some key features to iPadOS that are designed to make iPad Pro tablets and M1 iPad Air more useful for professional users. It is perhaps both improved multitasking capabilities and full external display support that'll prove this update to have been worth the wait. These new features will arrive in iPadOS 16, and while there's something for everyone to get excited about, the biggest features revolve around bridging the gap between the iPad Pro tablets and macOS computers, giving consumers a good reason to pick the higher-end iPad models over the cheaper entry-level counterpart.
The newly announced Reference Mode in iPadOS 16, for example, is limited to the newest 12.9-inch iPad Pro, while the Stage Manager — which includes full external display support and the new "multitasking experience" — is limited to the iPad Pro and iPad Air models featuring Apple's M1 chip. This is a welcome change that addresses some of the biggest, most persistent complaints users have had about the iPad Pro, namely that it offers powerful hardware but hardly anything at the software level to take advantage of that performance level in any substantial way.
Collaboration gets a major focus in iPadOS 16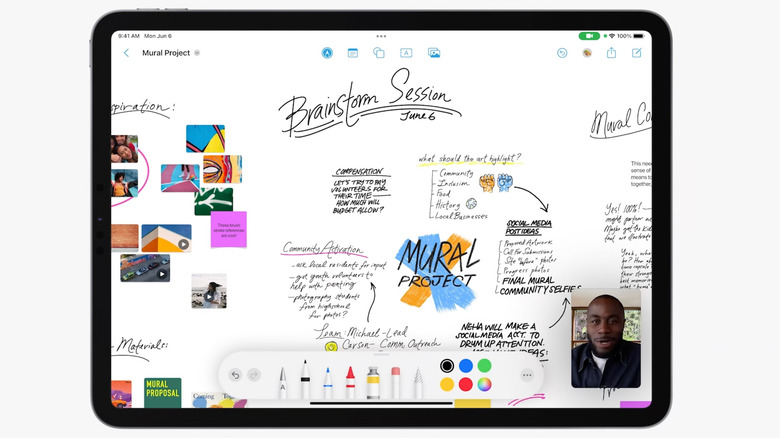 Apple
Apple's continued lack of a Mac-like experience for the iPad Pro had resulted in speculation that the company was deliberating limiting its tablets' capabilities in order to avoid cutting into MacBook Air sales. The newly introduced iPadOS 16 features dash those allegations, however, by specifically targeting the segment of consumers who want a more desktop-like experience with the iPad Pro, but combined with the highly convenient form factor and unique usage scenarios made possible by a tablet. 
Apple emphasized collaboration as a key upgrade in the next major version of its iPad operating system, and Messages plays an important role in that. According to the company, users will be able to share content with other users across Apple's productivity and office apps — Files, Pages, etc. — in addition to select third-party offerings. This means that, for example, multiple people will be able to participate in refining the same presentation by accepting an invite sent through Messages. The messaging app is used to share updates about the content and allow users to chat with each other, though Apple notes that FaceTime can also be used for the same sort of real-time collaborative communication.
As part of this, Apple has a new app designed around collaboration. Freeform, as it's called, functions as a sort of blank canvas upon which many people can work together on projects — and, since it's for the iPad, it includes Apple Pencil support.
Mac-like apps and multitasking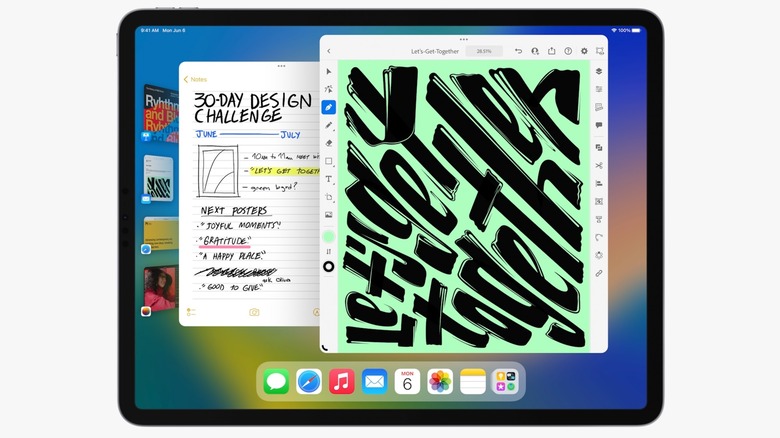 Apple
Though iPadOS already offers a degree of multitasking capabilities, it is very limited compared to what you can do on macOS, which makes the tablet less appealing for getting serious work done. Apple aims to change that with iPadOS 16, which brings a redesigned multitasking interface. As previously leaked, the Stage Manager multitasking feature makes it possible for iPad users to open and view overlapping apps that have different window sizes; this is a huge update over the current design, which offers only a single limited floating window or the option of opening two apps side-by-side in split-screen view.
In addition to viewing multiple apps with different window sizes over each other, users will also be able to view minimized app windows on the left side of the screen, where they'll be able to quickly toggle between open apps by sliding some over to the column and tapping others into full view. This joins the existing dock, which will, of course, still allow users to launch new apps with a tap. The new feature should make it much easier for iPad users to get work done while staying in the flow, though doing so will no doubt come with one other requirement: a larger screen size.
A desktop-lite experience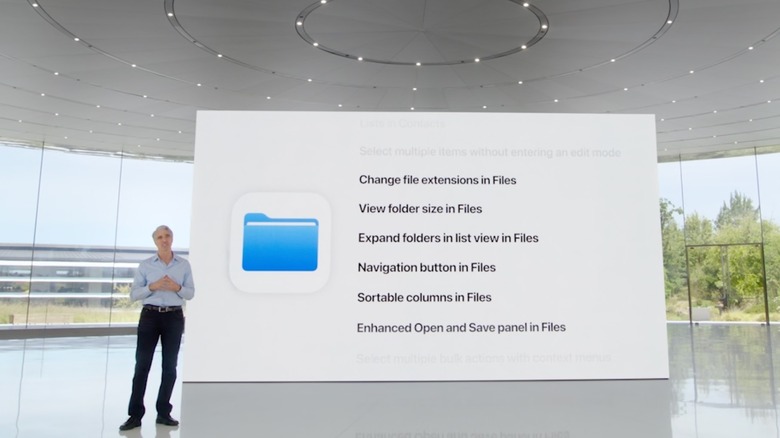 Apple
Now that iPadOS 16 is getting a more Mac-like window organization system, it only makes sense that Apple would take that to the next level by enabling users to view the content on a larger screen — and that's where the full external display support comes in. Though iPad Pro users already had the option of plugging their tablet into a monitor, the experience was incredibly basic to the point of arguably being unusable. In iPadOS 15, users are only presented with a mirrored image from their iPad on the external display, which can't be readjusted to match the monitor's resolution and aspect ratio.
Once iPadOS 16 arrives, that'll change, assuming you have an iPad Pro or the iPad Air with M1. Apple says users will be able to work on the iPad with the Apple Pencil while connected to an external monitor, and there will also be support for dragging content from the iPad to the larger display. Stage Manager will support up to a 6K external display where up to four apps can be presented in addition to another four apps on the iPad itself. This support is joined by what Apple calls "desktop-class" apps that have been specifically optimized for the iPad's display while also offering features akin to what you'd get from Mac software: toolbar customization options, a system-wide redo and undo experience, newly redesigned find and replace functionality, and support for changing a file's extension within Apple's own Files app, for example.