The Daily Slash: November 9 2010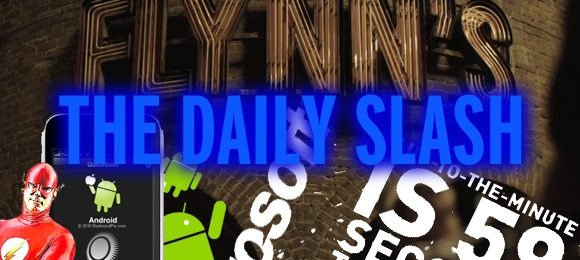 Let me talk to you for a moment about a couple of the odder things that happened today, and this is outside the story you're going to hear about in the special "The Daily Slash" section you all know and love. First, there's a lot of ports, ROMS, and hacks flying around the smartphone world on a day-to-day, but today there was a rather important one surfacing: Android to iPhone. Like two rival gangs having a child together. No violence between them yet, but someone DID get shot today – a Galaxy Tab. In response, Angry Birds released 45 new levels, and someone records a UFO on an HTC EVO 4G. TRON throws a card into the hat with their 3rd giant trailer, iPhone's GLASSGATE ramps up, and all Apple handhelds grow a little tail. All this and more, today, on THE DAILY SLASH!
SlashTABLETWAR You know there's a barrage of bad tablets coming out now as if the biggest tabs were falling down a mountain, knocking the smaller ones free as they topple. Here's something that, when you watch the Queen-laden introduction video below, might be excellent enough to take flight and knock free a few pebbles of it's own. This is the "Kno," the "text book of the future," founded by semiconductor physics PhD holder Babur Habib and serial entrepreneur Osman Rashid. This video is traveling fast across these internets, and I kinda sorta wish I had one of these "Kno" devices when I was in school, for sure. Find more information at the Kno homepage and/or watch the uplifting video below.
R3 Media Network
SlashPhone
Opera Mobile 10.1 beta Available on Android Market [RELEASE]
HTC HD7 For T-Mobile Now Available [RELEASE]
Android Community
Adobe Flash Updated, Now Gingerbread ready as well [UPDATE]
HTC T-Mobile G1 Receives myTouch 3G Android 2.2 ROM [HAX]
Dell's Stage User Interface Now Available for Devices with Android 2.2 [RELEASE]
O2′s Galaxy S being treated to Froyo November 15th [RELEASE]
Skype 1.0.1 Update for Android Added Today [RELEASE]
Permanent Root for G2 [HAX]
Galaxy Tab Shot with CO2 Powered Pistol to Test Gorilla Glass [BLAST TESTING]
Angry Birds gets 45 level update, QVGA support, more [ADDICTION SUSTAINED]
Android 2.1 for Motorola CLIQ finally released [RELEASE]
White Samsung Galaxy S arrives in UK care of Carphone Warehouse [RELEASE]
Motorola DROID 2 Global and DROID PRO arrive on Verizon [RELEASE]
HTC EVO 4G records video of "UFO Sighting" in Virginia [OUTER SPACE]
SlashGear
Tron Legacy Trailer #3 [VIDEO] [TRON]
SlingPlayer Mobile Available for Windows Phone 7 [RELEASE]
Rosemary's Baby: iPhone 3G and Android 2.2 Froyo Combine to Form Adobe Flash for iPhone [UNHOLY MATRIMONY]
Microsoft Suing Motorola Due to Excessive Royalties on Network Technology in Xbox 360 [LAW]
BlackBerry Storm 3 Now Called the Monaco, Not Dead After All [NAME CHANGE]
The Swiftness of Internet Justice [COLUMN]
OmniVision 8MP CMOS Sensor Rumored to be Heading to the iPhone [RUMOR]
Huawei S7 Preview [REVIEW]
Microsoft relents, moves Xbox Live Indie Games back into limelight [POWER TO THE developer PEOPLE]
iPhone 4 "Glassgate" sees Mophie & other slider-cases ousted from Apple Stores? [GLASSGATE]
Samsung Display demo 4.5-inch flexible AMOLED [BENDY]
Lenovo IdeaPad U260 leaks: Core i3/i5 12.5-inch ultraportable [LEAKY]
Snails, nails, and puppy dog tails, that's what the iPhone is made of [CONCEPTUAL DESIGN]
Alienware M17x R3 coming soon with Radeon HD 6970/6870 GPU [RELEASE]
Trendnet TPL-304E powerline network adapters now shipping [RELEASE]
Hasbro my3D brings 3D gaming, movies and AR to iPhone [WEIRD]
E Ink debut Triton color e-paper [ELICIOUS]
Kno price educational tablet: $599 for single screen, $899 for two [EDUTASTIC]
T-Mobile HTC HD7 sells out amid "strong interest"? [SOLD OUT!]
Kindle magazine & newspaper publishers get new 70% revenue share deal [STOCK UP!]
To see more Daily Slash posts, click here: [The Daily Slash]