T-Mobile HTC HD7 Sells Out Amid "Strong Interest"?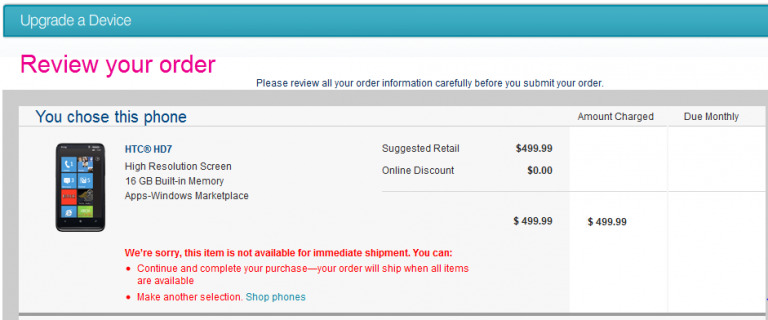 Anybody looking for block-spanning lines at the North American Windows Phone 7 launch yesterday would have been generally disappointed, but it seems sales have still be brisk. According to TmoNews, T-Mobile's customer service team is now saying the HTC HD7 is on back-order, while customers are seeing messages on the carrier's site saying "this item is not available for immediate shipment" when trying to order the 4.3-inch handset.
Of course, it's unclear exactly how much stock T-Mobile had in of the HD7 in the first place, so it's not conclusive proof that Windows Phone 7 has been a massive sales success. HTC told us prior to the Windows Phone 7 launch in Europe that, while the carriers had been more tentative in their enthusiasm for Microsoft's new smartphone OS, the manufacturer was gung-ho and had been producing more devices than the operators said they wanted. If true, hopefully that means supplies to T-Mobile will be refreshed quickly.
Meanwhile, neither AT&T nor T-Mobile will give sales figures, but an AT&T spokesperson did tell SeattleTimes that they saw "lines in some of our markets across the nation" and that "there definitely was anticipation for the phone." T-Mobile, meanwhile, said there had been "strong interest" in the platform.
[via WMPowerUser]