SlashGear Evening Wrap-Up: January 18, 2013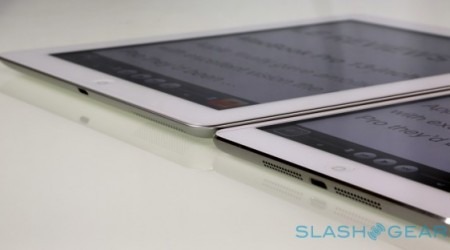 Welcome back to Friday folks. Earlier today, we saw what's rumored to be the Samsung Galaxy S IV pop up in AnTuTu's database, with the listing suggesting that it will come equipped with an Exynos 5 Octa CPU. The iPad Mini has been projected to both drive and cannibalize Apple's sales in Q1 2013, and Kim Dotcom's new site Mega launched today for advance users. Apple CEO Tim Cook, Intel CEO Paul Otellini, and Google Chairman Eric Schmidt have all been ordered by Judge Lucy Koh to submit to questioning after allegations that the three companies entered into a non-poaching pact together, and we learned today that Windows 8 upgrades will jump up to $119 come February.
Facebook for Android took the jump up to version 2.1 today, and we were right there to go hands-on with it, while the first picture of the unannounced Samsung Galaxy Xcover 2 surfaced. The chairman of the FCC wants gigabit Internet in all 50 states by 2015, and we got our first look at BlackBerry 10 voice commands today in a new leaked video. Opera has announced Opera Ice, a new browser for mobile devices, and today Amazon introduced the world to Kindle Rentals, which is obviously a new feature allowing users to rent eBooks for a pre-set period of time.
It seems that the Exynos security hole has been fixed in the Verizon Galaxy Note II, with a new update being sent out to users today. Bethesda revealed that all Skyrim DLC will be heading to the PlayStation 3 in February after months and months of waiting, and it seems that Google is working with Yubico for password USB rings. XBMC has come to Android and we tell you how to get it on your device of choice, and with the NHL lockout finally (finally!) over, NHL GameCenter has arrived on Xbox 360.
Dynamism today showed off its new KUPA Ultranote X15 Windows 8 Pro tablet today, while a new bill in the House wants stronger laws for video game ratings. AVADirect announced the world's first quad NVIDIA Tesla system today, and Forbes named Google the best company to work for. Finally tonight, Chris Burns walks you through why Facebook not offering a "hide from search results" option isn't anything to worry about. That does it for tonight's Evening Wrap-Up, we hope you enjoy the rest of your night folks!