Samsung Galaxy Note II may hit AT&T the same day as Nokia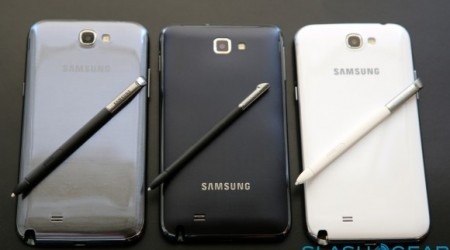 If you were deciding between the Samsung Galaxy Note II and the Nokia Lumia 920 (and/or Lumia 820, for that matter), but didn't know if they'd all be working on your favorite carrier AT&T, today's you're lucky day! A tip has been dropped today about the Galaxy Note II on how it not only appears to be hitting AT&T as its predecessor the original Note did, but will be appearing on October 21st, the same day as the new Nokia Lumia lineup.
The Samsung Galaxy Note II is a massive 5.5-inch display-having phablet device that's smaller than a tablet but bigger than a smartphone, complete with a Samsung-made S-Pen for writing on the display and taking notes. This S-Pen works with technology unique to Samsung and fits neatly inside the casing of the mobile device for easy transport. Have a peek at a hand-on video with some of the most recently revealed features in this next-generation device.
A source trusted by BGR has made it clear that the 21st of October will be the launch date for the AT&T version of the Note II, and just like it's predecessor we can expect no less than 4G LTE connectivity all day long. This device has also been tipped recently as coming to Verizon this Autumn, but no updates have been made on that front. Should this device come to Verizon, it will be going head to head with the LG Intuition (see our full review here).
The Nokia Lumia lineup has been slated for Fall release with both October 21st and November 2nd tipped as release dates. It would make more sense, one would think, to have the release dates for two large releases such as these to be separated by days at least. We'll know soon enough!
[via Android Community]