Origin PC CHRONOS Gaming Desktop Review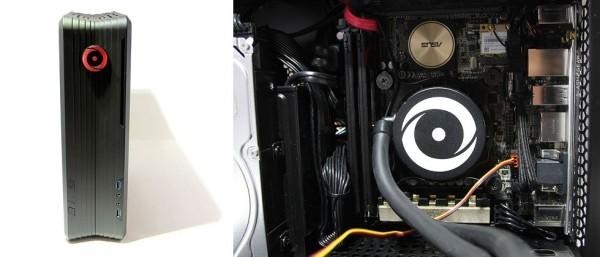 While Origin PC's Chronos comes as one of the most compact gaming PC builds in the industry, it still manages to thrill. While you'll see a whole lot more of the big builds like Origin's GENESIS sitting out in the open at gaming shows – or your most affluent gaming friend's basement, Origin's finesse in jamming the best components into the smallest of cases shines in the Chronos. While Origin also offers the "Omega" small-size gaming desktop, it's the slightly lovelier to behold Chronos we're reviewing today.
The Origin Chonos collection, as it's more accurate to say, contains a variety of different tower cases. Users can get one of several Micro AXT mini-tower cases, like the Corsair 350D for $124 or the Fractal Note 804 for $162 or the Silverstone FT03 for $176. Those provide you with a little more room on the inside – and have a slightly larger footprint as a result.
Users can also choose a Small-Form Factor case from the Mini ITX Chronos collection. That's what we're working with here.
There's a Silverstone SG08 for $143, an EVGA Hadron Air for $131, a Corsair 250D for $105, or the one we have – the Silverstone RVZ01 for $130. That's the case price there, by the way. You'll see the full price at the end of this review.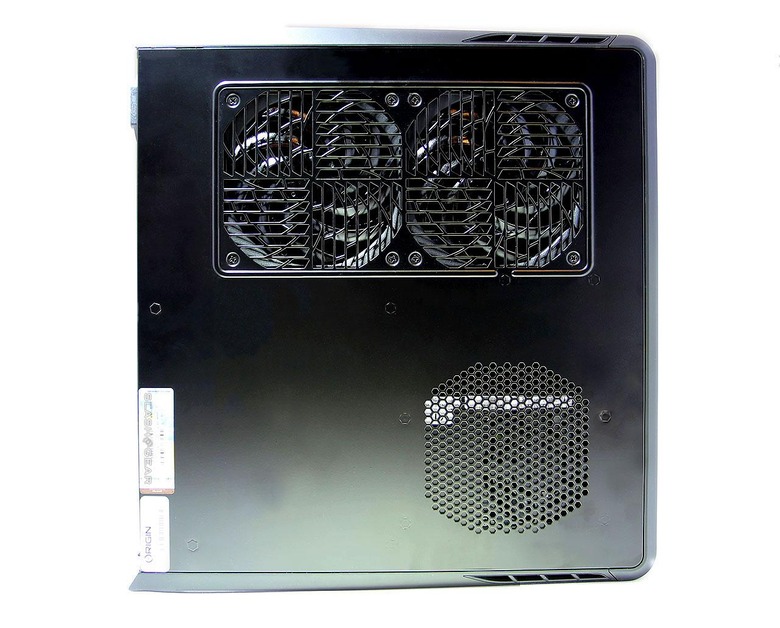 This is a simpler case and doesn't come implicitly with interior lighting options – this case was meant to be compact to the max. You can, on the other hand get a custom air-brushed paint job.
Inside you'll be choosing between Intel Core Z97 or Intel Core X99 for starters. Your choice, of course.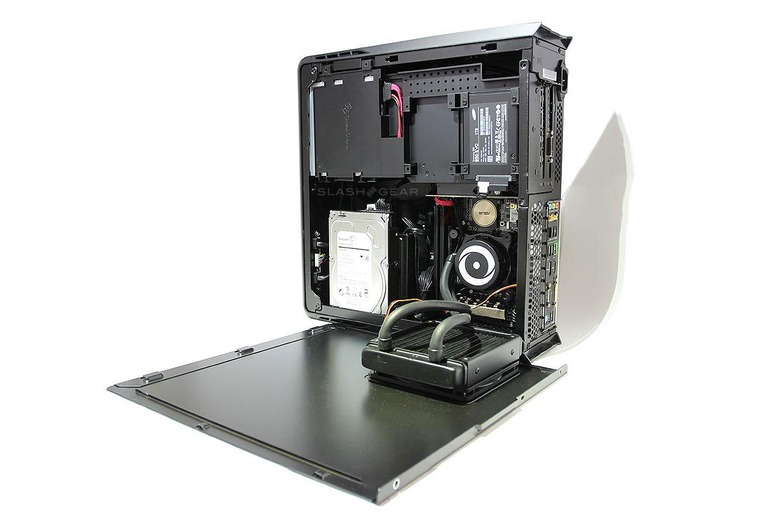 We've got the following bits and pieces in this review unit:
• Chassis: Silverstone RVZ01
• Motherboard: ASUS Z97-I Plus
Processor: Intel Core i7 4790k Processor with Professional ORIGIN PC CPU Overclocking
• Graphics Card: NVIDIA GeForce GTX TITAN X (12GB)
• Memory: 8GB 1866Mhz ORIGIN PC Powered by Kingston HyperX
• Liquid-Cooling: ORIGIN FROSTBYTE 120 Sealed Liquid-Cooling
• Power Supply: 600 Watt Silverstone SFX Series
• Hard Drive 1: 1TB Samsung 850 EVO Series SSD
• Hard Drive 2: 4TB Seagate Solid State Hybrid Drive
• Optical Drive: 6X Slim Slot Blu-Ray Read/Writer
• OS: Windows 8.1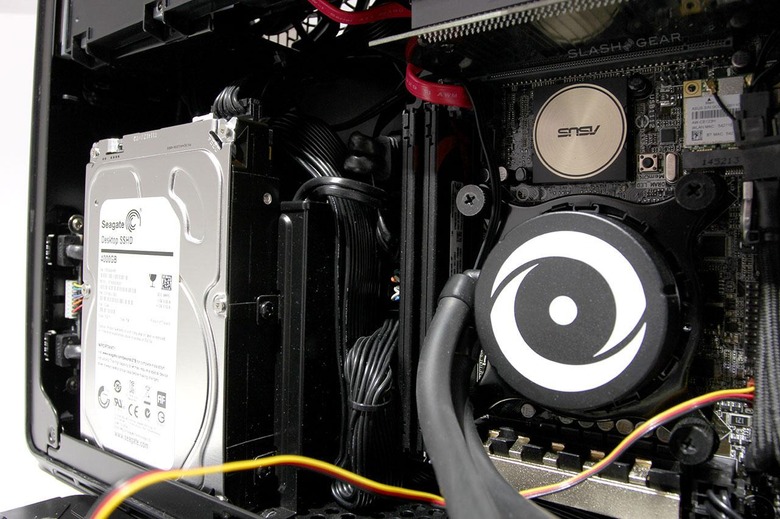 Performance here is great, certainly for such a small enclosure with limited room for processing hardware. We'd expected as much, given the NVIDIA GeForce GTX TITAN X graphics card here alongside a Origin-overclocked Intel Core i7 CPU.
There isn't a part in this system we don't trust – Origin doesn't scrimp on the name-brand parts. You pay for the lot of them, but they'll last you.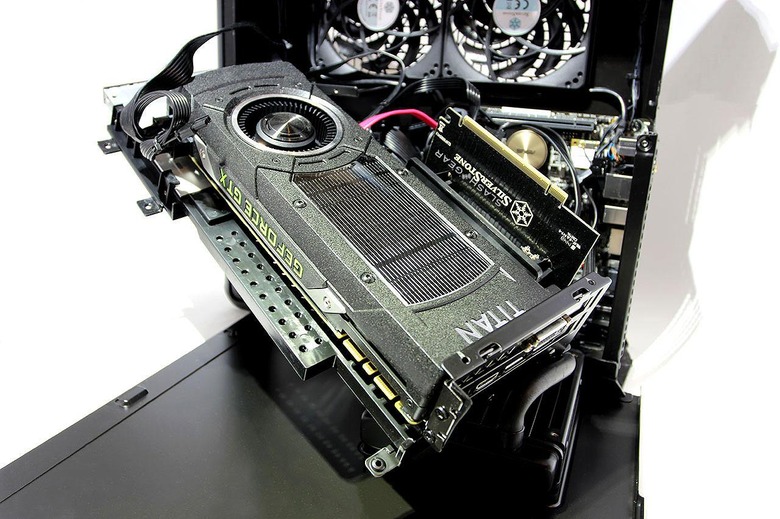 While this is a custom-built PC, it's not the most DIY-friendly we've ever worked with. You're going to need a set of philips-head screwdrivers for this one.
If you're the sort of person who builds their own PC at home, you'll be able to replace any part in this machine with minimal swearing. If this is your first gaming PC and you want to switch out the GPU in a few years, you're going to want to consult a friend before you snap anything important.
When you've got an NVIDIA Titan X GPU under the hood, you prepare yourself for highest-end graphics performance with a single unit. Here's what we got.
Working with Grand Theft Auto V's standard benchmark test, DX11 (Normal Textures), FXAA, and 2560 x 1600 resolution we're getting right around 90 fps on average. Kick down to 1920 x 1080 and we're seeing over 100 fps on average, most of the time 110 or higher.
Playing GTA V with all settings optimized for our build by NVIDIA's GeForce Experience resulted in around 95 fps in Story Mode – that's offline.
League of Legends, one of the games that you're absolutely going to want the best frame rate you can possibly muster, ramps up to and above the 200 fps sweet spot. If you're a master gamer and you want the absolute best, you're going to want a PC with multiple cards – again, see the Origin Genesis, or a Millennium, even. They're massive.
If you want get down to some brass tacks here, Very High detail results in an average of about 195 fps, maximum closer to 278 fps, and a minimum of 155 fps. Medium Detail results in an average of 285, a maximum of 374, and a minimum of 200.
Below you'll see some Geekbench results that are generally average on this build.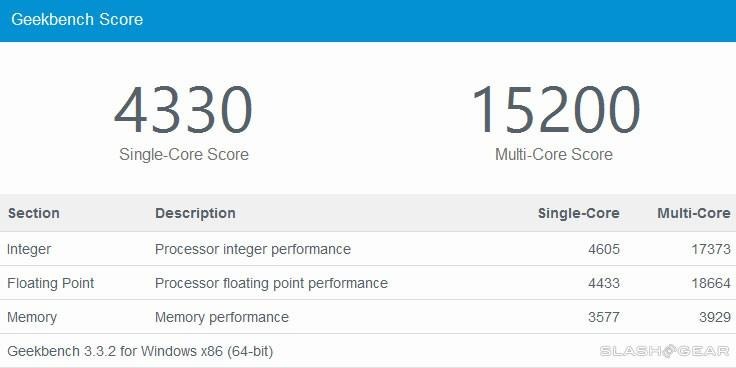 As it is with all machines, we rely more on the everyday average performance than we do benchmarks. While the benchmarks you're seeing here are impressive, it's the reliability of the high performance we've seen here that we're all about.
And it's good. It's amongst the best we've ever seen. With the newest internal components comes the best performance, of course – but Origin's done a top-notch job of putting the parts together.
Above you'll see the app collection included with the base build of the PC. Tap the image to see the full-sized version if you need to get up close and personal.
The Origin Experience
When you order an Origin gaming PC, you get it in a box. A very big box. This box is made of wood, and you're going to need a screwdriver to get it open.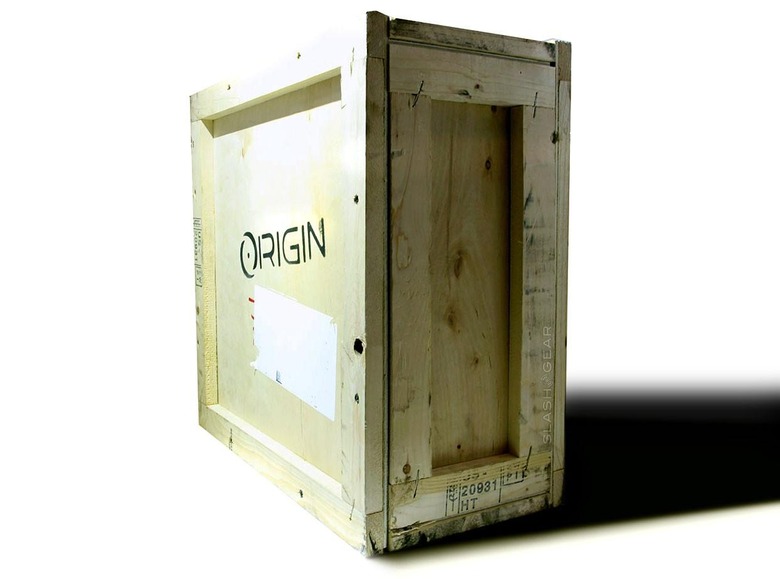 Keep that in mind if you're about to buy one of these machines and you've got a real unfriendly mail deliverer. You're going to get a gigantic wooden box.
It's a real unboxing experience.

It's a very big, yet surprisingly light box – depending on what model you've purchased – with the ORIGIN logo sprayed on its side. It'll make you very happy you went with some flare in presentation when it comes to your door.
Support
One of the most awesome bits about Origin is their phone support and extensions. In addition to getting a one-year parts replacement warranty, you get lifetime labor and lifetime 24/7 phone support. If you need to send the machine in for repairs, you can do so for free inside the first 45 days.
You can grab an upgrade to a two-year warranty for $170 or get a boost to a 3-year warranty for $270, both of which include shipping costs for the duration of your upgrade.
Upgrading hardware is pretty boss with Origin as well, with an upgrade service for two years for $20 and three years for $40. That cost covers your shipping and labor for parts sold by Origin for the duration of your coverage.
Wrap-up
This gaming PC (as configured) comes in at a cool $3,570. Again, that includes lifetime 24/7 US-based tech support and the ability to customize and upgrade with name-brand components.
Origin's build here is more than worth the cash if you're all about getting the best built for you. This tower isn't the quietest gaming PC on the block, and it's not necessarily made to be the prettiest machine in the world without a custom paint job, but it'll do the trick for a smaller cost than similarly equipped competitor gaming PCs.
For a look at a system that costs very similar and rolls with a very similar price, have a peek at our Falcon Northwest Tiki Review, or our Tiki-Z Review for a more powerful (and far more costly) edition. See the MainGear Potenza and the iBuyPower Revolt for a couple more small-sized competitors in this arena.
Have a peek at a few more high-powered machines like the AVADirect Quiet Gaming PC and the NEEDLETAIL SX as well if you'd rather ramp up.