Tiki-Z mini-Review: The Tiny Gaming King defends his crown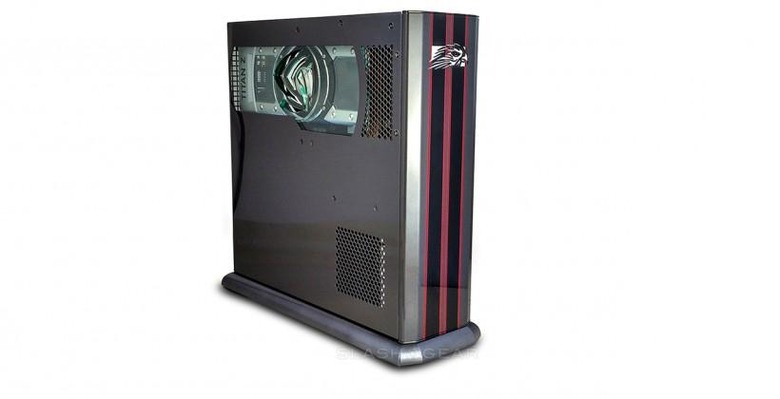 The following review is going to be short and to the point. Not because it doesn't deserve more words, not because it's not an important product. We'd never do such a thing. Instead, this review is going to be short because there's not much to say that we didn't already say in our first Falcon Northwest Tiki review and subsequent crowning of the device as the best gaming PC of the year in 2013. Never mind the fact that it was actually unveiled before the year began.
The Tiki-Z is a small form-factor computer tower packed with some of the most powerful PC hardware today's market has to offer. The Tiki-Z is 4-inches wide, 13-inches tall, and was amongst the first of Falcon Northwest's collection of device to have the NVIDIA GeForce GTX Titan-Z graphics card fitted inside.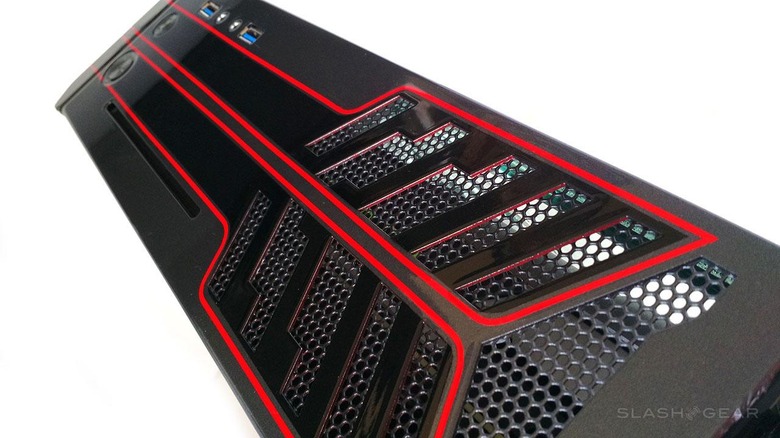 This unit has an Intel Core i7-4790K Devil's Canyon CPU, modified SilverStone 600W power supply to handle the Devil, and a custom build to work with the Titan-Z. Every Falcon Northwest device is custom built, of course, but this one takes an existing tower – the Tiki – and makes some extra moves to account for its innards.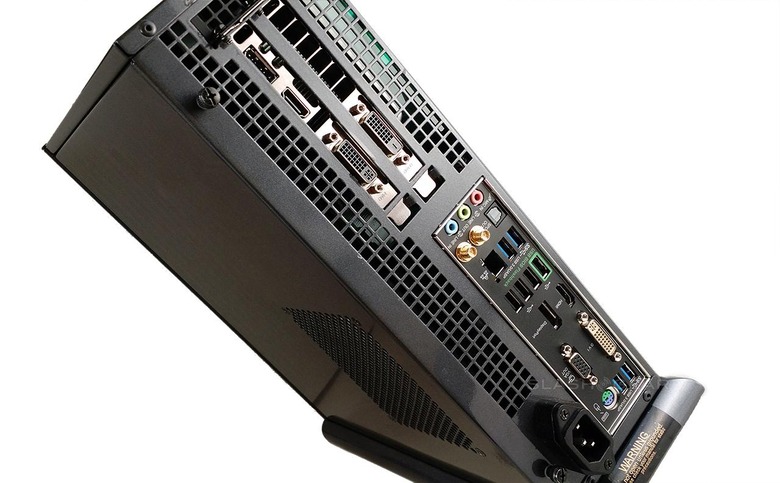 The non-Z Tiki has uninterrupted metal panels on either side save three neatly-placed vents. One sits on the side that's able to be removed with two thumbscrews – this works with the device's main cooling system.
The other side of the original Tiki has two vents – this new Tiki-Z has two vents and a pane of glass. The Tiki-Z's glass has a meticulously cut NVIDIA claw logo to provide ventilation for the Titan-Z, placed right over the Titan-Z's main fan.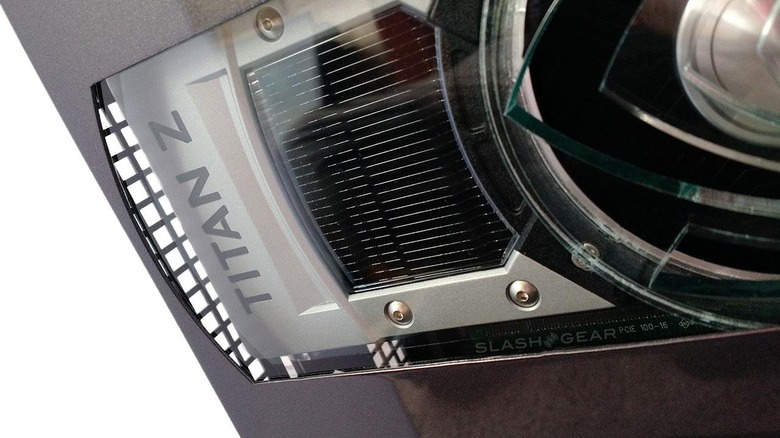 The two vents we saw with our first Tiki are re-arranged a bit to accommodate this new build – one to the right of the window, another piece of the optimal cooling setup for this machine.
To put it bluntly – without these customizations, the Titan-Z would make this PC very warm were there no vents. With the ventilation system set up here by Falcon Northwest, this unit remains surprisingly cool.
You can get this side window in green glass or smoke-tinted acrylic. We've got the green, here.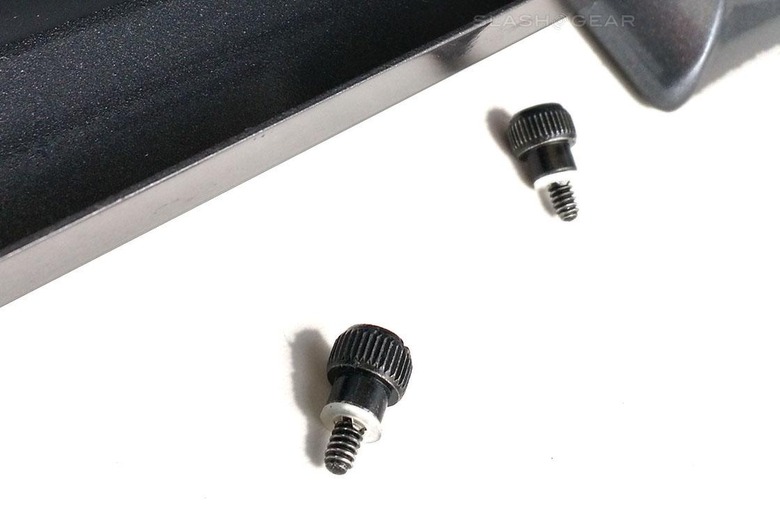 Inside you'll also find an ASUS Z97I Plus motherboard, Asetek Liquid Cooling unique to the Tiki, 16GB 1866MHz (2 x 8GB) memory, and on-board ethernet and audio. This unit also has a 2x 1TB Crucial M550 SSD (OS, Data), a 4TB Western Digital Green drive, and a slot-load Blu-ray writer (right up top).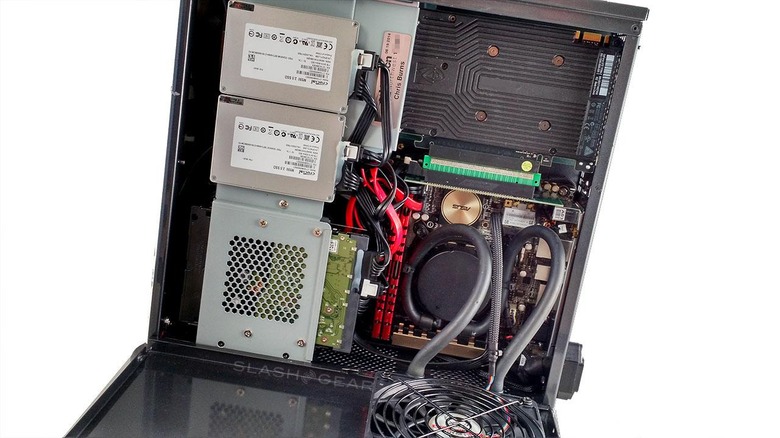 While the first build we looked at last year had a super fancy granite base, this unit has aluminum color-matched with the rest of the tower. We've also got a color scheme that matches the promotional materials Falcon Northwest uses – showing us how perfect their execution is VS their show-off images. Just so you know – they look exactly the same. Falcon Northwest paint jobs look and feel production quality – they're made well enough that you'll be shocked they aren't made for mass distribution.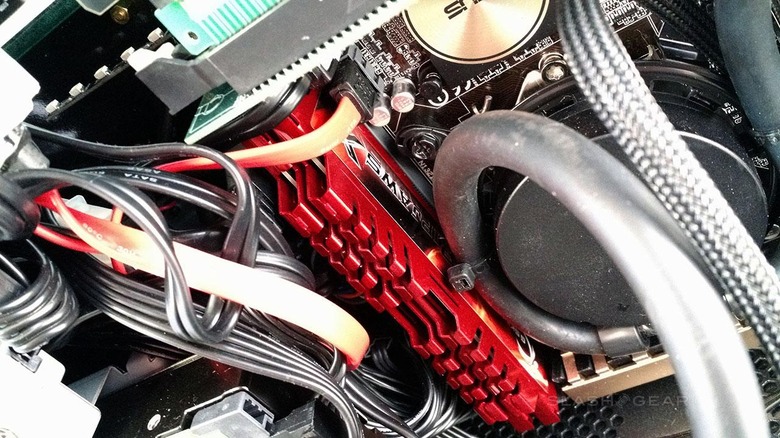 Inside you'll find a simple but powerful reminder that this PC is custom built, and custom built for you specifically. I should remind you at this point that regardless of this engraved metal plate reading Chris Burns, this still is a review unit that we'll be returning to Falcon Northwest after our review is complete.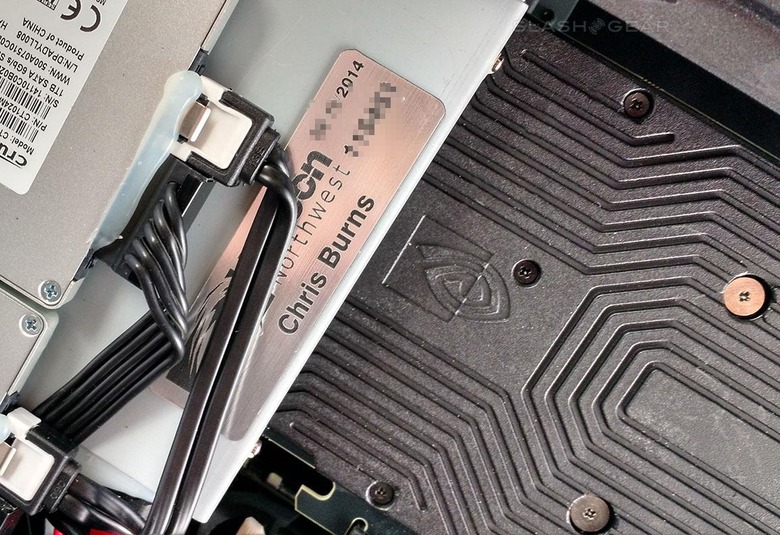 The following benchmarks – like all modern benchmarks – are not a crystal-clear showing of the capabilities of the device. They don't show how well the device performs under normal pressures and daily use, they don't do much else but measure the device's ability to play a game at a certain framerate VS that same device with a different set of hardware accurately.
Metro: Last Light
Tiki-Z
2560 x 1600: 72 FPSUltra HD: 29 FPSBatman: Arkham Origins
Tiki-Z
2560 x 1600: 112 FPSUltra HD: 53 FPSGrid Autosport
Tiki-Z
2560 x 1600: 120 FPSUltra HD: 68 FPS
Compare a couple of these scores to the build we used for our GTX 980 Review in a Tiki earlier this year (with a different set of components besides, mind you,) and you'll see the big difference. Note again that these are simple tests of frame rates, not overall shows of processing power.
Metro: Last Light
Tiki with a Titan
2560 x 1600: 37.35 FPSUltra HD: 12.42 FPS
Tiki with a GTX 980 -
2560 x 1600: 54.91 FPSUltra HD: 14.95 FPSBatman: Arkham Origins
Tiki with a Titan
2560 x 1600: 69 FPSUltra HD: 23.2 FPS
Tiki with a GTX 980 -
2560 x 1600: 56.1 FPSUltra HD: 15.9 FPS
We're making use of the ASUS PB287Q 28-inch screen LED-lit 4K monitor for this particular review, if you do so wish to take note. It's a fantastic "Ultra HD" display that's ideal for the Tiki-Z and any game you plan to toss at it. We've also made use of our Acer 28-inch 4K G-Sync XB280HK Monitor review unit – a top-notch combination if you're not worried about tossing down inordinate amounts of cash.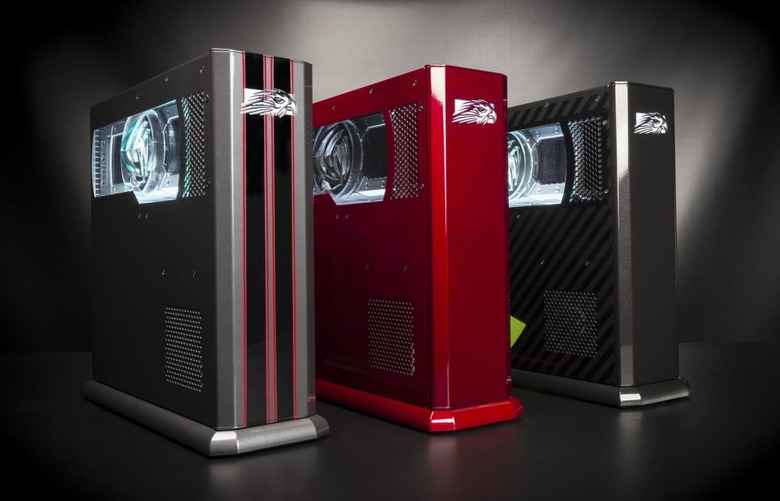 Finally – there's the lighting. Running under the glass panel you'll find a row of lights that create a rather spectacular vision in an otherwise dimly-lit room. It's not something you're going to be able to leave on all night if you plan on getting any sleep, that's for certain.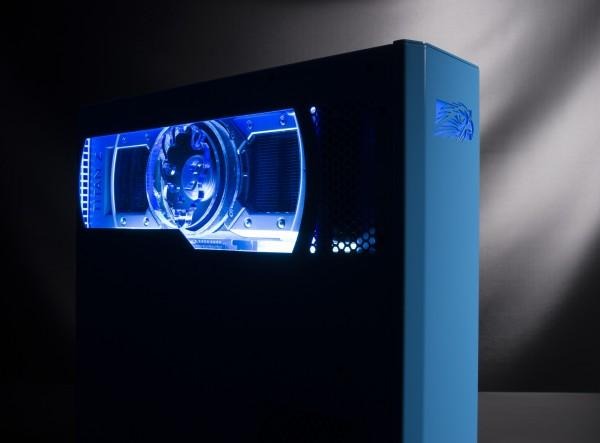 Above you'll see one more color/cut iteration. This is in blue, all around, with a custom-cut window as well. Blue everywhere, and a lovely Intel Devil's Canyon logo to boot.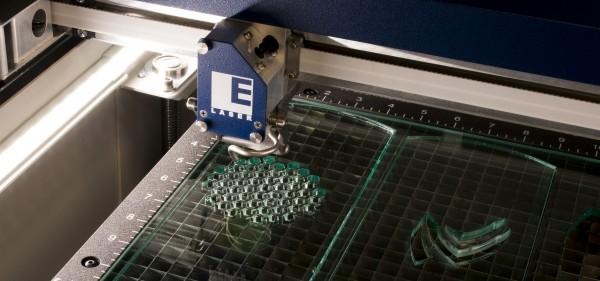 The cutting process as shown with the NVIDIA claw and a honeycomb design. Designs as unique as you do so wish.
Verdict
We had no reason not to suggest that Falcon Northwest's Tiki was one of the finest PCs on the market when we first reviewed it. Now with the modifications done, the processing power added, and the tower remaining the same size, there's all the more reason to call this the best gaming PC per square inch on the market today, full stop.
Additionally you'll find NVIDIA's recent drop in MSRP on the Titan-Z makes for a surprising value situation in the Tiki-Z. While you can still see some outlets with the Titan Z in various configurations for upwards of $3k, NVIDIA has dropped MSRP to $1,500, allowing the base configuration for the Falcon Northwest Tiki-Z to start at just a few hundred bucks more than the graphics card used to cost on its own.
The build we've got here – and what our benchmarks and so forth reflect above – will cost you a cool $5,070 at the time this review is published. That includes the green window with NVIDIA Claw, lighting, paint and everything.