Acer 28-inch 4K G-Sync XB280HK Monitor Review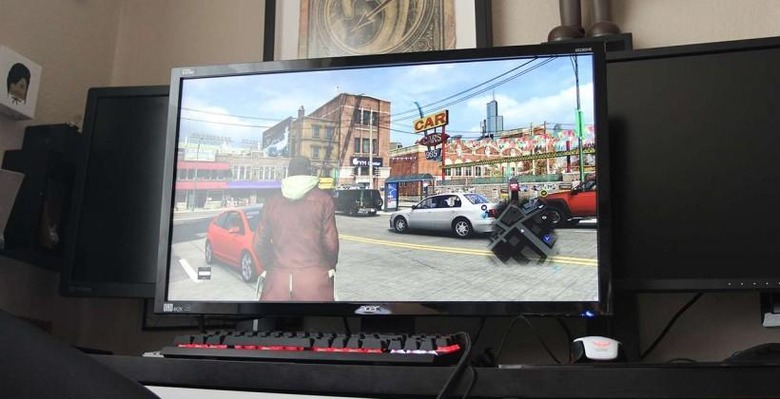 After previewing the G-Sync technology all the way back in December of 2013, we've been chomping at the bit to get the chance to check out a real-deal consumer-ready G-Sync monitor. Today we get to bring that to you with the Acer XB280HK. This 28-inch beast also brings on 4K resolution for good measure.
Usability
While our original G-Sync experience required us to do some tweaking, the final consumer-level software works like a snap. Plugging in the monitor to a brand-spanking new Falcon Northwest Tiki (not that exact model, a newer one you'll see outlined below) with Windows 8.1 meant an automatic switch to G-Sync = On.
The notification pops up in the lower right of your screen and fades away, like it never happened. And you're off!
Unless someone from the store you buy the monitor from comes to your house to install it, it literally could not be easier to get up and running with G-Sync technology.
Above you'll see the G-Sync technology we were shown back in October of 2013 at the NVIDIA Montreal editor's event. Have a peek at how simple it is:
1. Processing in computer.
2. Processing in display.
3. Synchronization – a much more beautiful experience.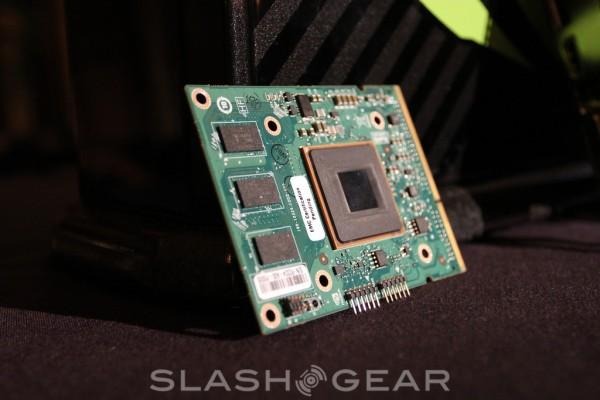 Above you'll see the NVIDIA G-Sync Module – something very similar is embedded within this Acer monitor. For more information on what G-Sync is, check our guide: SlashGear 101: What is NVIDIA G-Sync?
Hardware
The device we're reviewing today has a 28-inch display with max resolution of 3840 x 2160 pixels – also known as 4K resolution. Max refresh rate is 60 Hz, the panel type is TN, and response time is 1ms (Grey to Grey). Brightness is rated at 300 cd/m2, contrast ratio is 1000:1, and you can get the monitor in any color you like, just so long as it's black.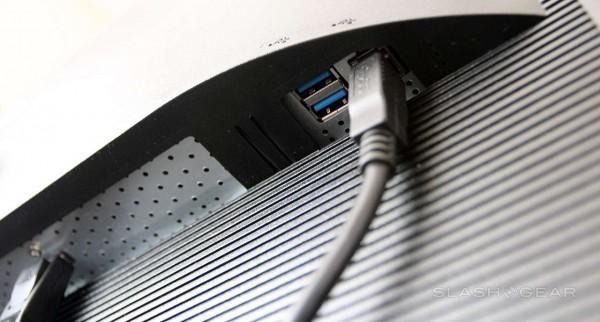 Connectivity includes one DisplayPort (v1.2), power, and a USB Hub. This includes one USB in (with a cord in the box), and 4x ports out – connect everything you need through the monitor itself.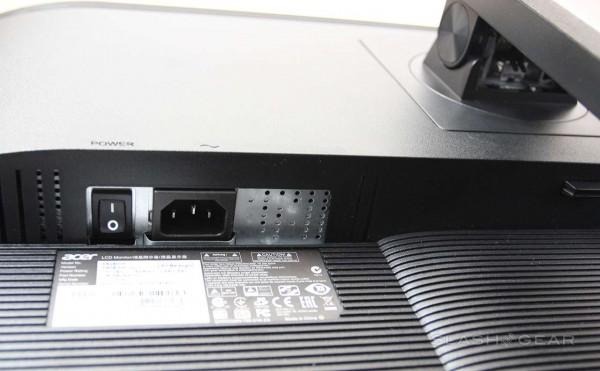 The display tilts from 5-degrees to 35-degrees and you've got a super-simple click-in VESA Wall Mounting connection along the back – 100mm x 100mm. You've got to screw the bottom of the stand on with a thumbscrew, but the display attaches with a *click* that you can release with an easy-to-depress hinge button.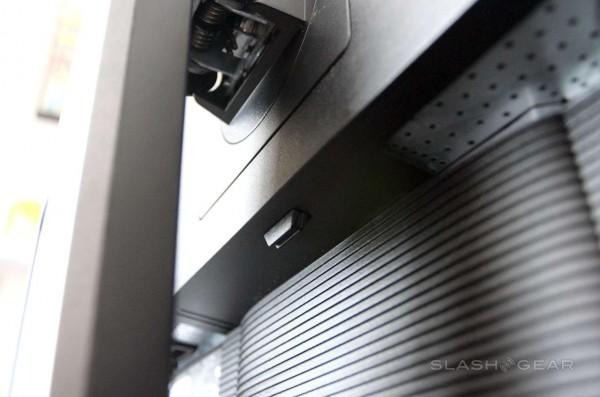 Viewing angles are more than adequate for the average viewer. If you set this monitor on the wall near your ceiling and you're 4-feet tall, you might experience some extra-dark colors instead of a perfect image. Look at the monitor anywhere inside a 45-degree angle and you'll be golden – multi-monitor setups encouraged.
Here in the corners you'll see some dust and fingerprinting – these photos were taken about 10 minutes after I took the monitor out of the box and took the protection stripping off. Gloss attracts fingerprints and dust, just as it always has.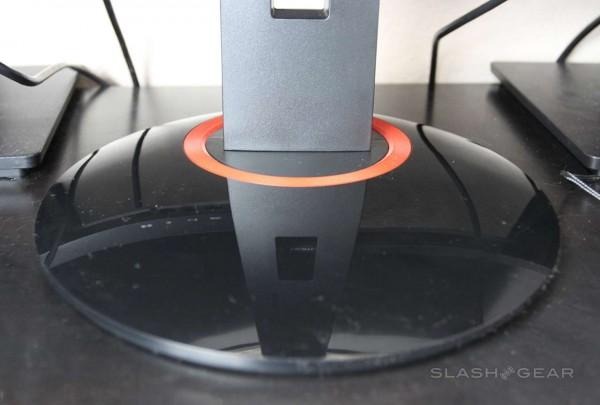 The base of the monitor is large. If you've got several monitors on your desktop like I do here on our test bench, you'll find yourself running out of room. If you're a normal person, you should have no problem sacrificing this space for perfect stability for the display it holds.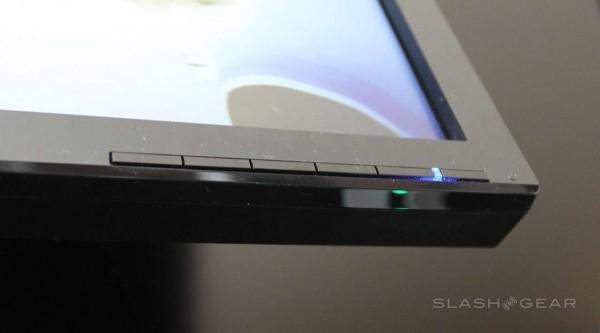 The monitor is able to be over 6 inches off the table if you lift it up to its full height. Pushing the monitor down makes it nearly touch the base. You can turn the monitor 90-degrees with little effort, making way for a portrait-mode multi-monitor setup. Adjustment buttons are situated inside the bezel of the monitor, small and unobtrusive.
Wrap-up
If you want the best gaming experience a 28-inch monitor has to offer today, Acer and NVIDIA have your back with the XB280HK. This is not your budget option – it costs $799 – but for that cash, it has all the high-quality visual delivery you'll have hoped for.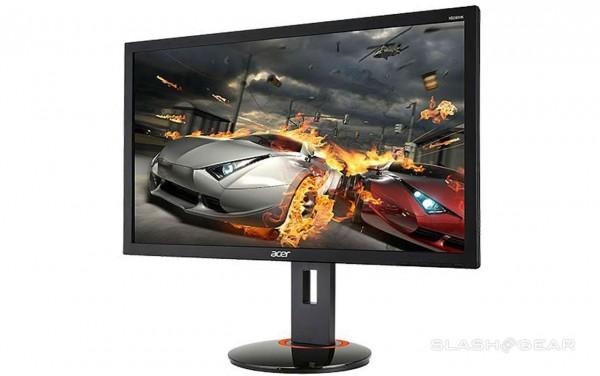 You'll want to make certain your graphics card(s) are able to run this monster to its full potential before you buy it. That, or decide that you'll eventually want the best when you have the best inside your custom-built gaming PC: future-proofing is certainly a consideration you might want to make.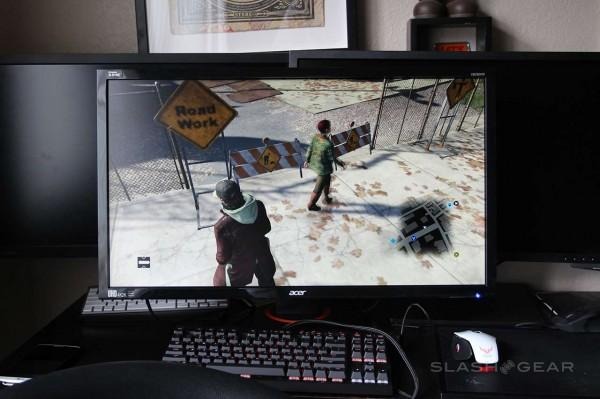 This is currently the only 4K G-Sync monitor on the market. You could also opt for the ASUS Swift PG278Q with G-Sync, a refresh rate of 144 Hz, and Light Boost – it's the same price, after all – but you'd have to sacrifice the extra pixels: that panel is just 2560 x 1440.
Still, it's your graphics card setup that'll tell the tale. We're rolling with an NVIDIA Titan-Z – 5760 CUDA Cores, 12GB of memory, dual-GPU, made for 4K displays. If you've got something far lesser, you might want to check yourself.