NVIDIA G-Sync first-impressions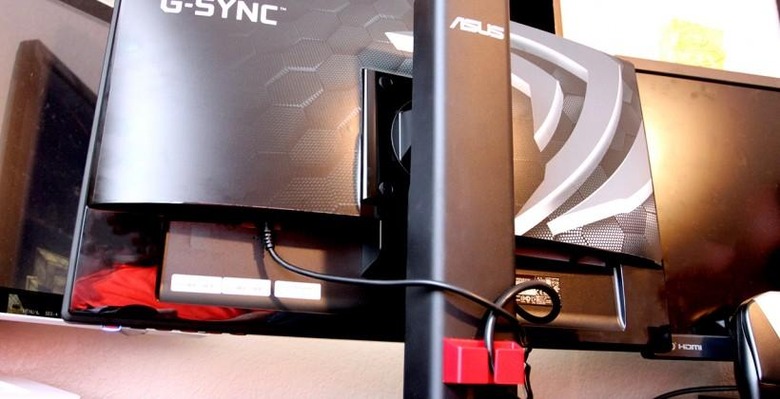 Today we're letting loose our first-impressions of the technology called G-Sync, NVIDIA's newest in new graphics enhancement for the gaming universe. What we're looking at here is one of the first NVIDIA G-Sync monitors in the world outside of NVIDIA headquarters, here rolling with ASUS as a technology preview unit. Before you go any further, have a peek at our NVIDIA G-Sync SlashGear 101 for data from the start – then it's time to activate.
When you've got NVIDIA G-Sync activated, the refresh rate of the monitor is determined by the frame rate delivery timing of the GPU. With G-Sync, you'll be working with the world's first variable frame rate monitor on the market, controlled directly by the NVIDIA GeForce GPU you've got in your PC – connected with the G-Sync module inside your G-Sync monitor.
The only unfortunate part of this situation is our lack of ability to capture it. Once we begin to start filming or capturing the screen, we introduce more variables that make the presentation less-than-optimal for you, the SlashGear reader. In other words: you'll have to see it in person to believe it.
You can make an attempt at seeing it in the side-by-side video we filmed earlier this year in Montreal at NVIDIA's first unveiling of this technology, but as we've subsequently seen after filming – and as commenting viewers have already lamented – there's really not a good way to pick this up. So until you can see it for yourself live and in-person some months into 2014, you'll just have to trust our word for it.
G-Sync completely changes the benchmark for the top-tier visual experience. It's like seeing a Blu-ray for the first time after relying on DVDs for generations, after having grown up with VHS. It's like the scene in The Ring (2002) where Naomi Watts sees a fly on the screen, thinks it seems a little too real to be a recording, and the fly takes off into the real world.
The machine we've been using is the one and only G-Sync monitor out in the wild thus far, the ASUS VG2248QE 3D monitor with NVIDIA G-Sync kit modification. This isn't a setup you're going to necessarily be able to buy in a store – certainly not how we're seeing it here.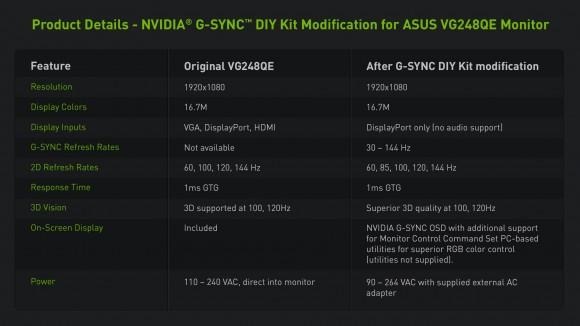 We've done testing with Assassin's Creed 4: Black Flag and Batman: Arkham Origins to make sure we're in the newest in new and highest-possible action in visual experience, and we've made certain we're in the most ideal setup with the NVIDIA GeForce Experience application with NVIDIA's suggested settings. Suffice it to say, this isn't the sort of situation where we're testing the least-optimal experience.
This technology will be a tough sell for the uninitiated. NVIDIA has already called upon the likes of John Carmack, Tim Sweeney, and Johan Andersson to lend a kind word to the technology, each of them suggesting that the tech is a real next-level solution. There's no reason for us not to say it too: G-Sync is simply astounding.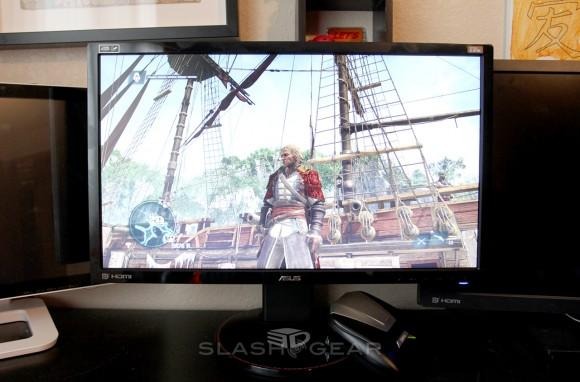 But will it sell? NVIDIA already makes some rather massively high-end graphics cards, and they certainly do well for themselves among the most hardcore gamers in the wild today. What possible reason would there be for G-Sync monitors to not also be held in high regard for those looking for the best of the best?
We'll be seeing more market-ready units out in the market inside 2014 and ASUS leading the pack nearest the start of the year. For now, you'll want to seek out a tech preview near you – next stop: CES 2014.