John Carmack leaves id Software for full-time Oculus Rift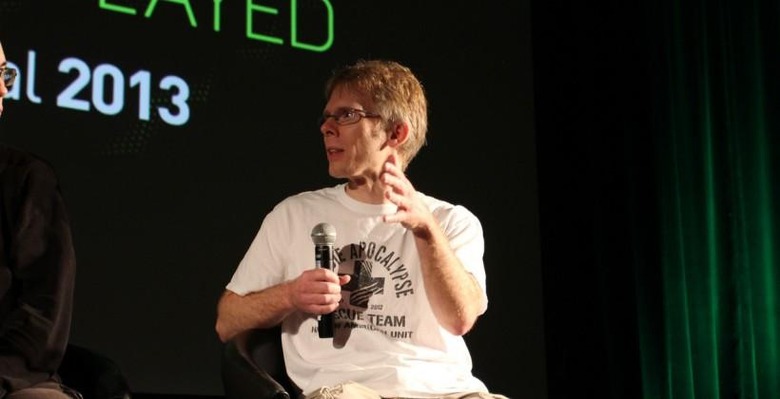 This afternoon it was announced that the co-creator of the classic video game DOOM has left the proverbial gaming building. John Carmack let it be known that he's leaving (resigning, as it were) from id Software and Bethesda Softworks in favor of working with Oculus VR full-time on the device known as Oculus Rift. A statement from current id Softworks studio director Tim Willits was solemn, focusing on the idea that "his departure will not affect any current projects".
Watching Carmack's public chatter on Twitter over the past year may have been some indication of his split work as of late. Having co-created such legendary titles as Wolfenstein 3D, DOOM, and Quake, the developer's talk of late has been of a much more Oculus-focused conglomerate. Have a peek through @ID_AA_Carmack to scope it out.
"John Carmack, who has become interested in focusing on things other than game development at id, has resigned from the studio. John's work on id Tech 5 and the technology for the current development work at id is complete, and his departure will not affect any current projects.

We are fortunate to have a brilliant group of programmers at id who worked with John and will carry on id's tradition of making great games with cutting-edge technology. As colleagues of John for many years, we wish him well." – Tim Willits, studio director at id Software
It was back in August of this year (2013) that Oculus officially hired Carmack as CTO of the company. It's unknown at this moment how Carmack will be continuing any efforts into the gaming space from this point on – other than through the Oculus device itself, of course.
Above you'll see a short segment filmed at this year's NVIDIA Editor's Day in Montreal featuring Carmack speaking on the future of gaming. When this video was filmed, Carmack was still fully attached to id Software as well as Oculus and no public word or rumor suggested him leaving the former as such. This video was filmed in late October while Carmack's exit is occurring here in late November.