Nexus 10 vs iPad 4th Gen

It would appear that amongst the software and hardware releases Google has detailed this week is their first giant iPad competitor in the Google Nexus 10. At first glance the differences might not be abundant to an everyday average user other than the obvious Android vs iOS and feel of each device. As it turns out though, these two tablets, for the first time, create a battle between the iPad and an Android-toting tablet made not just by a major manufacturer, but Google as well.
Google's first full-sized Nexus tablet
Some might argue that it was the Motorola XOOM tablet that Google first gave their highest attention to as it was indeed presenting a very vanilla look at Android 3.0 Honeycomb (made for tablets specifically). This means that Motorola provided the hardware, sure, but it was Google that took care of the entirety of the software, with no additions from Motorola as would otherwise be standard. But because the name of the device was no Nexus, it never was truly a Nexus family device – not by today's Nexus standards and expectations, anyway.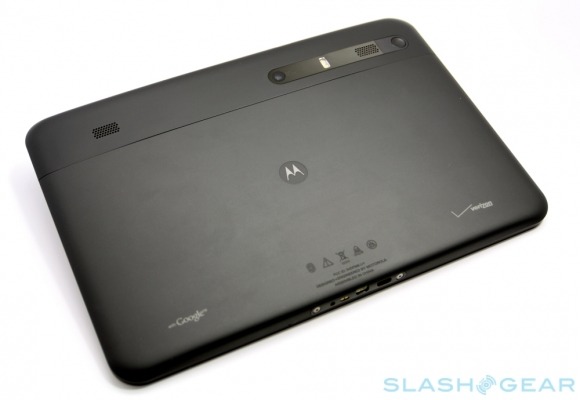 Here with the Nexus 10, Google and Samsung are coming in full force. Unlike the Motorola XOOM, this device is branded with Google first and foremost. Samsung certainly put their work on in the hardware, but this is Google's show. This is the closest Google has gotten to having the same control over a full-sized tablet the way Apple does with the iPad.

Legal considerations
Samsung clearly had practice with the Galaxy Tab 2 10.1 and the Galaxy Note 10.1 given the form-factor here. It'd be silly to assume that Google didn't take into account both that Samsung built the Galaxy Tab 10.1N to avoid Apple wrath (the 10.1N being the precursor to the 2) and that this move effectively worked. With a tried and true – and legal – design on the books, Google must have seen this as an opportunity to work Samsung's ever-evolving design sensibilities into their own Nexus family.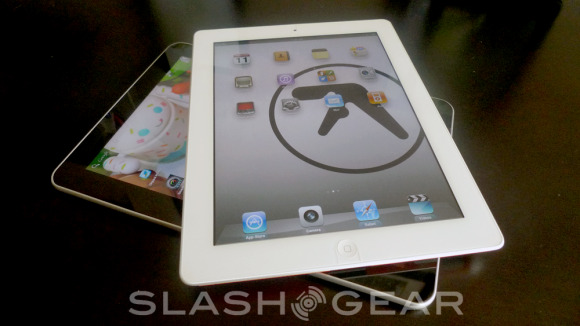 AirPlay vs Wireless Display Mirroring with Miracast
One of the most interesting additions the Nexus 10 adds with Android 4.2 is wireless display mirroring with Miracast technology. This update will eventually be on all new Android devices as it comes standard with Android 4.2 Jelly Bean+. Have a peek at our SlashGear 101: How does Android 4.2 Jelly Bean wireless display mirroring work? guide to see what it all means. Basically it uses a wireless standard technology that'll be working on many, many devices in the near future.
With the iPad you've got AirPlay support which is quite similar to what Miracast offers, and like Miracast, it's limited to devices that are compatible with it specifically. At the moment there appears to be more adoption of AirPlay out there in the 3rd party device world than there does Miracast, but given the adoption and promises we've heard around Miracast over the past few months, we're expecting it to take hold very, very fast.
Display
With this Nexus 10 device from Samsung, Google brings a warrior to the battle and hits Apple right where it hurts – directly in the display. Of course it's going to be all up to the end user deciding which unit has a "better" display, but the facts are these:
10.055 inches at 2560 × 1600 pixel resolution for 300 ppi PLS
9.7 inches at 2048 x 1536 pixel resolution for 264 ppi IPS LED
Apple brands their display as "Retina-quality" while Google says they've got the "highest resolution on the planet." Apple's "Retina" qualification was created by Apple, of course, while Google's claim goes this far: if you're considering every display on the planet, there certainly are a handful of units (smartphones, each of them) that have a higher number of pixels per inch : but when you consider the fact that this tablet has more pixels overall at 300 PPI, it does indeed have the most. If you had several HTC J Butterfly smartphones merged into 10.055 inches of screen space, Google would be beaten – HTC's smartphone monster has 440 PPI and indeed the sharpest panel.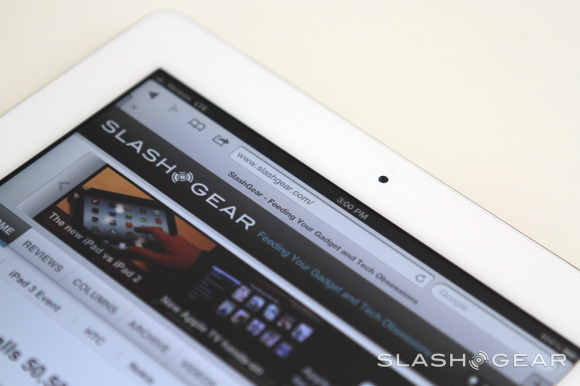 PLS stands for Plane-to-Line Switching, and was created by Samsung to be the next generation after IPS. It's also known as "Super PLS" and is supposed to cost less to produce while providing better image quality, viewing angles, and brightness than previous generations – of course we'll just have to see about that when the device hits our review bench.
Size, System, Cameras
The iPad 4th gen is 7.3 x 9.5 x 0.37 inches and comes in at 1.44 or 1.46 pounds depending on if you're working with 4G LTE or not. You've got the new Apple 9-pin dock Lightning connector on the iPad while you're using iOS 6 and a battery that Apple says will last you 10 hours for video playback. The cameras you get on the iPad 4th gen are a 5 megapixel rear-facing shooter capable of 1080p video and a 1.2 megapixel front-facing camera for video chat.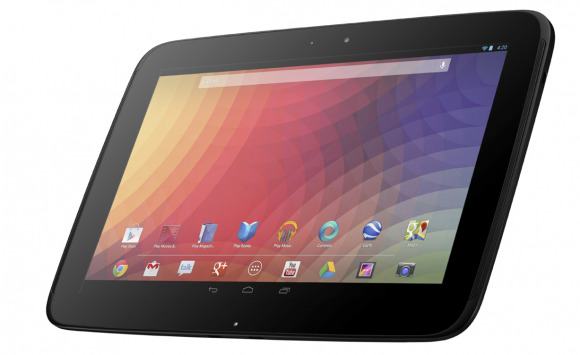 The Google Nexus 10 by Samsung comes in at 1.33 pounds (wi-fi only) and is 10.39 x 6.99 x 0.35 inches across the top, side, and thick. The Nexus 10 connect with standard microUSB and has a microHDMI port as well, works with Android 4.2 Jelly Bean, and Google says it'll have 9 hours of video playback. The back-facing camera on the Nexus 10 is 5 megapixels strong with 1080p video capabilities while the front-facing camera is a 1.9 megapixel machine made for video chat as well. Both devices have Bluetooth 4.0 and wi-fi capabilities, while the iPad currently has versions on the market with 4G LTE capabilities as well.
Apple has boosted the processing capabilities of the iPad 4th gen over its predecessor with a new chipset by the name of A6X. This chip only exists in Apple products and has been detailed as Apple's top of the line model surpassing even the iPhone 5's chip. The Google Nexus 10 comes with the Samsung Exynos 5250 with dual-core A15 Eagle CPU and Quad-core ARM Mali-T604 GPU – that's the same as the Samsung Series 3 Chromebook we reviewed – rather powerful indeed; though again, we'll see once we bring on the full review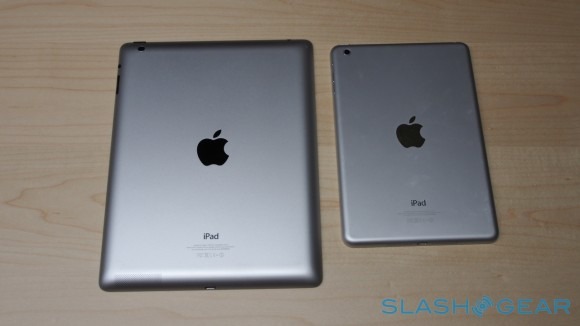 Both Apple and Google currently have smaller devices like these on the market as well, Google's being the Nexus 7 (made by ASUS) and Apple's being the iPad mini. Have a peek at them as well if these 10-inch tablets are too rich for you blood.
Cost
The iPad comes in many different variations, and now that the iPad 4th generation is out, there are also iPad 3rd gen units floating around out there in the wild without Apple to sell them directly. Thusly the following list must suffice:
$499 for 16GB
$599 for 32GB
$699 for 64GB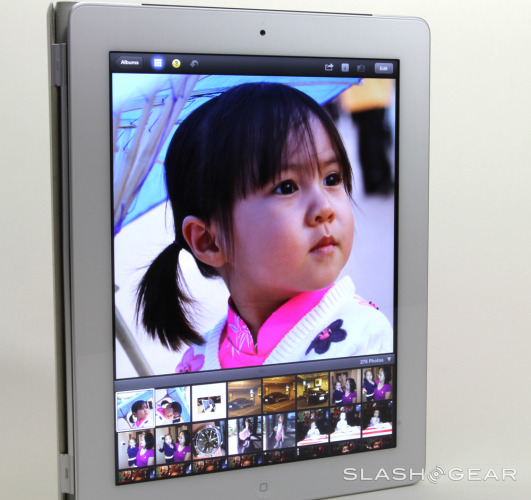 The iPad 2 is also in your local Apple store and its prices essentially match that of the Google Nexus 10. The specifications, on the other hand, are far less grand than either the Nexus 10 or the iPad 4th or even 3rd generation devices. The Google Nexus 10 is about to be for sale (or already is, depending on when you're reading this), for the following prices.
$399 for 16GB
$499 for 32GB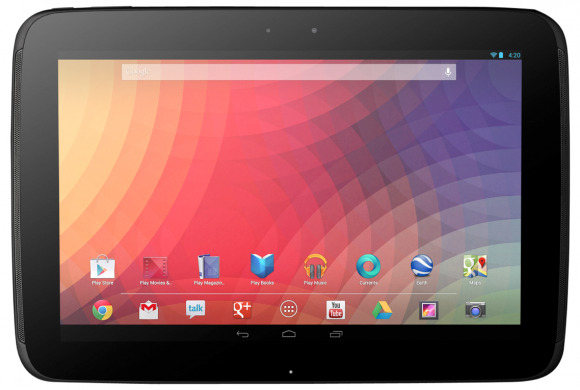 Each of these units are wi-fi only, while it's expected that mobile data connected iterations will be out in the future. Google just released the Nexus 7 with wireless data, so it's likely that the Nexus 10 won't be far behind. The iPad 4th gen has 4G LTE connectivity units out right now that are the same prices as listed above +$130 USD regardless of internal storage size.
Wrap-up
We're not going to choose for you, of course – it's up to you: but given the prices, the displays, the wireless technology, and of course the operating systems, it'll have more to do with your preference than anything else. With these manufacturers creating the devices, it's certainly not a question of hardware build quality – and with the software on both devices being evolved to the point they're both at, it's also not about which system is more mature. Stick around for our full review of the Google Nexus 10 in the near future and check out our full review of the iPad 3rd Gen right this minute – and of course we'll have the 4th gen on the way as well.