Samsung Galaxy Note 10.1 USA Review
The Samsung Galaxy Note 10.1 has reached the states with a collection of features and applicability for it's built-in S-Pen that the smaller Galaxy Note will be proud of. For those of you working with the Samsung Galaxy S III, this device continues the next-level connections the manufacturer has set up with AllShare. For those of you looking to upgrade from the original Galaxy Tab 10.1 with more power and better entertainment abilities, your prayers have been answered.
Hardware
This device comes with a 10.1-inch WXGA 1280 x 800 TFT LCD display that's rather bright and has viewing angles all the way down to the 90 on all sides – it's quite nice to look at and work with, that's for certain. You've got a Samsung Exynos quad-core processor here clocked at 1.4Ghz, and the benchmarks we've run here tell us we've very possible got a new king in town. The battle rages on for hardcore mobile processor supremacy in the Android universe.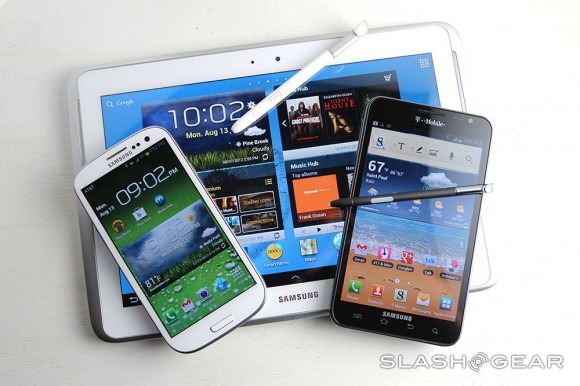 You've got two front-facing speakers that are willing and able to work with "surround sound" – you'll see what I mean in the hands-on with entertainment video below. It gets so loud that you'll have a hard time finding a place that you'll want it to actually be up at the top of the knob – you'll have to turn it down a bit or it'll blow your ears off. Also they're front-facing, just like they always should have been.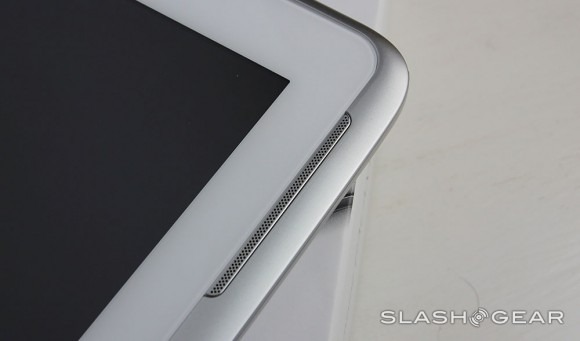 Up top you've got a power/sleep/lock button, a volume up/down button, and a microSD card slot. You've also got an IR-Blaster just like the Galaxy Tab 2 has so you can use your Peel app to change the channel on your television – and get a guide for channel browsing if your cable provider is able to be found by Samsung.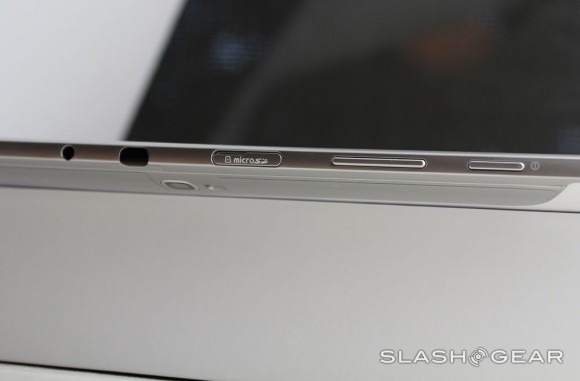 The tablet is relatively light, essentially as thin as it counterparts in the Galaxy Note and the Galaxy S III lineups, and feels really nice to hold. The glass up front sits a bit lower than the silver rim around the entire device, and the uniqueness of the tablet is clear – this is no iPad. We wont be comparing this device to the most popular tablet on the planet right here and now though, check the SlashGear main news feed for more device war action in the near future.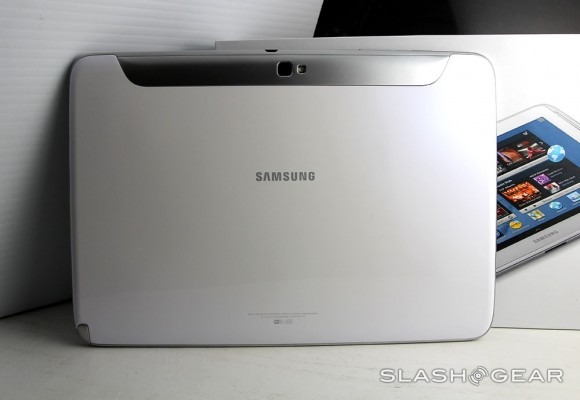 The back and sides are made of some high-quality plastic and there's a pleasant feel to the whole device. Samsung has put some time into the tactile nature of the device for certain, and here they've got a unique device that's set to carve it's own path in the tablet universe. As for how well the device does in the standard benchmarks we generally run, it's a beast and a half. For Antutu we're seeing 12200+ on average. In CF-Bench we've got 24386 for Native, 6906 for Java, and 13898 for overall score. That's off the charts. Quadrant Standard benchmark has this tablet ringing in at 13041 for CPU, 4469 memory, 5158 I/O, 1000 2D, and 2459 3D.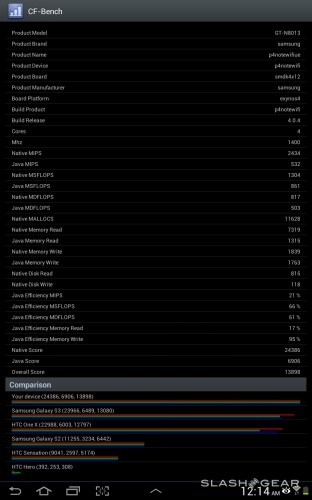 Software
This device takes Samsung's idea of a tablet-centric Android with Ice Cream Sandwich and TouchWiz and takes it all to a new level. While a lot of what you're seeing here will look rather familiar if you've used one of the three following devices, you'll find that here you've got an experience that's wholly unique: Galaxy S III, Galaxy Note, Galaxy Tab 10.1 – the original.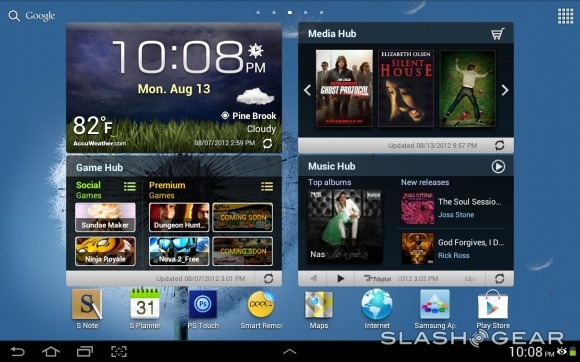 Begin your journey with your connection to the already released Samsung Galaxy S III line with AllShare. Here you've got a set of abilities that allow you to connect both with the cloud via SugarSync and via a wi-fi network. With both devices connected to one wi-fi network, you can set up a GroupCast just like you're able to between two Galaxy S III units, as shown here:
You wont be able to transfer media in exactly the same way you're able between Galaxy S III units, but there's always SugarSync. Save all of your photos from all of your Samsung devices to SugarSync for one big gallery of greatness. As far as multi-tasking goes, you've got three unique features that will make you a master of doing more than one thing at once. The first two should be familiar, both of them appearing on previously released devices.
You've got the Android 4.0 Ice Cream Sandwich ability to see recent apps (this was originally introduced, sort of, in Android 3.0 Honeycomb, but it's much more versatile here). You've also got a lovely little dock of "Mini Apps" as provided by Samsung. These apps each have a small set of abilities, each of them able to pop up in a window that hovers above whatever else you're doing on-screen.
Then there's a new Muliscreen function – also appearing in the hands-on video above – that works in the following apps: your built-in Internet browser, Polaris Office, Video Player, Email, Gallery, and S-Note. When you've got one of these apps open, all you've got to do is tap the "Multiscreen" button up near the right-hand corner of the app at hand. From here you'll be greeted the first time with a set of abilities.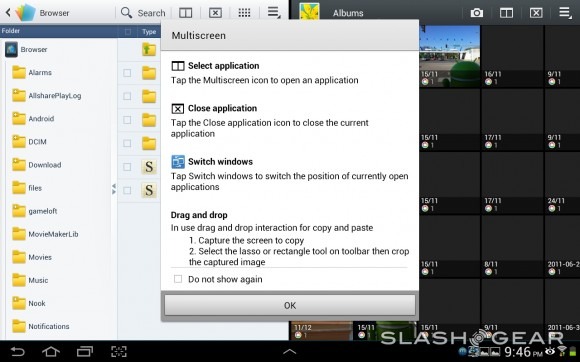 You can select an application (you've just done this), you can close an application with the X inside a rectangle, you can switch windows (left to right, right to left), and you can capture, drag, and drop. With this last set of abilities what you're actually doing is taking a screenshot of a piece of one part of your screen, then pasting it into the other. Simple as that – and so magical!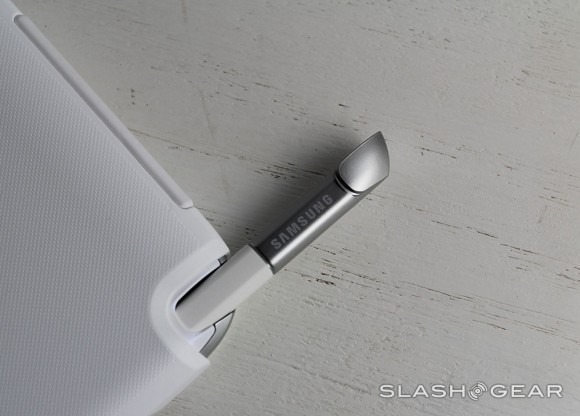 Other than that you've got a rather powerful tablet, to be sure. And what makes it all unique is not just that you've got Samsung connections, and not just that you've got front-facing speakers (FINALLY), but that you've got the built-in S-Pen.
S-Pen
With your S-Pen you've got all the abilities of the Samsung Galaxy Note – the original – in a tablet-sized package. This S-Pen device works essentially the same as the first iteration of this Samsung line, but here it's built just a bit differently. The pen itself is a bit fatter, the same size as a standard Number 2 pencil if what Samsung told us back at MWC 2012 holds true, and the whole note-taking experience feels rather nice.
You've got several S-Pen-specific apps on the device right out of the box including S-Note and Photoshop Touch. Of course the apps you'll see in the hands-on video above also work, somewhat, without the pen tool, but that'd be just silly. With the S-Pen you've got a note-taker that never runs out of ink or needs to be sharpened, but just incase, Samsung has included several replacement tips.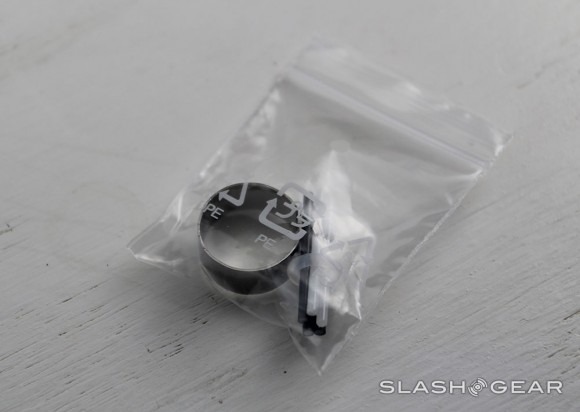 Entertainment
The Samsung Galaxy Note 10.1 is made not only be be a machine that can collect ideas with your S-Pen and media with your back and front-facing cameras, but an entertainment monster as well. Samsung's got several applications such as Samsung Music Hub and the Samsung Media Hub – full of movies and TV Shows you can purchase for download on any number of your own Samsung devices.
Also included in the video above you'll see us take a stab at working with Netflix and the device's own Movie Player so we can see and hear the difference in video quality between the three of them (including the Media Hub, that is, for three). You'll also find that Samsung's connection to several high-powered game developer groups such as Glu and Gameloft will make your gaming experience rather rich. In the video above you'll see NOVA 2 played briefly and the Samsung Game Hub explored as well.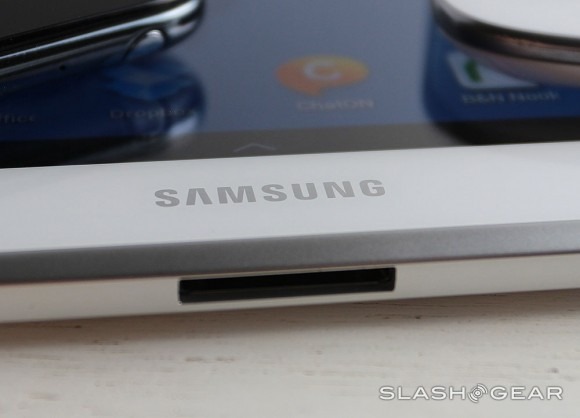 With a quad-core Samsung Exynos processor like the one this device has, we're certainly feeling the power and the swiftness in processing it can bring. With such a processor we're able to watch video without a hiccup, play the most high-powered games without lag, and do generally anything else – including run Photoshop Touch – without needing to worry about going slowly in any respect.
Accessories
In our review package we had a slip-cover with reinforced sides (to protect from scratches and drops) as well as a simple dock and a Book Cover. The book cover is the most interesting of the three, with a fold-back flap that allows it to stand freely on its own in two positions. For those of you looking to purchase any of the three – there are no magnets involved here, nothing "smart" so to speak, but each of them is high quality enough to be worth the cash they'll cost.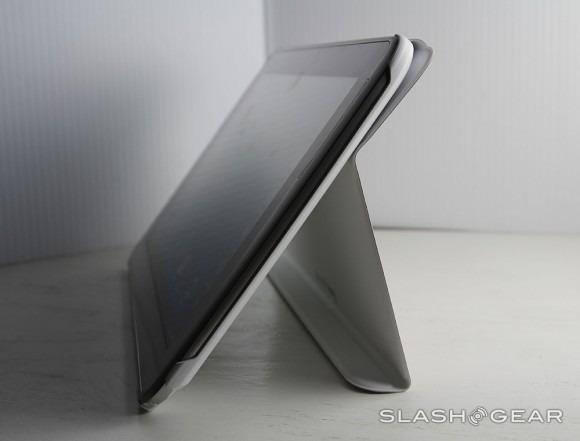 The slip cover is discreet and nice to hold, the dock allows simple charging and audio output via a standard headphone jack, and the Book Cover is hardcore enough to withstand your everyday drop as well as backpack damage – and it's relatively cool for those of you using the device to type notes or illustrate on the daily.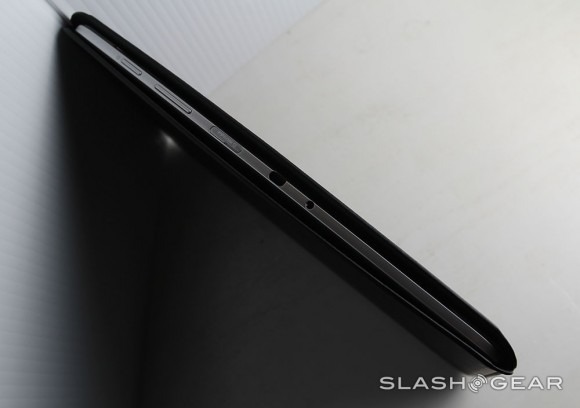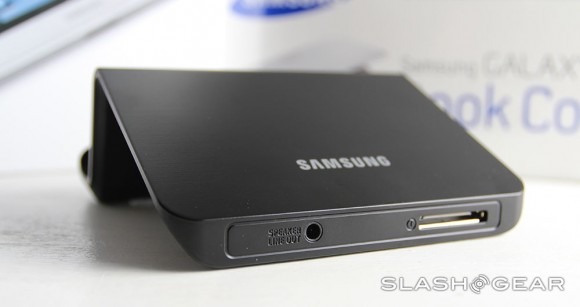 Camera
On the front of this device you've got a 1.9 megapixel camera perfectly suitable for webcam chat action. On the back you've got a 5 megapixel camera that's surprisingly high quality for its megapixel rating. Have a peek at a few examples of photos and a video shot with this device at top quality here, each of them shot with the back-facing camera.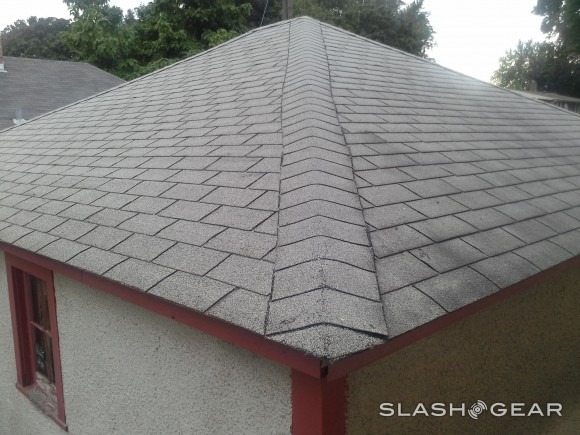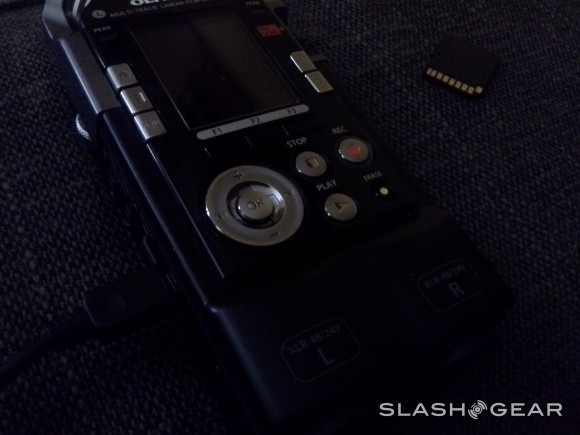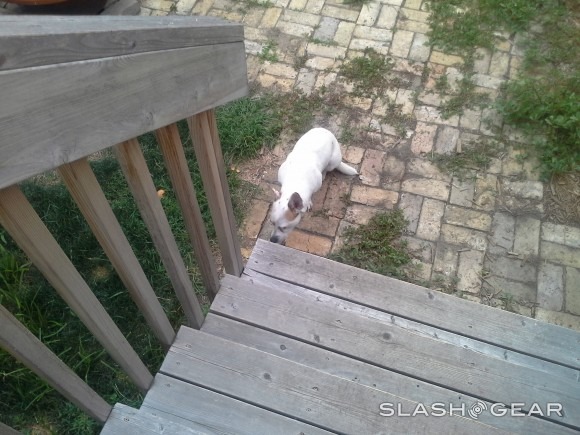 Battery
If you run this device rather hard, playing games, downloading gigantic files (like the videos and games we've looked at here) and using the S-Pen like wild, you'll find yourself limited to right around 6 hours of battery time. Even 7000mAh of battery can be drained quickly when the situation is right.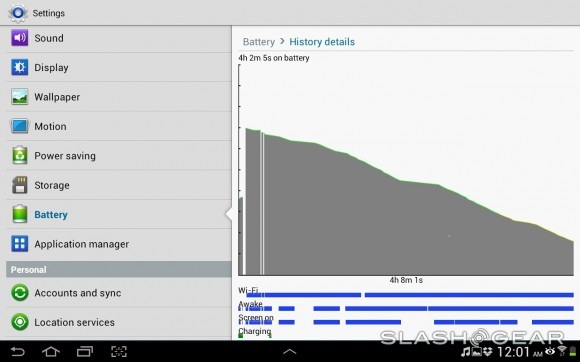 If however you're not the type of person to make everything happen all at once – that is, if you're not doing a bunch of instructional videos back-to-back – you'll have a much better time in the battery department. Expect a day's use out of this tablet at the very least when using it intermittently throughout the day. Low use then will last you a couple of days, no problem.
Wrap-up
This tablet-like device, the Samsung Galaxy Note 10.1, is Samsung's best effort to date in the 10-inch category of devices. You've got a fabulous 10.1-inch HD display as well as some excellent front-facing speakers, making this one of the top entertainment devices in tablet form on the market. With the Samsung Exynos quad-core 1.4GHz processor under the hood, you've also got the power to work with beastly apps like Photoshop Touch, to play videos at full HD, and to blast your enemies to oblivion in the most high-end games on the market.
This isn't the end – we're going to continue to analyze this rather important launch for Samsung as long as it takes to answer all of your questions about it. Let us know if there's anything else that you do not see above that you'd like us to discuss or test on the device – and get pumped up for the final release immediately if not soon!