T-Mobile Samsung Galaxy Note Review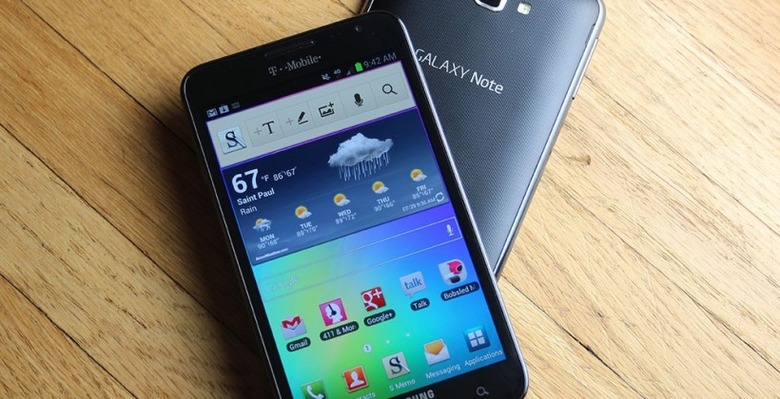 This week we've got our hands on the Samsung Galaxy Note as carried by T-Mobile in the USA – and with it we've got another home-run for the unique device team. Samsung took the time to create something unique in the Galaxy Note when it was first revealed for an international audience, and now the T-Mobile user base has the opportunity to use it on their favorite carrier. Is that the beginning and the end of it? Let's have a peek!
Hardware
You've got a massive 5.3-inch screen here with 800 x 1280 pixel resolution (285 pixels per inch) across its face. Without a doubt, this is the largest smartphone you'll ever have come across – as it is the largest smartphone on the market. Samsung would have you believe that this is not a smartphone, but a unique device that's not a smartphone and not a tablet – but when it comes down to it, it's completely up to you on how you define it.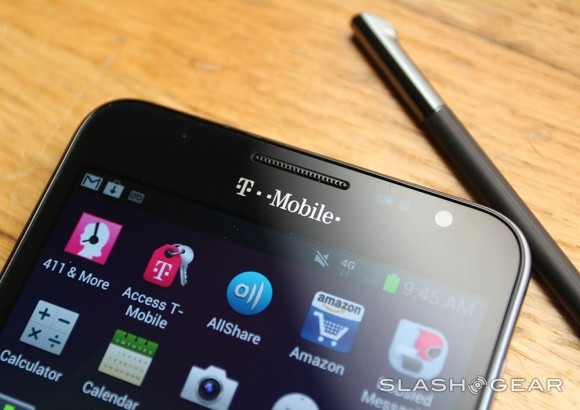 The size of this device along with the width of it makes it so using the S-Pen docked within it is almost a necessity, but not quite. You've got a hearty collection of abilities with the device's pen, many of which you'll see with the Premium Suite upgrade that comes standard with this device (right out of the box.) Have a peek in the software section below to get a better handle at what the pen can do for you.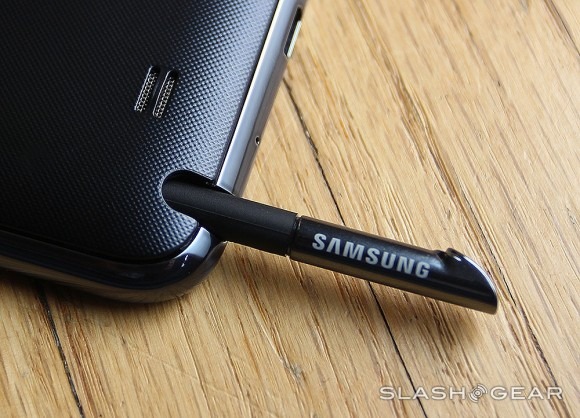 This Galaxy Note has a removable back panel so you've got access to your sim card as well as your microSD card, and your battery is removable, and therefor replaceable, as well. The exterior of the device is plastic on the back and around the rim while the front is one giant smooth flat reinforced glass panel. While the international edition of this device has a single physical home button, this version, as it is with the AT&T version, has a set of four capacitive buttons which work with both taps and long-presses to bring on your Android 4.0 Ice Cream Sandwich upgrades such as multi-tasking with recent app selections.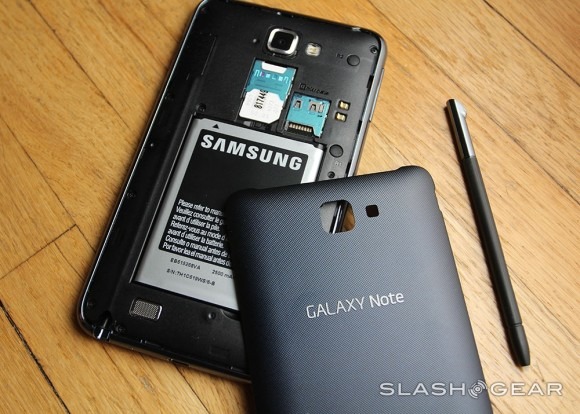 The device is certainly something you're going to want to hold in your own hands before you purchase – it's something you've got to get used to if you've always used palm-sized devices in the past. Once you do get used to it, you'll have a tough time going back to a smaller screen as well as going without a pen.
Software
With this release of the Samsung Galaxy Note you'll get Android 4.0 Ice Cream Sandwich right out of the box. This device has the Premium Suite as we detailed recently on the AT&T Galaxy Note – this device has the same software save the carrier-specific bits. That means you've got T-Mobile's collection of data watchers and content devourers, otherwise the whole experience is the same as the AT&T device.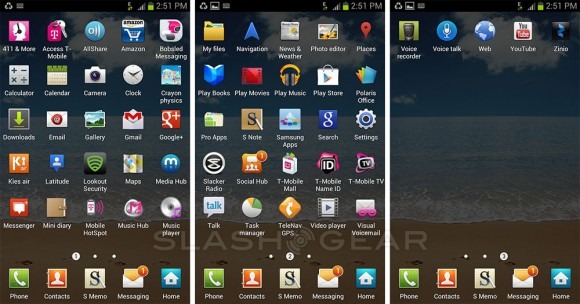 Have a peek at some hands-on time we had with the AT&T Galaxy Note with Premium Suite here:
Note that you've got the hook up with a variety of Samsung-specific sharing abilities as well as the Media Hub for movies and television shows as well. T-Mobile also provides live TV (for a fee) and some other gems that will make you glad you're on the big pink carrier. Benchmark tests on this device have turned up, on the whole, to be the same as they've been with the AT&T Galaxy Note with Premium Upgrade. Have a peek at Quadrant Standard here: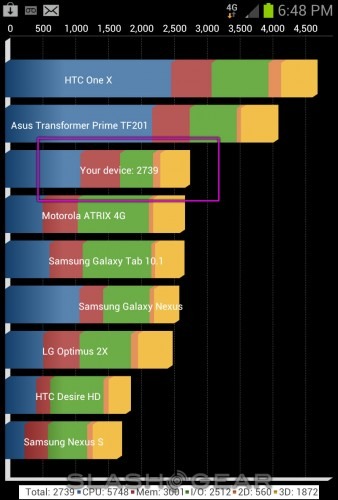 Battery Time and Signal Strength
We've collected several speed tests here both in Minnesota and in Southern California so you get a double dose of signal strength data. You should really take the time to check if you're in an optimal environment for your T-Mobile 4G data to come through with the ultimate speed for yourself, as you do live in your own unique area wherever you make your home, but what you see here will give you two ideas of what you might see.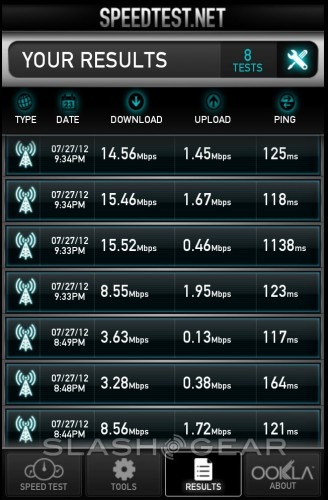 The battery on this device is massive and, like the original Galaxy Note as well as the rest of the smart device on this planet, the amount of time you've got with your device without battery charging completely depends on the amount you use it. If you're a heavy user, this meaning you stream video with the Samsung Media Hub (or download it) and Tweet and snap photos and chat all day long, the possibility exists that you'll need to charge after about 10 hours.
As for those of you that are light or average users – like myself if I'm not out traveling – you'll not need to worry about charging all day long. Make sure you've got the device hooked up to a charge when you sleep at night and you'll be fine throughout the day.
Camera
The camera here on the Galaxy Note is exactly the same as we've experienced with the original Galaxy Note as well as the AT&T Galaxy Note. This is not a bad thing. Check out a few 8 megapixel photos and a 1080p video shot with the device for good measure.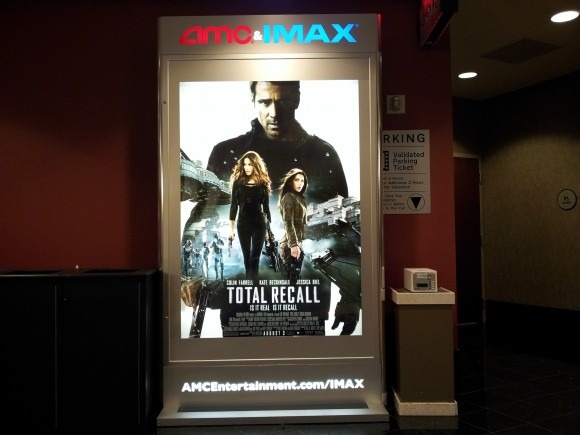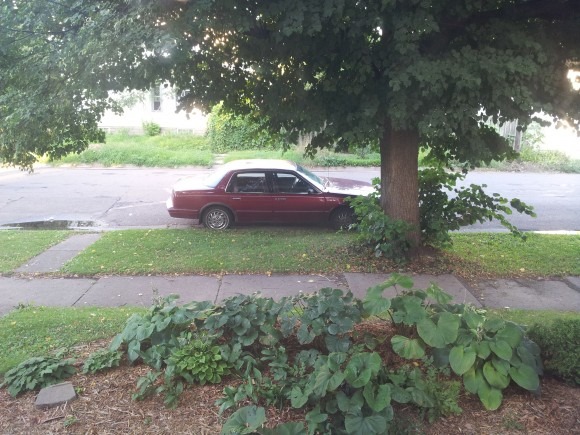 Wrap-Up
This is your time, T-Mobile loyal fans, to finally attain the massive handheld device known as the Galaxy Note for your own. You've had the opportunity to pick up the international version for one gigantic wad of cash before, as it did (and does) work on T-Mobile bands, but now is the time when you can actually purchase an affordable version right from the T-Mobile store with 2-year contract. The decision you've got to make now is whether you want a Galaxy Note or a Galaxy S III – both are available on T-Mobile right this minute.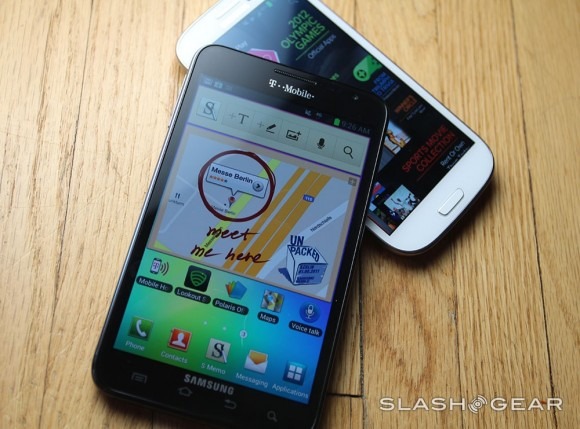 Lucky you, we've got a Samsung Galaxy Note vs Galaxy S III on T-Mobile post prepared for you to have your sweet time with, and an international comparison if you need another look. Of course there's also a selection of other devices on the carrier as well, but when you're addicted to Samsung, you're addicted to Samsung. Let us know in the comments below whether or not you're going to latch on!