AT&T Samsung Galaxy Note Premium Suite software upgrade hands-on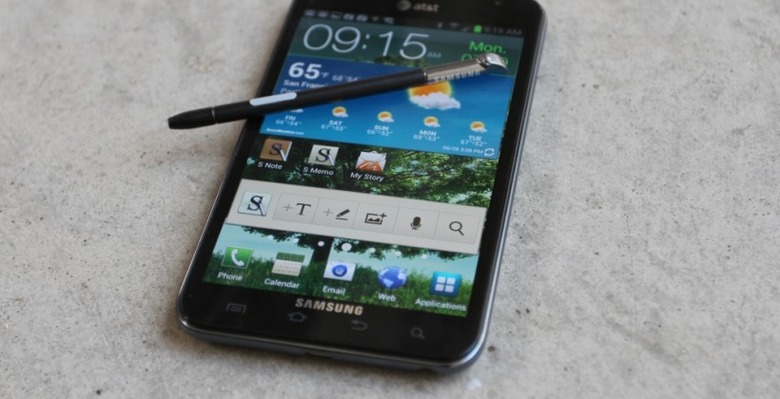 This week AT&T will be pushing the Samsung Galaxy Note Premium Suite upgrade with Android 4.0.4 Ice Cream Sandwich, and we've got our hands on it right this minute. This upgrade in software brings you several features in S-Note and S-Memo and also brings on Android Beam with NFC as well as facial unlock – the strangest screen unlock of them all! You'll also gain access to a strange application that's also out now for the Galaxy S III: Samsung's My Story app.
First have a peek at some of the behind-the-scenes changes, starting with NFC. This device is now able to use Android Beam to send contacts, Web pages from your browser, or addresses from Google maps. Beaming works perfectly well between the Galaxy Note, the Galaxy Nexus, and the Galaxy S III for these small transfers using NFC. You'll still need to wait for the Galaxy S III's S-Beam function if you want to transfer files such as photos, video, and other larger media – someday, we hope!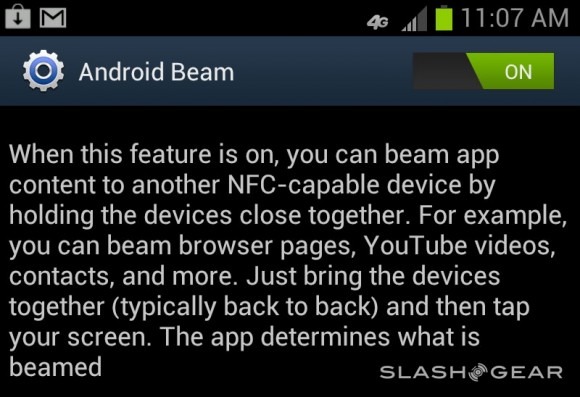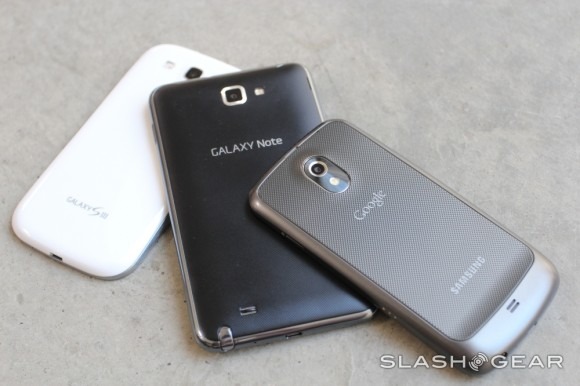 Recent Apps can now be pulled up by holding down your Home button. This ability works perfectly well, and closely resembles the vanilla version of the feature.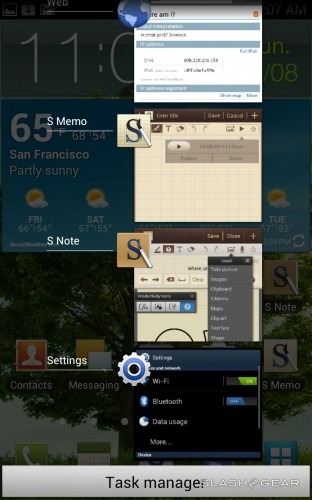 Face unlock has been activated for your lockscreen. This ability also works just as well as it does with the most updated version of Ice Cream Sandwich on the Galaxy Nexus (the only Android 4.0 Ice Cream Sandwich Nexus device on the market. Android 4.1 Jelly Bean updates this feature to be able to work with more than one photo of your face for added security, and this one does as well, but here you've only got to hold up a still photo of yourself to make the unlock work. In Jelly Bean, the unlock screen requires that you move your face and head to get in – this being called a Liveness Check – the Note doesn't quite have that yet.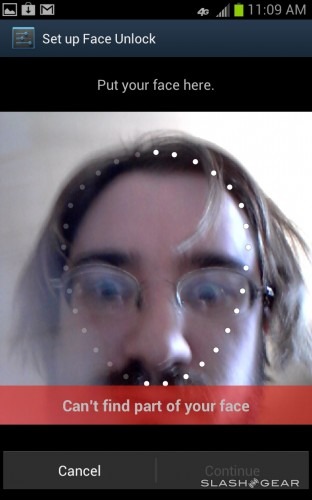 This updated Galaxy Note also comes with better data usage monitoring, now allowing you to add warnings and shutoff for data caps.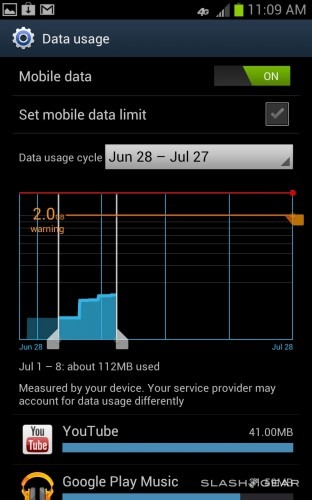 S-Note
Starting with the app S-Note's new Productivity Tools, Samsung's suite of note and memo-taking apps has just gotten a bit sweeter. In the Productivity Tools you've now got, you can work with Formula Match, Shape Match, Handwriting-to-text, and Knowledge Search. You'll be using Wolfram Alpha for both formula and knowledge.
With Formula Match, you've got handwriting recognition that works undeniably well to turn a scribbled down equation into something perfectly legible, first of all. Then once you've got that equation – however complicated or simple it may be – sent to Wolfram Alpha to either give you the answer or graph out the system's findings.
In Shape Match you can now draw simple shapes and they'll be corrected for you. This means that if you draw a wobbly circle, it'll be turned into a perfect circle. If you draw a three-sided shape that looks kind of like a triangle, it'll be a perfect straight-edged triangle. You can also make lines.
You'll have Handwriting-to-text working for you, but it'll take a bit more getting used to than the other features when you use it straight up. Write one word, it'll be translated into whatever the system thinks it is essentially instantly. After one word, you've got to tap the space bar or the next word will be entered right after the first, and so on. It's a good start, and it's extremely smart!
Then there's Knowledge Search for when you just don't want to speak your questions out loud. Here you'll also be working with handwriting to text (if you want to) or you can straight up type into the app, but in the end you've got a sentence and you'll be entering it into Wolfram Alpha again.
Have a peek at each of these four in the hands-on video here:
You may now also add a collection of items to a new note in S-Note, including:
• Photos from your gallery or a brand new photo
• Objects you've clipped using your S-Pen
• S-Memos
• A map of your current location or a map of a location of your choosing
You'll find that PDF Annotations are also now activated inside S-Note. Here you'll be able to insert and annotate PDF documents to your heart's delight, share or save a PDF, or print straight from the app. You'll have to import a PDF before you begin to annotate, and you'll find your annotated files in the Galaxy Note file directory if you need to access them later from outside the app.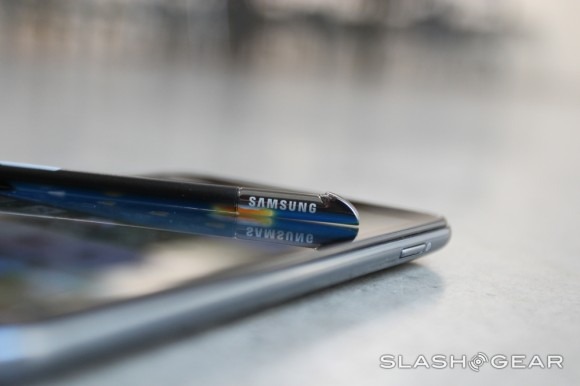 There's an S-Memo Widget that's brand new as well, here allowing you instant access to the S-Memo app in general as well as shooting you straight to Type, Write/Draw, Add Picture, Voice Recording, or Search.

As a bit of a bonus it seems, both the Galaxy S III and the Galaxy Note have gotten access to a Samsung-promoted app that only works thus far on the two devices themselves. This app is called Samsung's My Story and it allows you to make greeting cards that can be shared to and from the app to other users also using the app. Inside the app you're able to add photos, change titles, and generally have an entertaining time fiddling around until you're ready to send it off to a friend whose also got a Galaxy S III or Galaxy Note. Samsung continues to build a vertically integrated system, piece by piece.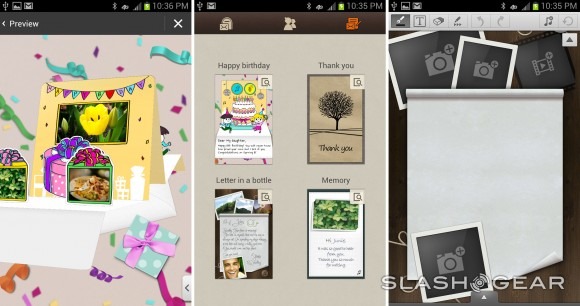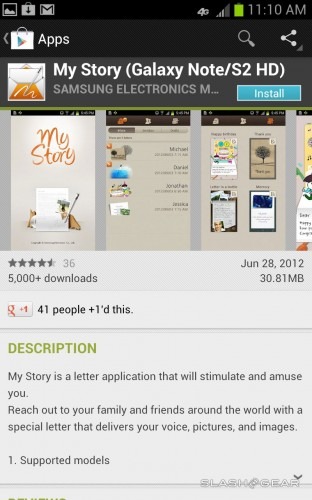 Benchmarks
As a bit of a bonus, here are a few benchmarks run on the Galaxy Note with this software upgrade installed. Compare these to the original benchmarks we've got in the full review of the AT&T Galaxy Note and/or your own AT&T Galaxy Note as it stands here and now. Note that these benchmarks are taken without the device being rooted, it being in its stock state.
Software Update Timeframe
This Premium Suite software upgrade will be dropping this week – starting on the 10th of July, 2012, and pushing to users throughout the USA across the whole week. You'll need to use your Samsung Kies desktop software to make this update happen, just as you've had to for each other software update for the device.
Check out our full review of the Samsung Galaxy Note for AT&T and head down to the timeline below to see all of the most recent Galaxy Note action as well!