Google secures Jelly Bean's Face Unlock feature with Liveness Check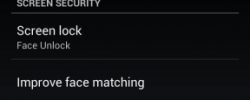 Google has improved the security of its Face Unlock feature for the upcoming Android 4.1 Jelly Bean release. The feature was first introduced with Android 4.0 Ice Cream Sandwich as a way to unlock your phone through face recognition. However, it was quickly discovered that it could be tricked by a using a photo of the person.
With Jelly Bean, Google is adding a new option called Liveness Check for the Face Unlock feature that will require you to blink in order to unlock your device. The face recognition portion of it is faster than before and a message is then displayed asking you to "Blink now." Your device then unlocks once you blink.
To add this feature, you will need to check the box in the security section of the settings on your device. Although the Liveness Check does improve the security issue with Face Unlock, there's still the possibility that those determined to get into your device could doctor a video or animated GIF of your face, played back using another smartphone screen.
[via TechCrunch]