HTC J Butterfly 5-inch 1080p smartphone unveiled in Japan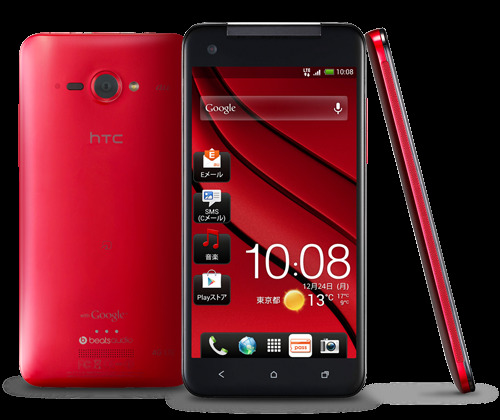 Rumors have abounded since early August of an HTC smartphone in the works that features a 5-inch, 1080p display. In the original DigiTimes report, a source had stated that the device would be launched in September or October. That time has finally come, with HTC announcing the J Butterfly smartphone in Japan while showing off its best feature: the 5-inch full HD Super LCD 3 display.
The J Butterfly's display features a 440ppi resolution, which is simply outstanding. Current pictures floating around showing an up-close comparison between the iPhone 5 and J Butterfly's screen show an obvious difference in the J's favor, as should be expected from the 1920x1080 resolution. The display is fitted nicely within a thin bezel.
Aside from the display, the J Butterfly features the same red/black coloring of the HTC J. Inside the device, you'll find 2GB of RAM, 16GB internal storage, microSD card slot and a quad-core 1.5GHz Snapdragon S4 Pro APQ8064 processor. There's also an 8MP rear camera, which can take still images up to 3280x2464, and record videos in 1080p. The battery has a 2,020mAh capacity.
The J Butterfly is a Japan-only model, but HTC has been quoted as having said that the beautiful display found in this phone will be showing up in other handsets in various markets. The device is slated for release in early December, although a specific date wasn't provided. Currently, the HTC Japan website just says "Coming Soon".
[via Impress]