My Top 5 Track and Performance Driving Events of 2016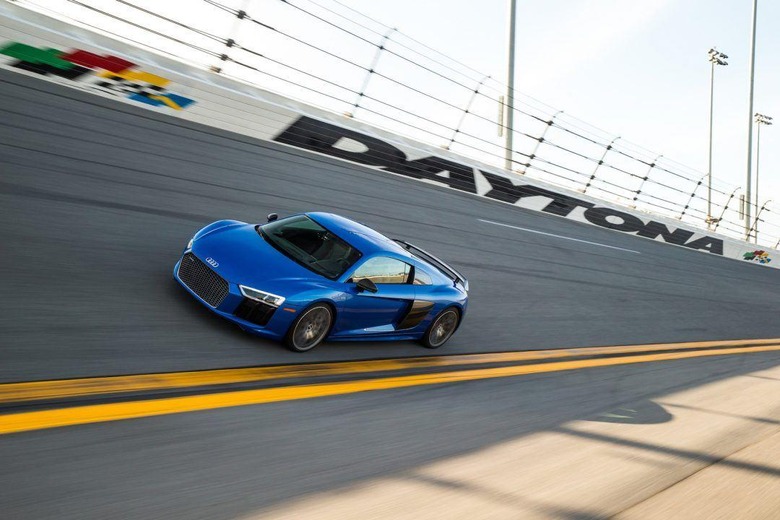 What an epic year. Right around this time last year, I made one New Year's resolution for 2016: drive as many tracks around the world as humanly possible. To my amazement, I did just that. While I did make that my singular resolution for the new year, I didn't really care which cars I drove as long as I was on a track somewhere. That opened up some fairly unusual opportunities both for me and for SlashGear: read on for five of the most memorable.
Audi R8 V10 Plus – Daytona
If I had to end my career as an automotive journalist this very moment, I'd walk away with an experience that very few outside of the racing world will have ever gotten the opportunity to try: take on the Daytona International Speedway. Even as media drives go, this event was unusual. The likes of Lamborghini, Ferrari, and others are generally too cautious to drop journalists on a serious motorsports track with production-spec cars – at least, not if they want legal to sign off on it.
That's why, when Audi USA shared their vision of how the 2017 R8 V10 Plus should debut in the United States, I had my doubts whether it could happen. I shouldn't have questioned it, though, nor the car. The R8 that mere mortals can buy rolls off the same assembly line that folks with deep enough pockets can purchase to race in major endurance trials around the globe. Audi trusted the R8 – and, more importantly and possibly more foolishly, the ten lucky souls invited along – to what I'd still say was the media drive event of a lifetime.
First was getting used to the R8 V10 on the road, before – on, naturally, a charter plane with R8 livery – heading to Daytona Speedway itself. Our early morning track session was a typical day at the track; like others, we weren't granted permission to drive the entire course, which for this particular track means pitting off after the second bank, slowly driving through the pit lane, and then exiting out through turn one and then directly into the infield. This was a warm-up to what to come after lunch.
By then, there was no more time to get comfortable with the track. Instead, the pit limitation was lifted, setting us – and the R8 V10 – loose with only our own restraint to slow us down. Immediately after the second bank, you're already carrying a lot of speed and momentum: without needing to slow for the pit lane trundle, it means you can accelerate even faster through the front straight into turn one.
I'm a novice driver, but I was still carrying an average speed of upwards of 165 mph through the second bank. At that speed, the G-force coming down on the body is considerable. Coming out of the bank, I pushed it up to 179 mph, all the while knowing I needed to time the braking point just right if I was going to setup my entry into turn one.
Luckily for me, Audi had put out cones as suggested braking points; that reassurance was slightly undermined by the concurrent warning that, if we missed one, we'd probably be goners. If there's any takeaway, it's that there was a little bit of driver experience but a whole ton of safety and driving technologies going into the 2017 R8, which allowed me to safely negotiate what's considered one of the scariest and most dangerous left turns on the entire racetrack. Happily (both for me, and for Audi's legal team) I walked away in one piece and didn't harm an R8 either.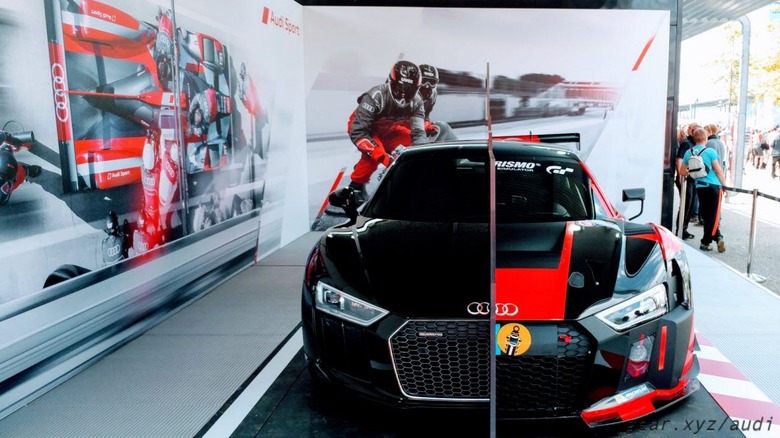 Few will get to put the R8 through its paces like that, but my experience showed me just how much of this racing know-how trickles down to Audi's more attainable models. Having driven the 2017 S8 Plus and RS7 Performance from Miami to Daytona – including, the day before the Rolex 24, a chance to hit the track once again in these unmodified road cars – I could see the R8's lessons being carried over in how the 605 HP and 553 lb.-ft. of torque are put down. Check it out here.
2017 Audi R8 First Drive – All supercar, no compromises | slashgear.com/audi2018 Audi TT RS First Drive
Audi S4 – Le Mans
You might've heard that Audi has withdrawn from the world of motorsport, but it went out of Le Mans with a bang. It coincided with the arrival of the new Audi S4, the automaker's premium sports sedan, and when you're taking on the best that BMW's M division, Mercedes-AMG, and others are fielding, getting the performance right both on and off the track is vital. Enter one of the most memorable drives in a relatively affordable road car I've ever had.
Don't let the new S4 fool you into thinking it's just a souped-up A4. It's far from it. Powered by a new direct injection, turbocharged V6, it has 354 HP and 369 lb.-ft. of torque starting at an idle RPM of 650, then starts hauling past 1,350. It's a showcase for Audi's turbocharger know-how, and sure enough throughout the drive around the challenging Le Mans speedway, I noticed practically zero turbo lag, whether I was going turn to turn or flooring it on the straights.
Sure, it's no TT RS – which goes from 0-62 mph in just 3.9 seconds – but it's no slouch either, doing the same run in just 4.7 seconds despite being a significantly heavier 4-door sedan. The burbling soundtrack may not be otherworldly like the TT RS either, but to my ears it's next best thing. Most importantly, the S4 rewards you for driving hard and swiftly.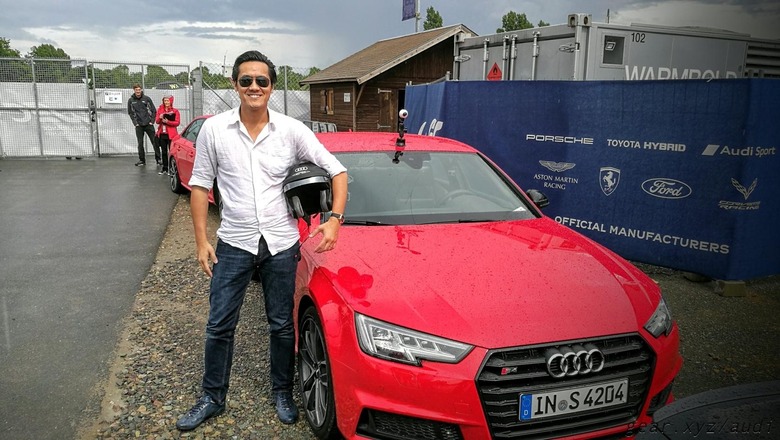 Mated to an exceptionally good 8-speed transmission, the first five ratios purposely tuned for performance, and with Audi's legendary quattro all-wheel drive in the mix, I was perfectly set up to hit Le Mans hard. Sure, it's a road car, but it let me drive and feel like a "real" race car driver, all the time knowing that there's a safety net to save my behind should my lack of experience or sense of excitement overwhelm me. My takeaway? Turbochargers aren't just for keeping emissions down, which is great news when you consider how they've proliferated through Audi's engine line-up.
2018 Audi A5 and S5 First Drive – Gran Tourismo inspired coupe
Porsche Macan GTS – Pikes Peak high speed drive
The Macan GTS is pretty much the pinnacle of the compact/mid-size SUV segment, pairing great looks with raw performance. Never in my wildest dreams, though, did I think I'd be asked to drive it up and down the Pikes Peak Hill Climb. Porsche managed to score 30 minutes of closed track time right before the route opens to the public, and with both lanes to myself it was time to see if this little SUV could actually deliver on its big promises.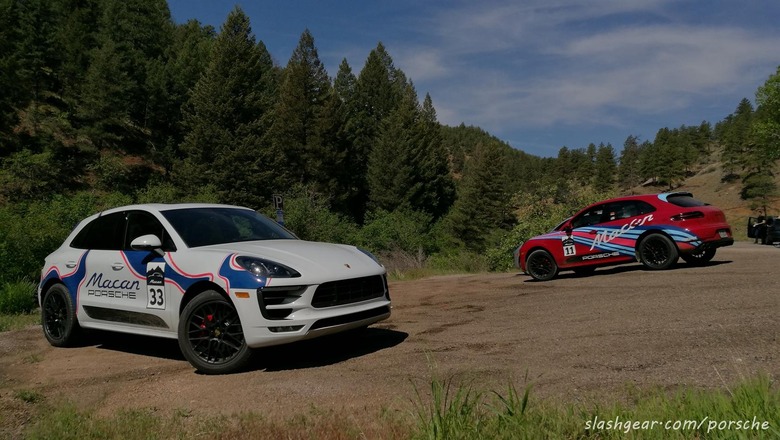 Regular tracks are tough, but the Pikes Peak Hill Climb is particularly challenging, both for you as the driver and for the car. It only gets tougher as you ascend, too: in the good old days, drifting was a lot of fun and dangerous at the same time but, today, the roads are all paved. Less chance to go sideways in a cloud of dust, perhaps, but you're also driving faster, and even a slight mistake could end in massive injury or worse.
The entire course is 12.42 miles long with 156 twists and turns throughout, finishing up at a heady 14,114 feet. With only a half-hour window, I had no time to practice with the 2017 Macan GTS – or, indeed, to admire its livery, borrowed from Porsche's previous Pikes Peak championship winning cars. Instead it was a mad race, with half a dozen Macan GTS chasing Jeff Zwart's Porsche 911 GT2 RS.
The Macan GTS is possibly the most well-balanced of its famioly, with all the "right" options paired with a turbocharged 3.0-liter, twin-turbocharged V6 engine good for 360 HP and 369 lb.-ft. of torque. Even with air suspension – lowering the GTS's ride height by roughly 10 mm and thus the center of gravity too – there's little margin for error, but handling prowess and bags of power just kept on coming. Carving up Pikes Peak is no joke, so staying focused and trying to read what the car is telling you before, during, and after a turn is key to not going off the cliff. And trust me, I really didn't want to go off the cliff.
It meant learning to depend on Porsche's technology, not least its seven-speed PDK dual-clutch transmission. While my manual shifting with the steering wheel paddles might be fast, it was no match for the PDK; happily that same tech is what you'll find in other cars from Porsche's line-up, like the new Panamera.
First Drive: 2015 Porsche Macan S and Macan Turbo | slashgear.com/porsche2017 Porsche 911 Carrera 4S Review – Turbo all the thingsA day at Porsche Experience Center LA: Disney World for gearheads
BMW M2 – Laguna Seca
Mazda would like this particular race track to be remembered for being Mazda Raceway Laguna Seca, but for most – whether on or off the asphalt – it's really notorious for its triple-story, blind crest drop, more famously known as the Corkscrew at Laguna Seca. No joke, it's on the hardest turns in motor racing, particularly for novice drivers.
Ominously, there's not much you can do to prepare for it, bar steeling your stomach and bringing a top-notch car. For the legendary Corkscrew's blind turn entry, the only advice given to me was "be sure to look at the trees across the road as reference points." That proves easier said than done, when you're dealing with the gut-wrenching g force from its abrupt left, then right, and then a sudden drop. It's all the sensations of a serious rollercoaster, except with the bonus that if you screw up, you're done.
Preparing my stomach was my responsibility; the car was down to BMW. Luckily, the BMW M2 was tuned for just such a track. BMW did so well, in fact, that there's a waiting list a mile long, helped by the astonishingly low $51,700 price tag. Purists love the manual option and the fact that the M2 is happiest when driven hard. There's really no fuss about this car, and what you see and hear is what you get: raw and unadulterated road and track performance.
No, we're not talking about supercar power numbers, but the high-revving turbocharged 3.0-liter straight-six never left me feeling that I needed more power when the rubber met the road. Much like the S4's meticulously crafted engine, the 365 HP and 343 lb.-ft. of torque produced from a single turbo eliminated any inkling of turbo lag. Whether I was aggressively coming out of a tight turn onto a straightaway, or taking a bend at 90mph, power on demand is right when you need it. There's a very good, very obvious reason why the M2 is destined to be a future classic.
2016 BMW M2 Review: The 'M' Stands For 'Fun' | slashgear.com/bmw
Toyota Sienna – Streets of Willow Spring
Hey, let's track a minivan! While you might think that's bonkers, the folks at DG-Spec didn't and, working with Toyota Technical Center, they built a killer, track-focused van based off the Sienna SE.
There's nothing too spectacular about Big Willow at Willow Springs International Raceway, other than being super technical. Instead, it was all about seeing what the Sienna R-Tuned was capable when hauling the family wasn't its primary goal. The DG-Spec team managed to shed roughly 800 pounds of weight, then switched out the regular suspension for a custom-tuned version with additional mods for razor sharp handling.
Unexpectedly, what they kept was the 3.5-liter V6 and the standard 6-speed auto transmission. After tuning, though, it was good enough kick the Camaro SS's ass – despite its 6.2-liter, 426 hp power plant. DG-Spec and Toyota also whipped up a street-legal – and closer to reality – Sienna S-Tuned, based on the production AWD Sienna. No, it doesn't slice around the track like its more aggressive sibling, but it's a day and night improvement over the stock, unmodified Sienna SE and Sienna AWD.
Ridiculous? Perhaps, but with Toyota looking to raise the driver entertainment quota of even its family-focused cars, the automaker was looking closely at just what could be carried over from one-off custom to what you'll find in the showroom. That makes it all the more notable that, when I asked, DG-Spec quoted me a cost for the slightly tamer S-Tuned of only $4-5k on top of what you'd normally pay for a Sienna AWD. As a dad with two kids, the thought of a practical minivan that also delivers more on-the-road eagerness than usual is something I'm particularly looking forward to.
On the track with Toyota's crazy Camaro-killing R-Tuned minivan | slashgear.com/toyota
Wait, there's 1 more… Ford F-150 Raptor: Performance highspeed desert drive
If you follow SlashGear and made it through this far, you might've wondered whether I'd add the recent Raptor drive to this list. The answer is yes: blazing through the desert at ridiculous speeds is more than memorable enough to be counted alongside more traditional tracks.
Indeed, as the Baja 1000 shows us, off-road racing is possibly the hardest "racetrack" you can face. Pretty much everything along the track will hurt your car if you're not constantly attentive. The 90 minutes behind the wheel of the 2017 F-150 Raptor was both exhilarating and mentally and physically exhausting, more so than any full day's speeding around a regular track.
This was my first time driving high speed through the desert, so lucky me for me it was behind the wheel of what turned out to be one of the best sports trucks out there. In Raptor-exclusive Baja drive mode, the F-150's EcoBoost V6 turbocharged engine is always ready to deliver power when you need it. I'm talking zero-lag. By holding the lower gears for longer, you get more peak performance between 3,500 RPM through 5,000 RPM, making the most of the 450 HP and 510 lb.-ft. of torque. Face it, turbos should be your best friends.
2017 Ford F-150 Raptor First Drive: The Epic Baja Monster | slashgear.com/fordDrifting around in the 2017 Ford Focus RS with the Stig!
Wrap-Up
If there's a takeaway from this trip down memory lane, it's this: the degree to which high-performance technology makes its way to the mainstream is significant, if you know to look for it. Performance turbocharging, focused suspension setups, and laser-fast transmissions aren't just the preserve of supercars (or supertrucks) any more. That's good news for anyone looking for some driving fun, even if you're nowhere near Le Mans.