2018 Audi TT RS First Drive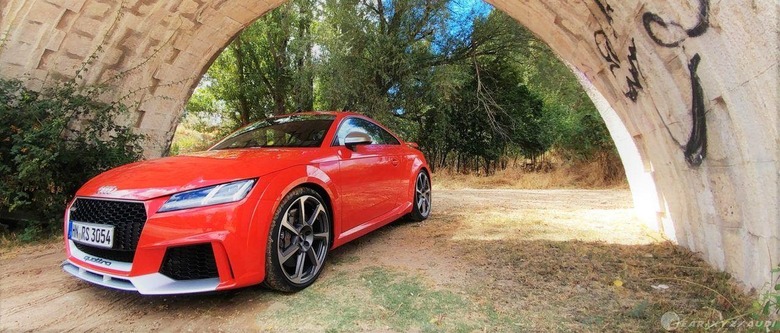 Get ready for trouble: the 2018 Audi TT RS is most definitely going to stir up some problems among the new Porsche Cayman S, Mustang GT350, Corvette Stingray, and BMW M2. Having driven all five of these road-legal racers, I have no doubts that the TT RS will hold against its best German and American rivals. It's a fast car that happens to look great, excelling on the track while still delivering all the creature comforts you'd want in a daily driver.
Audi invited me out to Madrid to experience the second-generation TT RS, coincidentally enough in the south of Spain near where the late model TT was launched two years ago. Track day with the TTS was certainly fun, but the TT RS' performance hit a whole other level. How so? It starts off with an exhaust note like nothing I've ever heard before – to borrow a perfect description from Audi's Mark Dahnke "it's out of this world sounding" – and which I can confidently say is one of the best engine soundtracks your ears could hope for. Happily Audi's engineers weren't feeling coy about it either, and as such its burbling is unadulterated and piped directly into the cabin for your listening pleasure.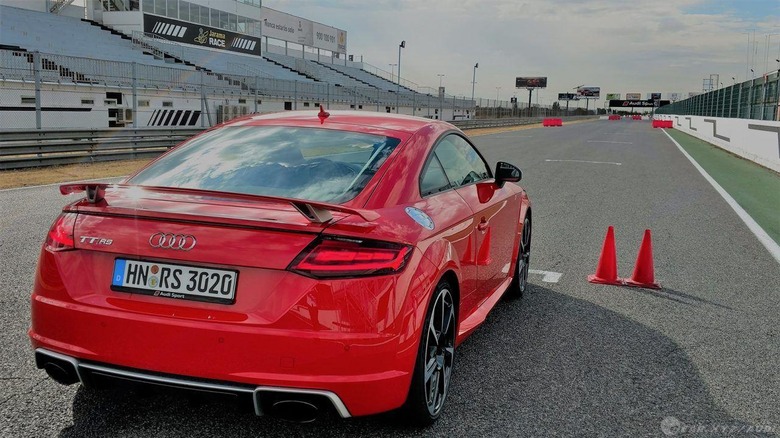 You can't sell a performance car on noise along, of course, so then you throw in the TT RS' trick steering. Now, the TTS offers very decent handling and there's no doubting that it goes exactly where you point the steering wheel, but the TT RS upgrades that "one-dimensional" driving experience with variable steering. In short, the more you turn the wheel, the quicker the steering ratio gets.
I found it gave me more room to make quick, last-second decisions coming in and out of turns. For example, after a couple of laps around Jarama's Raceway, I was feeling pretty comfortable despite a new track and a new car. On the penultimate turn, I made a last-minute decision to unwind and come out wider – think two-wheels-in-the-dirt kind of wider – just for kicks, to see how well the car reacted in an understeer situation.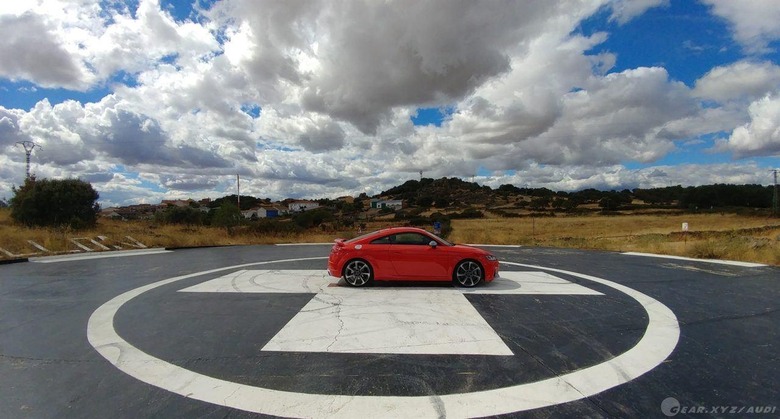 Before going into what happens next, let me tell you what would've happened in the TTS and possible a rear-wheel sports car. First, the TTS's firmer steering would've made it more difficult for me to go wider once I committed to the turn and unwinding out. A non-quattro, rear wheel drive sports car, in the case of understeer – and yes, the first-gen TT RS did experience understeer too, but AWD has its traction benefits – would quite possibly have spun off, resulting in the rear-end smacking dramatically and expensively against the guard rail. Of course, this all depends on the driver's experience level.
In my case, I'm an ambitious amateur at best and the TT RS saved my ass. To correct the oversteer, I simply gave it a little extra thrust and an ever-so-slight nudge on the steering wheel and voila – I'm back on the track and on my way.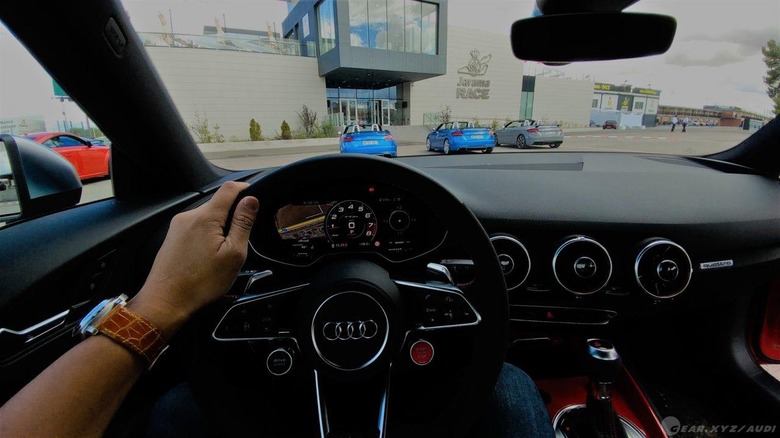 While the new AWD system has improved over the previous quattro, it's not as nearly as efficient as the "quattro with Ultra-Technology" Audi recently introduced on the A4 All-Road and 2018 Q5. Nonetheless, the system is still quicker than ever to transfer power to the rear as soon as it senses a slip. In everyday driving conditions, quattro is mostly front-wheel drive biased with up to 80-percent of the power pushed towards the front. On the new quattro with Ultra-Technology, in contrast, the front wheels run at 100-percent power while the AWD system tracks road conditions and predicts traction needs up to 500ms ahead, taking 200ms to engage the rear-wheel drive well before you need it.
A damn fine engine, and a 0-60mph time worth bragging about
The 2018 Audi TT RS packs a 2.5-liter turbocharged five-cylinder engine with 395hp and 354 lb.-ft of torque. It's got a fat torque range starting right at 1,700 rpm and ramping up all the way up to 5,850 rpm. That means near-instant power is right around the corner from idle speed. With Audi's Dynamic Package Plus, the TT RS has a top speed of 174 mph with 0-to-62 mph coming in at 3.9-seconds for the topless roadster, while the coupe knocks off another 0.2 seconds.
quattro all-wheel drive is standard and so is Audi's seven-speed, dual-clutch, S tronic transmission: there's no manual option. You don't need it, though: whether the gearbox is left to its own devices or you row the paddles yourself, the RS is a silver bullet. While the old TT RS may have had a 2.5-liter, 5-cylinder too, the engine itself is brand new inside and out. For starters, there's a total weight saving of 57 lb thanks to using magnesium, molybdenum, and other lightweight materials for the engine's building blocks; a full 40 lb was trimmed by switching from an iron block to aluminum.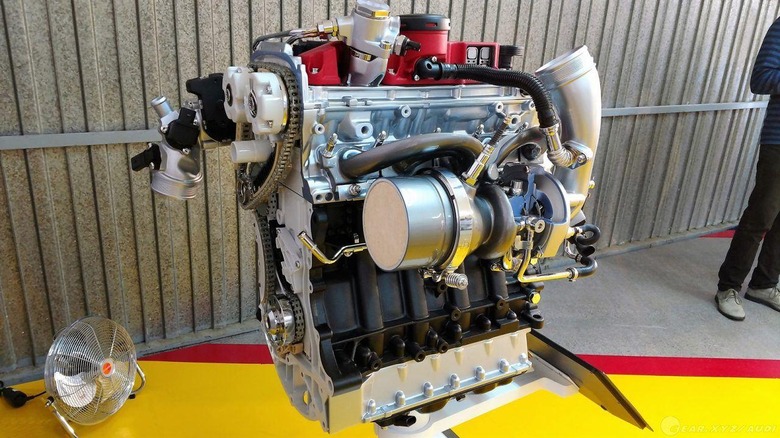 In total, the new TT RS is 77 lb lighter – you can trim an extra 28.66 lb with the ceramic brakes – than the outgoing model, at 3,175 lb. That's heavier than the 718 Cayman S, but Audi has more power than the Porsche and it arrives ealier too: during my time on the track with the TT RS, it felt like peak performance came right around 4,500 rpm.
Audi's Dynamic Handling System is part of the quattro system, ready to weigh in if you do something particularly stupid. For better or worse, I didn't quite get to turn off all of the safety settings: traction and stability control. While the owner can completely flip the switch to bypass everything, Audi had decided that it would disable that option when it let the TT RS loose with a bunch of press. It's probably for the best: when they're off, they're truly off, and there's zero safety net if you screw up. For the most part, though, the ESC steers clear and does a good job of staying out of your way until you really need it.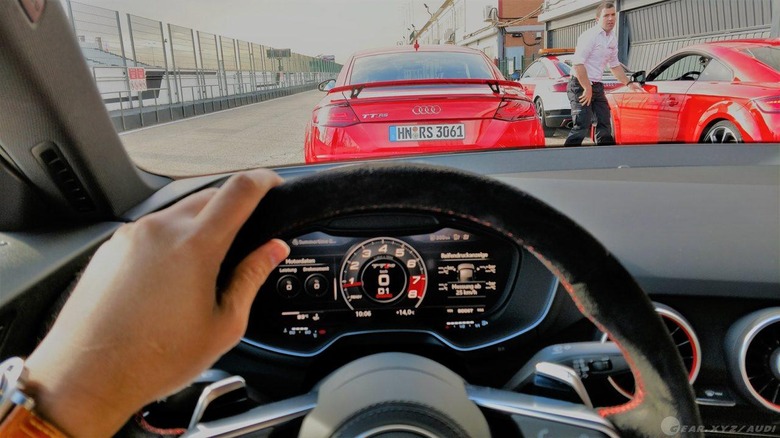 Elsewhere, the electronics are focused more on fun. Launch control, for instance, involves switching to the Dynamic drive mode with the transmission and ESC in Sport. Then you simply hold down the brakes with your left foot while stomping the gas pedal all the way; revs hold at roughly 3,500 rpm. You could easily be convinced that the engine is in its happiest state at this point. You want some spits, burps, and howling? You got it. How about mixing things up with some throaty gurgling thrown in? Deal. Launch control is usually only really good for showing off at the lights (when you can find a sufficiently empty, and safe, stretch, of course) but the TT RS makes it special before you're even moving.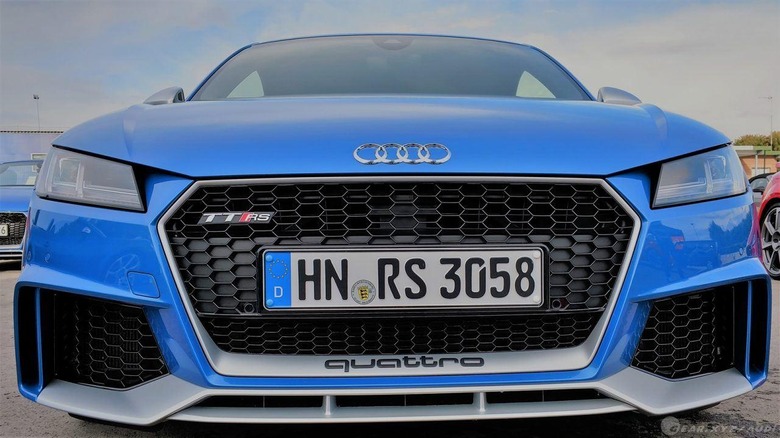 Audi's Dahnke tells me that the sweet, sweet sound has to do with the variable valve timing on the exhaust system, combined with the modified cylinder heads. Some heritage helps, too. Dating back to 1977 with the 100 5E and then the turbocharged AWD 1984 Sport Quattro, the five-cylinder engine sticks with the tried and tested cylinder firing order, a 1-2-4-5-3 progression which gives it such a distinctive sound.
That's not to say the TT RS isn't also more than capable when you let off the brake. I ran a few 0-62 mph launch control tests with little effort squashed Audi's quoted 0-62 mph time, On a semi-wet pavement, according to the onboard computer, 62 mph arrived in just 3.5 seconds.
Of course with all that power, you need serious brakes. Our test cars didn't disappoint with carbon ceramic brakes: 14.6-inch perforated, ventilated rotors with eight-piston calipers on the front, and 12.2-inch, single-piston rotors for the rear. Whether I was testing out the brakes on the road, in the back countryside of Spain, or in more extreme conditions on the track, they never failed me. Indeed, even under tight condition where I hauled up from 120mph+ down to cornering speeds, the brakes were stellar performers.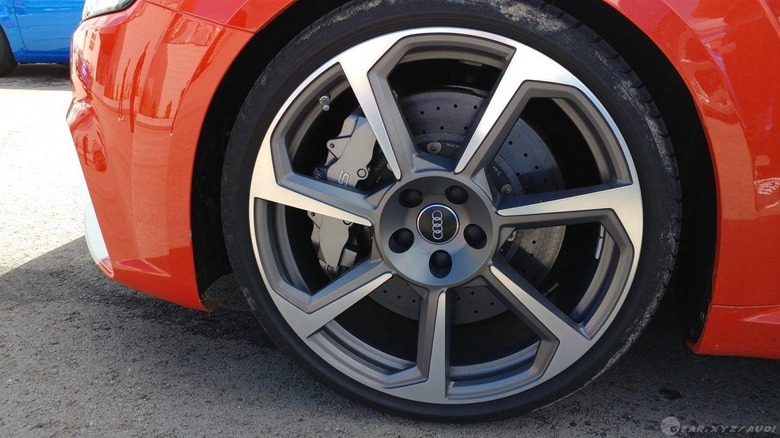 Audi makes magnetic ride control standard, though available is an optional fixed steel spring suspension setup on the Dynamic Plus Package. That also gets you a carbon fiber engine cover and ceramic front brakes, though unless you plan on racing the TT RS every other weekend, the standard magnetic ride is more than enough and flatters everyday commuting too. As we've seen on previous cars with the system – which fills the dampers with a special fluid incorporating tiny particles that change stiffness according to an adjustable magnetic field – it's much more adaptable for a broader range of road conditions and driving styles.
Were I to get the TT RS, I know my family would appreciate it. We were on holiday in southern California recently, a family of four – my wife and our three and six year old daughters – piled into a TTS for a week. The TT family of 2-doors is one of few sportier cars you can buy today with a 2+2 seater that comes in under six-figures (Porsche will happily sell you 2+2 seats if you have more than that to spend), though I'd not want to put anybody larger than a child in the rear.
The interior is similar to what you'd expect from the new generation of TT. Resolutely driver-centric, the 12.3-inch Audi Virtual Cockpit display is the only screen; your passenger will have to look across if they want to see the map or adjust the audio system. Differentiating from its more mainstream siblings, here the Virtual Cockpit has three different views exclusive only to the RS, which highlight the rev counter and feature a shift light that flashes in green, orange, and red as you approach the engine's redline. There's also a wealth of track driving detail, including tire pressure, torque, and g-force, among the standard navigation and media control.
The race car-inspired steering wheel in the R8 is one of my favorite in the automotive industry. Lucky TT RS owners get the same thing, complete with leather and paddle shifters. On top of the standard multi-functional buttons for the infotainment there are two satellite buttons: start/stop engine and driving dynamics – aka Audi drive select – for switching between the four driving modes: comfort, auto, dynamic, and individual. For those being respectful of their neighbor's peace and quiet, Audi added a sound button on the center console which tames the loud exhaust note, at least by a little.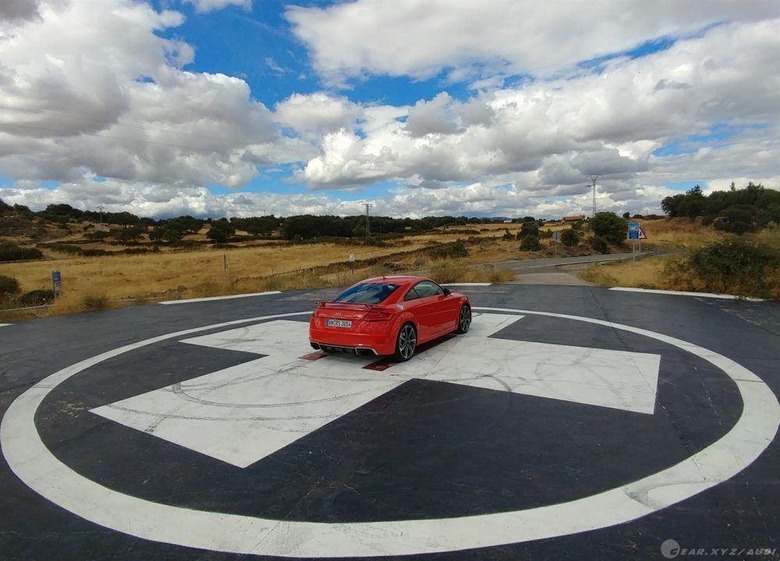 Elsewhere inside the cockpit, you're wrapped up in high-quality leather and surrounded by aluminum trim or carbon fiber accents. I'm a big fan of Audi'sdarker theme, which features diamond-quilted stitching. That same theme carries over to the steering wheel. All the touch-points feel great, including the red circular vents with their integrated OLED screens, and the matching red trim on the center console and door handles.
OLED shows up again on the outside of the car, with Audi using the lighting technology for the TT RS' brake lights. The automaker is known for innovation in lighting: a few years ago, for instance, they trusted us press sufficiently to throw us on a track at night to test out the new R8's Laser Vision headlights. Indeed, the R8 will be the first car in the US to sport the technology.
For the new TT RS, Audi focused its attention on the rear end. The car will be the first to offer the new optional Matrix OLED light panels, and I've confirmed that the US model arriving later in 2017 will indeed get them. Compared to existing brake lights, they're much higher in contrast, can be continuously dimmed without casting any shadows, and – most importantly – they don't require reflectors. Instead, four wafer-thin units make up each rear light, with the TT logo and Audi's four rings embedded into the largest of the four.
It's not the only design distinction between the other members of the TT family. The TT RS gets larger air inlets, along with a new "Singleframe" grille with a new honecomb design mesh and inset quattro logo. At the rear there's a fixed wing spoiler and two large oval tailpipes. In short, there's no mistaking the TT RS for the regular old TT or even the TTS, even before you start the engine up.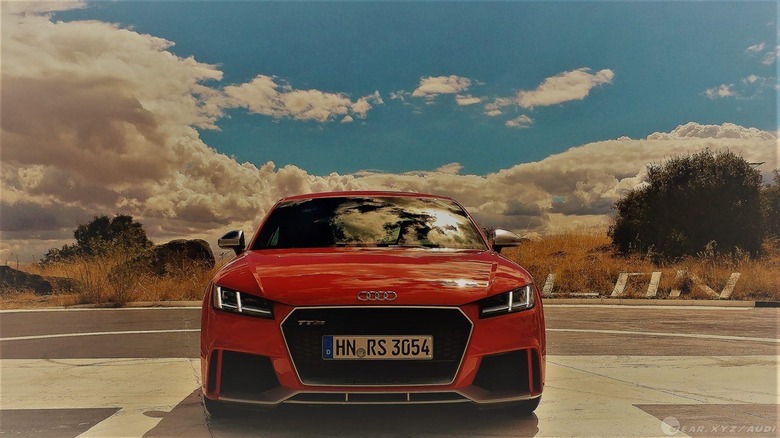 NOW READ: 2016 Audi TTS Review
Audi has yet to announce pricing for the US market but, in Europe, the coupe starts at 66,400 euro so expect to shell out $70,000 or more for the TT RS once it arrives stateside. All things considered, it's still a lot of money compared to both TT and TTS. Stacking the TT RS up against the competitors, however, it's actually something of a bargain for a fine looking two-door 2+2, with a distinctive engine that's both tame enough for a quick trip to the grocery store while simultaneously a track monster.