Audi Gives Its R8 Supercar Laser Vision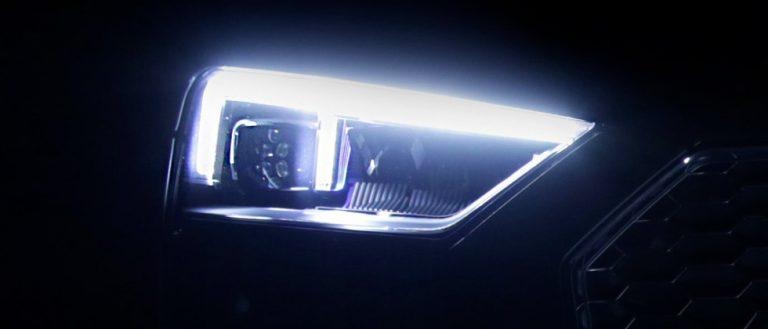 There's little that can't be improved with lasers, and Audi's 2017 R8 V10 plus exclusive is no different, the first car in the US to bear laser headlights. Set to be revealed at the LA Auto Show 2016 in just a couple of weeks time, the V10 coupe is the first of the automaker's production cars to incorporate laser light technology for the US market; it'll be exceedingly rare, too, coming in a short-run edition of just 25. Does it make a difference? We can tell you that it certainly does, having had the opportunity to test a 2017 R8 V10 plus under some interesting circumstances – on the track in the dead of night.
The 2017 R8 V10 plus exclusive edition will come to the United States through the company's Audi exclusive program, effectively the automaker's bespoke arm which customizes production cars for well-heeled clientele. In this particular case, it's finished in Quantum Gray with the Titanium Black-optic exterior package, and rolls with a Carbon sideblade with Solar Orange stripe. The tires have a 20-inch 10-spoke-Y design in high-gloss anthracite, and the steering wheel has its own Signal Orange 12 o'clock marker.
It's not the only interior change. Audi exclusive finishes the full leather seating in Black/Signal Orange, while the door sills are also trimmed in leather, not to mention illuminated with custom "one of 25" logos in carbon matte. The luggage compartment is trimmed in Alcantara, as are the rear panel and rear shelf. There's even an Alcantara headliner, with diamond-stitching.
The 25 drivers are cosseted in fixed-backrest racing shell seats. On the outside, as well as Audi carbon ceramic brakes, there's a carbon fiber rear diffuser and front lip spoiler. The exterior mirror housings and fixed rear wing spoiler match too. But what we're most interested in, of course, is the lights.
The standard LED lights you'd find on a regular R8 are still present, but now they're combined with a supplementary laser system which kicks in at speeds above 40 mph. Each headlight gets with one laser module consisting of four laser diodes: all four diodes run together, blasting out a blue laser beam with a wavelength of 450 nanometers. That blue laser is converted by a phosphor converter, turning it into a "very bright and pure white light."
We had the opportunity to get up close and personal with Audi's laser lights system earlier last year. Above you'll see our tour through the features of the laser light high beam system on the 2017 Audi R8. Indeed, Audi was so confident in the slick new lamps that they allowed our own Vincent Nguyen to take the R8 out onto a dark race track in Portugal. Below you'll be able to see how that drive went (spoiler: he didn't crash).
SlashGear also had the opportunity be one of the first to test-drive the 2017 R8 back in July of last year. Even without the addition of lasers it's an impressive beast, with Audi claiming a 3.2 second 0-62 mph run courtesy of the coupe's 610 HP. Audi quattro all-wheel drive helps keep it on the road, with dynamic suspension and – exclusive to the V10 plus – a special Performance mode.
If you're tempted by the laser upgrade, R8 V10 plus exclusive kicks off at $229,200 excluding destination and other charges. No word on when Audi might bring laser headlamp technology to other cars in its line-up at this point.