2017 Audi R8 First Drive - All supercar, no compromises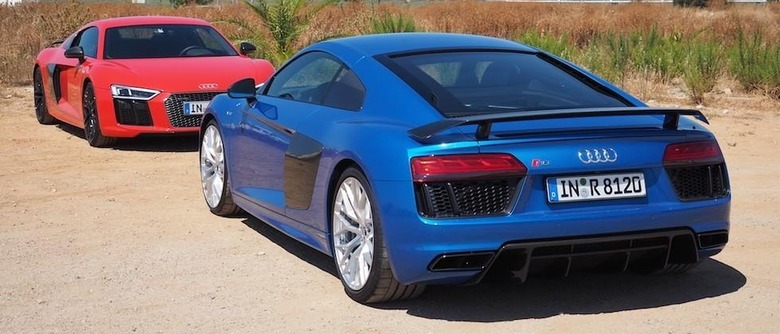 There's driving, and then there's driving a car that thinks it's a racer. Thing is, the Audi R8 has the credentials to back that up, born from an unmistakably noble family of champions and given the same name as a Le Mans winning sports car. For the 2017 R8, Audi turned to the same engineering team that developed the Nurburgring 24 Hours-winning R8 LMS race car, including half a shared parts bucket. It's something I found hard to forget when Audi invited SlashGear to Portugal, to be among the first to try the new R8 on the track.
"Motorsport is in Audi's DNA, it is part of the brand's character," said Prof. Dr. Ulrich Hackenberg, head of Audi's technical development. "No other model of ours evokes more dynamic emotion; none is closer to a race car."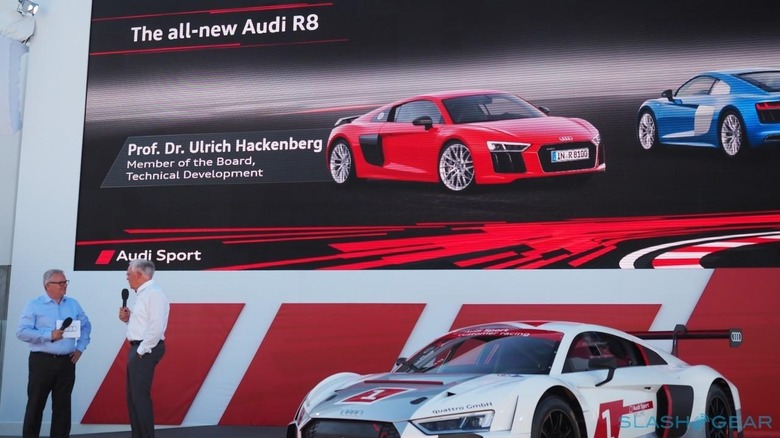 Even as I stepped out of the airport in Portugal, I knew I was on borrowed time with the R8; just 24 hours in the country, in fact. That meant little time to dwell on the most sporting of Audi road car's history, and no time at all to stop and take in the scenery.
Originally launched in 2007, and borrowing aluminum monocoque construction among other things from Audi's racing stable, the R8 quickly gained a reputation for combining everyday usability with true supercar performance.
Several iterations followed, including an all-electric R8 e-tron, until Audi introduced the second-generation version, which will launch in the US as a model year 2017 car, at the Geneva Motor Show earlier this year.
The scenery pales when you're faced with a parking lot full of cherry red V10 plus and blue V10 R8's, and it was the latter I found myself behind the wheel of first. On my own in the car, it's also where I realized just how low and wide the Audi is.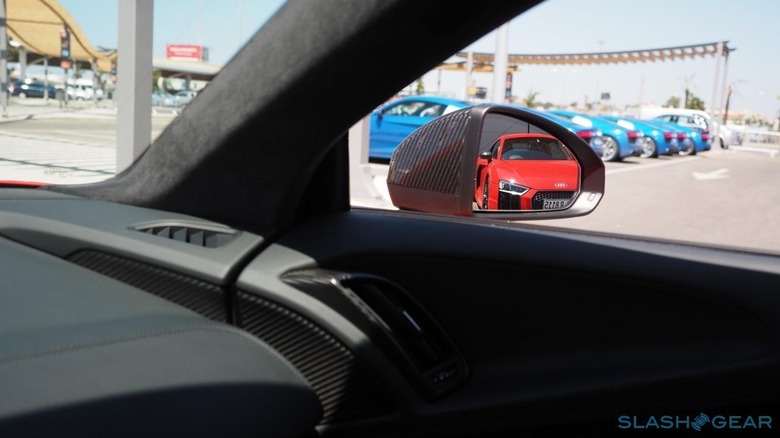 Exiting the parking lot required a two-point turn and, at first, I wasn't sure I was going to make it given, at 76-inches across, how much wider than a regular car it is. Even once I'd made it out – without a scratch, I'm happy to report – the roads leading from the airport towards Algarve proved to be similarly narrow, not to mention packed with cars parked everywhere, with a combination of unpredictable pedestrians, mopeds, and bicycles thrown in to really make it a challenge.
To my surprise, though, after a few miles of acclimatization the R8 felt not only nimble and agile but predictable, too. Never small, but despite what the raucous bellow of the 5.2-liter engine might lead you to believe, it's actually reassuringly manageable at lower speeds.
Eventually, thankfully, the road opened up, and I found myself hitting the on-ramp for the freeway. The naturally-aspirated car may be the entry-level R8 with "only" 540 horsepower, but it's more than enough to hurtle you to the redline at 8,500 rpm in short order.
Audi has redesigned the cabin for the 2017 car, and while in some places the changes are minor, they add up to a fantastic, driver-focused feel. The R8 is all about the driver, and nowhere is that illustrated better inside than the wheel.
Optional on the R8 V10 but standard on the R8 V10 plus is a performance leather steering wheel; it does so much more than merely change direction, however.
Dedicated buttons for the core driving features, along with multifunction keys and scrollers for navigating through menus and settings are arranged around the wheel's grips. It may look complex initially, but after a little driving the main keys fall to hand quickly, and you rarely have to look away from the road.
Of everything the wheel offers, the four most important controls might well be the button for Drive Select mode, the ignition on the right, the switchable exhaust key below that, and finally the checkered flag button which summons your pre-saved dynamic preferences.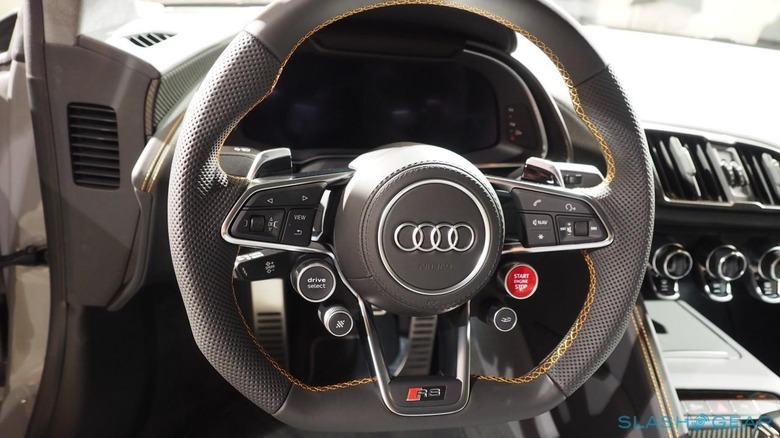 Back at the airport, I'd left Drive Select in Auto to get me out, and then switched to Comfort which promises to absorb the bumps during more relaxed driving (working particularly well, as you might expect, with the optional magnetorheological shock system). Things got exciting when I shifted to Performance mode, however, which turns off traction control – not something I'd necessarily recommend for novice drivers – and then optimizes for the best traction in dry, wet, or snow conditions.
Another press takes you to Individual mode, which offers auto, comfort, and dynamic profiles with custom settings for dampers, engine, and steering. I soon discovered that Dynamic holds the lower gears longer, meaning the engine is right in the midst of its power band and ready to go at the slightest squeeze of the throttle.
Carving through the curvy backroads of Portugal, the R8 felt sharp as a razor, and sufficiently poised so that, even on an unfamiliar route, I felt confident enough to push the car hard. Key to that is Audi's Quattro all-wheel drive, which I'm convinced remains one of the auto industry's marvels.
No tail-drifting, no skittishness; on or off the track, I kept finding myself thinking "how did I make that turn?" or even "wow, I was going way too fast to do that." Sure, drive stupidly and you can still get caught out, but the R8 flatters the driver who pushes hard.
By now, you may have heard about the Audi Virtual Cockpit. First introduced in the TT/TTS, and recently made available on the 2017 Q7, the analog instruments of the driver's display are replaced with a gorgeous 12.3-inch LCD with a resolution of 1,440 x 540 pixels.
Since all the gages are digital, Audi can take into account more than just the basics a mechanical display might. For instance, the tach/speedo readings are based on engine speed calculated 60 times a second, taking into account inertia, elasticity, and damping. Different Drive Select modes have different display layouts, too, again all customizable.
Audi's MMI navigation and touch system comes standard on both the R8 V10 and the V10 plus, and there's Audi Connect for wireless connectivity on the move. Keeping things running is the new MIB 2 NVIDIA Tegra 30 chipset, good for 8-billion computations per second.
All that processing power is put to good use. Imagine cruising around in a foreign country without a nav system; that spells disaster. Audi's real-time Google Earth-based nav is best-in-class, and it's placed right alongside the tach and speedometer.
Admittedly, when Audi's staff handed over the keys to the R8, the navigation system was already programmed; later when, I was on my own, it was still relatively easy to pick and set different destinations. Since the Virtual Cockpit uses a widescreen display all of the directions are right in front of you, which means no need to look across at the center console or – even worse – down at your phone in your lap.
It's not just about positioning, however. The Virtual Cockpit also zooms its high-res graphics in on the upcoming turn, like a co-driver calling out the next instructions. It works great on the road, but also operates on a race track, which is where I was particularly intrigued to try it.
For what it's worth, Algarve International Circuit in Portimao, Portugal was a beast to tackle day or night. Over the course of eight laps, five for daytime driving and three for night, I got to explore some of the R8 V10 and V10 plus' real performance abilities.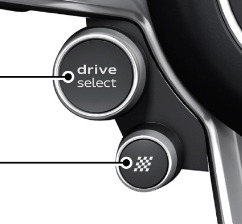 One such thing is launch control. On the steering wheel, hit the checker flag mode button to activate it; that turns off traction control, too. Press on the brake pedal with your left foot, stomp all the way down on the gas pedal with your right, and then... let go of the brake. You should hold on because you're in for a wild ride.
Compared to my experience with the Dodge Challenger SRT Hellcat's launch control, the acceleration didn't feel like it gave much of a kick but, instead, a more consistent surge in speed from 0-62 mph in just 3.2 seconds.
I know I've said that the Quattro all-wheel drive performs exceptionally well on or off the track. All the same, if you're still learning a new track or are generally inexperienced, it can only do so much to assist, and that usually means understeer if you take a corner too aggressively. That, at least, was true of the last-gen R8.
Somehow, the 2017 car feels prescient in how it delivers its power. While I wasn't driving like a mad man on the track, there were still times where I felt like I'd inadvertently set myself up for understeer on certain turns; Algarve International Circuit has a double right turn, for instance, which has proved the undoing of many an inexperienced driver, and it caught me out too.
Quattro saved my rear more times than I can count, however, because instead of the the back end sliding out when I stepped on the throttle, the front differential can take all of the car's power. Whereas the outgoing R8 could only push around 30-percent of the power to the front, the 2017 car can in effect temporarily become front-wheel drive, helping me to correct the understeer.
It's not the only tech I found myself appreciating. Audi has been pushing the envelope in automotive lighting for years now, starting with adaptive lights on the Audi A8 in 2003, then introduced LED daytime running lights in 2004. In 2008, the A8 got all-LED headlights and, in 2013, Matrix LED headlights were made available (though, unfortunately, due to our outdated regulations they were banned stateside).
LaserSpot high-beam lamps were first introduced in 2014 on the R8 LMX, and now they're available on the second generation R8. Considering nearly half of my track time was in darkness, thank goodness for the super-powerful laser high-beams.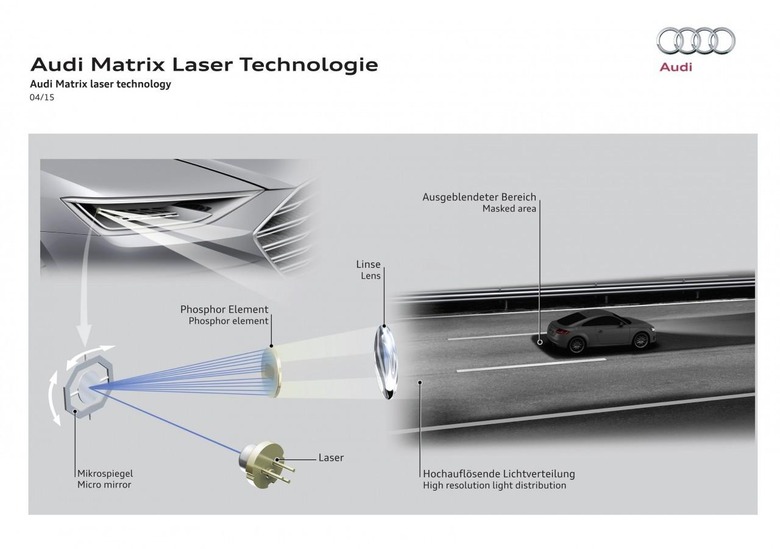 While they may not actually turn night into day, they certainly brightened up the semi-pitch-dark track so that I didn't miss upcoming turns; Audi says they deliver around twice the range as regular lights. Algarve is one of the hardest racetracks I've driven, which meant it was a nerve-racking place for my first nighttime track experience.
No matter how prepared you are, or how seasoned of a driver you are, night driving is a whole different ball game. There were a couple of turns where things got dark fast – mainly, true, because I was driving a fast car – and with little time to acclimate to the environment I got disoriented.
Great lighting meant I could see the cones, which act as reference points for braking, hitting the apex, and then getting on the throttle to power out of the corner. For night-time driving, those cones could mean the difference between making a turn or running into a wall; not something you want to do in a brand new Audi.
Going into the night driving session, I was looking forward to testing out the navigation system to help guide me around the track. To my surprise, unlike when I'd been testing the R8 in the real world where the nav was super helpful, on the track I didn't even have time to glance down: I was too busy searching out for cones in order to make the next turn.
I'm pretty sure that, with more practice and a corresponding increase in confidence on this particular course, the nav system would work in my favor to help flag upcoming turns. For this trip, though, I'm sorry to report that I failed my goal to rely on it as a digital co-pilot. Driving the R8 at night on this track was by far the most difficult exercise I've done in a long time, and it would've been harder – or I would've had to drive much slower – if not for the LaserSpot high-beam headlights.
Audi has made some big changes in the engine compartment for 2017, starting out by removing the V8 from the range. I'm sad to report that I didn't get to test a manual version of the R8, either, since it too has been eliminated. According to Audi there simply wasn't the demand for it, so the stick-shift has had to go.
Instead, an S Tronic dual-clutch gearbox that was a $9,100 option on the old car is now standard-fit on the 2017 R8. It's actually all-new this time around, too, and snaps through its seven speeds in a way that somehow manages to combine rifle-bolt accuracy with silky smoothness. Shifts are ridiculously fast, whether you're clicking at the paddles or letting the R8 decide for itself, but there's no jolt as you find in some DCTs.
With the V8 retired, should you be lucky enough to afford one, your engine choices boil down to the R8 V10, relying on its 5.2-liter engine for 540 HP and 391 lb-ft of torque, or the V10 plus with 610 HP and 398 lb-ft of torque.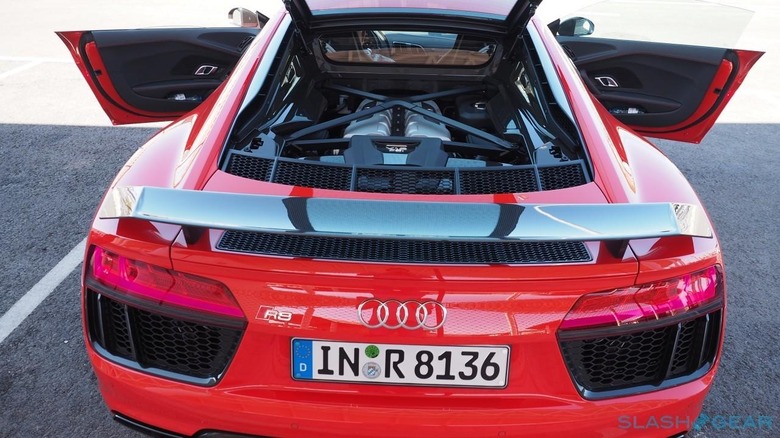 That's a horsepower increase of 15 HP and 60 HP respectively over the old car, though torque is the same. However, Audi has also massaged the fuel consumption, and so the V10 delivers 13-percent better economy compared to its predecessor.
One of the main reasons for that is cylinder deactivation, which switches the V10 into to a five cylinder engine under "normal" driving conditions. The R8 can flip between the normal direct injection or the new port injection system, too, depending on how eager you are with the throttle, helping cut emissions at start-up.
With turbochargers increasingly relied upon to propel supercars to ridiculous speeds, you might be wondering how the naturally-aspirated 2017 R8 compares. There's certainly no sacrifice in the soundtrack, and in fact Audi gives you two variations to choose between, standard and sport.
Sport is, unsurprisingly, the angrier of the two, though either way you get a sudden bark when you plant your right foot, and then a manic popping and crackling when you lift off. Without the turbo, you don't get the sudden surge in power pressing you back against your seat, but instead there's an insistent, steady force propelling you on to a top speed of 199 mph or 205 mph for the V10 or V10 plus cars respectively.
Inside, though I'm fairly tall and thin, the R8's cabin feels like it could've been custom sized for me. Certainly not cramped and, true, while cargo space may be an issue for some – enough space under the front hood for a small duffle bag or loaded backpack, and a smudge more behind the seats – it doesn't feel like all that unusual a compromise for a supercar, even one as suited to everyday driving as the R8 turned out to be.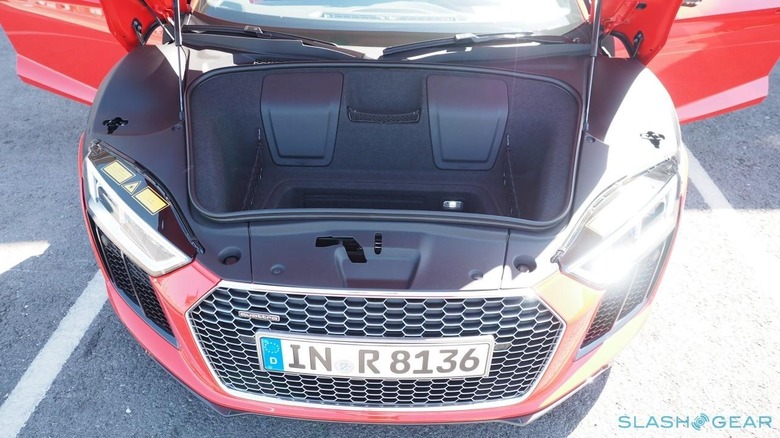 I spent time in both the lightweight race bucket seats that are standard on the V10 plus and that use a fixed seat-back, and in the regular sports seats that come in the V10, and found both to be comfortable. Either way I felt they left me more upright than in other cars of the R8's type, which turned out to be great for forward and front side visibility. All the good positioning in the world can't help with rear/rear-side views when you're dealing with the R8's sort of bodywork, however.
With the track time – both exhilarating and stressful – out of the way, it was time to take the R8 V10 plus back out onto regular roads. After around 90 minutes on the highway, during which the Audi demonstrated it could drive just as smooth and placidly as, well, an Audi, Alex, my co-driver from Digital Trends and I decided to take our R8's out for a spin down at the beach.
The roads (which at times felt more like sidewalks for one-way traffic) were narrow with parked cars everywhere, not to mention one memorable single-lane bridge that's exactly the width of the R8, bar a few scant inches on each side. Turns out, though, whizzing through traffic was a breeze. Though the R8 may be considerably larger than, say, the Alfa Romeo 4C, it sure drives like one: a wide car that drives far smaller than it looks.
There's no arguing that the second-gen R8 is worthy of its supercar badge. It's even something of a bargain in the process; US pricing is yet to be confirmed for the 2017 car, but at 165,000 EUR ($180k) for the R8 V10 and ($205k) for the V10 plus, it's half the price of its Lamborghini Huracán cousin.
That's despite sharing much of the same mechanicals, both being built on the same Modular Sportscar System (MMS) aluminum spaceframe, and using a very similar 5.2-liter engine.
The differences between the two amount to more than price, however. Cousins they may well be, but no-one will mistake the new R8 for anything else on the market.
The wedge profile is the same, but the 2017 car is wider and flatter than its predecessor. Curves are sharper, too, and the distinctive side blade panels behind the doors is now divided by the quarter panel, which reduces visual bulk. The V10 plus adds a rear wing.
Meanwhile, though the Huracán might have a screaming bellow like no other, that takes its toll in the real-world, somewhere the new R8 feels very much at home.

Maturity can be the kiss of death to a supercar, which by their very nature occupy the automotive extremes. It's all the more striking, then, that Audi has managed to deliver not only legitimately eye-watering performance with refinement too, but without turning the 2017 R8 into a Jekyll & Hyde affair. It's a formula that I've no doubt will win plenty of buyers when it goes on sale in the US next spring.
Visit Audi's hub for more coverage.