2016 Audi TT/TTS and Q7 Virtual Cockpit First-Drive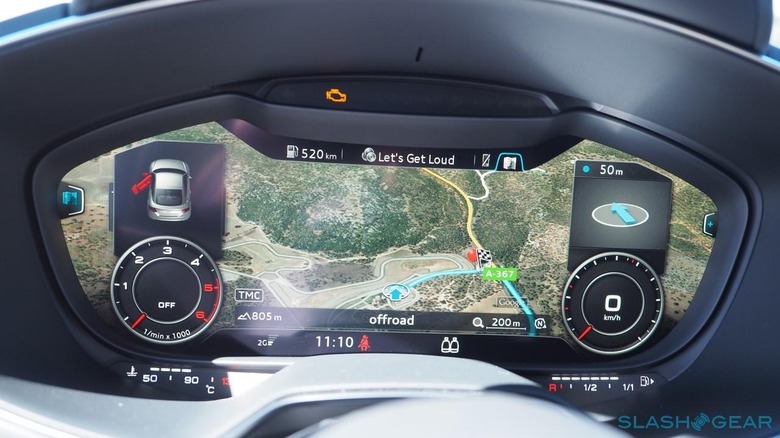 I'm not going to lie, I feel pretty damn lucky to be one of a handful of American press with the privilege of experiencing Audi's Virtual Cockpit in the new TT/TTS and Q7. The opportunity to drive the TTS around Ascari racetrack was nothing short of exhilarating – especially with Virtual Cockpit getting me ready me for turns far in advance. Then, after experiencing Audi's technology on the track, Audi invited me over to Verbier, Switzerland to test the all-new 2016 Q7, also equipped with Virtual Cockpit, in the way that most drivers will experience it.
All cars of the future should be so lucky to be equipped with a state-of-the-art digital dashboard for the driver, not to mention semi-autonomous driving tech disguised as "safety features". I walked away from my time with 2017 Q7 baffled as to why more luxury car companies don't aspire to such level of tech-greatness. To be fair, Mercedes is doing a heck of a job flaunting their R&D with the self-driving F 015 concept, which SlashGear got a chance to preview earlier this year, while BMW's upcoming 7 Series also looks like it will contain more gadgetry than a Radio Shack store in it better days.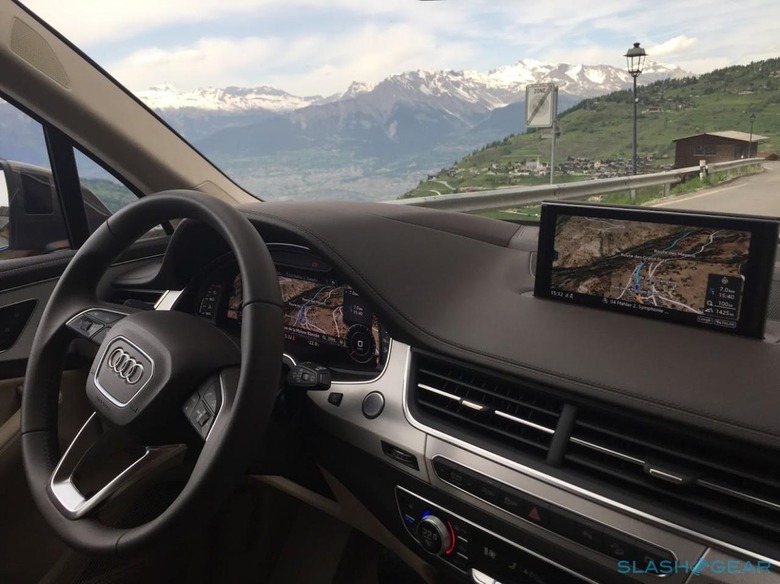 During our first drive in Verbier, all of the Q7 were equipped with the Virtual Cockpit, which is an option on Audi's order sheet. It wasn't until later, at Google I/O, that I actually got to see a Q7 without the dashboard upgrade fitted, and frankly it looked foreign. Audi hasn't confirmed final pricing for the option, but if I were buying the Q7 I don't think I could leave it unselected.
SlashGear covered the initial Virtual Cockpit launch in Ingolstadt back in early 2014, and indeed the first car to offer this feature this year will be the new Audi TT (which is already available in Europe).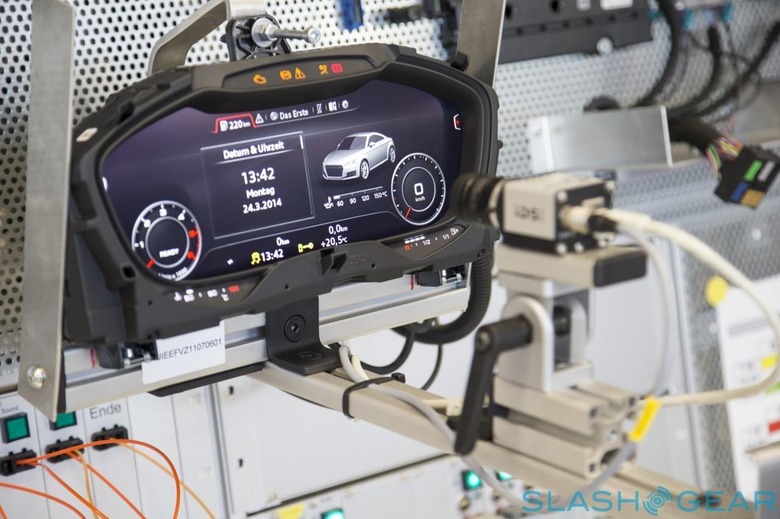 Inside the Audi TT – and its more performance-minded TTS sibling – driver is king. This car is all about the person behind the wheel, and the passenger is only along for the ride: that's why Audi only equipped it with the driver's-side display, while the passenger must glance over should they need to change the radio station or check out Google Earth for directions.
Climate controls are built right into the knobs, though, so fear not, that's one of the – few – things passengers do have direct control over. I love this layout, having everything including temperature, fan speed, seat warming, and more all conveniently integrated into the center of the five air vents.
In essence, the Virtual Cockpit replaces the traditional analog or digital display behind the steering wheel. Information provided there is exactly what you'd get on the slide-up display in the center console, the exception being the TT where it's a driver-centric car and the center display doesn't exist. On the Q7, the driver gets a display and the passenger gets a display, and everyone's happy.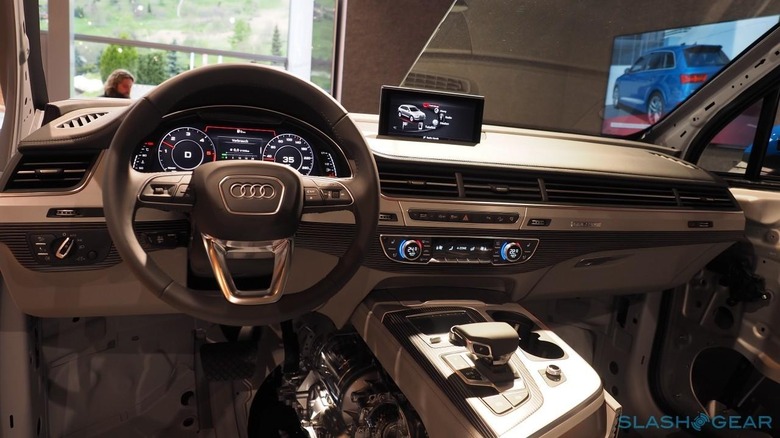 There are number of configurations you can set to your liking, my favorite being using the entire display for Google Earth. In this mode, there are two small circular insets showing speed and engine speed. If you happen to be on a track, another option puts the tachymeter right in the middle, just where a keen driver would want it to be.
So why's the Virtual Cockpit so valuable to me? For starters, I'm directionally-challenged. Often times, in the city where I live, my eyes are glued to my iPhone with Maps pulled up, gripped next to the steering wheel (yes, that's bad, but I'd wager you've done it so you know what I'm talking about). Why am I not using the built-in nav system? Again, this takes my eyes away from the road.
All too often when I drive my daughter to birthday parties, I find myself in an unfamiliar neighborhood with kids playing out in the street. My eyes are either peering at the nav system in the car, my phone, or looking for street signs. Well, the Virtual Cockpit resolves that pain point because it's right there in my line of sight. Controls for zooming in/out panning for Google Earth all live comfortably within reach of your thumbs.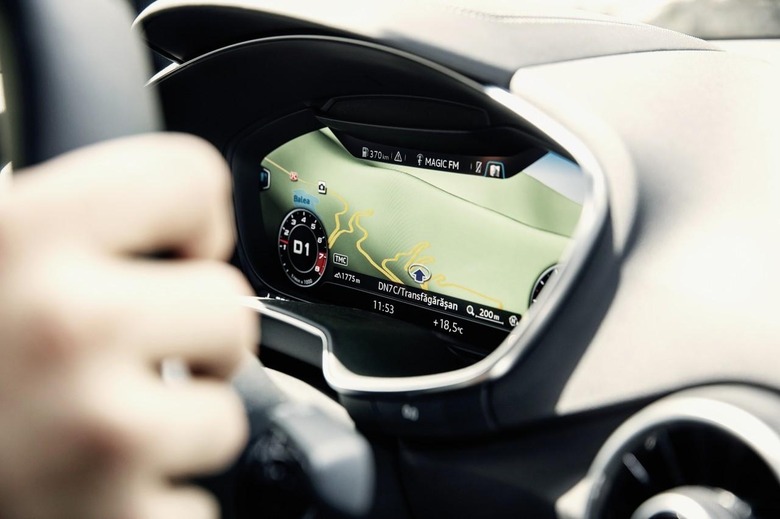 Part of what makes it so successful is the speed and smoothness at which it runs. As we've seen all too often reviewing cars here on SlashGear, feature ambitions are let down by underpowered infotainment hardware, leaving you with judders and lag. Keeping the Virtual Cockpit running, however, is NVIDIA's Tegra T30 while the MMI in the center stack also gets its own chipset, and I had no issues with their performance.
On paper, the Virtual Cockpit looks ideal for minimizing driver's distraction. But in reality, how does it translate to real world usage? Even though my time with the Q7 was limited, the combined time spent with the TT/TTS and Q7 left me convinced all cars should probably have something similar.
What's on the horizon? How about experiencing Audi's Virtual Cockpit in action in a 2017 R8 – on a racetrack at night! That's not an invitation I get every day, and nor are the words "you're going to drive the new R8 with Virtual Cockpit in Portugal at the Algarve racetrack, at night in order to test out the new laser headlights."
Okay, I had pause for a moment to gather my thoughts because my mind was already running wild: a fast car, in the dark, on an unfamiliar race track. It'll be the perfect test of just how useful the Virtual Cockpit technology watching my back and guiding my way through the twists and turns could be, even given how fast, dark, and scary it'll also feel. I've already had a taste of just how that feels.
Ascari Resort is a little ways outside of Malaga, Spain. The track is 3.3-miles long, and it's where I got to push the high-end TTS to the best of my abilities. While the Virtual Cockpit is optional on the upcoming Q7, on the 2016 TT and TTS it doesn't matter which model you choose, the 1440 x 540 pixel widescreen driver display coms standard, along with a boatload of cutting-edge infotainment technology.
In a nutshell, you'll get essential details such as navigation and vehicle data, combined with multimedia and infotainment all on the same display. The system is intuitive both to navigate and glance down at; operating it is done through the scroll wheel on the center tunnel, but there's also the option of using the steering wheel controls, my preferred choice since I can avoid taking my hands off the steering wheel. At least the center control means your passenger can change settings, just as long as they don't mind peering over the steering wheel.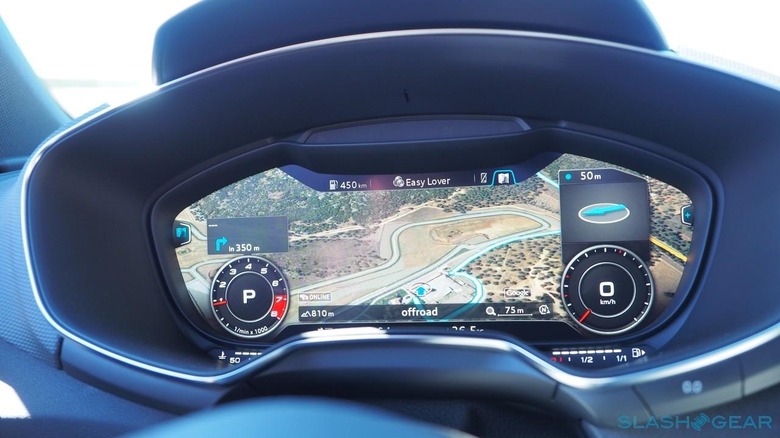 In theory, the 2017 R8 should telegraph the next few turns before I reach them, and while that's no excuse for not learning a track ahead of actually driving it, as a novice driver on an unfamiliar course it could mean the difference between a mediocre lap and a personal best.
2017 Audi R8 Virtual Cockpit walkthrough
That's the theory, anyway. Stay tuned to find out just how good a co-pilot the all-new R8 turns out to be.