2015 Audi TT Virtual Cockpit: Exclusive Hands-on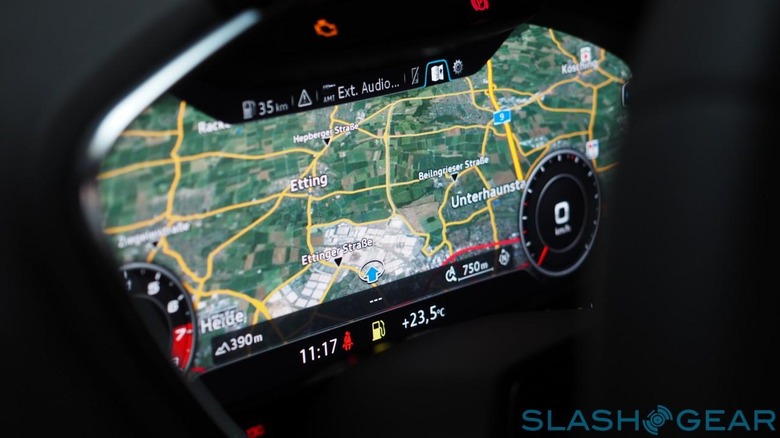 Audi's new 2015 TT is certainly striking from the outside, with the third-gen design bringing the crisp lines of the original right up to date, but it's the all-new dashboard and infotainment system, Audi Virtual Cockpit, which the driver will spend most time looking at. Freshly created for the new car with an updated version of the MMI controller and all-virtual gages, it's a driver-focused system that SlashGear had the opportunity to try out in advance of the 2015 TT hitting forecourts at Audi HQ in Ingolstadt, Germany. Read on for our exclusive first-look.
We'd already seen what Audi can do with high-power infotainment in the 2015 A3, with its gesture-recognizing MMI controller, pop-up display, and Tegra-powered brain. The 2015 Audi TT takes things to a whole new level, however, doing away with physical gages entirely in favor of a high-resolution digital instrument cluster.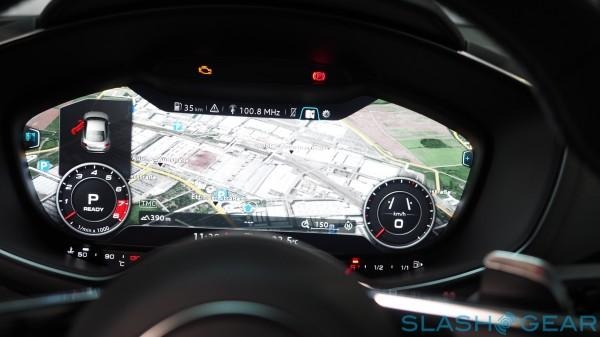 A center console display is bypassed altogether, in favor of pushing all of the key information to the 12.3-inch 1440 x 540 TFT display behind the steering wheel. In classic view, that shows traditional round gages with red pointers and white numbers; stab the "View" button on the wheel, however, and you switch into the far more comprehensive Infotainment mode.
There, the tachometer and speedo are trimmed down and pushed to the sides, leaving space in the center for a multi-purpose panel showing navigation, communications, multimedia, and more. The high resolution certainly helps make all that data crisp and easy to read, even in bright ambient lighting, but so does Audi's work on refining the graphics themselves, with Fresnel effects to mimic glass reflections depending on angle, and physical scrolling effects like inertia and damping for lists and menus.
Meanwhile, the high-speed 60fps refresh rate means that fast moving dials, like the rev counter under acceleration, move just as smoothly and swiftly as their physical counterparts would.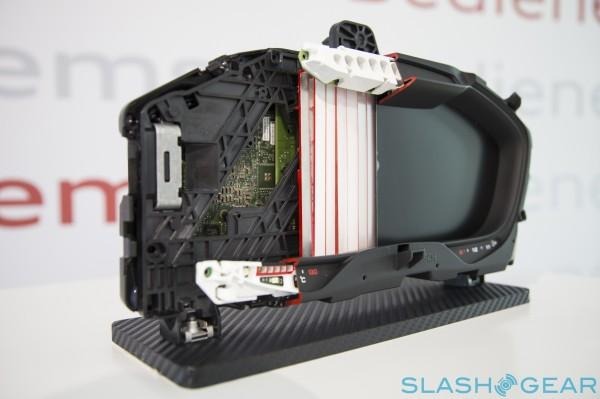 The new TT may not have a big center touchscreen, but it does have some even more impressive displays for the HVAC system. The trio of round air vents, reminiscent of the machined vents in the original car, each has a tiny monochrome display at its center, surrounded by a scroll wheel for control.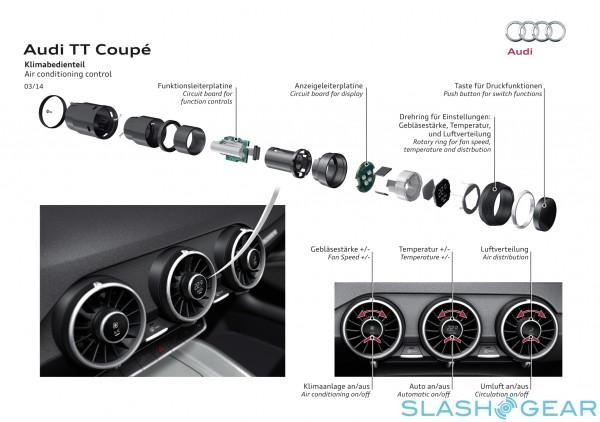 The left vent handles fan speed, the center deals with temperature, and the right vent controls distribution. Pushing in the display works as a switch. It's beautifully simplistic and clean, preventing the essential HVAC features from being buried under layers of infotainment menu, as well as allowing Audi to keep the dashboard design clean overall. 
When you're dealing with a Virtual Cockpit, though, it takes more than a few push-buttons to control it. Instead, Audi has an updated version of its MMI system, with a redesigned controller in the center tunnel console, and an all-new menu structure which Audi tells us is based on good UI practice from tablets and smartphones rather than the convoluted submenus most car interfaces suffer from.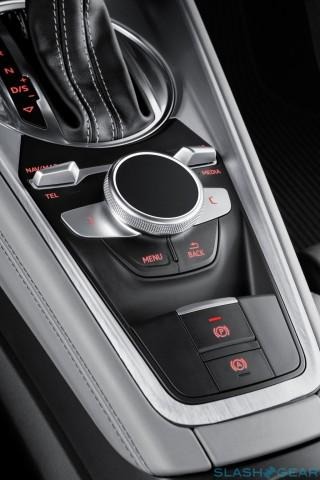 As in the A3, the MMI control knob has a touch-sensitive top on which letters can be sketched out for handwriting recognition. However, it also includes multi-finger gestures on the new TT, such as pinch-zooming in maps and two-finger scrolling. It's far more like navigating through a phone, and we quickly got used to flicking our fingertips across it.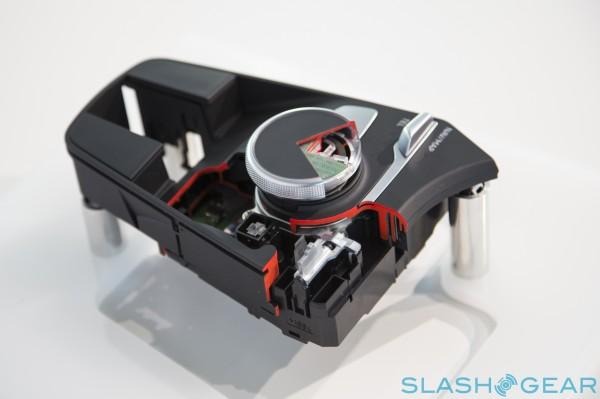 Around the dial – which can be pushed in all four directions like a joystick, as well as tapped – are buttons for Navigation/Map, Phone, Radio, and Media, along with Menu and Back. Context keys flanking it change their feature depending on what's on-screen at the time: band selection in the radio, perhaps, or traffic updates while navigating.
Just as the key features have been brought to the driver's display, so the key MMI functionality has been brought to the steering wheel. There's also an updated voice control system, with natural language recognition for handling multimedia, navigation, and more. 
Under the hood – aside from the 310HP engine – is NVIDIA's Tegra T30 chipset driving the infotainment cluster, and paired with a 12-speaker Bang & Olufsen audio system that more than fills the cabin. Audi has also fitted Audi Connect, its integrated LTE radio which works as a WiFi hotspot in addition to delivering streaming radio to the car. 
It's an ambitious system, but what's notable about it is how straightforward it is to use while on the move. Then, when you're focusing on actually driving, the digital display is just as legible as traditional dials, and the shift of things like navigation guidance and multimedia to the Virtual Cockpit means less glancing away from the road. Balancing complexity and broad functionality is a key challenge for car manufacturers right now, and Audi has definitely struck the right chord with the 2015 TT.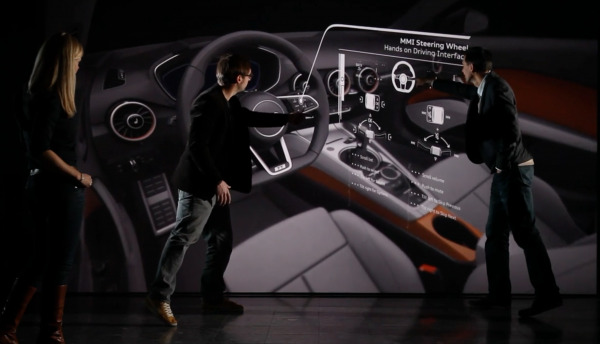 That's before you even get to driving the new sportscar. We'll have more on the new 2015 Audi TT very soon, so keep an eye on the SlashGear Cars Hub for all the details! 
SlashGear was invited to Audi HQ in Ingolstadt, Germany as the company's guest, with accommodation and airfare covered.