2015 Dodge Challenger SRT Hellcat first-drive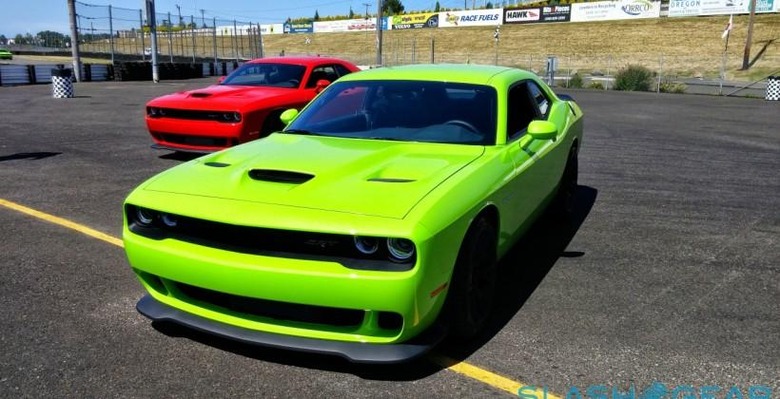 Before I tell you about my driving experience with the Dodge Challenger SRT Hellcat, I'm just going to get this off my chest: this is one powerful, fast and, yes, chest-poundingly badass car. Your knee-jerk reaction might be "holy cow, $60k+ is a lot for a Challenger!" While that might be true, for a car even Dodge's own CEO describes as a "science project", in many respects the 700 HP Lamborghini Aventador I drove months ago was equally badass, but how many of us have got half-a-mil to drop on a supercar? From that perspective, the Challenger gives you the performance, a great looking car, creature comfort driver-focused cockpit and a decent fuel economy. But that's now what you care about. You want to hear how the Hellcat roars.
Design and Interior
The Challenger is a familiar sight, and Dodge hasn't been too outlandish with its changes for the SRT Hellcat version. Sure, there are plenty of styling options you can add – a matte finish hood, for instance – but the standard tweaks are designed more for enthusiasts to spot.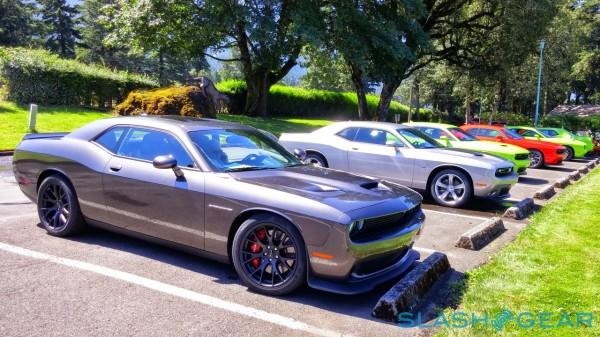 For instance, the inner front headlamp on the driver's side has been switched out for an air intake, feeding some much-needed cooling to the engine. Heat extractors sit either side of the hood scoop, and you can tell your friends that the hood itself is now aluminum.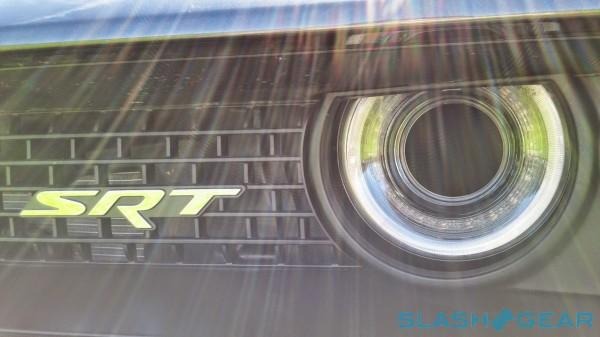 At the rear, the valence is lower, and there's a new finish to the exhaust. The distinctive Challenger lights are still there, but Dodge has made the car look wider and lower.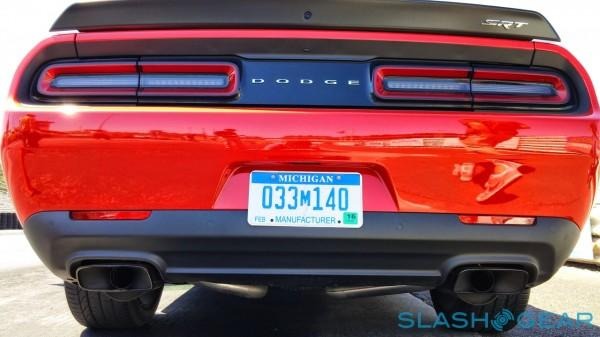 There's no Hellcat-specific badging, but those in-the-know will spy the "SUPERCHARGED" and "SRT" badges.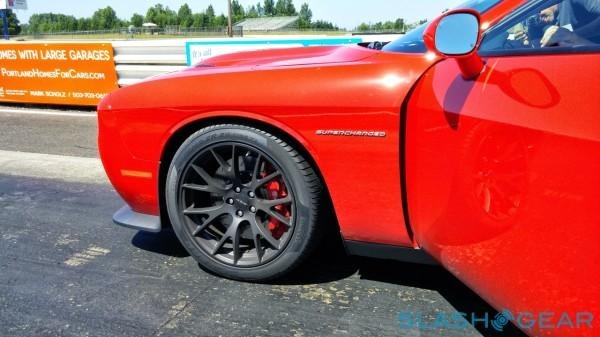 Inside, Dodge has looked to the 1971 Challenger for some of its inspiration, though left space for the tech as you'd expect. The Uconnect infotainment system gets either a 5- or 8.4-inch touchscreen in the center stack, though in the case of the Hellcat more than just navigation, audio, and climate control are expected of it.
In fact, there's a whole range of new apps that are tailored to this particular Challenger's race credentials, with everything from G-force through to what the current horsepower and torque levels are, and timers for various track use.
Everything feels solidly put together, though once you're sat in the well-bolstered seats it's best not to think about any direction but straight ahead. The Hellcat's blind spots are vast.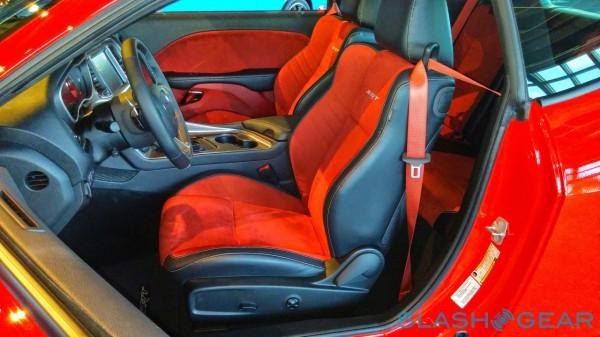 Under the hood
Dodge has saved its efforts for what's going on under the hood, and it hasn't been idle. The 6.2-liter Hemi supercharged V8 may be based on an existing engine but, by the time it was ready for Hellcat duty, 91-percent of the components had been replaced.
That's because you need a new crankshaft, a new block, exhaust valves and head better able to handle extreme heat, and a whole load of other improvements if you're going to handle 707 HP and 650 lb-ft of torque.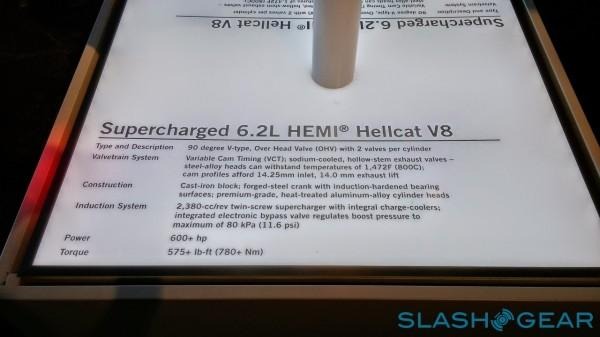 It leaves the SRT Hellcat 222 HP more powerful than the non-supercharged V8, and propels this special Challenger into fifth position in the most-powerful production car chart today. Want to beat the Hellcat on paper at least? You'll need to cough up for a LaFerrari or a McLaren P1 (if you could still find eitherfor sale), a Porsche 918 Spyder, or a Ferrari F12 to top it.
Hooking up all that horsepower and torque to a regular Challenger transmission wasn't going to work, but Dodge has two choices for Hellcat buyers. The Viper donates its six-speed manual, paired with a new internal oil pump, external cooler, and beefier clutch than the Challenger would normally rely upon, for those that want to move the stick themselves.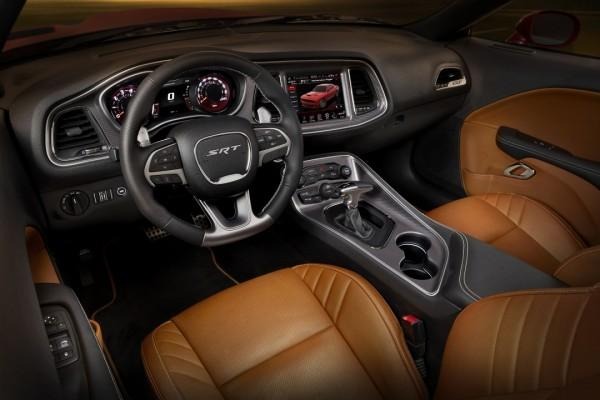 Meanwhile there's a new ZF eight-speed automatic with paddle-shifters on the wheel. No whiz-bang dual-clutch but wider gears and some auto-blipping of the throttle as it downshifts. Dodge even claims around 20 mpg is possible, though you won't see anywhere near that on a track.
Sure, but how does it drive?
Start up the Hellcat, and you can almost feel all that pent-up anger and frustration of being third to the Mustang and Camaro. Those days are long over.
Dodge gives you two keys to hang from your keychain, one black and one red. The black key could, I suppose, be described as neutering the Hellcat, though that's if you consider around 500 HP to be limited. It's not so much a valet or kid mode as it is to keep you alive in wet conditions: all the electronic aids are locked on, the auto transmission avoids first gear and makes more conservative shifts, and the engine never breaks past 4,000 rpm.
The red key, now that's where the madness starts. Use that and then full might of the Hellcat is unleashed, and it's up to you to decide how much electronic taming you need to keep you on the asphault.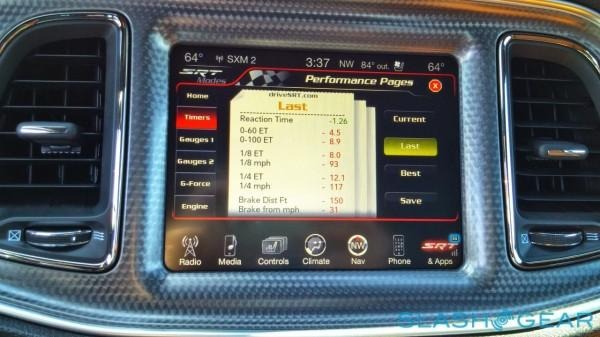 You also get to use launch control, which is locked out with the black key. With 707 HP and 650 lb-ft of torque, Dodge says the Hellcat will do the quarter-mile in 11.2 seconds, hitting 125 mph with stock Pirellis (switch to proper drag radials and you're looking at 10.8 seconds and 126 mph respectively). My first and only opportunity with the Hellcat on the quarter-mile yielded an embarrassing 12.1 seconds at 117 mph.
None of the numbers adequately describe the experience, though. At idle, the Hellcat has a grumbling menace, but that swiftly roars into an aural explosion when you touch the gas pedal. The straight 2.75-inch twin exhaust has special valves which add its howl to the siren wail of the supercharger, with the V8 making a sound so glorious, Dodge released it as a ringtone.
You hear it plenty, too, since the Hellcat has so much power that it feels like no matter what gear you're in, and no matter what speed you're already doing, plant your right foot some more and it simply hurls itself forward. The acceleration is simply astonishing, and thankfully the Brembo brakes haul the standard 20-inch wheels to a halt with reassuring predictability, even after you've been hammering the Hellcat around a track.
On said that track, the surprise was that the Hellcat handled the corners as well as it did. Contrary to my initial expectations of a big car and hellishly huge engine, I feared the handling would be lousy, but that's not actually the case. I felt extremely confident taking tight turns, though this cat really thrives on straights.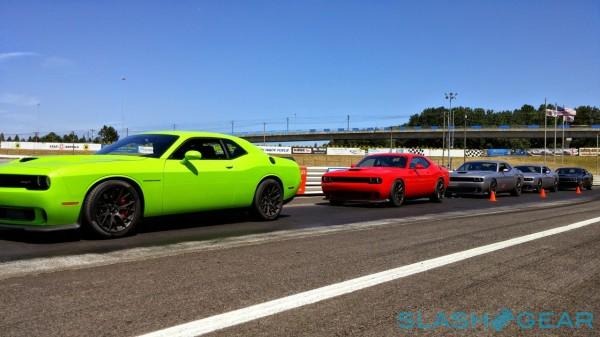 Taking the Hellcat on a simulated road environment at the Portland International Raceway, there's no mistaking that it's a big muscle car in every respect. That means proper handling from corner to corner around the simulated tight sections of the track. So for Pete sake, it's a muscle car: don't expect the Hellcat to be as agile and nimble as a stripped out racer.
Wrap-Up
At the end of the day, does the Challenger Hellcat excite me? One roar from its engine and you can't help but get caught up in the moment. Living in the moment, then, and this is your car, but that excitement could run out after the honeymoon phase.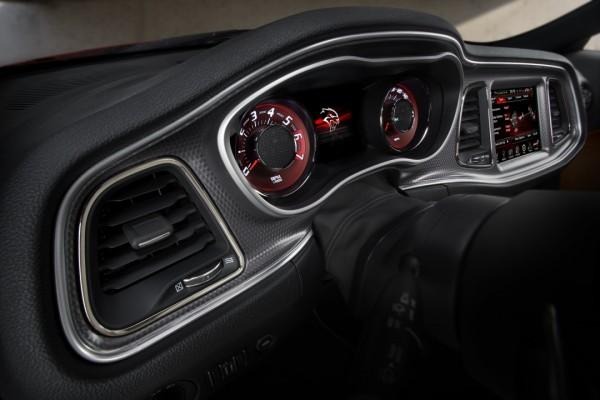 With a starting price of $60k, that's a whole lot of money and for all that dough, I can't help but wonder if the Corvette Stingray is a better all-rounder (assuming, that is, that you're a 'Vette person to begin with). Yes, you've got significantly less power, but the Stingray throws in sleeker looks and better handling.
That's not to say the SRT Hellcat isn't a tremendous piece of engineering, especially when you consider how its raw numbers compare to the exotics many times its price.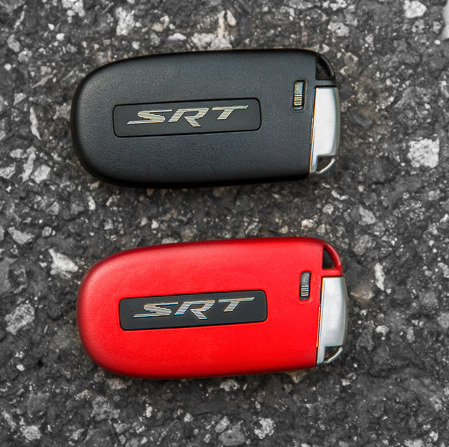 On that level, Dodge's goal of creating an "affordable dream car" makes more sense: nobody has ever accused a supercar of being particularly practical or even necessarily perfect, and this amped-up Challenger's excesses all add to its undoubtable charm. Those who find that special red key dangling from their chain may not have the best all-rounder, but I think they'll definitely have a permanent grin.
The Hellcat has some tough competition: check out our first-drive of Chevrolet's crazy Camaro Z/28!