2017 Ford F-150 Raptor First Drive: The Epic Baja Monster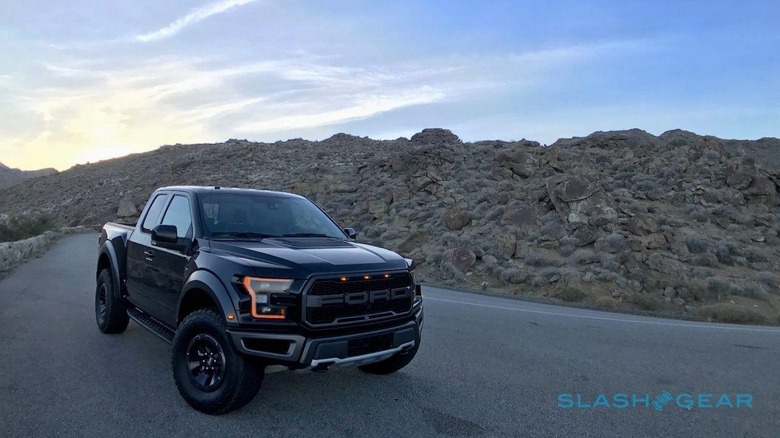 I've waited nearly a year to drive the all new 2017 Ford F-150 Raptor unveiled at last year's North America International Auto Show (NAIAS). Twelve long months. As I found at high speed among the sand dunes of Anza Borrego in Southern California, the wait was well worth it and Ford did not disappoint. No mere publicity stunt to give the F-150 a sales halo, the new Raptor more than exceeded my expectations.
The Raptor isn't any ordinary truck, even though it's still a stock pickup straight from Ford's production line. Indeed, it's far from "normal" compared to the regular F-150: from the A-pillar forward, everything visible to the naked eye is exclusive to Raptor. Similarly, the rear third all the way back to the tailgate is, you guessed it, Raptor alone. Indeed, only the exterior of the mid-section – and the interior – is shared with the regular truck.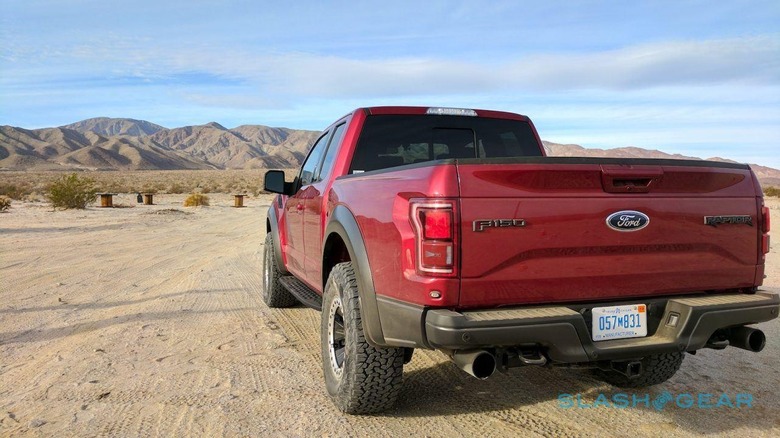 2016 hasn't been short on incredible drives here at SlashGear, from an all-out blast at 179 mph with the R8 at Daytona, the Pikes Peak Hill Climb in the Macan GTS, and the S4 at Le Mans. Nonetheless, the Raptor turned out to be in a class of its own. Most of what I've learned from testing out cars on race tracks over the years, I had to unlearn – and quickly.
A good example is left foot braking. Now, I love me some left foot braking, and it's something we were encouraged to do by Eric Zinkosky, Vehicle Dynamics Technical Specialist for Ford Performance, ahead of getting behind the Raptor's wheel. Curvy, dry creek beds and mounds of dirt are so much more suited for trail braking, where you're transferring much of the weight of the 5,500-pound truck forward for a controlled drift.
Though it's certainly fun, you don't get much chance to dwell on each stage. On a predicable race track, once you learn how best to negotiate each turn, you can concentrate on perfecting your technique. Out in the wild-wild-west of Anza Borrego, that's simply not the case.
Your eyes are constantly scanning the terrain for hidden – and potentially deadly – dangers, that might be capable of flipping the Raptor or puncturing holes in the 35-inch BF Goodrich KO2 tires it wears. Sure, they're specifically designed for the truck and come standard with 17-inch cast-aluminum alloys with exposed beads – Ford had upgraded them to the optional forged 17-inch deadlock wheels – but Ford Tough doesn't mean impenetrable.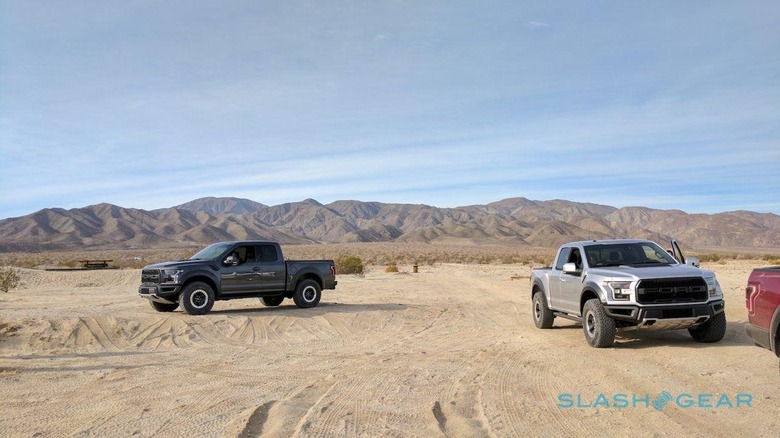 I'd forgive you if you thought otherwise, though: the KO2 tires excelled on every road condition, or lack thereof. Sure, we bounced around like mad men but never did we feel uncomfortable or sick. Things get astonishingly better back in civilization on paved roads. Honestly, I'd expected a ton of road noise, but in fact they're quiet and smooth as butter. Flip the Raptor's drive mode to Sport and you'll soon be slicing through the back roads like a pro driver.
Asphalt pales in its appeal when you have an off-road route to play with instead, mind. That's not to say you can simply let rip and expect the Raptor to handle everything else: best results (and not ending up teetering on your roof) come when the two of you work together. Smooth is fast and fast is smooth, so "jumping" over mounds of dirt requires timing. Ease on the brakes on the approach, then let off and floor it on the landing. There's no shortage of power, you're only limited to the 26 gallon tank of gas (or 36 gallons in the SuperCrew), which can easily be drunk through with single-digit mpgs if you push hard. My limited skill-set held me back from flying the Raptor quite how I was hoping to – and to the extent that it's more than capable of – so I'll have to save that for next time.

Speaking of power, in Raptor-exclusive Baja Mode, the truck's EcoBoost V6's turbos are always ready for action, while the truck also holds onto lower gears longer. Peaking at 3,500 RPM through 5,000 RPM, the 450 horsepower and 510 lb.-ft. of torque never left me feeling like I needed more; nor, indeed, that I was pushing the Raptor to its limits. With absolutely no lag thanks to the constantly-spooling turbo, I can forgive the tamed-down 3.5-liter engine sound, compared to the out-of-this-world 6.2-liter soundtrack that came before it in the old truck.
Ford's various terrain modes make it extremely easy for an off-road novice such as myself to get out there and have fun, without getting bogged down with minutia. At the same time, there's plenty of scope for experts to dig in and tweak away. My Ford co-driver pointed me in the direction of a sandy, bowled area, lusciously deep with nothing but sand: with no greater preparation than a couple of clicks over to Mud and Sand mode, I was off for some fun.
The FOX racing shocks have 13.9-inches of wheel travel, versus 11-inches on the outgoing model. It's possibly the single most important feature on the 2017 Raptor. Not only does it allow for a smooth, sedan-like experience on the road, more important, without them, the off-road experience would have been seriously rough going.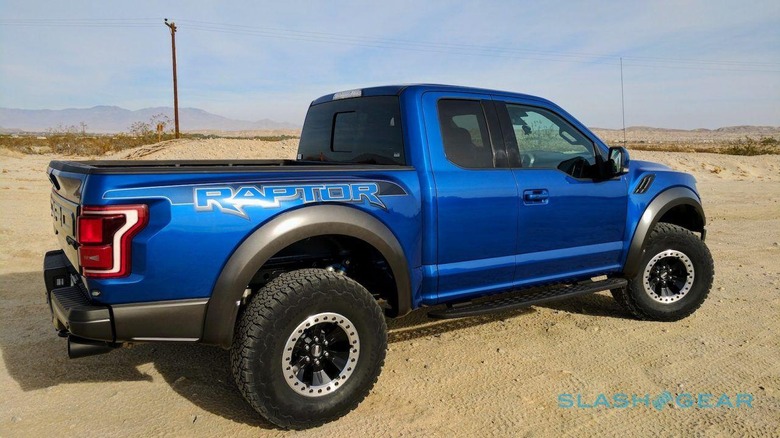 As for the 10-speed transmission, power peaks between 7th and 8th gear, while 9th and 10th are primarily for overdrive and gas savings. Downshifts are sequential and, as a result, there's the expected slight delay dropping down from a tall gear. I didn't find it to be a problem, though. Meanwhile, you always have the option to lock down the highest gear, prevent the engine from surpassing, say, 7th if you think that's best for the route at hand. If you lock it down to 3rd, Ford has cleverly engineered the engine from burning out so you don't truly hit the "redline".
It's all deceptively straightforward, which is a testament to Ford's combination of electronics and mechanics. In fact, it can make you feel like something off an off-road superstar. After our drive, it was time to start picking Ford's brain-trust behind the Raptor, only to discover quite how well the truck had done in masking quite how difficult some sections were.
According to Zinkosky, indeed, the first big climb we'd tackled was near-impossible for Ford's best driver in the last-gen truck. "Holy smokes," I thought to myself, "I scaled that thing in the Raptor like it's going out of style." Far from being asked to hold back at any point, more often than not my co-driver would be telling me to speed up, hitting more than 85 mph in some sections. To Ford's credit, having paired us up they basically left us alone for the entire experience, with only a couple of occasional stops to help guide us through some especially hairy scenarios.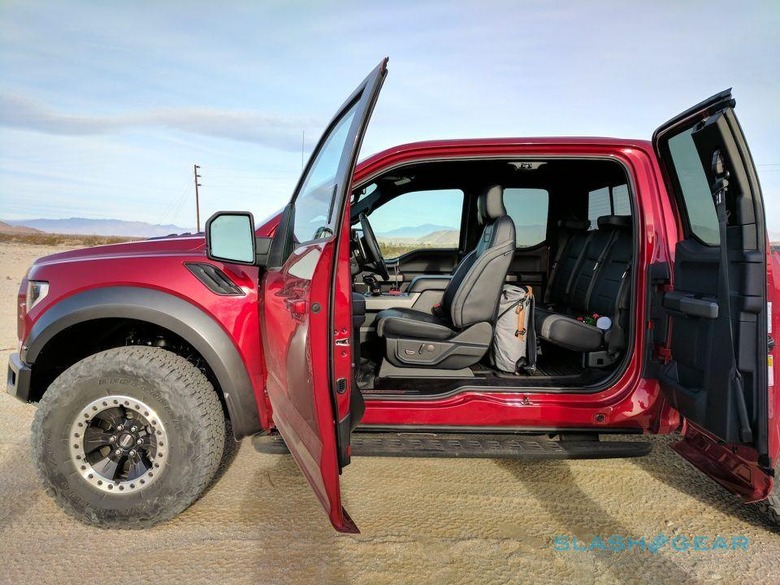 The Raptor's interior sets a high bar for others in the truck space to follow. The pre-wiring above the rear-view mirror for auxiliary equipment is a nice touch, while the gauges are nicely spread out and everything is within reach for the driver and passengers. There's no shortage of grab-handles, either. Helping differentiate from the regular F-150 are neat touches like magnesium paddle shifters on the steering wheel.
What technology has been fitted is all in the interest of more confident off-roading. During one leg of the course, for instance, we took the Raptor up to the top of a hill with a blind drop hard to the left; luckily, the forward-facing camera was there to guide us through.
Were I ordering one myself, I'd tick the $1,950 Technology Package with its 360-degree camera system, lane-keep assist, and hitch assist. Living in Phoenix where temperatures can sky-rocket to 115+ degrees Fahrenheit, the $195 for the integrated remote starter is a no-brainer. I've always been envious of the Toyota Tundra's rear power sliding window, too, so I'm more than happy to shell out $450 for on the Raptor. If you happen to tow a lot, the $395 Ford asks for the Pro Trailer system is worth every dime.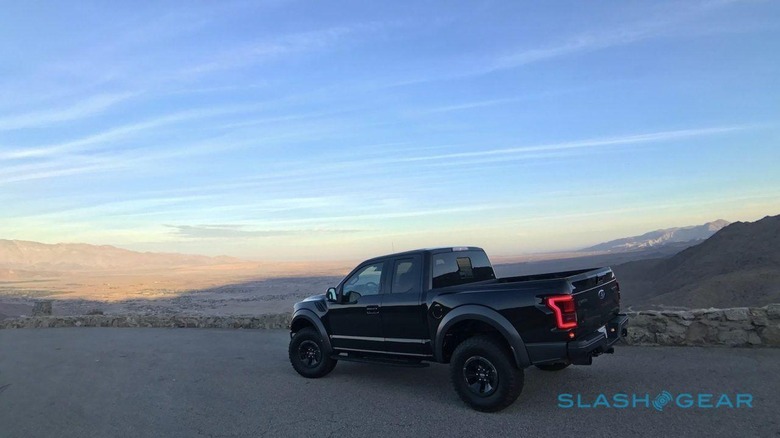 With over 400 modifications to the Raptor over the F-150, inside and out, I can't help but be blown away. It's a bigger truck and probably hard to parallel park or even fit in your garage but, overall, there's really no compromise in driving one as your everyday vehicle. That's despite taking pretty much anything thing you can throw at it off-road, while insulating you from harsh road conditions in its comfortable cabin. Suddenly, the starting price of $48,325 for the SuperCab and $51,310 for the SuperCrew starts to look like something of a bargain.
Frankly, the Raptor is badass and it leaves you feeling like a badass yourself. There's little out there that can compete with its combination of demon speed, go-anywhere prowess, and meaty design. Just make sure you treat it to a trip out into the desert once in a while, since that's most definitely its natural habitat.