2017 Porsche Macan GTS takes on two peaks in one day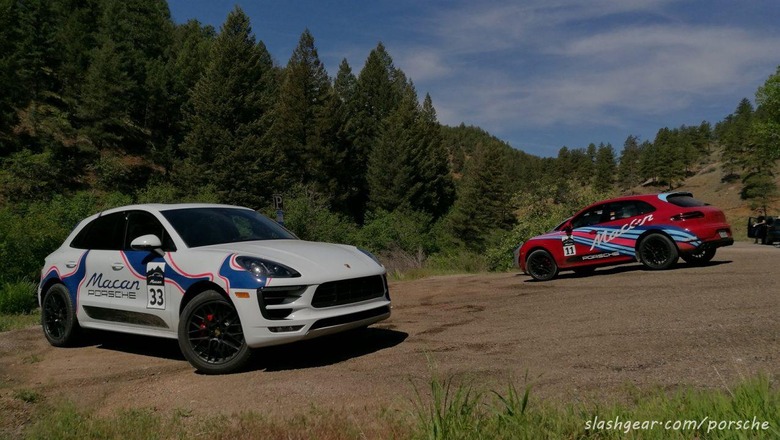 It's track time and Pikes Peak Hill Climb is no ordinary race track. Taking a corner too wide pretty much anywhere within the 14,114 climb along what's a 12.42 mile course packed with 156 twists and turns has consequences beyond a couple of dents. Luckily, Porsche's confidence in the new 2017 Macan GTS is off the chart. This is a super rare opportunity where automotive journalists were given the opportunity to drive up Pikes Peaks and then, on the very same day, keep on going right up Mount Evans.
At this high of an altitude both the Macan GTS's horsepower as well as the human body starts to feel the affects. Luckily our convoy of SUVs blazed through the drive with flying colors – no mid-trip shortcuts off the edge of the mountain – and the mighty middle-child Macan's performance proved stellar.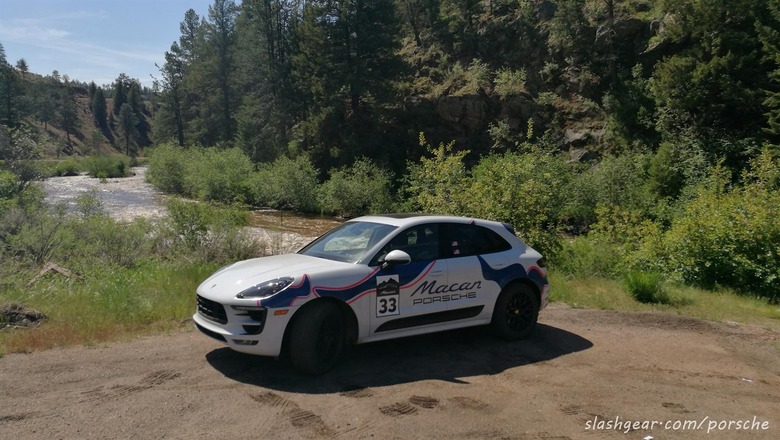 Back when I tried the new Macan for the first time, I solicited three different driving instructors as to whether they'd pick the cheaper Macan S over its Turbo sibling, and unanimously they opted for the S (albeit with the caveat that the air suspension, PASM and PTV Plus and Sport Chrono Package ($1,800) options were all ticked, too).
Comparing the standard-fit tech on the Macan GTS with their "perfect spec", I see plenty of familiar features. The 7-speed PDK dual-clutch transmission is there, as is the air suspension with Porsche Adaptive Suspension Management (PASM). You might think rowing your own gears on a challenging course like the Hill Climb would be preferable, but I tried to manually paddle-shift to see if I could best the seven-speed PDK dual-clutch transmission but, on such challenging terrain, my reactions proved no match for the near-telepathic shifter.
Porsche has re-tuned the air suspension so that the Macan GTS can reduce its ride height by up to approximately 10-millimeters, which improved the center of gravity for our spirited drive up the mountain. While the SUV doesn't get the Turbo's 3.6-liter with 400-hp and 406 lb-ft, it does however get a 20 hp bump from the S's 3.0-liter twin-turbocharged V6 engine yielding 360-hp and 369 lb-ft. At $372-per-hp, that's $7,440 in savings.
Keeping in mind that Porsche named the subcompact SUV after a tiger in Indonesia, I felt confident pushing the GTS to the best of my driving abilities to follow Pikes Peak Legend, Jeff Zwart. It's a course he's raced multiple times and won in several different classifications, and proved more than capable of leading a pack of speeding tigers through the valley and ridges.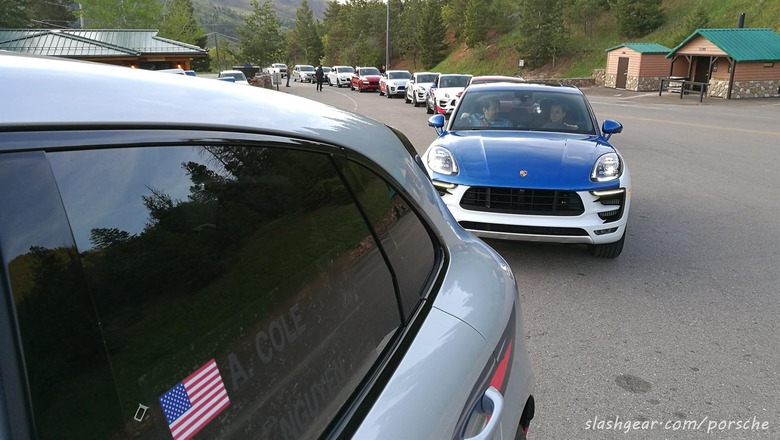 The GTS isn't screaming fast like the Turbo but it's the most driver-centric of the Macan trio. Most importantly for something like Pikes Peak, having an engine with a midrange between 3000 and 5500 rpm is ideal for the task at hand. Heading into a hard turn, I'd paddle shift down to the lowest possible gear which was often second, slamming on the brake moments prior and then immediately back on the gas after the apex. Hitting third gear propels the Macan past 60+ mph, and that's two or three times the 20-mph speed limit. Whether I paddle-shifted or let the PDK do all the work, it was near-instantaneous. That's more than any driver can ask for on such a demanding road course.
Having driven the S and Turbo variants, I knew coming in that I had to commit to treating the Mecan as a sports car in SUV's clothing – Porsche maintains it has the 'heart and soul' of a sports car – and I wasn't disappointed.
After a couple of crackles over the walkie-talkie, Jeff announced "we're off" and, with immediate urgency, the five Macan convoy ascended Pikes Peak. There's little room for error navigating the 4,200-pound beast; let your focus drift for just a few seconds and, at best, you can lose time by slipping off Zwart's racing line. At worst, you could slip right off the mountain.
About a third of the way up, I found myself regretting my decision to give up the slot right behind his lead car, but I could still do my best to ignore the Macan ahead and focus on Jeff's racing lines. Still plenty of visibility for the epic moment when Jeff took an ultra-wide left before slicing immediately into a sharp right – and leaving one whole rear rear wheel completely off the edge of the cliff in the process.
Did I mention that the majority of the hill climb lacks any sort of guardrail and, when combined with unexpected corners, things can quickly go south (no pun intended)?
At the time I thought something along the lines of "holy crap, did that just happen?" It was only later that a colleague following behind me told me half of my own rear tire was also off the cliff. That's 10-inches of the 20-inch Michelin Latitude all-season tires.
To the car's credit, the handling's better than stellar. Although it's an all-wheel-drive system, most of the power is transferred to the rear so it turns in and straightens out as a proper Porsche should, elegantly gliding from turn to turn gracefully. It's courtesy of the excellent stability control, the optional torque vectoring system, and large 14.2-inch front disc brakes with six-piston fixed red calipers and 13-inch single-piston rear red calipers. On a drive such as this one, it probably won't surprise you when I say that great brakes are pretty critical. Happily, they did a fine job keeping me from running off the cliff.
While the Macan doesn't drive like a 911 – and nor, frankly, would I expect it to – the new power steering has an improved electric assist motor. Unlike the previous Macan S and turbo I drove at launch, there's more feedback and that's a must-have.
The weather was unpredictable so Porsche erred on the safe side with Pirelli Scorpion all-season tires on 20-inch wheels, the standard-fit. If you're not of a mind to tackle a legendary hill-climb, though, 19s and 21-inch wheels, along with summer/stickier tires are available.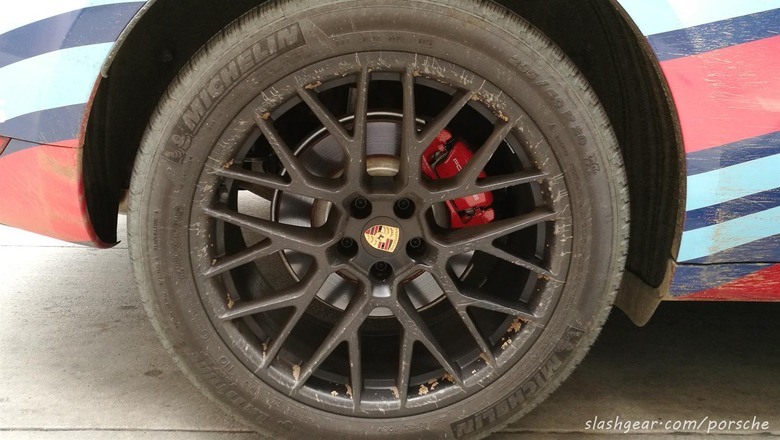 It had all been going so well; then, at roughly 12,400-feet up, luck ran out. The high altitude had lowered the boiling point of the car's coolant, spewing off a crazy cloud of steam. Pair that with a snapped belt and I was forced to pull over.
Hindsight being 20/20, I should've just said "what the hell, I'm making it to the peak no matter what!" Unfortunately, at the time I wasn't sure if it were the brakes that were failing so I didn't want to risk mine and my co-driver's life. Porsche later confirmed my suspicions that there was no actual damage to the engine: the belt was swapped out, the fluid – which has hosed out the engine compartment – topped up, and the car was back in action a few hours later. It's important to note that these were pre-production vehicles; any frustration at a prematurely curtailed trip is a small price to pay for being Porsche's product development test drivers.
Looking at the liveries on the GTS we drove, you can't really see the standard Macan GTS treatment. Each of our GTS were wrapped like Porsche's past Pikes Peak race cars – I'd be happy to sport any of them if I'd bought a GTS or any of the Porsche line up for that matter. As standard, the exterior gets black wheels, matte and gloss accents throughout – such as the lower door panels – and a long list of ways for you to make it your own courtesy of the options list.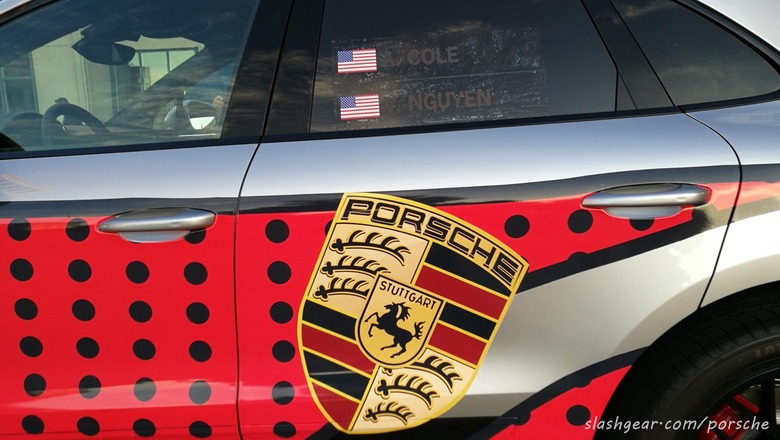 Pricing starts at $68,250 though most owners, according to Porsche, will an an average of $20,000 in options. That being said, expect to pay in the mid $80k range for a Macan GTS. Putting it into perspective, that's still well below the $100k+ price tag for the Macan turbo.
The Porsche Macan is my benchmark for every and all subcompact SUV. While it's much more expensive than most of the cars in the segment, you see where your money goes: it's one of the best in every respect. In new GTS form it both looks and drives like a proper Porsche, and thanks to that the price tag matches.
VR 360!