My Days of Thunder with the 2017 Audi R8 V10 Plus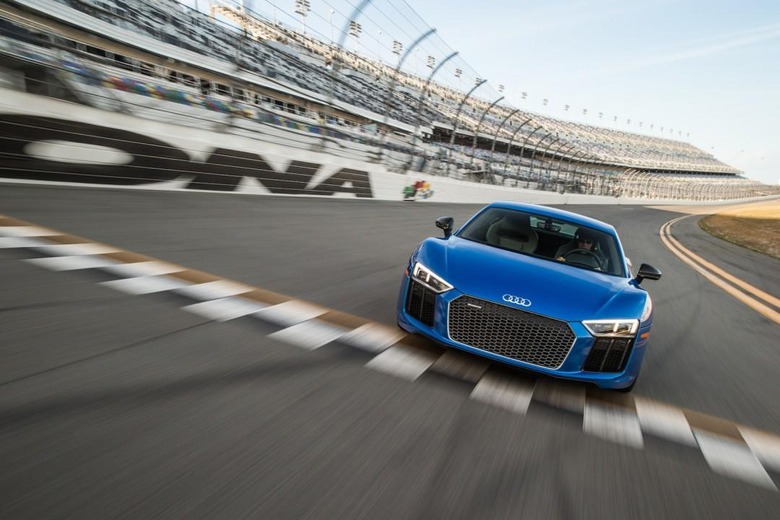 Tom Cruise in Days of Thunder left a long-lasting impression. That was 1990 when I was a young lad of 14. Fast forward to the present day and I survived my own day of thunder at the Daytona International Speedway, driving the 2017 Audi R8 V10 Plus at ridiculous speeds and – through a combination of car and maybe luck – living to tell the tale.
The naturally aspirated 5.2-liter V10 power plant is ferocious in every respect. With 610 horsepower and 413 lb-ft of torque, it's Audi's most powerful engine to date. Sure, the additional 70 HP over the "regular" V10 might be overkill for everyday street driving, but on the track it's more than welcome.
Normally, the only way to get rubber on the track at the Daytona International Speedway is to be a professional driver. Still glowing from its R8 LMS winning the Daytona 24 back in January, Audi promised me an epic adventure to celebrate, though. For all that the track is deceptively treacherous, and the R8 V10 Plus rare, it was perhaps the shortest track briefing I've ever experienced; it still feels dreamy, thinking about how we strolled down the pit lane, and it didn't hit me until the moment I was behind the wheel – faced with the shapely rear end of an R8 pace car, and surrounded by other eager journalists in their own R8 – just what we were going to do.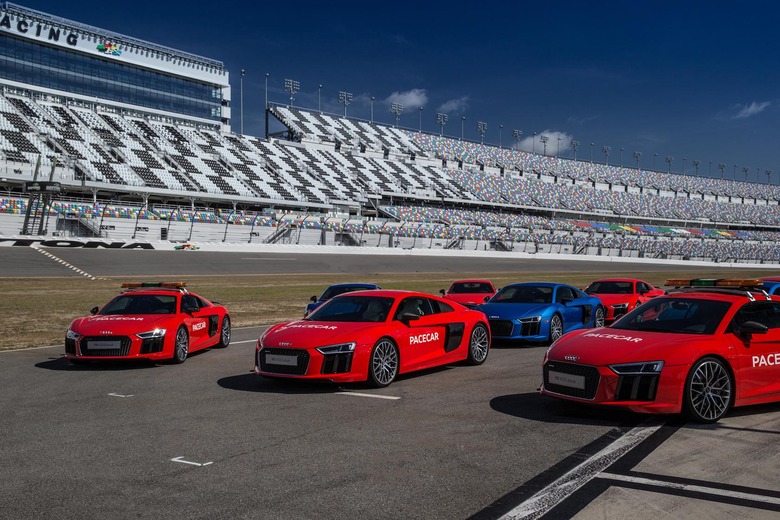 There's a good reason Daytona has a formidable reputation. The full track is around 3.5 miles long, with banked turns up to an incredibly steep 31-degrees. You can't just coast around at high speed, however, since for the Rolex 24 layout there are a couple of slower corners that demand aggressive braking if you – and your $200,000 supercar – are to stay on the tarmac.
Faced with that sort of challenge, my drive partner from the road portion of the drive and I decided to pair up for the orientation laps behind the pace car. We each got two proper laps behind Dion von Moltke: outside of a car he's a charming young gentleman with the look of a schoolboy, but on the track he's anything but innocent. It was Dion, and his teammates, who helped Audi to take the Rolex 24 three years ago.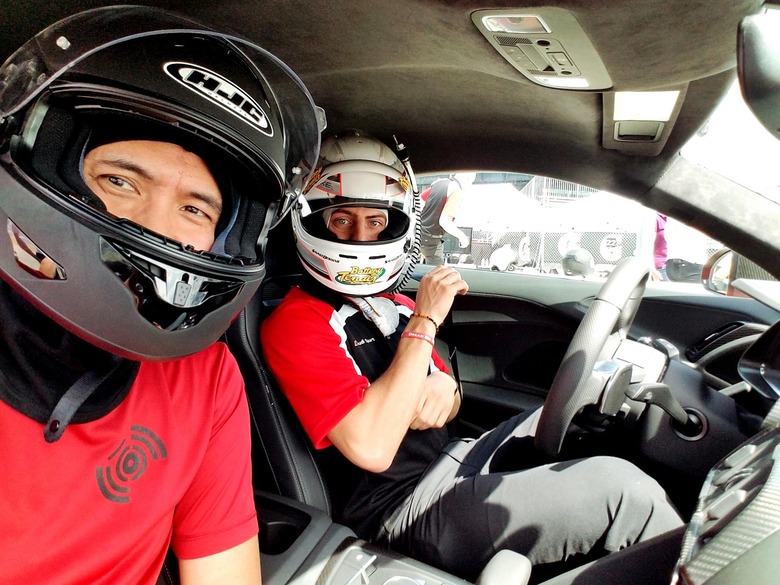 He's fast. Ridiculously so. Dion's top speed during my ride-along was 185mph, and even with a fair amount of track experience myself, that was both furious and scary. My own top speed on Daytona? Somewhere between 165 to 175mph, but it's arguably the changes in pace which are the most interesting – and which show up a car's skills or lack-of. Turning into a corner at 100mph, flat out on the straights, then hauling on the brakes to set yourself up for the next turn or climbing the high bank at Daytona takes skill and a machine capable of delivering.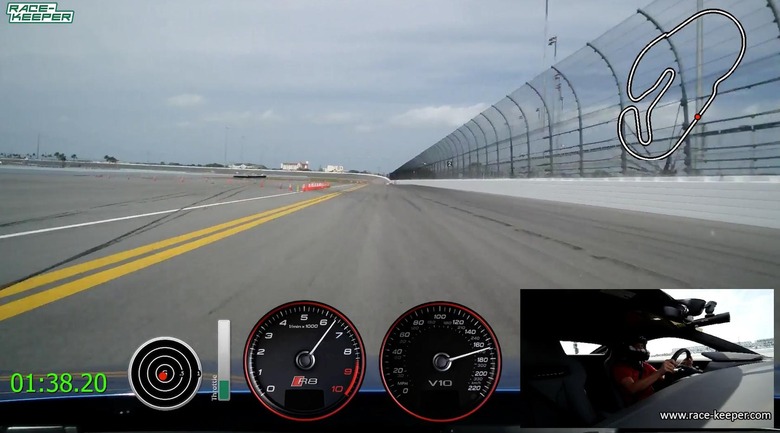 So did the R8 deliver? Hell yes, and some. It's more than capable of catering to a wide spectrum of drivers, ranging from a rich billionaire who simply wants to look great pulling up at a night club, to a guy like myself with just enough track experience to be dangerous. Then there's Dion, a professional race car driver: for someone like him, the R8 is a scalpel, an extension of his eyes, ears, arms, and legs. Its laser-sharp handling and high revving torque add up to 0-60 in 3.2-seconds, at least according to Audi, but others have clocked it at more like 2.5. That, my friends, puts in the same league as the Lamborghini Huracán – no great surprise, maybe, given how much the two cars share under the metal.
It may not have been my first time with the R8, but Daytona International Speedway is far more challenging a track, with its face-stretchingly high speed sections and aggressive turns, than Laguna Seca or Autodromo do Algarve, where I first had my brush with the new Audi last year. You don't get an easy start, either: turn one is brutally frightening, made even more so by how you have to set it up.
Driving cross the finish line is the fastest stretch of the track, you see. That's where Dion hit his top speed of 185mph – with me in the passenger seat – but you don't have time to celebrate, since you're about to hit turn one.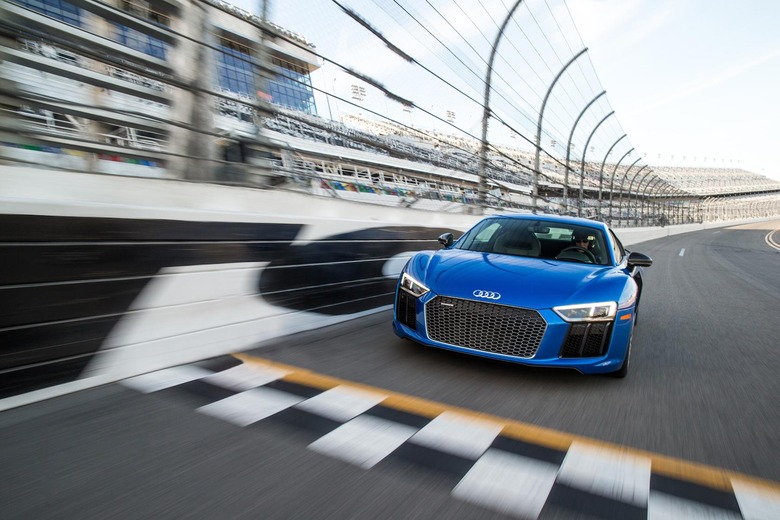 The challenges keep coming. Storming towards the International Horseshoe, turn six, you're doing well over 120mph: then you brake, hard. Once you hit the curve, I'd been advised by Dion, you're better off staying lower down on the bank since it's the shortest distance around. Anyway, in the Rolex 24 race there's a gentleman's agreement among other classes taking part that the slower cars remain lower, while the likes of the prototypes pass on top.
It's advice I did my best to follow, but every now and then you can feel the R8 wanting to slowly creep upwards. The first few times around, I caught myself counting forward and backward just to stay focused and, frankly, to avoid passing out. With over two Gs of force pushing down on your body, the blood from your head rushes down to your ankles.
The speed clicks up as you keep pushing through the turn... 120, 130, 140, 150 mph... and by the time I exit the bank – and before an abrupt stop prior to entering the "bus stop" – I'm doing over 170mph. It's a good time to introduce yourself to Audi's carbon ceramic brakes, which shed speed with alacrity, but you should feel privileged as you do: they're considered too costly to use in a Rolex 24 race, so those guys only get the standard brakes.
If you watch the video, you'll see how the R8 violently shifts from side to side. Think back to that time when you were having a nightmare, and your parents shook you to wake you up. That's the feeling.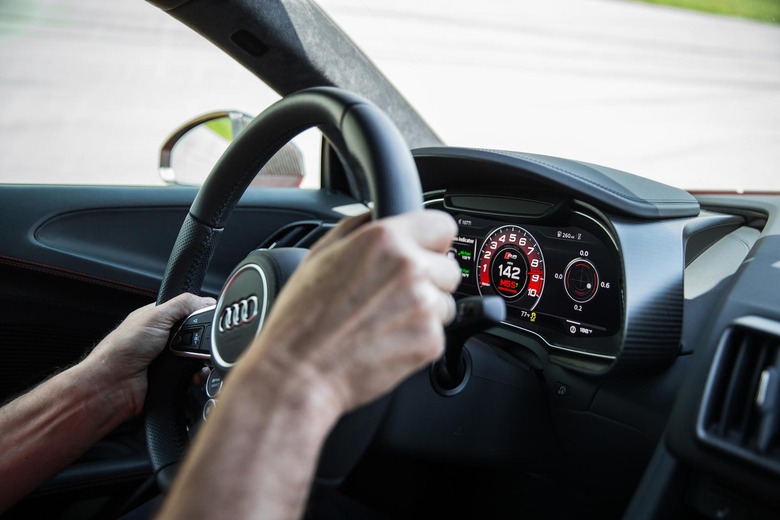 How's the handling? Entering, traveling through, and exiting the bus stop is the best place to have that discussion. The new R8 is 15-percent stiffer and 40-percent lighter than the first generation. Tight turns and rapid acceleration are mostly felt maneuvering through the infields, and driven properly this is where you make up the time on – or even pass – other drivers during the race. In my case, I cut over 3-seconds on my lap time simply by driving more smoothly and faster in this section.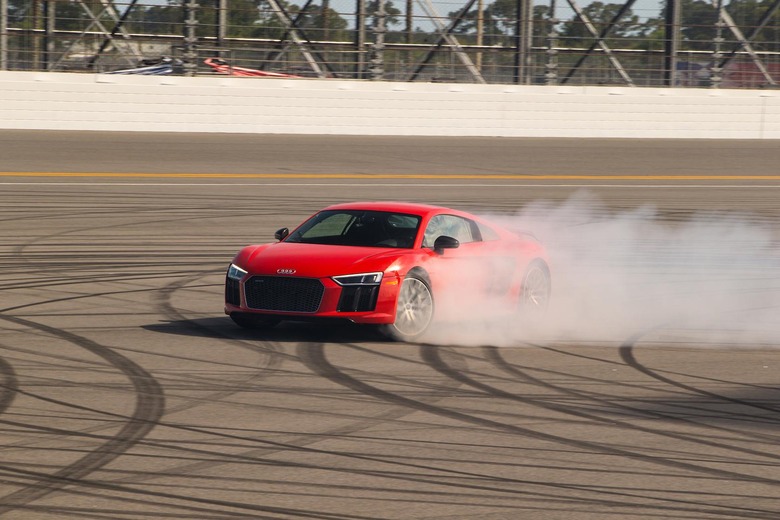 I could do it because the R8's handling first instills confidence in you as a driver, and then delivers. In "Performance" mode, the stability control is dialed way back so yes, spinning out is entirely possible. Even with Audi's quattro all-wheel drive system, pushing the car beyond your abilities will no doubt result in catastrophe. I'm not into crashing or ruining a perfectly gorgeous looking R8, so I kept within my limits and walked away with a fairytale ending rather than a hefty repair bill.
Exiting the bus stop sets the entry point for the second-highest bank, which then in turn exits out to the finish line for an opportunity to try for the V10 Plus' top speed of 205mph. Sadly, I didn't hit it, nor did anyone else including Dion: the best any of us did was just shy of 184 mph by another automotive journalist, and then Dion hitting 185mph.
Even with the best brakes, a pin-sharp chassis, and the sports-tuned suspension that comes as standard on the V10 Plus rather than the Audi Magnetic Ride the V10 gets, stopping from this sort of speed is violent and can certainly be dangerous. Audi had prepped the track with markers for where to lift off on the gas and when to brake prior to turning, and they were welcome: it's astonishingly easy to misjudge quite how fast you're going, and there were times I spared a glance down at the speedo only to discover I was going twice the speed I thought I was.
Now imagine being part of the Rolex 24 endurance race: take this single lap experience, multiplied hundreds of times, and mix in 60 other cars from different classes sharing the same track. It's mind-blowing, frankly, and I have nothing but the utmost respect for these athletes. Be sure to check out my Daytona 24 experience with Audi's second most power car, the RS7 Performance with 605 horsepower.
NOW READ: 2017 Audi R8 first-drive
The big difference between doing the Rolex 24 in Audi's racer, and running the same course in the R8 V10, is that the accommodations are a little more cosseting in the road car. Think full leather – upgraded in the $202,750 car we brought to the track, over the $189,900 starting price – supportive sports seats, and little to no body roll through the twists and turns.
Does that make the R8 V10 Plus the Audi to have on the road? For that you'll have to wait for part two, where I take the most extreme of Audi's supercars out in public.