Here's how SteamOS destroys Microsoft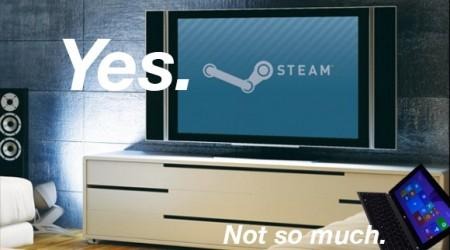 This week the gaming-centric company known as Valve has announced plans to release SteamOS, a living room-aimed operating system that will be free to download and free to license. This operating system is based on Linux architecture – similar to how Android is a Linux-based OS – and the company intends on expanding well beyond the confines of their current video games-based model with TV, movies, and music. Is Microsoft too big to fail? We're about to find out.
Here before the launch of SteamOS, users are already able to download Steam as an application that launches inside Windows, OS X, or Linux, of course. This system has a so-called "Big Picture Mode" with a focus on moving the user through lists and features as quickly as possible, leading them toward playing games, interacting with friends in the Steam network, and purchasing new games. This system already works as a fully functional home entertainment center software for those willing to take the time to set a computer up to run it.
For those who tend to work with more traditional solutions, there's the Xbox and the PlayStation. Xbox One has been promoted by Microsoft as a video-centric beast of a multimedia machine, while the PlayStation 4 comically retorted with claim that they're about to be in your living room for games first and foremost – yet they've also got media on the way.
So what will Valve do with SteamOS?
Like Google and Android, SteamOS will be distributed in a way where developers and manufacturers of hardware will be able to modify it. With Android, manufacturers of hardware only need to follow a set of guidelines if they want an official implementation of Google Play (Google's media store) on the device right out of the box. If a manufacturer does not want Google Play – for example if they've got their own app store – they need not follow any rules at all.
Valve will present a model very similar to this. They've been very clear in their intent with "openness" and users ability to "alter or replace any part of the software or hardware they want." Valve's Game Newell spoke famously harshly of Microsoft's move to Windows 8 back in July of 2012, speaking specifically of how the open nature of the PC was the only way Valve was ever able to exist in the first place.
"We want to make it as easy as possible for the 2,500 games on Steam to run on Linux as well. It's a hedging strategy. I think Windows 8 is a catastrophe for everyone in the PC space. We'll lose some of the top-tier PC/OEMs, who will exit the market. I think margins will be destroyed for a bunch of people. ... It will be good to have alternatives to hedge against that eventuality." – Gabe Newell of Valve
He went on to speak of how Windows 8 works with their Windows Store in a way that closes off the rest of the gaming universe. For those of you that've worked with Windows RT (aka Windows 8 RT), this is doubly true. In an interview with AllThingsD, the same interview as spoken of above, Newell spoke on closed platforms too.
"In order for innovation to happen, a bunch of things that aren't happening on closed platforms need to occur. Valve wouldn't exist today without the PC, or Epic, or Zynga, or Google. They all wouldn't have existed without the openness of the platform. There's a strong tempation to close the platform, because they look at what they can accomplish when they limit the competitors' access to the platform, and they say 'That's really exciting.'" – Gabe Newell of Valve
What does Valve have to do to destroy Microsoft? They need only to stay focused on key products. It's difficult to tell at the moment exactly what Valve is planning to do with this operating system as far as its own line of hardware products.
Valve has been up-front about delving into wearable computing a little over a year ago. That was April of 2012 – a few months later (September, that is), Valve released Big Picture Mode. By December, Newell was suggesting turnkey Valve PCs would be appearing in the near future.
In January of 2013, Newell gave an interview with The Verge where he suggested three tiers of gaming products for what was then called the "Steam Box" of the future.
"The way we sort of think of it is sort of "Good, Better," or "Best." So, Good are like these very low-cost streaming solutions that you're going to see that are using Miracast or Grid. I think we're talking about in-home solutions where you've got low latency. "Better" is to have a dedicated CPU and GPU and that's the one that's going to be controlled. ...

You can always sell the Best box, and those are just whatever those guys want to manufacture. [Valve's position is]: let's build a thing that's quiet and focuses on high performance and appropriate form factors." – Gabe Newell of Valve
Sound familiar? It should. Google's methodology with Nexus devices has always – on some level – been about creating a device to which all other Android devices can aspire. The Google Nexus device collection is also out in the wild to provide developers with a single center point to concentrate their efforts for development of apps and games – if it works here, it can work on a whole lot of other machines as well.
While Android continues to fork with systems such as the stand-alone OS CyanogenMod and their newly-solidified mobile OS plans. There the company bases their OS on Android (so that's an OS based on Android which in turn is based on Linux) and has already begun finding hardware homes in a manner that could very well be quite similar to how Valve will find homes for SteamOS.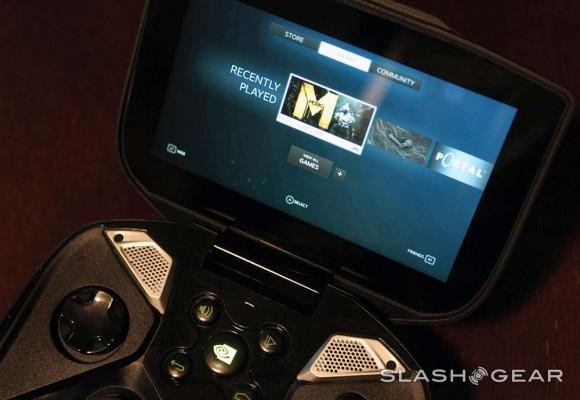 Then there's NVIDIA's SHIELD device. This machine sits in our bags and we use it daily – it's become quite familiar to us how Steam will play in on the living room with SHIELD's PC game streaming feature. NVIDIA worked with Valve to include Big Picture Mode on this Android-based handset/all-in-one gaming mobile device, and they've allowed it to hit the living room with HDMI and Miracast (courtesy of Android 4.2 Jelly Bean with NVIDIA finessing). Have a peek at how the syncing process works here:
And how SHIELD works with Steam Big Picture Mode here (note that this is also well before release – it's a whole lot quicker at this point in real life):
This will be a feature of SteamOS as well. In our full NVIDIA SHIELD review you'll see that Steam already works like a top-notch living room system even on a display as (relatively speaking) small as the one on SHIELD.
Valve will release an operating system with a built-in userbase. According to Sega vice president of digital distribution via PCGamesN, back in November of 2012 Steam's Big Picture Mode already had 500,000 users working with it – and that was just the Beta mode. Also back in November, Valve announced that Steam had a total of 50 million users total.
So supposing SteamOS – an operating system with value for built-in users even before it launches – decides to start courting Windows app developers too? How difficult would it be to convince developers to jump aboard a ship that's already sailing at high speed? No more difficult than it was for Android to jump in on a market where the clear leaders were Nokia, BlackBerry, and a rising Apple.
Stay up to date on all things living room machine from Valve in our SteamOS tag portal through the future!