OPPO N1 official: CyanogenMod, rotating camera, backside touchpad aboard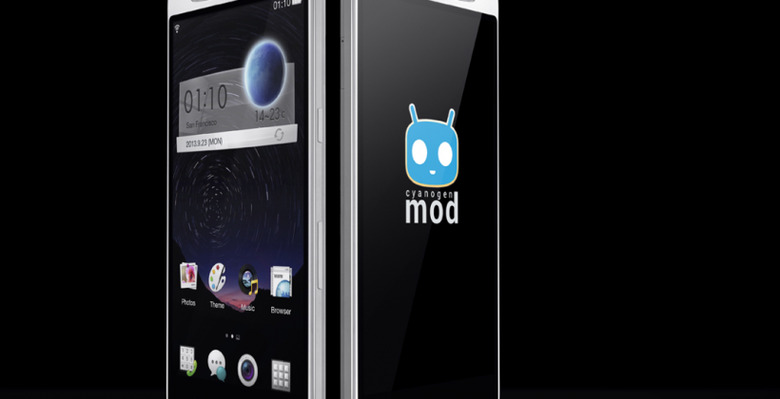 Today the folks at OPPO have revealed their next-generation smartphone "N1" with a unique take on Android called "Color" and a set of new enhancements straight from the crew at CyanogenMod. This device was also introduced with a rather unique camera setup – it rotates! – and a backside touchpad so you can enjoy the entirety of your display while you scroll or otherwise interact with its content. This device will not be available inside the USA initially, but given the quick growth of this burgeoning company – you never know!
This smartphone works with a 5.9-inch 1080p IPS LCD display with a Qualcomm Snapdragon 600 quad-core processor under its hood. You'll also have 2GB of RAM to roll with alongside either 16 or 32GB of internal storage. Interestingly enough, in addition to the standard light sensor and G-sensor, you're also getting a 4D Gyroscope and a distance sensor – you'll be sensing things with all new names!
The back side of this smartphone works with a 12 cm2 touch panel which allows you to control the device without touching its frontside touchscreen. This interface works quite similar to the backside touch panel of the PS VITA, though here you'll be able to use it in the main user interface of the smartphone as well – it's not just limited to certain games and apps.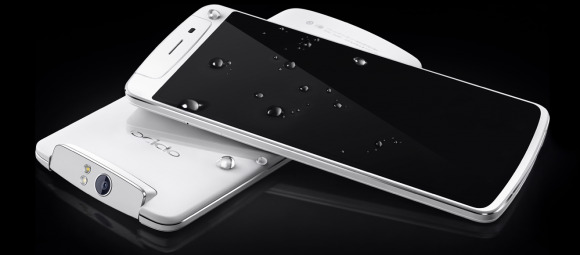 The software included with this device will be similar to that of the OPPO Find 5, though this time it'll be based on Android 4.2 Jelly Bean and will have a collection of enhancements from the team at CyanogenMod. For the time being, these enhancements have not been specifically outlined – we'll know soon!
UPDATE: The CyanogenMod Edition has been announced as well!
OPPO is committed to serve the smartphone market with an open attitude. OPPO N1 ships with Color (based on Android 4.2), a unique Android operating system with over 400 unique features and improvements over stock Android. CyanogenMod is the world's most popular aftermarket Android operating system. International versions of the N1 come with Color, and also the ability to flash CyanogenMod directly from stock recovery. A limited OPPO N1 CyanogenMod Edition will ship with CyanogenMod preinstalled, the first CyanogenMod hardware product in the world.
This device is rolling out with a 170.7 x 82.6 x 9 mm body weighing in at 213g, and you'll find a 3610 mAh battery inside. The camera works with a 13-megapixel sensor with dedicated ISP and a "dual-mode" LED flash. With an f/2.0 aperture and a variety of scene modes to back up this machine's hinge-based shooter, you'll be able to take high quality photos at 206-degrees up and down. This is what OPPO calls the "world's first rotating camera."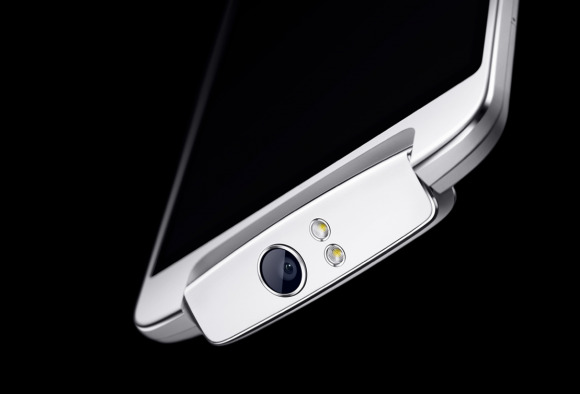 This device will also be delivered with a device called "O-Click". This device is a portable remote control for the OPPO N1 and works with Bluetooth as an additional physical button. This button allows you to take a photo, set off a "missing device" alarm, and connect to your machine at a range of up to 50 meters, straight from your keychain!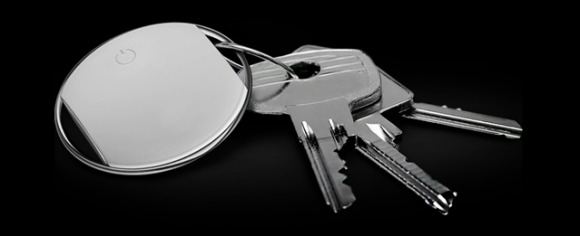 At the moment it would appear that the OPPO N1 will be heading to market in December of 2013. It's not clear how wide the spread of the CyaongenMod Edition will be, but it'll be more limited than the regular edition to some large degree.