OPPO Find 5 Review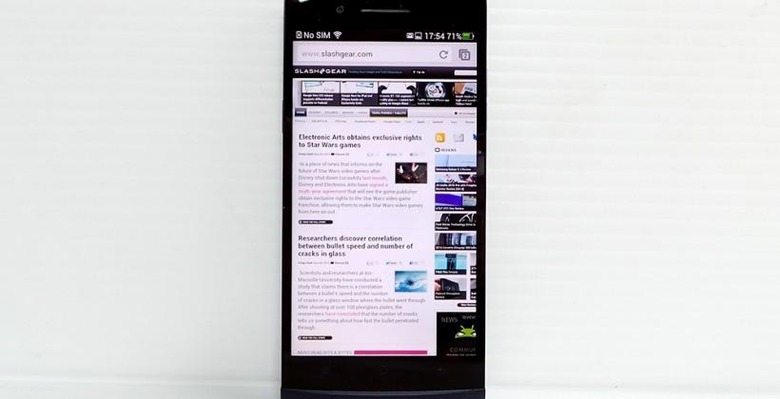 The smartphone OPPO Find 5 was a surprise to behold when it first left the box here on the SlashGear review bench, mostly because when a relatively unknown smartphone brand delivers a package that appears to be too good to be true, it generally is. Here with OPPO Find 5's 5-inch display at 1080p, a Qualcomm quad-core processor, and a 13 megapixel camera connected at its center by a unique user interface, it seemed as though the company had created a pretty nice beast. The packaging certainly does the device some favors as well.
Hardware
This smartphone is a rather interesting amalgamation of plastic and glass. It feels thin and smooth to the touch – the back is a single sheet of hard plastic without pattern while the front has a single pane of reinforced glass. The front has three capacitive buttons, not quite jumping in on the trend Google has been pushing with on-screen buttons quite yet.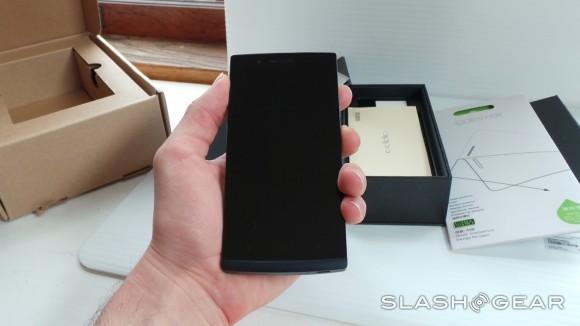 The display up front of this device is a 5-inch 1080p panel all but hidden by the black bezel that surrounds it. While the display is on you can certainly tell where it begins and ends, but whatever OPPO has done to equalize the quality of black in the bezel surrounding the display while off and the screen itself is working. While on, this display kicks in 441 PPI, equaling that of the Sony XPERIA Z and the Samsung GALAXY S 4 and narrowly missing the current density winner: the HTC One (468 PPI).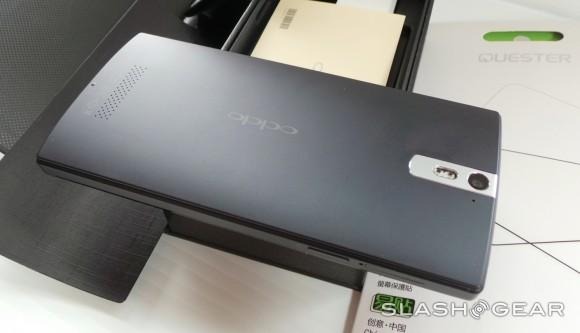 The back of this smartphone is solidly attached to its front – there's no removable or replaceable battery here. This device is certainly not built to be winning any repairability contests due to its one-piece presentation, but you will feel as though OPPO created a solid package when you're working with it.
The touchscreen on this device works just as well as any other top-tier device and the viewing angles are generally OK. With IPS LCD technology backing up the OPPO Find 5, you'll certainly be able to see what you're doing outside, but don't jump in to direct sunlight too often or expect a family of four to gather around from all angles to see the same image – it's good, but it's not perfect.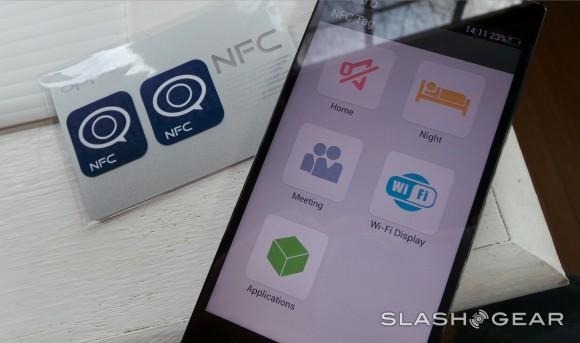 This device works with NFC both for reading and writing – as most embedded NFC sensors do. What's impressive about the OPPO Find 5 for NFC is its built-in NFC writing software. Pre-sets and a set of two NFC tags in the box make for an entertaining out-of-box experience to be sure.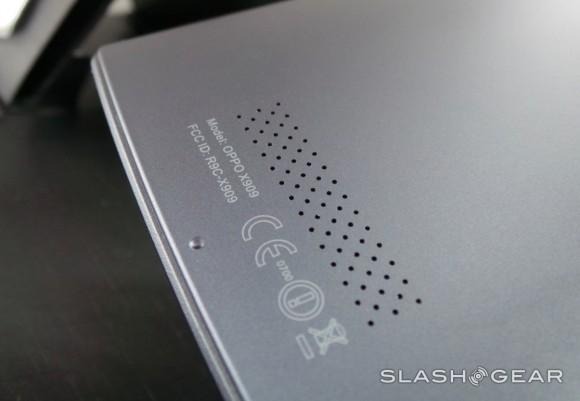 The audio experience on this device is great for a back-facing speaker setup. The HTC One takes the rest of the smartphone world to lunch with its Boomsound speakers on their own, but with both of them facing the user, straight out from around the display of the smartphone, they make the rest of the smartphone world sound like a mistake was made. Unfortunately OPPO's main onboard speaker is, indeed, back-facing.
Software
OPPO creates an ever-so-slightly interesting software experience here on top of Android, bringing in a sort of candy-coated collection of app icons that remind one of the first plays Samsung had at Android back with the first Galaxy and TouchWiz 1.0. It's not the same iOS-esque game here, on the other hand, with the rest of the changes keeping well in the Android world with screen transitions and lockscreen elements only otherwise seen in user-customized 3rd party homescreen replacement apps.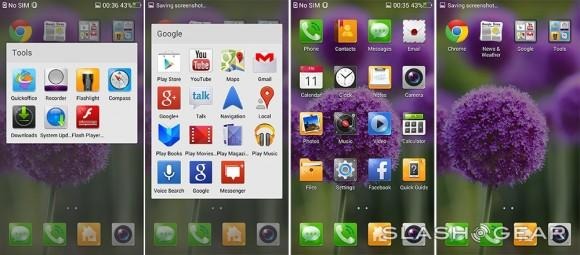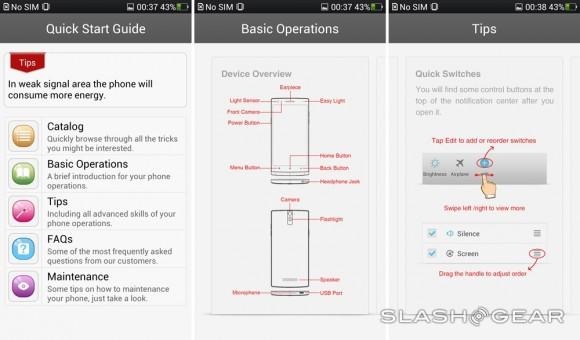 Below you'll see our hands-on demonstration of the OPPO Find 5's software build – take note of the speed at which apps load and/or don't load – this isn't an experience that's as optimized for Android as the Nexus 4 is, but general everyday use is perfectly decent.
According to chats we've had with users already owning this device – and users like you bringing on the comments – we're to understand that carriers working with this device have had an easy time upgrading software, working with the device for software fixes, and offering good service in general. Generally that's not an issue with a big-brand smartphone (not always, but generally), but with a still-relatively-small group like OPPO, it's encouraging to hear and read.
Below you'll also find some benchmark results from the OPPO Find 5 with its most up-to-date software. Again, this device isn't going to win any beastly smartphone battles, but it gets the job done. This device isn't going to be the best on the market if you're looking for a top-tier gaming experience, but for media consumption and capture and everyday non-game app activities, you'll be par for the course.
Camera
The camera on the OPPO Find 5 can create some excellent photos and video but actually capturing them seemed to be above-average difficult. This machine works with an Exmor RS sensor with 13 megapixels of power on its back, this allowing for some rather excellent shots if you're willing to take the time to capture them. The examples below should show you a wide variety of examples from our time with the device – good and bad.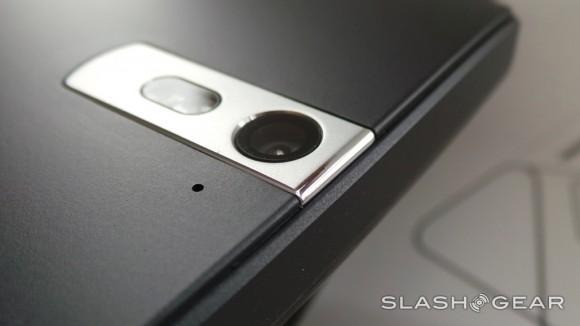 Have a peek at some other reviews done by me, Chris Burns, to check on your humble reviewer's ability to take quality shots if you're suspicious of the images appearing here. If you're the kind of person who rests their camera on still surfaces when you're taking photos, you'll get good photos. It's as simple as that.
Also have a peek at some video here to see what we've captured in a regular test-quality situation. We've made similar runs at this arena in the past with devices of all kinds – compare at will!
Battery
You'll want to download some battery optimization software if you're planning on getting a full day's use out of this machine. Unlike some of the big-name devices we've worked with towing the same processor here from Qualcomm, this device can really knock a battery out easily. Though the same is true for any device that's got a display as bright and as sharp as this in keeping the brightness on auto, apps of all kinds seem to drain the OPPO Find 5 a bit quicker than they should.
Owning the OPPO Find 5
Reviewing this device was bittersweet, if only because I knew we'd not be seeing a lot of readers here that'd actually be able to use this device in the end. It's a smartphone being sold in China with no plans for overseas release. That said, it's refreshing to see such a company doing such a top-notch job when the only other devices with such a solid package on the market today have been made by one of five companies.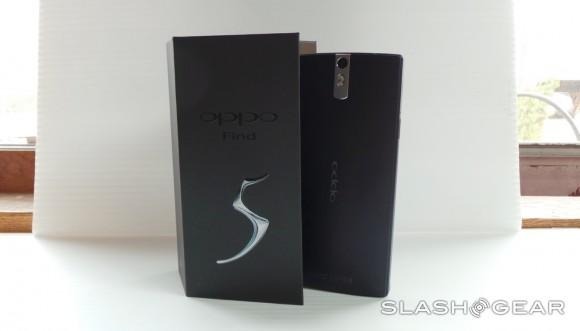 Right this minute you'll be able to find the OPPO Find 5 for between $499.99 and $600 USD unlocked and carrier free. Make sure you know your SIM card will work before you pick one up and let us know how you like it!
Wrap-up
The OPPO Find 5 is not a Samsung Galaxy device, nor is it an iPhone. It's not a Motorola hardcore delivery, nor is it an LG powerhouse, or a Google Nexus device for that matter. It's not the HTC One and it's certainly not a Sony device. Instead you've got a unique approach from OPPO in a package that's certainly going to stay strong in owners' pockets for extended periods.
And the end result of OPPO's efforts are a bright spot for the company – this device, packaging to final smartphone build, make the case for this brands' future. Keep an eye out for future OPPO releases and count them in as a brand to be reckoned with in the next few years across the pond – hopefully beyond China, too.