CES 2013 wrap-up: All about Android

While the biggest story of CES 2013 may have been Ultra HD, Android was still a huge part of the show, and it showed up on a handful of new devices that were unveiled this past week. Nobody can deny the impact that Android has had in the technology industry, as well as in tech culture, throughout that past several years. We ended up getting a ton of hands-on time with a number of new Android-powered devices, one of the most-popular being the IdeaPhone K900 from Lenovo, and we ended up talking with Lenovo's Mark Pinner about the new device.
The IdeaPhone K900 is a beast of a phone. It has a 5.5-inch 1080p IPS display with an Intel Atom Clover Trail Z2580 processor inside. There's also a Sony Exmor BSI sensor with an F1.8 focal length lens to make up the 12MP rear camera, and it has the widest aperture of any smartphone-based camera right now. The front-facing camera has an 88-degree viewing angle, which again, is the widest angle lens on the market right now for a smartphone.
We also took a look at the Sony Xperia Z, which is a completely waterproof smartphone and the company's newest and best device to date. It's got a 5-inch TFT LCD HD Reality Display, Qualcomm's S4 Pro APQ8064+MDM9215 quad-core processor with 2GB of RAM, and an internal storage size of 16GB. There's also a 2,330 mAh non-removable battery that provides up to 14 hours of talk time or up to 510 hours of LTE standby time. And of course, the 13MP camera on the back will allow you to get some excellent shots.
The infamous YotaPhone also made an appearance this week, and it's a smartphone that actually has two 4.3-inch displays — there's the main one on the front that's a regular LCD 720p HD display, and then the back has an e-ink display. The e-ink screen is meant to stay on all the time, and the purpose of the phone is to push whatever you have showing on the LCD to the e-ink display for saving battery.
Chinese manufacturer Huawei unveiled two new phones at CES, with one being a gargantuan 6.1-inch phablet-style smartphone, the Ascend Mate. The specs are fairly disappointing, with only a 720p HD display and an 8MP camera, but the 6.1-inch screen definitely turned some heads at the show, for better or for worse. The company also announced the Ascend D2, which has a 5-inch 1080p HD display and a 13MP camera. It also has a 1.5 GHz quad-core Hi-Silicon K3V2 + Balong V7R1 processor, 2GB of RAM, and 32GB of internal storage. The device itself is a little chubbier than most smartphones on the market right now, but it's extremely lightweight.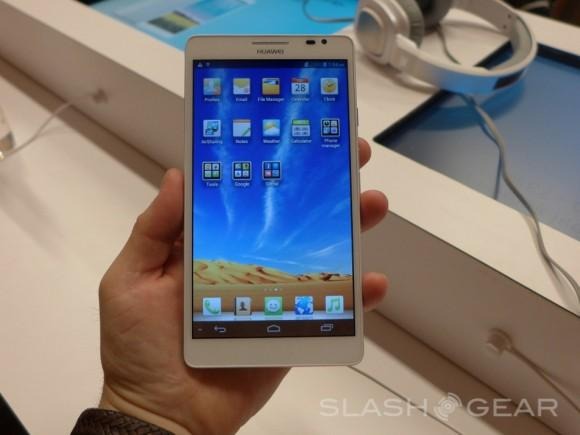 ViewSonic, who's mostly known for their great computer displays, outed a new 24-inch Smart Display that runs on Android 4.1 Jelly Bean. It comes packing with an NVIDIA Tegra 3 quad-core processor with 4-PLUS-1 technology, and it also has HDMI via MHL, full-sized USB, and Bluetooth connectivity. While the company refers to it as a display, it's essentially a massive tablet that comes with all sorts of goodies, including Tegra Zone with a handful of games the work with NVIDIA's Tegra line of processors. Of course, it has a stiff MSRP of $675, so be sure to bust out that piggy bank and save up your coins.
Some other new Android stuff we saw was the ZTE Grand S LTE, packing a 5-inch 1080p display, as well as the Pantech Discover, which is AT&T's latest budget powerhouse, sporting a 4.8-inch 720p TFT display, a 13MP camera, and a dual-core Qualcomm MSM8960 Snapdragon S4 processor, all for the price of only $50 after signing a new two-year contract.
As far as Android tablets go, there were a few that stood out. We took a look at the Samsung Galaxy Note 10.1 tablet, which was revealed for Verizon this week, and it essentially comes with the same features as the other variants, except that it runs on Verizon's blazing fast LTE service. We also fooled around with the Archos GamePad, which comes with a 7-inch 1024×600 display and has built-in physical controls on the sides.
Overall, while a lot of the new Android devices that we saw this year weren't anything to write home about, a few stood out from the crowd. One reoccurring theme is certain though: bigger screens, faster processors, and better cameras, are continually making their way into smartphones every year, and we're already pretty excited for what 2013 has to offer in the Android industry, and we can't wait to see what CES 2014 will have in store. Let us know what you were most excited about from CES in the Android realm, and be sure to hit up our CES portal for all our CES 2013 news and hands-on.