Huawei has just unveiled both of their latest and greatest Android smartphones today at CES 2013 here in Viva Las Vegas. First up was the larger than usual Ascend Mate with a 6.1-inch display, but what we have below is their flagship device. The Ascend D2 follows up on its successor with a 5.0-inch 1920 x 1080p true HD display, Jelly Bean and more. Read on for full details.
Just like everything from Huawei this week, the Ascend D2 smartphone has seen its fair share of leaks too. Today however the folks from Huawei confirmed all the details themselves right up on stage. Huawei Chairman Richard Yu described it as a "dream phone" and we'd have to agree — at least according to specs. Imagine everything we loved about the DROID DNA but with a much bigger battery. Let us elaborate.
The Huawei Ascend D2 comes in with a size of 140 mm x 71 mm x 9.4 mm and only 170 grams. And will be available in Crystal Blue or Pearl White. Those "dream phone" specs include a 5.0-inch 1920 x 1080p Full HD 443 ppi "super retina LCD" Huawei's own 1.5 GHz quad-core Hi-Silicon K3V2 + Balong V7R1 processor, 2GB of RAM, 32GB of internal storage and much more.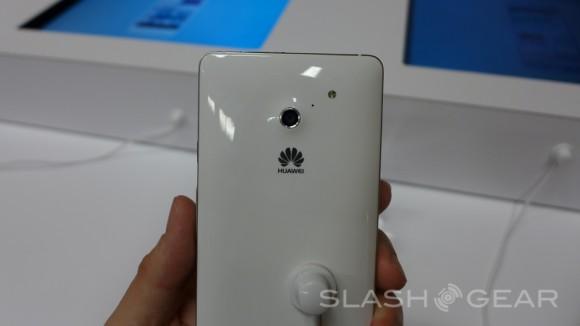 Then the other important specs that make this a tier above their Ascend Mate phablet are the fact that they tossed in a 13 megapixel rear camera that has a f/2.2 aperture, and a hybrid IR filter. Not to mention full HDR, burst mode, and of course LED flash. Then just like the original Ascend D they've tossed in a large battery so we won't be begging for an outlet. The Ascend D2 rocks a large 3,000 mAh battery under the hood.
Again the Ascend D2 rocks Android 4.1.2 Jelly Bean, and is heavily skinned with their own UI as expected. For an idea on what to expect with software have a look at our Ascend D Quad Review from last year. The new Ascend D quad has a similar design language, although clearly is a bit larger and the screen is amazingly crisp and vibrant. Aside from the shiny new plastic design the aluminum edges feel great in the hand. More details will follow shortly with our hands-on video. Stay tuned. The device will be available next month but pricing and details were not yet available.