Huawei Ascend D2 leaks for CES 2013 with smartphone press photo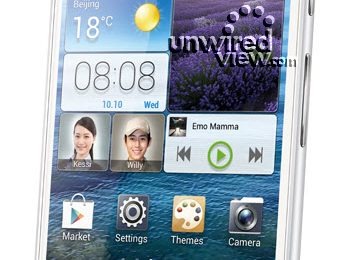 The international version of the Huawei Ascend D2 has been leaked with a brand new user interface on its front ready for none other than CES 2013. This device will certainly be shown off at the Huawei press conference taking place during the Consumer Electronics Show 2013 and – you can be your biffy – SlashGear will be there to show you the whole device top to bottom. Until then you'll have to deal with this: a 5-inch display at 1080p resolution with Huawei's own multi-core 1.5GHz processor inside.
This device is also set to come with a 13 megapixel camera on the back, a front-facing camera made for video chat, and a 3,000mAh battery under the hood. This machine has already been announced in China and its final specifications for international sale will be revealed at CES 2013. At the moment it's not clear if this device will be the only device revealed there, but if the rumor mills have their way, we'll also be seeing an even more grand device by Summer. That's one of three phablets that might not even be real!
One of the interesting elements in the leak of the image you see above is that it's posted by Unwired View's Google+ account, this giving a strange un-official flavor to it. While normally we'd see a post like this from a publication like that on their main news feed, it's important to note also that they recently acquired the services of renowned leakster @evleaks for their very own. It's through that leakmeister that we must assume this image has spewn forth.
This device is set to take on the Samsung Galaxy S III with its rather similar stylings as well as the LG lineup, especially the LG Optimus G and the LG Nexus 4, both of which have similar specifications and looks. Hold the white version of the LG Optimus G up to this version of the Ascend D2 and you'll have a difficult time telling them apart (aside from the logos, of course). Stick with SlashGear as we see the final product at CES 2013.
Also be sure to keep up with all of our CES events [using UpTo] – a super fabulous calendar app that'll have you scheduling things just for the fun of it: featuring SlashGear now! Of course we've also got our always excellent CES 2013 tag hub all through the week – get pumped up!