Huawei Ascend Mate 6.1-Inch Smartphone Arrives To Rival Note II [Hands-On]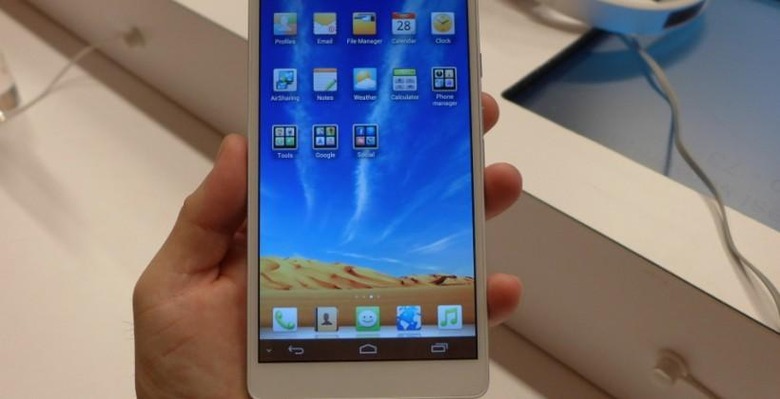 Huawei's impressive new smartphone hasn't been a very well kept secret, but today in Vegas for CES 2013 they've officially unveiled their new Ascend Mate 6.1-inch smartphone to rival the Galaxy Note II. We're pretty sure they won the battle for largest smartphone. We were lucky enough to snag a few quick pictures with the massive device so check them out and all the details after the break.
We've seen countless leaks and rumors regarding this phone, but sadly one important spec fell through the cracks. That being the 1920 x 1080p full HD resolution that's expected on a 6.1-inch smartphone. Sadly Huawei has opted for a last-gen 1280 x 720p HD display, although it does rock their impressive IPS technology. Which offers great viewing angles and exceptional colors. The resolution leaves a little to be desired for the Mate 2.
With dimensions coming in at 163.5 mm x 85.7 mm x 9.9 mm (6.5 inches x 3.4 inches x 0.4 inches) it certainly isn't small, as you can see. The full specs are a 6.1-inch 720p HD IPS display, Android 4.1.2 Jelly Bean, Huawei's own in-house 1.5 GHz quad-core Hi-Silicon K3V2 + Intel XMM6260 processor (Ascend D was K3V1). Then the other major feature is the battery. Huawei tossed in an impressive 4050 mAh charge for all day battery life, and 9 days of suggested standby time. Then all of this only weights 198g.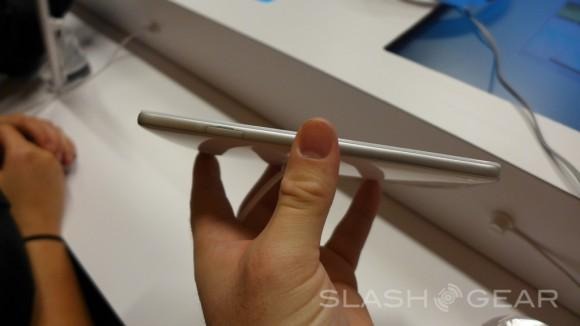 Under the hood to help that 1.5 GHz quad-core is 1GB of RAM and 16GB of internal storage, not to mention that massive battery. Around back Huawei's outfitted this phablet with an 8 megapixel AF camera with full 1080p video and HDR capabilities, and then a 1.0 HD front facing camera for Google video chat and Skype. With our limited hands-on the screen was rather bright and crisp, without 1080p, and the weight wasn't too big of a concern. As you can see from the gallery below Huawei's added multiple features to help with the larger than usual size. You can move the on-screen keyboard to either side to help with one handed typing — if you dare — and they've added quick menus to settings to make browsing that list a breeze.
As usual Huawei's tweaked the Android user interface with their own skin, similar to Samsung's TouchWiz or LG's Optimus UI — but we'll need more time with it before we give you final thoughts. Good luck fitting this in your pants pocket and stay tuned for hands-on video coming soon.