ViewSonic VSD240 24-inch Smart Display Hands-on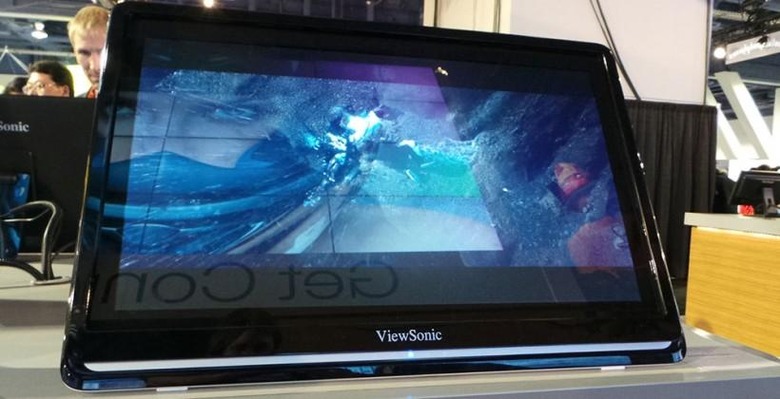 We got the opportunity to take a peek at the ViewSonic VSD240 24-inch Smart Display, what's essentially an oversized tablet on a stand working with an NVIDIA processor inside. This machine works with a full touch display attached to an NVIDIA Tegra 3 quad-core processor with 4-PLUS-1 technology. You'll be working with HDMI via MHL, full-sized USB, and Bluetooth connectivity as well.
This beast is made for someone wishing for the future right this minute, bringing you Android 4.1 Jelly Bean on a display that'll allow you to watch your videos at a tap. While we're not sure the uses of this machine are numerous enough for us to want to get such a massive machine with a stand built-in for the desktop running Android, the prospect of an all-touch monitor future does seem encouragingly cool.
The best thing about this monitor from our perspective may be the fact that you're able to work with the NVIDIA Tegra Zone collection of games. NVIDIA works closely with a variety of developers to make games that work especially well with their processors, and having seen the power of the NVIDIA Tegra 3 over these past 12 months working with high-powered games galore, we're rather pumped up indeed.
Have a peek at our hands-on video above and photos above and below to see a bit more close-up look at this machine and get pumped up as it hits the market very, very soon. You'll be able to pick this machine up for MSRP $675 USD and it'll be in its final form then – what we're seeing here may be changed just a bit, but it's essentially complete. Have a peek at our CES portal for all the CES 2013 action you can handle as well!