Amazon Kindle Fire full event video and wrap-up
This week the folks at Amazon introduced a set of new Kindle tablets including a refresh of the Kindle Fire, two new Kindle Fire HD tablets, and a reader called Paperwhite. This last entry in the list of new items might be the most overlooked to the biggest news seekers, but it's set to overtake a still massive ereader market with technology that's set to dash standard E-Ink's brains out – and it's relatively inexpensive, too! The original Kindle Fire was refreshed with a lower price, and both the Kindle Fire HD 7 and 8.9 were introduced with pre-orders starting today.
Start your journey with a look at how the original Kindle Fire has been updated with a select number of features right alongside a price drop to $159 – that's madness! The new set of Kindle Fire devices come in both 7 and 8.9-inch display sizes, the latter also having a 4G LTE iteration coming with a new data plan that will run you just $50 USD a year – that's 250MB of 4G LTE data a month for a total of $50 USD a year! Don't get too pumped up though, there's a catch: you still gotta pay overage costs.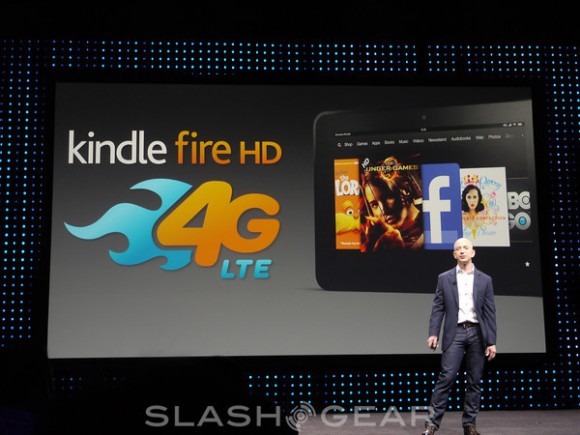 There's also a catch for those of you that aren't fans of advertisements in your devices – the device you payed for and supposedly own. Amazon's entire Kindle Fire lineup now also has Special Offers showing up on their lock-screens – with no option (other than hacking, of course) to get rid of them. Per Amazon's press release:
"Special Offers

The new Kindle Fire family comes with special offers that appear on the lock screen. Examples of special money-saving offers that customers will enjoy include a $5 credit in the Amazon MP3 Store and a $5 credit for select titles in the Amazon Instant Video Store. Customers will also receive special offers and screensavers from brands like AT&T, Discover and Intel, such as a special offer of a $10 Amazon.com Gift Card when a customer uses their Discover card to purchase a digital product on Amazon."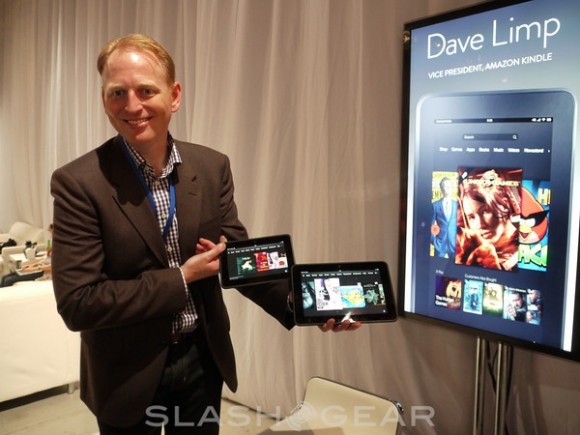 You'll be glad to know, however, that we've got no reason to believe that this line of tablets is immune to hacking – as it was with the original Kindle Fire. Also, it does appear (according to several sources, but not yet confirmed by Amazon directly) that the Kindle Fire HD lineup is coming with Android 4.0 Ice Cream Sandwich behind their own customized user interface. That's good news for you future-looking developers out there with diamond software modification in your eyes.
Kindle Fire HD 7 hands on:
[vms 63c431bd1268e9b5e76f]
The Kindle Fire HD lineup comes with a collection of software innovations like X-Ray and Whispersync. Have a peek at the timeline here to see our hands-on with the Kindle Fire HD duo as well as notes on the software features at hand:
Prices for the Kindle Fire HD lineup are as follows (followed by the refreshed Kindle Fire and the Paperwhite as well):
Kindle Fire (Refresh): US $159 / UK £ 129
Kindle Fire HD 7: US $199 for 16GB and $249 for 32GB / UK £159 for 16GB and £199 for 32GB
Kindle Fire HD 8.9: US $299 for 16GB and $369 for 32GB / UK N/A thus far
Kindle Fire HD 8.9 4G LTE: US $499 for 32GB and $599 for 64GB
Kindle Paperwhite: $119
Kindle Paperwhite 3G: $179
Most if not all of these devices are now up for pre-order on Amazon with ship dates either in mid-September, early October, or November – it's a spread!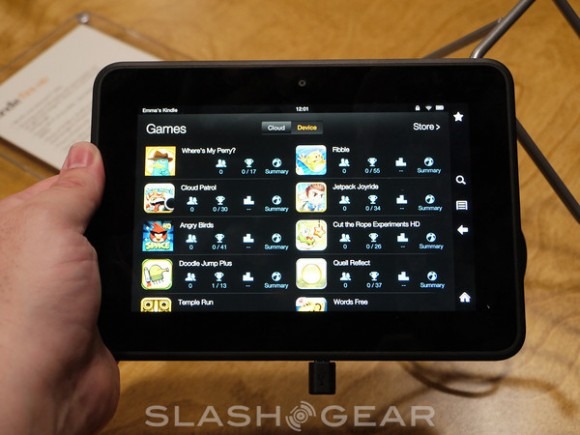 Have a peek at the information we've got on the Paperwhite – including its 3G iteration with free – yes free – 3G. The smallest and lightest Kindle has also been updated with a few new software updates like improved fonts and 15% faster page turns as well. We've got hands-on with the three biggest beasts here, and of course more details than you can shake a stick at from throughout the day today. Stick around our Amazon tag portal for more information as it pops up between here and release time!
UPDATE: The full event video is now up via Amazon – enjoy!