Kindle Paperwhite 3G priced at $179 while original gets price chop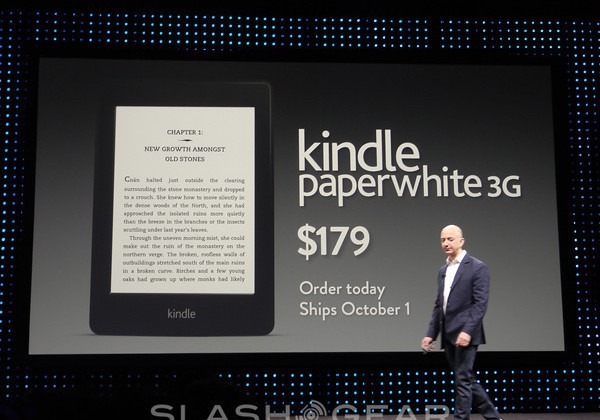 The new Kindle Paperwhite is official, an ereader with a display technology from Amazon that's bringing on a whole new level of readability. With this device you'll be able to easily adjust the light which flows through the display and the whole display has become a whole new level of sharp as well. The Kindle Fire was a big inspiration for this device, Amazon noted, with such features as cover mode – allowing you to look at all the content on the device in addition to the cloud.
With what Amazon calls its new "Revolutionary Display Stack," the Kindle Paperwhite works with a Patented Light Guide, a Capacitive Touch screen, and a Paperwhite display below. This device has a 212ppi resolution display, works with Nanoimprinted Light Guides above the display to make sure you're seeing things clearly. You'll be working with a 9.1mm thin device here that's just 7.5 ounces heavy – tiny!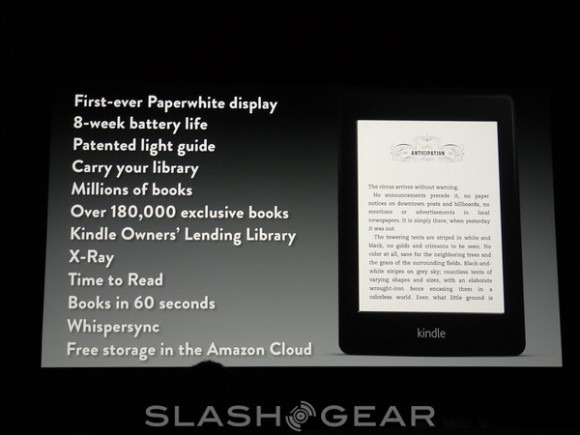 This device will be working with an 8-week battery, the ability to download books in 60 seconds – of course – and free storage galore in the Amazon Cloud! You'll be working with absolutely free 3G coverage, of course, and there's no contract or annual costs. This device will be available in a couple of different iterations – 3G or non-3G, and the prices will reflect that connectivity.
The Kindle Paperwhite 3G will cost you $179 USD from Amazon with no annual contract, and it's available today straight from their online store. The wi-fi version of this tablet will cost you $119 USD and will also be available today. Finally – the original Kindle – now with an update to "all new Kindle" status – will be just $69 USD. The new Kindles ship on October 1st – grab one now!