Acer Android devices to get Ice Cream Sandwich update in January 2012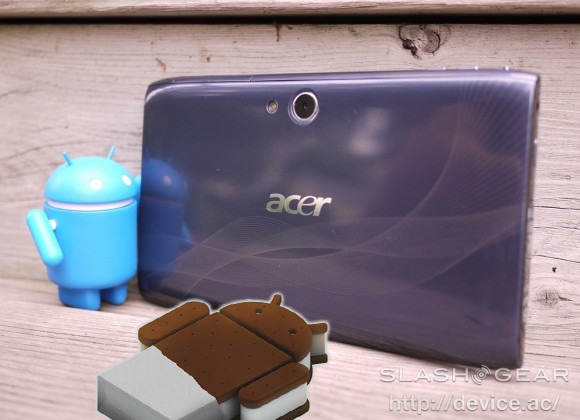 Starting at the beginning of next year it seems that Acer will be amongst the first manufacturers to update their existing devices to the new Android 4.0 Ice Cream Sandwich. This information comes from Tablet Online who, when speaking with Acer Poland, was told of the release schedule with two devices specifically on the tip. Those two devices come in 2 flavors each, that making this Android 4.0 update ready for dispersal on the Acer Iconia Tab A500, A501, A100, and A101. These tablets may well be the first Android tablets on the market with Ice Cream Sandwich.
Previous reports had Acer placing Ice Cream Sandwich updates in 2012 in a very general way, this Polish report has January as a specific date for an update for the four tablets (two models) in question. Today has really been a day for Ice Cream Sandwich news with talks of the new Google mobile OS being ported to the Samsung Nexus S and the first Android 4.0 device Galaxy Nexus on sale in England with a shipping date set for November.
Have a look at each of the devices in our reviews: Acer Iconia Tab A500 with Wi-fi only, Acer Iconia Tab A501 with AT&T 4G, and Acer Iconia Tab A100.
Meanwhile we've got an update schedule for Motorola set for six months after the formal release of Ice Cream Sandwich while HTC plans on updating ALL their devices inside some sort of unnamed time window. For those of you unfamiliar with the inner workings of this upcoming mobile OS, head to our Android 4.0 Ice Cream Sandwich complete guide and check out our hands-on videos with both Ice Cream Sandwich and the Galaxy Nexus. Tasty treats ahead!
Android 4.0 Ice Cream Sandwich hands-on
Galaxy Nexus hands-on
[via Tablet Online]