Galaxy Nexus Hands-on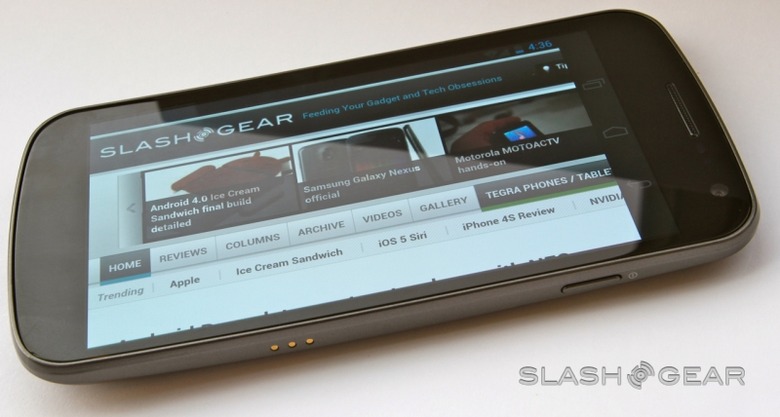 Samsung and Google unveiled the Galaxy Nexus and Android 4.0 Ice Cream Sandwich in Hong Kong today, and we grabbed some hands-on time with the new dual-core smartphone. Just 8.94mm thick, with a Contour Curve design, huge high-resolution display and choice of LTE or HSPA+ versions, the Galaxy Nexus is a fitting flagship to continue Google's Nexus brand. Keep reading for our hands-on first impressions.
It's hard to beat the 4.65-inch Super AMOLED HD display for wow-factor. Packing a 100,000:1 contrast ratio and huge 1280 x 720 resolution and 16:9 aspect, it's incredibly bright, color-rich and vivid. Samsung's preloaded demo videos were obviously picked to showcase the Galaxy Nexus' abilities, but they're definitely lag and smear free. More than that, though, Ice Cream Sandwich has apparently been designed especially to suit 1280 x 720 as a native resolution, which means there's no icon jaggedness, while the new Roboto font has been designed to suit high-res screens. The 4.29mm bezel means the display is about as edge-to-edge in appearance as an Android device has managed to-date.
Galaxy Nexus Hands-on:
There's been some surprise about the Galaxy Nexus' specs, particularly the 5-megapixel camera. In a year where 8-megapixels has become the start point for high-end smartphones, Samsung's choice is unusual, but the two companies still say the new Nexus can compete. The camera app loads quickly and the sharing menu is refined, with an icon carousel rather than the pop-up list of before. There's tap-to-focus/exposure-lock too, as well as face detection, and Google's zero shutter lag technology is incredibly fast.
You can shoot multiple images in rapid succession, too, though we found you can end up with blurry pictures since it's all too easy to get trigger-happy when you're moving the phone. Hipstamatic-style filters and panoramic shots can be easily accessed. Video, meanwhile, supports 1080p, while Ice Cream Sandwich's support for continuous focus and zoom within video capture, time-lapse clips and the ability to take snapshots while simultaneously shooting video are incredibly useful.
iPhone 4S vs Galaxy Nexus camera speed test (first to five complet shots win)
This is a very close call. Note that iPhone 4S actually took 6 pictures to Galaxy Nexus' five.
In the hand, the Galaxy Nexus feels solid and slick. Gone is the fingerprint-magnet, cheap-feeling plastic of the Galaxy S, replaced by soft-touch plastics and metal. The Contour Design curve is subtle, as before, but more obvious thanks to the bigger screen; whether it actually has an impact on usability remains to be seen, but it's definitely straightforward to slide a thumb down the display while using it one-handed. Considering this is one of the biggest panels on an Android device – or, in fact, a smartphone – today, it surprisingly doesn't feel oversized, either. You can slot it into a front trouser pocket with no problems.
Google is understandably using the Galaxy Nexus and Ice Cream Sandwich to push its increasing app and services portfolio, and most notably the Google+ app comes preloaded. Google's social network and Facebook rival will now be baked into every Android device. We'll cover more impressions from Android 4.0 Ice Cream Sandwich in a separate post shortly.
Ice Cream Sandwich hands-on demo
The Samsung Galaxy Nexus will go sale from November, with a Verizon LTE version in the US and other carrier versions in Europe and Asia. More details in our hands-on gallery and video!