Iconia Tab A100 Review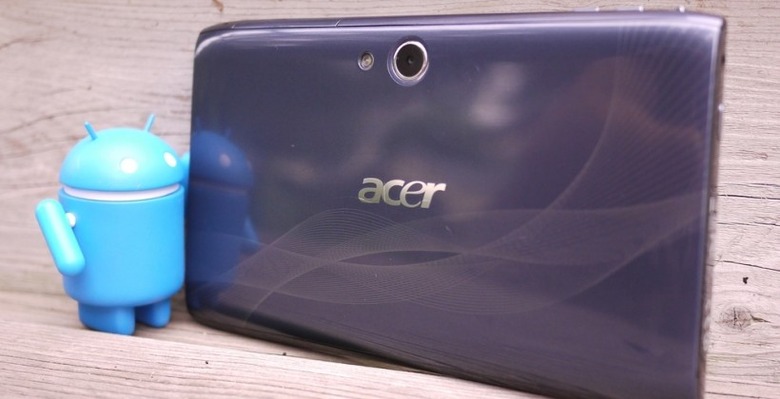 It is true that Acer only a few months ago brought us one of the first round of Android 3.0 Honeycomb tablets In the Iconia Tab A500, a 10-inch tablet with a thin metal backing attached to one of the cheapest prices on the market. What we've got now is only the second 7-inch tablet on the market and the first one to carry any version of Honeycomb. Furthermore, this A100 7-inch Acer tablet is the world's first Android 3.2 Honeycomb tablet, 3.2 being the first tablet-oriented Google mobile OS made for tablets of under 10 inches in size. This tablet is not meant to be the thinnest tablet on the market, and neither this nor the original Samsung Galaxy Tab 7-inch tablet are likely to be winning the tablet fashion show, but what we DO have here is a nice little "tween" sized Android device toting NVIDIA's Tegra 2 dual-core processor – will it carve its own piece out of the tablet market pie due to it's relatively unique nature?
Before we engage in judgement, let's have a look at what we're dealing with here in the tablet as it comes directly out of the box. Vincent Nguyen will show you just what this device is all about as he flips it over in his hands for the first time:
[vms 0f4efc9eec62cb947c16]
Hardware
Those of you heavily aware of all Android goings on in the world should be questioning whether I refrained from mentioning the LG G-Slate because I thought it was actually a 10-inch tablet or because I didn't think it was worth mentioning. Truth is it's neither: the G-Slate being an 8.9-inch tablet and having 2 cameras on the back for 3D video and photo collection, I consider it to be another completely unique device. The G-Slate compares with the A100 in that it is smaller than 10-inches, and that's where the similarities end. The G-Slate is much heavier than the A100, the Acer tablet is much more smoothly formed, and the G-Slate has the ability to display 3D media while you're wearing your included 3D red and blue glasses.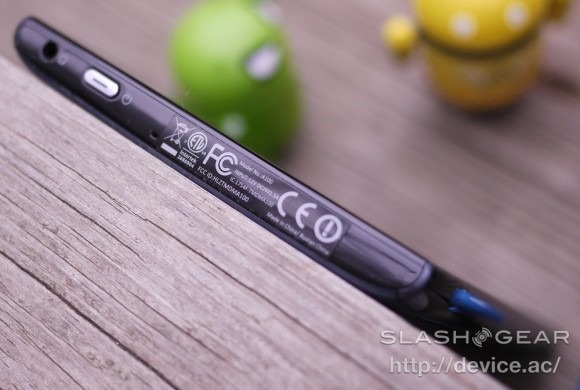 The Acer holds sway over all other Android tablet-classified mobile devices at this very moment because it's only slightly heavier than the original Galaxy Tab yet totes more than double the processor speed, has an almost vanilla* flavoring of Honeycomb, and it's got two fairly decent cameras on it, one on the front and one on the back. *Vanilla in this case means that there's really nothing added to the Android that Google's made save for some organizational apps and 3rd party bonus apps.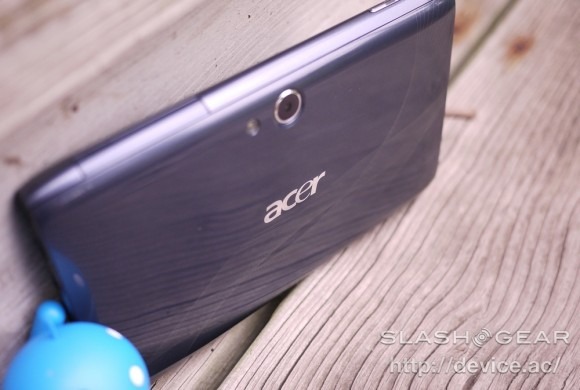 One of the least pleasing pieces of this entire equation is the viewing angles on the display. You've got a lovely amount of brightness with this LCD touchscreen, but have a look at the video below and you'll see how dark bits get at around the 45 degree mark. Meanwhile you'll find that the plastic surrounding this entire device and an overall size that's small enough to fit in an adult male's pants pocket (in general the companies that make male and female pants make the pockets for male pants a bit bigger) and big enough to be considered a tablet.

Acer-branded Case
We received a brand new Acer-branded case with this device, one into which you can slide and lock-in your Acer Iconia Tab A100 tightly, some sweet leathery feel all around, allowing everything to breath nicely while the tablet itself is relatively protected from danger. I wouldn't go around tossing the tablet even if you've got this case around it, but you'll definitely be protected against the odd pencil and toothpick attack. Furthermore, this case allows you to sit the device up diagonally so you can watch your favorite YouTube video in style. See more about this case inside the hands-on video below.
Hands-On Review and Second Look
[vms 31d5c362f0d7860945b8]
Software
As far as software goes, you're going to find several different cloud apps that'll allow you to access your media from all directions. There's Acer's Clear.Fi, a service that's remained quite the same since its original launch back in November of 2010, working here with its newest and most simplified set of menu screens. Next is Media Server, a service which will allow you to turn this tablet into a sharing machine, a simple interface able to turn Video, Photo, and Music on or off with the tap of a button. Acer Sync helps you work with your PC remotely with a simple to download desktop app.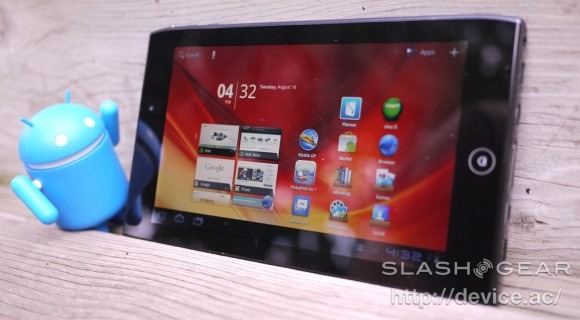 Nemo player is another 3rd-party media explorer and player, and Docs To Go will allow you to explore all of your documents at will. AUPEO! is a radio app that'll allow you to utilize your FM radio embedded in the device with ease, and MusicA will allow you to listen to any bit of music and identify it on the spot. The only Tegra-specific app included with the device is HW Solitaire SE, a game which you'll otherwise be able to find in the Tegra Zone, an app-like portal which will let you in on why you made the right choice selecting a device with an NVIDIA Tegra 2 dual-core processor (note that we'll show you one of these excellent games, Pinball HD, in the demonstration video below as well.)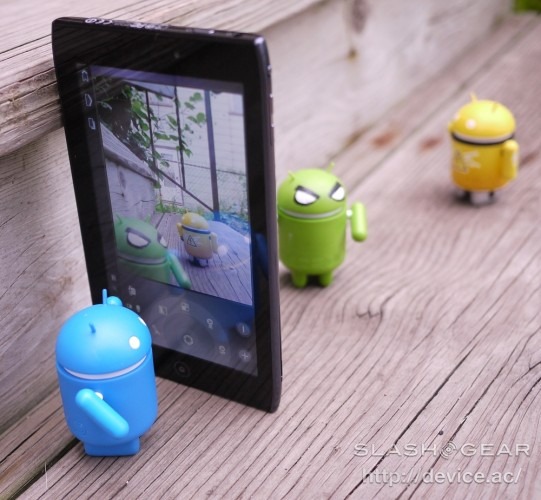 Finally Planner is an email-based notes system, and SocialJogger will allow you to connect to all your social media contacts at once. Beyond that it's your normal set of Google-set items like Google Talk, Gmail, YouTube, Books, the stock camera and camcorder interfaces, Gallery, Clock, and a strange bit: instead of a Facebook app, there's a Facebook shortcut to the web, almost as if they're encouraging you to use the web-based version of the social network instead of the downloadable app version.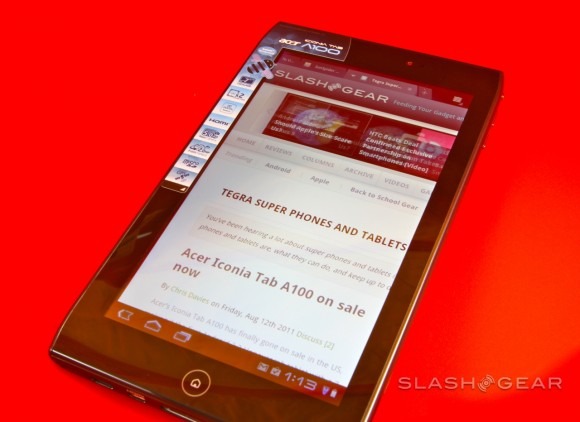 Then there's a drawer system which can be accessed from several shortcuts: eReading, Game Zone, Multimedia, and Social, each of them the same as they appeared on the Acer Iconia Tab A500, working very similar to the homescreens on any Android OS, but with a cool little desk graphic at the bottom of the screen and a fancy grab-and-drop system for adding app shortcuts. It's very simple and I'd venture to guess that many have and will call it unnecessary, but it's a step in the right direction for those who have trouble organizing their masses of apps in an orderly fashion.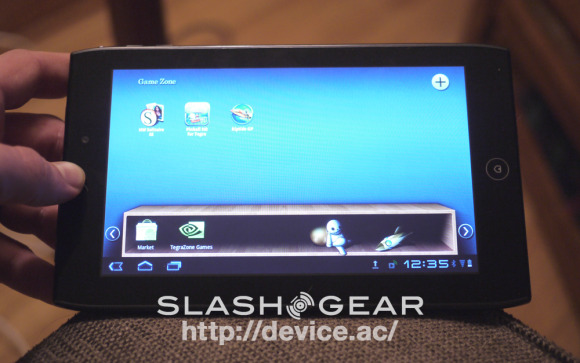 Performance
To see how this tablet performs in the field, you'll truly have to take it out for a spin yourself OR just trust the following benchmark tests which you can gain further insight on via Cory on Android Community in his post on this device which we're both taking a look at: We Have Benchmarks. A couple of these benchmarks you'll notice instantly that this device is not lacking, nor will it fall far behind its 10-inch comrades in the heat of battle:

CF-Bench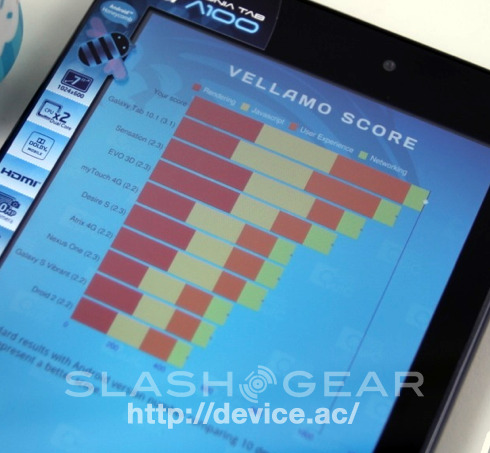 Vellamo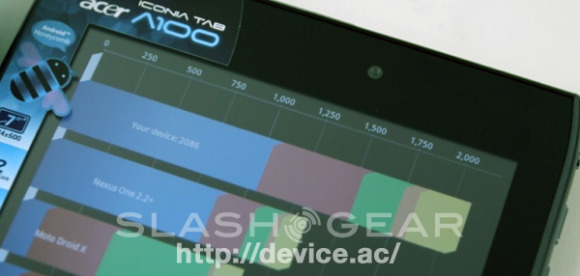 Quadrant Advanced
Smartbench 2011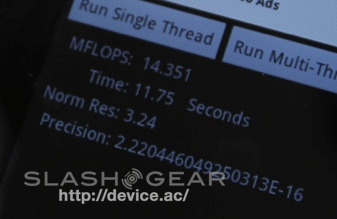 Linpack
Battery
After having the battery on from a full charge and having used the device lightly since then, I'm ten hours in to a day and the battery is at about 28%. Its tough to judge this particular battery as it's certainly small compared to its predecessor at 1530 mAh while the A500 was a whopping 3260 mAh. Compare that to the Samsung Galaxy Tab 10.1's massive 7000 mAh battery and you've got quite a spread. Even the original Galaxy Tab has a 4000 mAh battery, so it's tough to understand why Acer would stick such a small one in this new tablet device. Seems to be holding up alright thus far, but once a hard day's work of downloading, having multiple apps open, and maybe even watching an HD video is done, you'll be looking at more like 4 or 5 hours tops.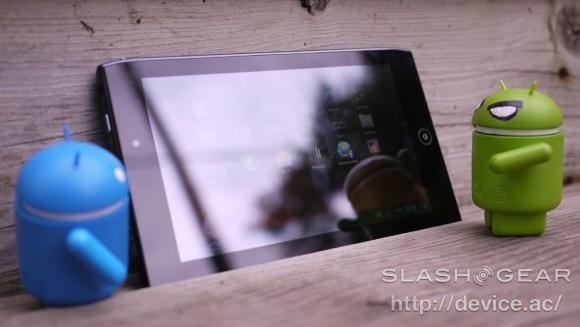 Camera
What you're going to see below are masterpieces of photo and cinematography. It might be difficult for you to get a grasp of how well the camera is working its 5 megapixel rating on the back since the composition is so good because of your humble narrator's awesome skill, but you'll have to try. I'd rate this back-facing camera and the 2 megapixel camera up front to be roughly the same quality seen on the A500 -more than likely they're the same models in each tablet.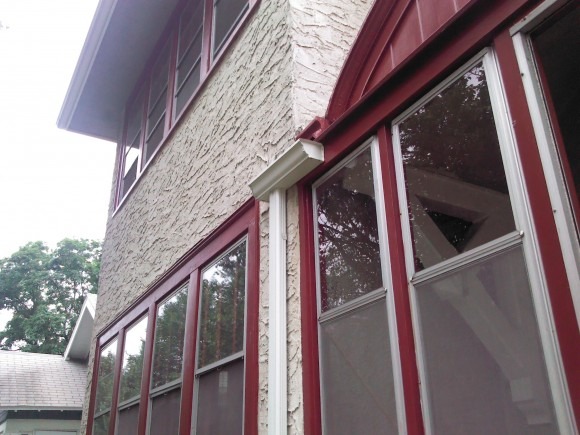 5 megapixel photo from back-facing camera
HD 720p Video from back-facing camera
Pricing
Surprisingly perhaps to some, this device is only $60 USD cheaper (at the moment) than the A500 10-inch tablet made by the same company. What you're paying for here is the overall experience though, not the screen size – in other words, a bigger display isn't necessarily better for you, though it certainly costs more to manufacture. Acer appears to understand this, though might be making the wrong decision having this tablet cost approximately $330 (depending on where you shop) – should this tablet fall below $300 USD and you'll see it MAYBE popping off the shelves. Might need a bit of a bump on the ol' advertising side as well.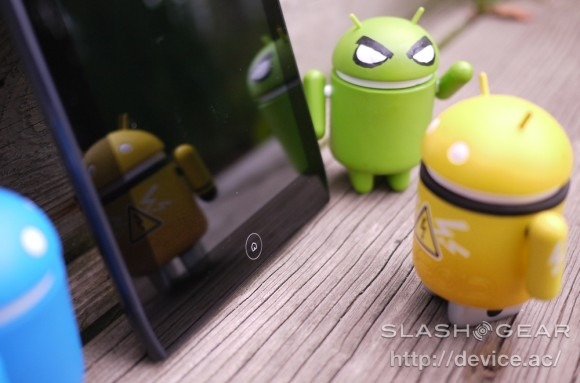 Wrap-Up
This tablet is good for a lot of things. Wrapping up the awesome power of the NVIDIA Tegra 2 dual-core processor in a medium-sized package, one that's not a smartphone yet not quite a full-sized tablet makes this device good for some slightly more hardcore on-the-go games than you're used to on your Motorola ATRIX 4G or Motorola Photon 4G. On the other hand, it's thicker than the Samsung Galaxy Tab 10.1, a 10-inch tablet, yet just about the same size as the original Galaxy Tab 7-inch, a tablet which does not yet feature the tablet-centric Google mobile OS Android 3.2 Honeycomb – this tablet has the right to boast itself up as the first and only tablet to currently be featuring Android 3.2 Honeycomb, again the first tablet-based Google-made mobile OS to be optimized for tablets smaller than 10-inches.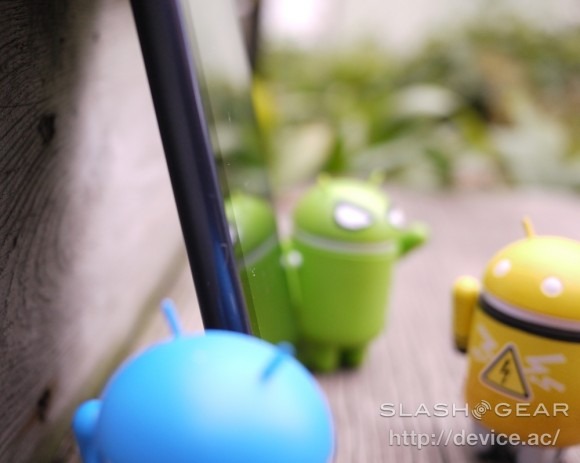 For the lay-person, this is a pretty cool pocket companion. You don't need to pick up a contract whilst purchasing this device, and it packs an NVIDIA dual-core processor, yet it's not as large as any other tablet currently featuring that same utterly awesome amount of power on the market today. In other words this device is indeed unique, as all good new devices should be, and should definitely be considered by all students this coming school season as an alternative to all other tablets on the market.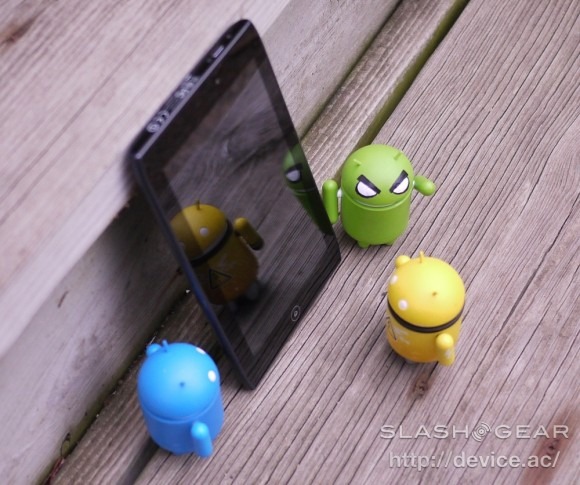 Portability is king, and in some cases this device is a better fit for hardware AND software than the competition, be they Android or otherwise. This tablet is not the coolest tablet in the NVIDIA Tegra 2 toting family, but it will be rated higher in the hearts of many than its predecessor, the larger A500. This device feels solid and it feels like it's ready to take on the market.
Have a look at the images above and below along with the videos then ask any questions you may still have on the device and we'll do our best to answer them! Finally, check out our listing for the Acer Iconia Tab A100 in the Android Device Directory at http://device.ac/ for every fact and link to hands-on and review you can handle!