Samsung Galaxy Nexus on sale in UK, shipping November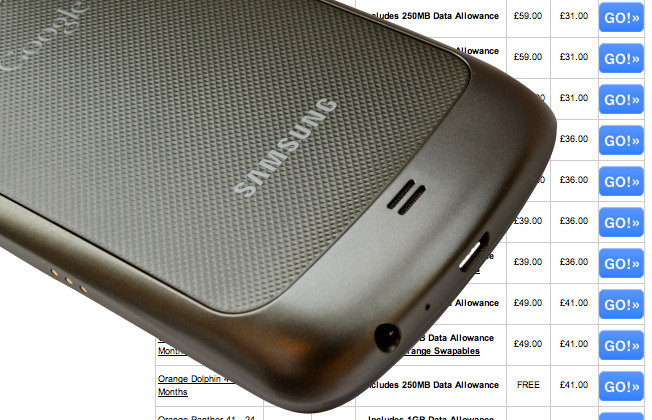 It appears that the first place to formally offer up the Galaxy Nexus for sale is Phones4u in the UK, complete with shipping date of November 16th. For those of you who are unaware of the world of Android, this Galaxy Nexus device is Google's next hero device, the one to run their next-level mobile operating system Android 4.0 Ice Cream Sandwich. This device was introduced earlier this month in Hong Kong, China to throngs of ravenous online viewers and a room full of publishers snapping their cameras furiously.
Purchasers of the Samsung Galaxy Nexus through Phone4u will have the choice of getting the device carried by Orange – and that's it. This device will likely be offered internationally off-contract as well, plus here in the USA on Verizon Wireless with 4G LTE. In addition to being the first device on earth to run Android 4.0 Ice Cream Sandwich, this device is Samsung's next in an evolution of a best-selling device family that also includes the Galaxy S II. There's a lovely 1.2GHz dual-core processor inside with 1GB of RAM and 16GB internal memory.
The display is also particularly impressive, it being 4.65-inches at 1280 x 720 pixel resolution HD Super AMOLED. That's thick with pixels, so bright it'll bust your eyeballs out. Head over to Phones4u and pick one up right this second. Also have a look at our Galaxy Nexus Hands-on and our Android 4.0 Ice Cream Sandwich, also seen below. Then be sure to check out our Android 4.0 Ice Cream Sandwich / Galaxy Nexus Launch Wrap-up. Know it all!
Android 4.0 Ice Cream Sandwich hands-on
Galaxy Nexus hands-on