GM's EVs Are Ditching Apple CarPlay And Android Auto: Here's Why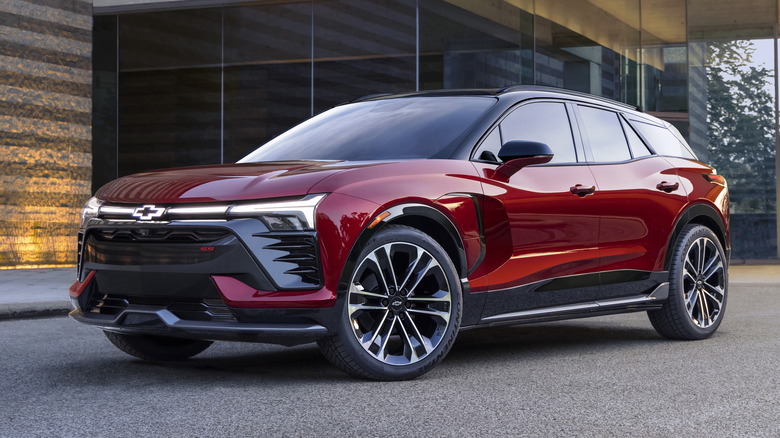 Chevrolet
At its annual developer conference in 2022, Apple announced a new version of CarPlay with tightly integrated climate control, several customization options, and widget support. During the presentation, Emily Schubert, Apple's engineering manager, remarked that 98% of all cars in the U.S. come with Apple CarPlay. That statistic, however, is set to change soon as General Motors, the largest carmaker in the U.S., is looking to retire Apple CarPlay from its electric vehicles (EVs) in the near future.
With the launch of the 2024 Chevrolet Blazer later this year, GM will replace CarPlay with its own infotainment and navigation interface, which it is developing in partnership with Google. GM confirmed the decision, as first reported by Reuters, to SlashGear in a written statement. The transition also applies to other future EVs, including the 2024 Chevrolet Equinox, the 2024 Cadillac Celestiq, and the 2025 GMC Sierra EV.
GM has also confirmed that the company will remove support for Google's Android Auto along with Apple CarPlay. Notably, combustion models launching in the coming years will continue to support Google's Android Auto and Apple CarPlay as usual. Existing EVs — including the 2024 GMC Hummer EV Truck and SUV, the 2024 Cadillac Lyriq, the 2024 Chevrolet Silverado EV, and the 2024 Chevrolet Bolt EV and EUV — will also retain CarPlay and Android Auto.
Better integration with the EV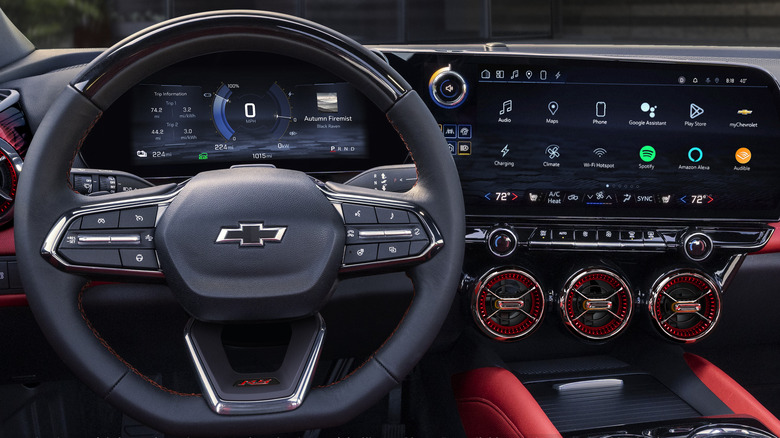 General Motors
As GM's proprietary infotainment system replaces CarPlay and Android Auto on EVs, buyers of the 2024 Blaze electric and other future EVs will be able to access Google Maps as the default navigation system. In addition, drivers will also gain access to Google Assistant for hands-free interactions — though the automaker is already reportedly considering replacing that with its own ChatGPT-style assistant in the future — and GM promises eight years of data access to navigation and Google's voice control system. There'll also be three years of OnStar Remote Access and streaming services in the U.S. for native media apps like Spotify and Audible, along with the Google Play Store. 
For those iPhone and Android device users still wanting to connect their phones, the experience will feel somewhat more old-school. GM says that its upcoming EVs will support hands-free calls, voice texting, and music streaming via Bluetooth connection with a paired smartphone.
Although the underlying software that the 2024 Chevy Blazer EV will use hasn't been detailed, it seems likely to be based on Android Automotive OS, a special version of Android crafted explicitly for, and suited to, vehicles. A similar system powered by Google Automotive Services (GAS) can be found on vehicles such as the 2023 Hummer EV SUV and the GMC Yukon, and many other car brands — including Honda, Polestar, Renault, and Volvo — already use Android Automotive. While each manufacturer's interface differs visually, they share a common framework and offer similar usability, together with tighter integration with the car's underlying systems.
GM sees subscriptions as a big part of its future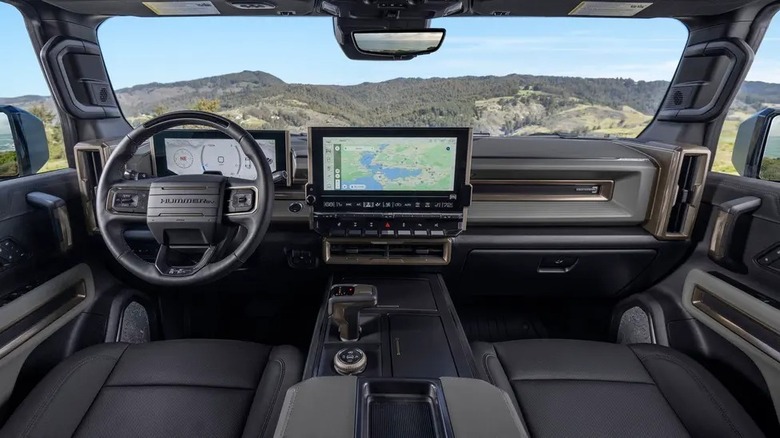 GMC
While Google stands to benefit from the move — it will, after all, license the operating system to car manufacturers like GM — it could potentially hurt Apple's business by exposing more users to Google's services, including Maps and Assistant, while Apple Maps and Siri are held at bay. For General Motors, meanwhile, there are other advantages. 
Along with entertainment and navigation, GM also looks to "tightly" integrate modern features such as assisted driving. GM has already revealed the next generation of its advanced driver assistance (ADAS) technology, called "Ultra Cruise." With a plethora of sensors on cars such as the Cadillac Celestiq, Ultra Cruise is claimed to take over duties from the driver in 95% of all driving scenarios. It's a Level 2 system, building on Super Cruise's hands-free highway functionality.
With its own infotainment system serving as the heart of the smart car, GM will be able to harness vast amounts of data, including the owners' driving and EV charging habits. The company already aims to make $20 to $25 billion in subscription revenues by 2030, and the new infotainment system may open doors for such opportunities. It remains to be seen, though, whether it dissuades die-hard Apple fans from buying GM's electric vehicles, or indeed converts them into people who don't turn squeamish at the sight of Android.