GM's New Ultra Cruise Sensor Suite Goes Against Everything Elon Musk Has Told Us About ADAS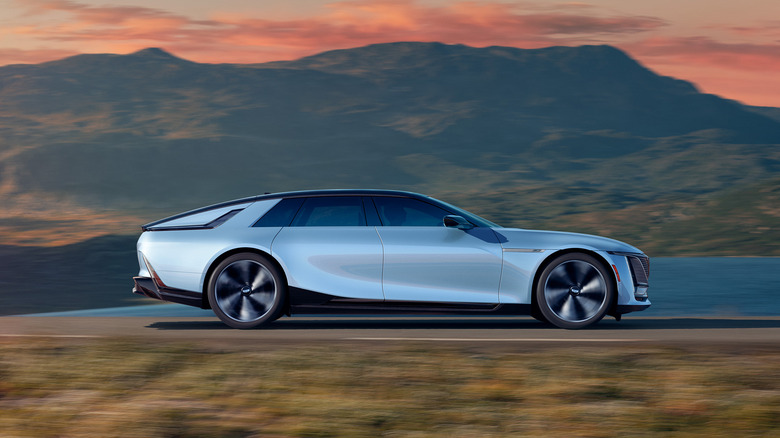 General Motors
General Motors' Super Cruise technology is the company's current driver assistance technology, in the same class as Ford's BlueCruise. It is a Level 2 autonomous system as outlined by the SAE (Society of Automobile Engineers). Because it requires driver supervision, it is not considered genuinely autonomous or "self-driving." Super Cruise allows the car to, among other things, change lanes and do the legwork for the more tedious parts of pulling a trailer. It's been around on a few higher-end GM models since launching in 2017.
Now, GM is debuting a revamped and updated version of advanced driver assistance (ADAS) technology named Ultra Cruise. The first vehicle to host the new technology will be the ultra-exclusive Cadillac Celestiq. 
GM claims it can allow hands-free driving in "95 percent of all driving scenarios," according to a press release. Interestingly, Ultra Cruise has a few significant differences from the recently much-maligned Tesla Full Self-Driving Software that claims to do almost the same thing. 
GM's high-tech approach
According to Tesla, its driver assistance software uses eight cameras and a computer to navigate traffic systems and do its best to operate safely. That hasn't worked so well for Tesla in recent months. 
GM's Ultra Cruise system, on the other hand, uses a varied suite of sensors, cameras, and LiDAR to power its ADAS software, relying on significantly more hardware than cars like the Tesla Model S. GM says the litany of sensors and tech will give equipped vehicles a 360-degree view in all three dimensions of the surrounding area. Its Qualcomm-developed onboard computer will then decipher that info.
GM, a much older company than Tesla, is taking a significantly more technologically advanced approach to autonomous driving technology than what Elon's company has been able to accomplish. It's also worth noting that Tesla models built between September 2014 and October 2016 were equipped with radar and ultrasonic sensors as part of the first generation of Tesla's Autopilot.