10 Reasons The 1964 Chevy Impala Is A Sought-After Collector's Car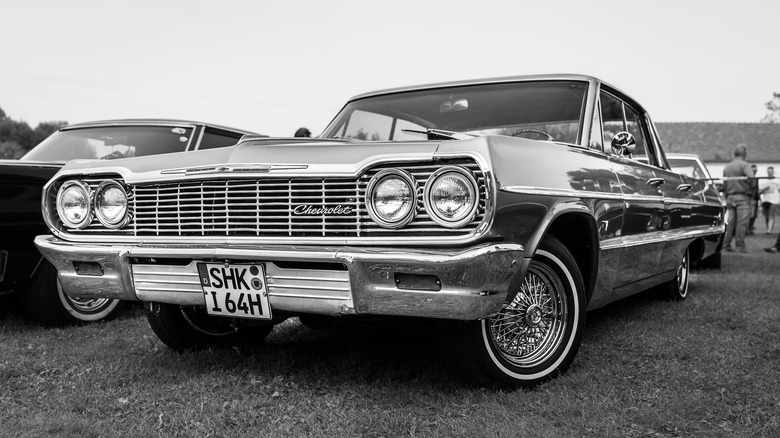 Sergey Kohl/Shutterstock
The rich history of American cars has gifted generations with long-lasting, classic works of art recognizable to both enthusiasts and non-enthusiasts alike. The imprint of certain vehicles on American culture is hard to ignore. The Chevrolet Impala is one of those cars. The Impala first made its debut as the Bel Air Impala in 1958. It premiered as the top-tier model in the full-sized Chevrolet line-up, and it held tight to that spot until 1966, when the Chevy Caprice was released.
From 1958 to its final year of production in 2020, the Impala remained a memorable and luxurious car with enough room for the whole family. However, one model year reigns supreme over all the rest in regard to being the most treasured and sought-after Impala — 1964. So why is it that the 1964 Chevy Impala is such a beloved collectors' car? The model's magnetic charm stretches into multiple categories of collectors and boasts many reasons to fall in love with its sleek and luxurious features.
The '64 Impala has a strong grip on pop culture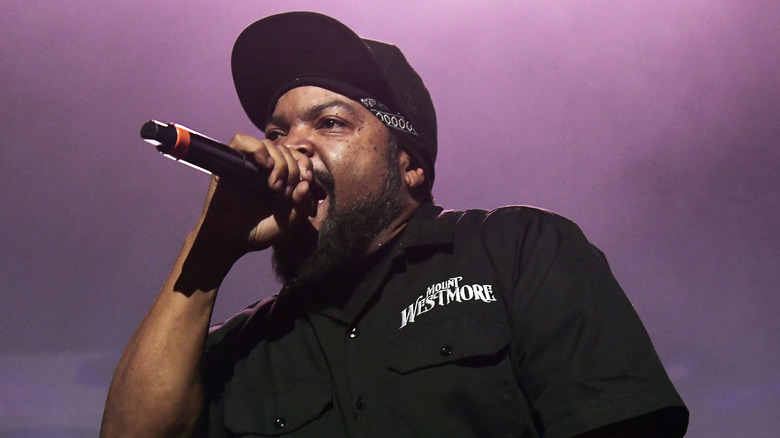 Tim Mosenfelder/Getty Images
The 1964 Chevrolet Impala has a decades-long stronghold on pop culture that has millions of music fans across generations rapping about 20-inch blades on the Impala. More specifically than just pop culture, '90s rap featured the '64 Impala in enough songs for it to become a piece of nostalgia for fans and musicians. Dr. Dre notably featured the '64 Impala in at least three songs and music videos that all featured Snoop Dogg, "Still D.R.E.," "Let Me Ride," and "Nuthin' But a 'G' Thang."
Dr. Dre and Snoop Dogg weren't the only rappers popular in that decade to express their love of the '64 Impala. Ice Cube featured an Impala in the music video for his song "It Was a Good Day," in which he rapped the lyrics, "I gotta go 'cause I got me a drop-top / And if I hit the switch, I can make the a** drop." The lyrics to Ice Cube's song bring up another reason the '64 Impala is such a great collectors' piece.
The '64 is the ideal car for customization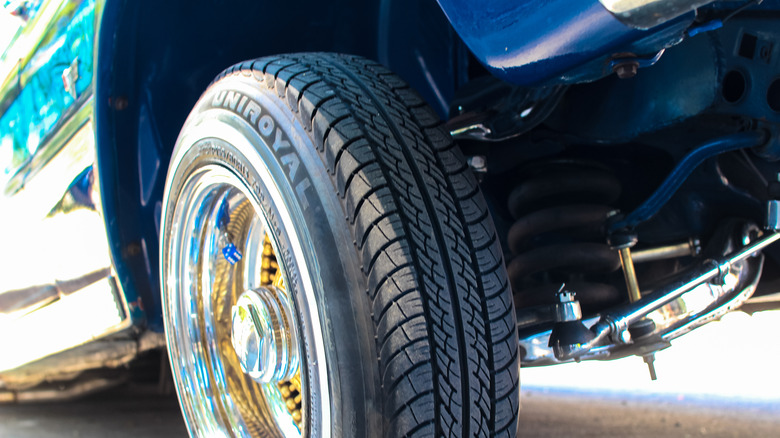 Critical Labz/Shutterstock
For those passionate about cars, putting personality into your ride is a must. The 1964 Chevrolet Impala makes that part easy. The vehicle's large trunk is ideal for many things – groceries, luggage, or in many instances, hydraulic systems. These hydraulic systems allow the car to become its own show for onlookers as it rises upward and lowers back down. Adding a hydraulic system to a vehicle isn't a small or simple task, so having a car that makes the job easier is ideal for those looking to add their own flare.
The sleek, luxurious look of the Impala and its ample trunk space just waiting to be utilized for impressive sound systems or hydraulics make it a clean slate for the creativity of the owner. Many restored or well-kept '64 Impalas can be seen donning vibrant paint jobs with interiors to match. This opportunity to make the car unique to the owner makes the '64 a year that many enthusiasts want to add to their collection, whether they're looking to go into extreme customization or just want a spruced-up classic to call their own.
Impalas fit perfectly into lowrider culture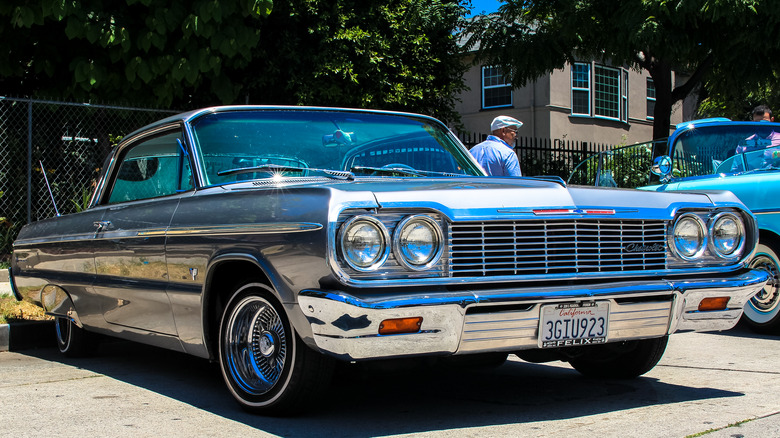 Critical Labz/Shutterstock
Lowrider cars embody a culture dedicated to the aesthetic and smooth cruising of their ride, particularly in Los Angeles. This trend became popular around the 1940s and 1950s with car owners finding various ways to lower their vehicles, including loading up the trunk with enough weight to drop the vehicle down. However, other ways of achieving lowrider status were needed when in 1958, a California law was passed that made it illegal for a car to be lower than its rims. The solution to this dilemma was hydraulic systems. Once installed, hydraulics allowed the driver to lower their car for a cruise and raise it up again when necessary.
The '64 Impala is a popular choice among lowrider culture as it has an x-frame chassis and long, flat paneling. These features make it ideal for modifying and adding hydraulic systems. Powerful engines are also a coveted feature among lowriders, and the Super Sport model of the Impala allows for a 409 V8 engine, which makes it just about the perfect vehicle to enhance.
Chevrolet released a '64 Impala for every buyer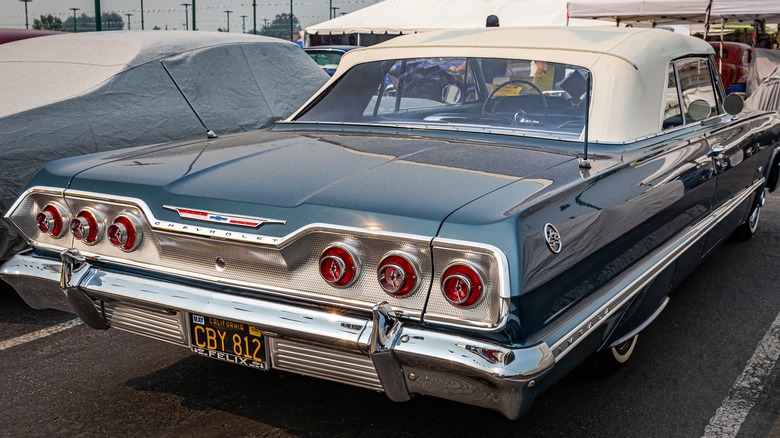 Gestalt Imagery/Shutterstock
One reason the '64 Impala has remained a functional classic for decades is that when Chevrolet introduced it, the company kept every type of car owner in mind. Instead of releasing one or two versions of the model, the car company came out with a whopping six varieties of body styles for buyers to choose from. The different styles include a convertible, a sedan, a hardtop sport sedan, a hardtop sport coupe, along with two station wagons. These were all available styles of the base-model Impala, so everyone in the market for a new vehicle could find precisely what they were looking for.
There was also a Super Sport edition released that was available in both convertible and hardtop. This edition was the higher model and came equipped with different interior features and materials, including vinyl upholstery. The body style was also slightly different, with a wider upper-body molding. The aesthetic of the Super Sport model is enough for car lovers to tell it apart from its counterparts. Still, for those unfamiliar enough, there's also an "SS" emblem on each Super Sport model.
The '64 Impala was designed with comfort in mind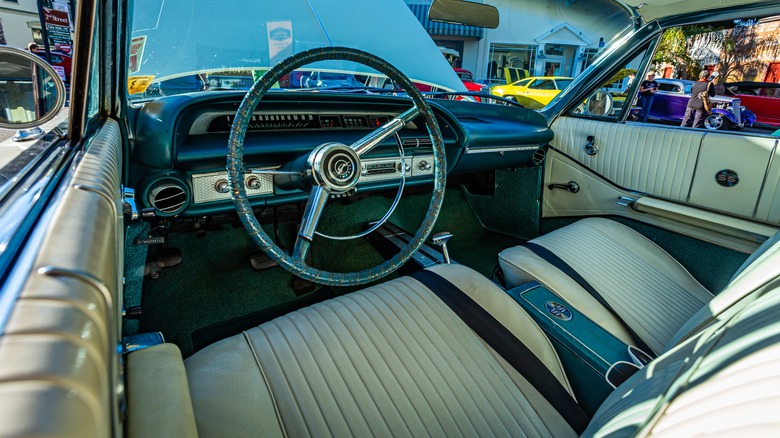 Gestalt Imagery/Shutterstock
A car that's sleek, perfect for customizing, and has the option to come equipped with a powerful engine couldn't possibly be comfortable too, could it? If it's the '64 Chevy Impala, yes. Yes, it can be comfortable too. The roomy interior of the Impala allows more than just the driver to ride in luxury as the vehicles were built with bucket fronts that allowed both driver and passenger to enjoy the cruise.
Chevy didn't forget about those that might be riding in the backseat either. In the backseat of the Impala, thick bucket seats complete with extended armrests waited to hug each passenger for a ride of comfort and style. The comfortability undoubtedly played a role in why the Impala has always appealed to both families and those just wanting to drive around with friends. The inside of the Impalas released in '64 and maintained or restored today is typically a flashy two-tone setup with vinyl seating and vibrant accents.
The 409 V8 engine appealed to more than just your everyday driver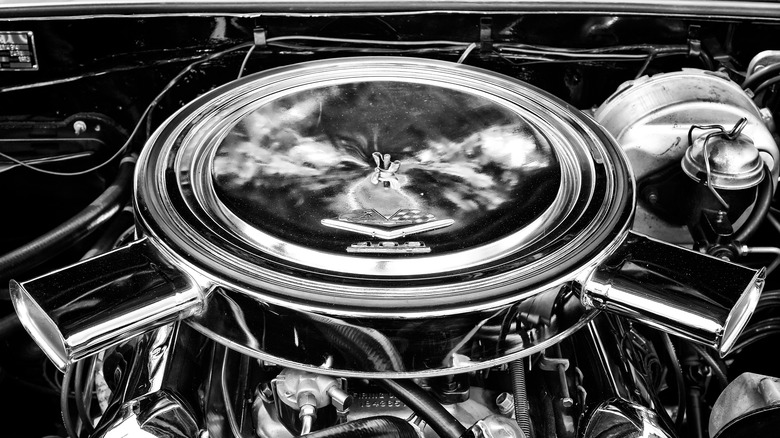 Sergey Kohl/Shutterstock
The 1964 Chevy Impala already appealed to a versatile group of car enthusiasts, but one major fanbase was in stock car racing. In the 1964 Chevy Impala Super Sport, the 409 V8 engine was an available add-on. This engine appealed to those wanting a more powerful vehicle with more horsepower. For stock car racing, the 425 horsepower that came with the 409 engine was the sort of power that could generate the speeds race car drivers craved.
Chevy directed the sales of the 409 engine toward stock car races and drag races. Popular drivers, including NASCAR's Rex White and Ned Jarrett. White won multiple races while driving the 409 after switching over to it in 1961. The speed and power achieved by the 409 engine in the racing world was a rare glimpse into its capabilities since it was primarily used in cars driving on roads with strict speed limits. Nevertheless, the 409 V8 engine option remains a favorite amongst Impala lovers.
The '64 Impala holds value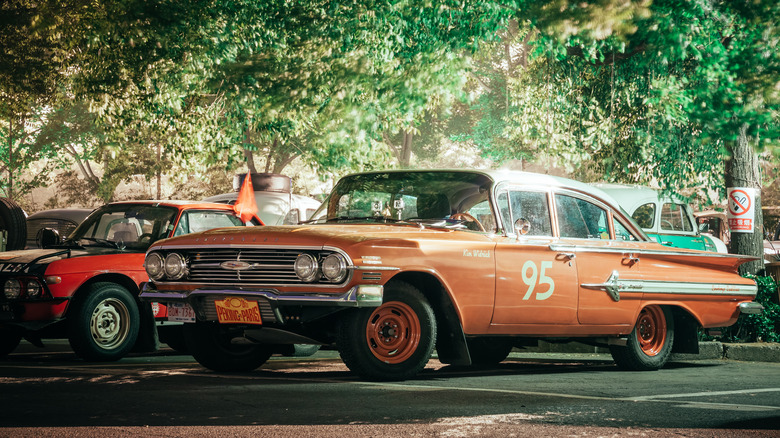 yousang/Shutterstock
Suppose there's one thing that drives the price up on collector's items, it's nostalgia. People with fond memories that revolve around an item are willing to pay the price to call that item their own. The '64 Impala reaches into many different lifestyles and passions, from pop culture to racing, to rap music, or even just childhood memories of working on one of these classic cars with a loved one.
This nostalgia creates a high demand for the '64 Impala. However, only a certain amount of each body style was produced. This, mixed with the high demand, creates value retention. Thankfully for those looking to sell their Impala, there's always a buyer looking for either a project or a parts car to help their already-started project move along. But, of course, different models of the '64 Impala have a different level of desirability. This, among other factors, will no doubt play a role in just how much someone can expect to pay for one of these prized possessions.
A restored Impala is the perfect car for events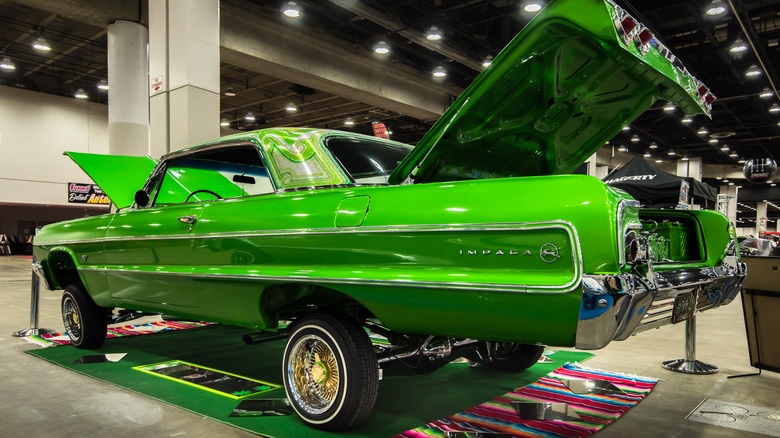 Steve Lagreca/Shutterstock
With so many collectors of the '64 Chevy Impala, there are plenty of restored, beautiful pieces of art-on-wheels out there for people to admire. From custom paint jobs to hydraulics that raise and lower the vehicle with ease, there's a lot to show off in a well-done classic car like the Impala. There's also plenty of opportunity to do so.
Impalas and their flashy finishes are often appealing for various events, including parades, weddings, music videos, and whatever else might call for a fancy, vibrant ride. The ability to rent out your car for an event means the ability to take pride in your work as others enjoy the fruits of your labor. It also means there's a possibility for some financial gain as an Impala owner. Those who aren't able to buy or restore the coveted '64 Impala can still enjoy its pleasures by renting one out for their biggest life events. This can make the investment worth the money.
The '64 Impala is both a muscle car and a comfortable ride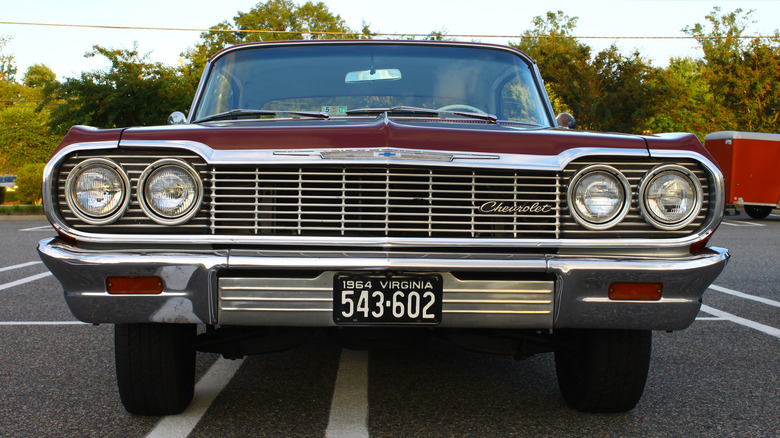 Barry Blackburn/Shutterstock
Choosing between a flashy dream car and a family car is a challenge many have to face in life when they start a family of their own. Chevy solved this problem with the '64 Impala Super Sport model. The Super Sport came with the option of adding the 409 V8 engine to it for more power. The model was flashier than the standard models, but Chevy didn't sacrifice any of the luxuries they were going for when they added more power.
The interior of the SS model remained comfortable for the driver and multiple passengers, all while hiding the engine power of a muscle car underneath the hood. The bucket seats and vinyl interior came in both the hard top and the Sports Coupe. Finding a vehicle that functions as both a family car and a muscle car isn't easy, and Chevy revolutionized the game when it presented buyers with comfort and power.
The '64 Impala is a piece of American history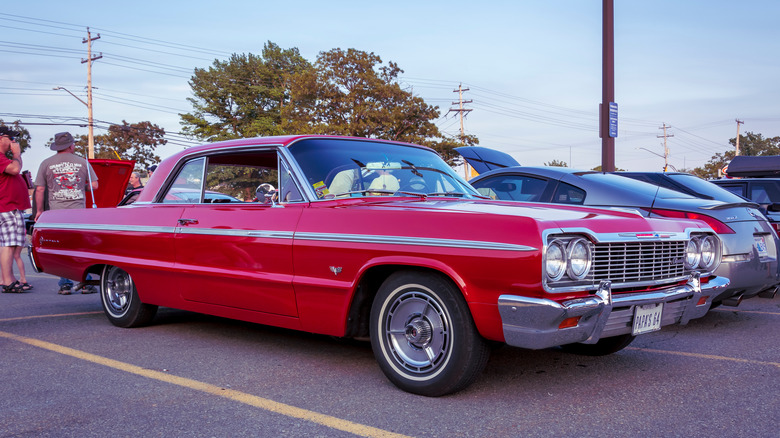 Ken Morris/Shutterstock
Chevrolet is already an important piece of American history, but the 1964 Impala, in particular, had an impact on society. In 1964, General Motors wanted Impalas stocked and sold at dealerships in every major city for Independence Day weekend. The first Impala sold at that time was sold in a Southern Los Angeles car dealership on the same day that the Civil Rights Act was signed. The proud new owner of that '64 Chevy Impala was a Black business owner.
The sale of that car on that day had a profound impact on the Impala's place in history and culture. The Impala sold that day was red with a cream-colored interior and has since been sold to several different musicians and remains one of the most popular '64 Impalas in existence. The Impala is engraved in the history of many cultures and in the hearts of many collectors and creatives. This timeless car will most likely remain highly sought-after for years to come.