These Gorgeous Classic Cars Were Hidden In A Barn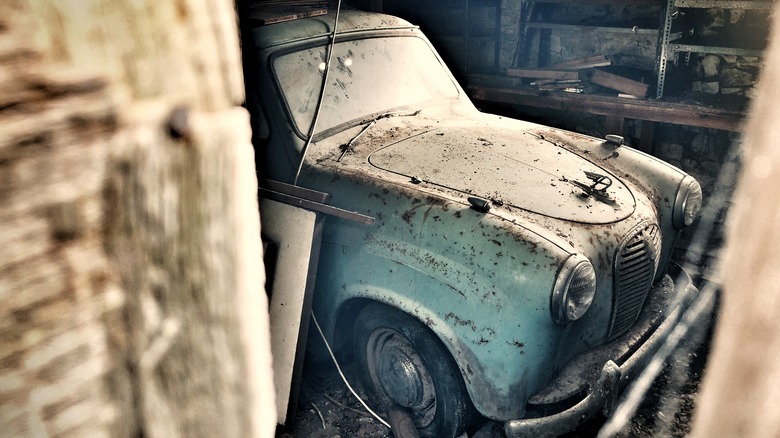 Matt Cardy/Getty Images
Major barn finds of classic car collections are rare regardless of location. Such unexpected discoveries are even rarer in the U.K., where comparatively tight storage space and a thriving gearhead community up to restore, remodel and reanimate their favorites keep collections from moldering in obscure corners for long.
In May 2022, YouTuber The Bearded Explorer found a massive exception. Tucked in and around an overgrown barn were dozens of classic cars in various states of disrepair. Affordable classics from the glory days of British car manufacturing mixed with old-school masterpieces of engineering from the Continent. None were in perfect shape, but few were outright junk — most were just waiting for the time and elbow grease necessary to return them to collectible condition.
Most of these cars had been hidden away for years — the latest tax sticker Bearded Explorer found was for 2012. Some are likely never to leave their current location. Others might be salvageable. In either case, this collection represents a remarkable selection of classic British and European cars from decades past.
Legendary cars in a forgotten corner of Britain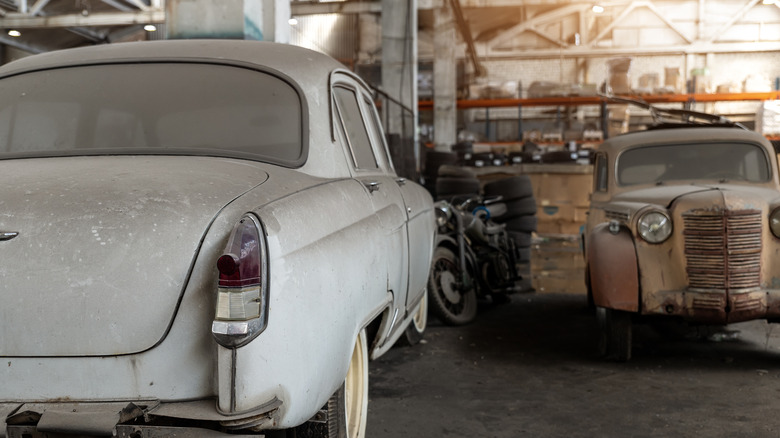 Gorloff-KV/Shutterstock
The cars in this barn find range across some of the most desirable models for British and European collectors. While most of what's on display fall into a consistent category — mid-'70s to mid-'90s, British and European models, mostly beloved affordable classics –- the unknown collector didn't hesitate to step out of their comfort zone. Some true luxury beasts make appearances. The collection includes several stunning Jags, notably a V12, along with a Bentley and at least one classic Rolls-Royce. It even has a Massey Ferguson tractor that might be from the 1950s or '60s.
Aside from a few high-dollar standouts, however, this particular collector's passion seems to have been coupes, hot hatchbacks, fast convertible roadsters, and other runabouts, particularly those either made or sold in the British market. Motor1 took a long look and found some stunners, including a Ford Sierra XR4, an Escort Cosworth, and other British fast Fords. The collector also clearly loved MGs — Bearded Explorer describes over 10, including at least 2 rare MGB GTs. There are even a few Morrises and an ancient Land Rover. The collector's love for their native land didn't stop them from snagging Continental classics, however: Porsche makes multiple appearances, including a 924 and 944, alongside other German classics like a BMW 635CSi and a Golf GTI.
All told, this collection looks to be worth well over $100,000, even in its current condition. After a serious restoration effort, that value could increase by an order of magnitude. Regardless of cash value, every aficionado of great cars, above all great roadsters and low-range sports cars, should take a moment to marvel at the beautiful metal on display.